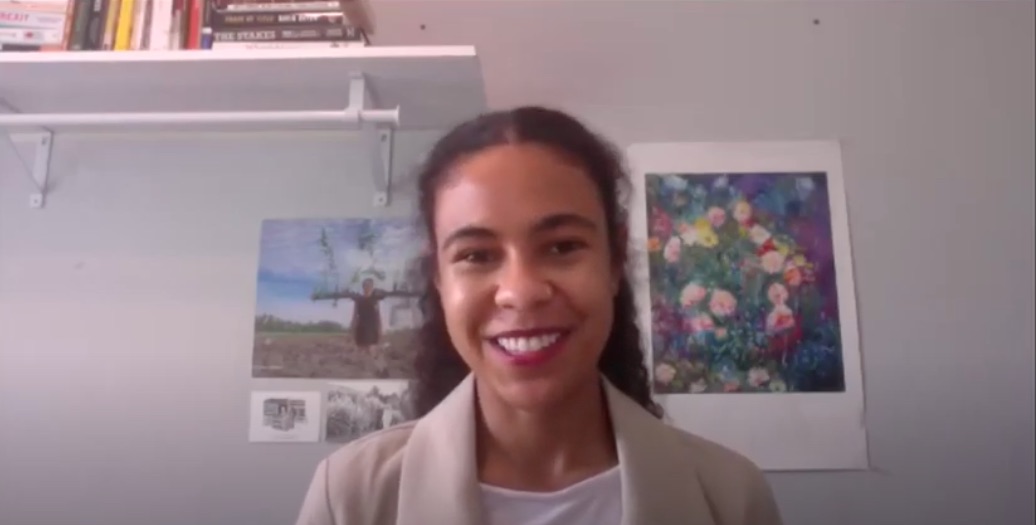 Journalist Brittany Gibson is currently a writing fellow at The American Prospect magazine in Washington, D.C. Her work covers many topics, but all her stories originate from an innate sense of curiosity about how the world works and a desire to share people's stories.
In partnership with the Pulitzer Center, Gibson worked on a reporting project called "Battle to the Ballot Box," which focused on the obstacles to voting in the 2020 Democratic Primary. She also led a conversation between Dr. Brenda C. Williams and attorney Tori Wenger about voter suppression in the United States.
The following is an interview with Gibson about her Pulitzer Center-supported project as well as her past, present, and future reporting. Portions of this interview have been edited for clarity and/or length.
Zora Raglow-DeFranco: Can you tell me about your background as a journalist, and how you first became interested in journalism?
Brittany Gibson: My mom was a big fan of fashion magazines, so I grew up in a media rich household. For example, we often watched BBC, which is rare for living in the United States. My biggest skills growing up were english and history, so journalism found me based on my skills. I joined the student newspaper, and then I was able to intern with New York Daily News, which was the most amazing internship program I've been a part of. It was the opposite of a desk job. I would call into the office every day, get an address, and then I go to that address and report on what was happening there. Sometimes I was in court houses, or I would go to the Shack, which was the police reporting office. I would do human interest pieces, and that really solidified that journalism was the career and interest I wanted to pursue. Then, I went to CNN in London and saw what larger organizations could produce. I ended up in Washington at The American Prospect as a Robert Kuttner Writing Fellow, where I took a reporting and writing position. It was great to get back to writing, but to also have freedom to write about what I want to write about. My bosses give me a lot of flexibility.
ZRD: Was your work inspired by other journalists?
BG:I have been inspired by everyone, I believe I am a good consumer of journalism. That is something I have been very consciously trying to do. I think the best is being very curious and looking at a lot of different sources of journalism. In terms of specific people, I've been inspired by a lot of people I've worked with before. At the Daily News was Chelsia Rose Marcius, who writes about criminal justice there. Then at the CNN London office, John Defterios, who is their Business Emerging Markets Editor, and Christiane Amanpour, an International Anchor, were inspirations to me.
ZRD: What made you want to focus on the subject of voter suppression, even before it was a 'mainstream' issue?
BG: Mostly my interest came from curiosity, which probably started after the Brexit vote in 2016. I was studying abroad in Italy after my first year in Rutgers, but I wasn't able to vote in the referendum because I had been out of the UK for some time. There were journalistic pieces saying Londoners didn't turn up to vote enough, specifically that young people didn't turn up enough. Some of the pieces were accusatory, saying that young people weren't paying attention to the election and they were taking the status quo for granted. That first piqued my interest in discovering who was contributing to the election results, especially because elections have lasting consequences. Shortly afterward, the 2016 election in the United States took place, and that was another instance where I wondered, "Who voted in this election? Was it different from past years?". Basically, my curiosity came from an interest in provocative results and who made the choices that resulted in those results. In 2018, during the mid-term elections there were all of these procedures and mechanisms that made it harder for people to participate in the election process even if they wanted to. That was really shocking for me. That was a really big moment where I thought, wow, I need to start paying more serious attention to this issue. Then last year, in 2019, Virginia had an off-year election so I went there to do field-reporting. Due to Republicans in Virginia being found guilty of unfair gerrymandering to limit peoples' voices and limit their votes, the elections were going to have a restructuring of districts. I realized that this was going to be very important for the 2020 elections. When I was in Virginia, I met many people who were passionate about the re-drawing of the districts, because they really wanted to make sure their vote mattered. After that, it felt important for me to start looking primary elections because they seemed like a great way to see how each individual state handled voting. I could follow a couple of states at a time and see the procedures each state used in their primary election. This was important because the procedures states use in primary elections are the same they will use in the general election.
ZRD: What makes this such an important topic, especially considering today's political climate?
BG: Reporting on voter suppression is important because there are a lot of assumptions and disinformation about how our political system works, especially around voting. This is also dependent on people's news diet and where they get their news. Reporting during countdowns to elections are important and I want people to see stories of people who struggle to vote but get to the poll station anyway, those who want to vote but are disenfranchised for different reasons. Also I want to tell the stories of the local election officials who are doing their best to run an election, but aren't getting the financial support from their federal or state governments. I hope that having more people read stories about people involved in the mechanics of voting will clear up confusion surrounding who votes and why they vote.
ZRD: What is the most important thing you want people to take away from your "Battle to the Ballot Box" project?
BG: The top takeaway from that project is that voting is very complicated. Also, we should remember that when there are difficulties in the system, they come from administrative decisions and systems. If people are aware of larger trends that affect voting throughout the country, they should think where those decisions come from and who made them because administrative decisions can be challenged and changed for the better.
ZRD: How do you locate the people you gain information from 'on the ground' as you put it?
BG: Sometimes it's being in the right place at the right time. My favorite stories to cover during my internship at the Daily News were protests because everyone protesting is there because they want to be there. So during the Selma 50th Anniversary Jubilee this year, I made it my goal to talk to as many people as possible about their experience and how they were planning on voting this November. Other times it takes a little more digging to find someone to talk to you. Dr. Williams is a good example. I found her by calling someone at the ACLU of South Carolina who was running an election protection volunteer training. She recommended other individuals I should talk to on the ground, including Dr. Williams. From there I met people who were closer and closer to the heart of the community, and were more connected to the activism. Through Dr. Williams I met people who she was helping to vote, and became closer to the people who were most affected by the voting laws I was studying. It was like telephone, I spoke to one person on the phone, and was referred to more and more people until I became closer to the story I was reporting on.
ZRD: What are other stories you hope to pursue in the future?
BG: One story that I am looking at is dark money and voting rights' litigation. There are a lot of lawsuits coming from the ACLU, the League of Women Voters, and other similar organizations, which is typical for an election year. This year, maybe because of how polarized voting mechanics has become, I'm seeing this pop up of non-profit organizations that are tied to groups that are historically more conservative regarding voting rights. So, I'm seeing a lot of counter-lawsuits from these organizations that I am looking into. I also am looking to go to states where there might be problems on voting day. With providing the safest and freest and fairest elections, some states are doing better than others. I am looking to visit states struggling to provide safe and fair elections on November 3rd.
RELATED ISSUES

Governance

Racial Justice

Issue
Bringing Stories Home
Bringing Stories Home