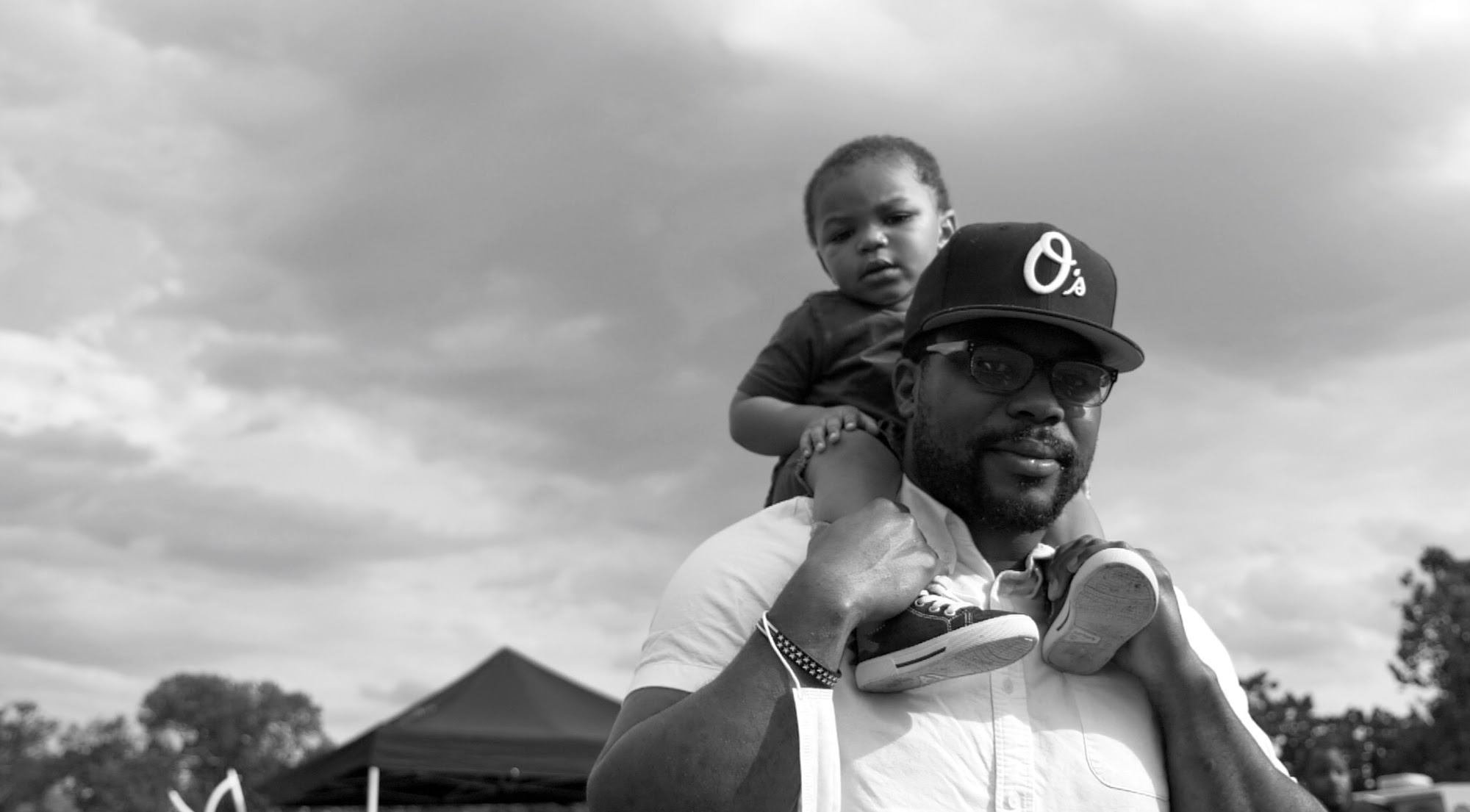 Over the summer, Pulitzer Center grantees at The Baltimore Sun gathered with community members at two events— the city-wide event "Black Fathers Pledge Rally" and a reporting workshop led by grantee Yvonne Wenger for youth enrolled in Wide Angle Media's MediaWorks Summer Program. These outreach events are part of ongoing collaborations between the Pulitzer Center, the Sun, and community members in Baltimore to spark discussions about under-reported stories and the reporting process. 
Wenger's reporting for project "At What Cost", which was supported by the Pulitzer Center and produced in collaboration with Christina Zhang and Lloyd Fox at the Sun, investigates how Maryland's child support system sets many parents, and entire neighborhoods, up for failure. Her reporting found that 'noncustodial parents' in Baltimore—mostly Black men—often have over half their wages garnished based on projected wages that they will likely never be able to earn, leading to authorities revoking drivers' licenses and threatening jail time. The system also results in a total of $233 million in unpaid child support debt, which can create heavy burdens  for Baltimore families. 
On Friday, June 26th the Center for Urban Families, Stand Up Baltimore, Baltimore Public Schools, The Baltimore Sun and other local groups gathered for the Black Fathers Pledge Rally. According to the event's website, it was inspired by "numerous rallies, protests, and cries for Black lives to be seen with more value" and aims to "uplift and celebrate Black fatherhood in Baltimore."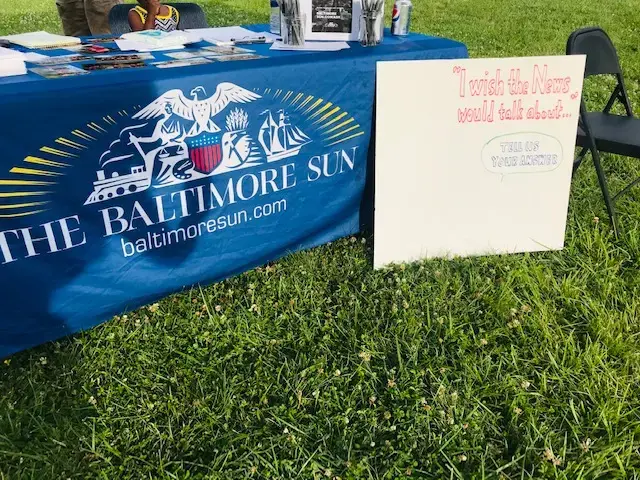 The Baltimore Sun set up a table at the socially-distanced event, and used remaining funds from the Pulitzer Center grant used to produce "At What Cost" to offer free portraits to families at the rally. According to Wenger, hundreds of people attended the rally, and the Sun provided over 200 free portraits like the one above of Jovani Patterson and his son. Wenger shared that the intention was to "show these communities that the Sun is interested in a relationship, and in understanding the issues that matter to them." From soliciting story ideas to sharing her card with community members and encouraging them to contact her with story ideas, Wenger reports that the event was a "really beautiful exchange" where the Sun made inroads with community members not usually counted among the Sun's readership. 
"It was all in the goal of telling stories that need to be told that maybe have been overlooked," Wenger said. "This investigative reporting validated peoples' experiences—it's not about personal failure, it's about a system that's failing you."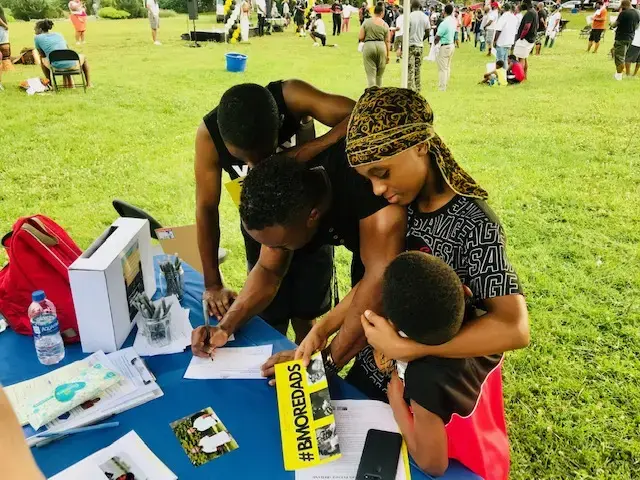 On August 6th, Wenger presented her reporting project and process to a 22 students who were participating in Wide Angle Youth Media's MediaWorks Summer Program. The program is a paid opportunity for young people in Baltimore to learn media skills, such as  graphic design, photography, and videography. 
Her presentation, which was hosted on Zoom, took students through the process that she and her colleagues undertook to research and report "At What Cost." Students then asked questions about the reporting process, and the impact of the story. 
"I know you said you received some push back for this story, how did you overcome that?" Ke'Asia asked.
Tia asked: "What is the reaction now that it's been published?"
The presentation also solicited reflections from students  about how well they feel they are represented in the media. As part of a warm up exercise, which was facilitated by Pulitzer Center education staff, many participants said that they feel detached from the media, and that the news can often feel irrelevant to their communities.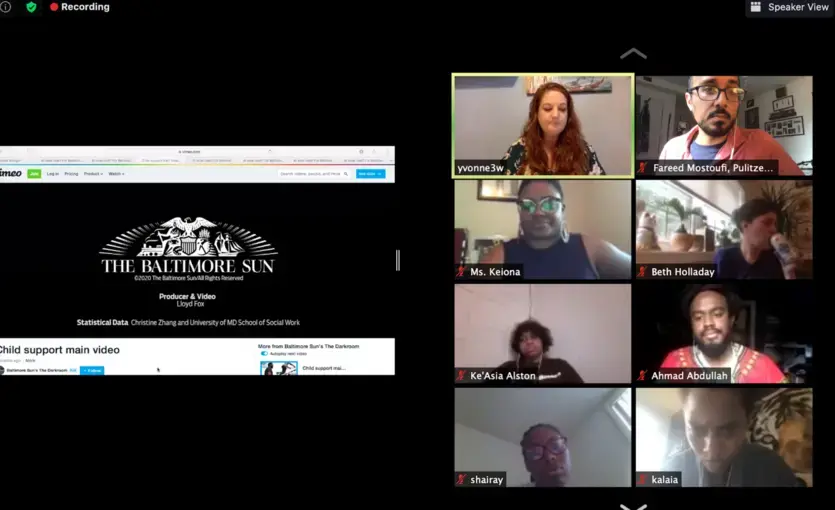 One student, Kalaia, wrote the following in the chat: "I feel there needs to be a change in perspective on how we view African American men in America, especially in Baltimore. Just because they pay child support doesn't mean they are dead beat dads."
Wenger described how this stereotype had informed child support policies in Baltimore, and then asked students if they would be willing to share more about the concerns they have with how their communities are represented in the media. She listened closely to their questions, and moved the presentation into a fluid discussion.
"These young people were thinking that what we produced would be irrelevant and inaccessible," Wenger said, reflecting on the start of the event. "But many by the end were really engaged with the fact that The Sun had invested in exposing a system that perpetuates racism and inequity." 
 Wenger hopes that her reporting, and these engagements in the community, reaffirm the crucial role journalism can play in starting conversations and bringing about change. When asked by several students at the end of the session about what she thinks it takes to report a project well, Wenger said, "You have to be sensitive, openhearted and honor the story of the person you are interviewing. It takes a lot of empathy."
RELATED ISSUES

Racial Justice

Issue
Bringing Stories Home
Bringing Stories Home

Children and Youth