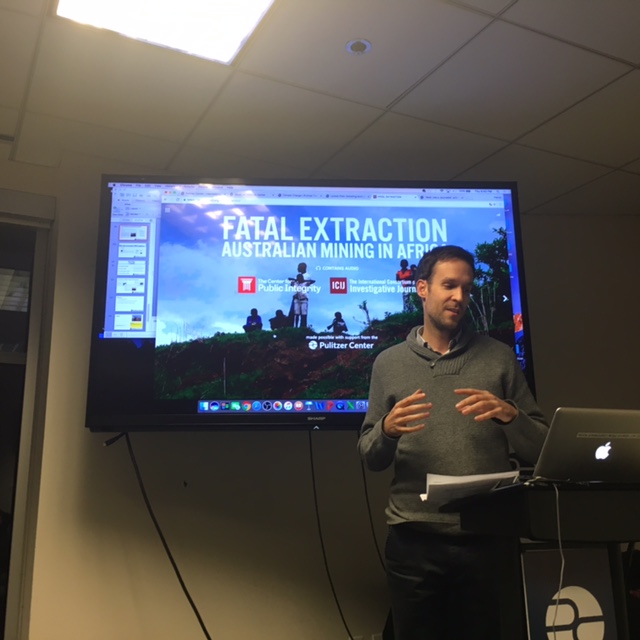 Fifteen teachers from Washington, DC, elementary, middle and high schools attended a professional development seminar led by the Pulitzer Center education team and grantee journalist Will Fitzgibbon on Thursday, December 8, 2016 at the Center's office in Dupont Circle. Pulitzer Center's professional development seminars are a way for teachers to communicate with each other and develop ideas about how to get students to engage in complex global issues. The December workshop, titled "The Art of Global Journalism," also invited educators to explore methods for using arts and reporting skills to engage students in global issues.

From Capital City Public Charter School in the northern Brightwood neighborhood and Oyster Adams Bilingual School in the heart of Adams Morgan, DC educators teaching subjects ranging from dance and movement to biology came to hear how journalism and reporting immerses students in worlds outside their own.

When asked what global issues were coming up in their classes, topics of interest for teachers ranged from community and police relations to immigration, the election, and a sense of national identity.

"I want to distinguish the difference between being African and being African-American to my students," Kristen Hill from Cedar Tree Charter School said.

Before Fitzgibbon's presentation, teachers reflected on the different methods they use in the classroom to facilitate student processing. Some teachers described ways they have used filmmaking and acting to facilitate exploration of history and science.

"I try to promote the use of creativity and imagination by taking my kids on a 'safari' through the classroom each morning," one teacher said, adding that she often changes the set up and decorations in her room to provide immersive learning experiences for her students.

Pulitzer Center's Senior Education Manager Fareed Mostoufi described how the Center's education department collaborates with teachers to create workshops and projects that connect these methods to global reporting in order to engage students in discussions about global issues. He also introduced teachers to the Lesson Builder, which features over 200 lesson plans connected to Pulitzer Center reporting. He then welcomed to the gathering Will Fitzgibbon, who visited 25 classrooms in February 2016 to introduce DC and Chicago students to the multimedia investigation "Fatal Extraction" he reported with Eleanor Bell.

During his presentation, Fitzgibbon outlined the crux of his reporting on Australian mining companies in Africa and the rampant human rights violations that he discovered there as his reporting progressed.

"This story wouldn't have been nearly as effective if it didn't have the visual component with it," Fitzgibbon said. "That's what really sets this story apart from just another story about abused mine workers in Africa."

Fitzgibbon answered teachers' questions about how to report out a story, where to find and how to interview sources, and how to incorporate these global themes into the classroom.

Many teachers expressed the desire to incorporate learning techniques that emphasized creativity, rather than testing abilities, and to learn how to get their students involved in interactive activities.

Teachers asked Fitzgibbon how to teach students the interview process, and how to determine whether or not a subject is being truthful during an interview.

"Once you establish that you're trying to tell a story and start a conversation with people, they tend to be pretty earnest," Fitzgibbon said.

To get a sense of how Fitzgibbon reported his story, teachers took part in a role playing game. Some played the part of mine workers, some the government, and some mine owners. Each group had a set of specific and competing interests they had to address and defend. The exercise was taken from a lesson plan inspired by Fitzgibbon's classroom visits and led to an exciting debate about the challenges of negotiation.

All of the teachers surveyed after the seminar reported being engaged or very engaged in the discussion, and all of them noted that they would likely use the material from this seminar for future lessons in the classroom.

"The thing I enjoyed most about the workshop was learning how to incorporate different aspects from journalism into student engagement," one teacher commented. "And how to teach kids the reporting process."

The Art of Global Journalism workshop will be offered again in February 2017 as part of the professional development series organized by the DC Arts & Humanities Education Collaborative. Register today to participate in the next workshop. If you are interested in hosting a professional development workshop at your school, contact the education department by sending an email to [email protected].