Pulitzer Center Update June 19, 2020
Announcing the Eyewitness Photojournalism Grant: A Pulitzer Center and Diversify Photo Collaboration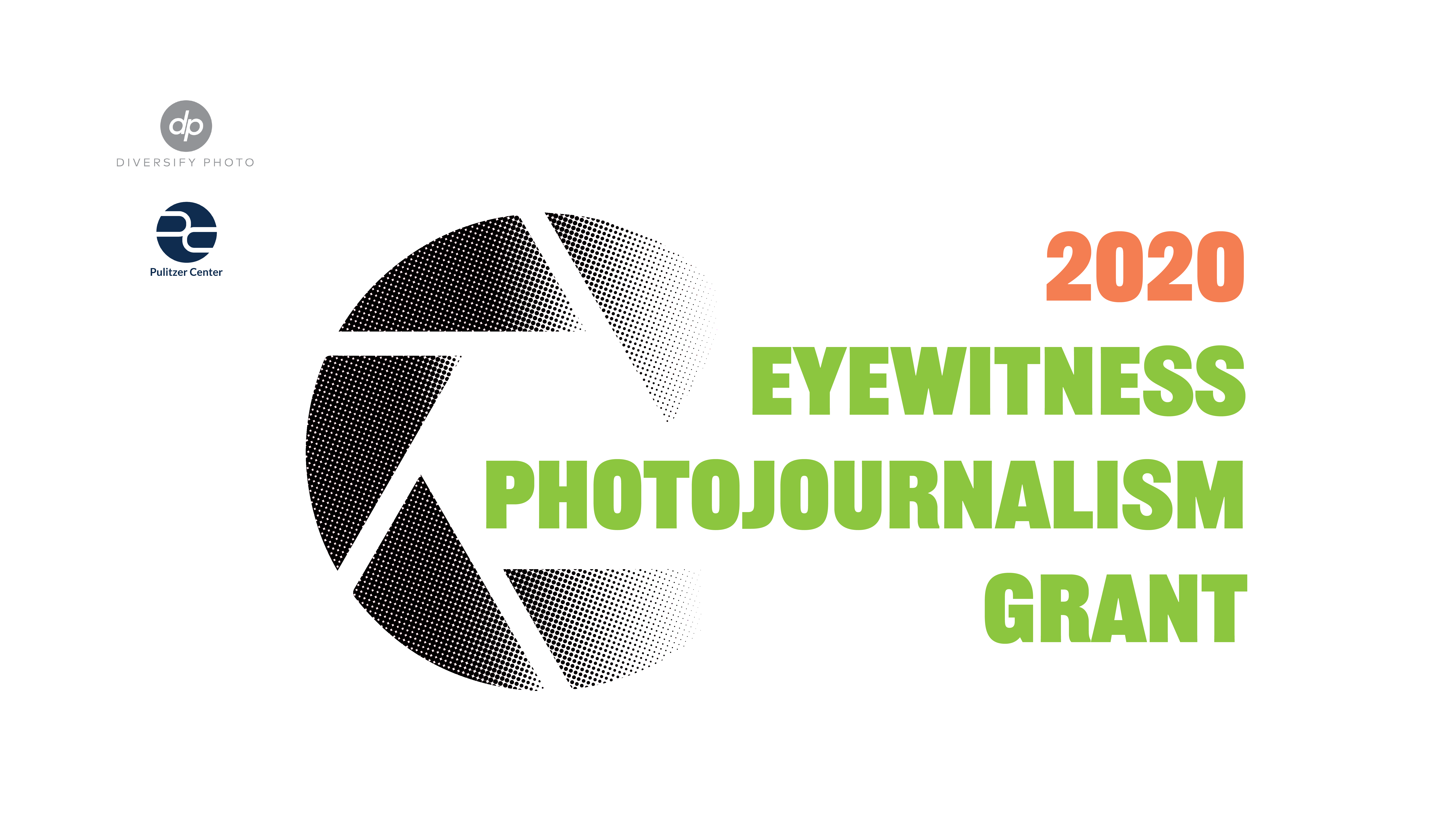 July 24 Update: The deadline for applications has been extended to August 7th, and Vox has become a collaborator. And thanks to additional funding, the grant amounts have been increased from $1000 to $2500.
Diversify Photo and the Pulitzer Center are pleased to announce the Eyewitness Photojournalism Grant, a series of reporting grants for freelance photojournalists. The grants will support underreported stories told by journalists historically underrepresented in the American press.
In light of the coronavirus pandemic, the grant will prioritize stories told locally in the United States, with minimal travel required. Stories should cover the systemic, underreported issues of our time, including police brutality, the impact of COVID-19 on vulnerable communities, environmental racism, food insecurity, the opioid crisis, and beyond. Grants will be awarded at $2,500 each, and the application will be open from June 19, 2020, in honor of Juneteenth, and will close July 31, 2020. The grant may be used for the hard costs associated with reporting, including transportation, translator fees, housing, food, and other essential expenses.
In coordination with the Pulitzer Center editorial staff, the following jurors will review the grant applications:
Danese Kenon is a visual leader, cutting-edge coach and dynamic educator with nearly two decades of photojournalism experience. Kenon has been a photographer and multimedia journalist at numerous outlets including The Democrat and Chronicle, The Indianapolis Star, The Pittsburgh Post-Gazette, and The Tampa Bay Times. She is currently the Director of Photography and Video for The Philadelphia Inquirer. She teaches leadership and multimedia journalism to organizations such as The Kalish and Multimedia Immersion and to the students of the National Association of Black Journalists.
Zun Lee is a visual artist, physician, and educator who investigates everyday Black social life as a site of intimacy, belonging and resistive practice. Lee has exhibited and spoken at numerous institutions in North America and Europe. His works are widely published and represented in public and private collections around the world. He is a 2020 Guggenheim Fellow, 2019 Mellon Foundation Practitioner in Residence, 2018 Knight Foundation Grantee, and a 2015 Magnum Foundation Fellow.
Akili Ramsess is the Executive Director of the National Press Photographers Association (NPPA) based at the University of Georgia, Grady College of Journalism & Mass Communication. A Pulitzer-winning picture editor and former director of photography for the Orlando Sentinel, she returned to Atlanta in 2012 to pursue work as owner of Eye of Ramsess Media, LLC, an independent photography, multimedia production and consulting company. Ramsess established a distinguished career as photographer and picture editor with a variety of media organizations, ranging from the Associated Press, Los Angeles Times, Atlanta Journal & Constitution and The San Jose Mercury News. She is on the advisory board and former chair of the National Association of Black Journalists (NABJ) Visual Task Force and the Eddie Adams Workshop. In between conducting NPPA business, an avid motorcyclist, Ramsess likes to spend her spare time tooling around the backroads of Georgia on her Harley.
"This grant was conceived in response to the enormous and disproportionate strain COVID-19 has placed on Black, Indigenous, and communities of color. The urgency of telling these stories has been underscored by the global response to police brutality and systematic racism we have seen unfold over the last few weeks," said Brent Lewis and Andrea Wise, co-founders of Diversify Photo. "We believe that stories—especially those reported by those closest to them—have the power to promote greater understanding and accountability for injustice, but access to funding and resources for telling these stories remains more difficult for journalists from underrepresented groups. Together we can ensure this moment in history is documented and reported by those with the greatest authority and capacity to understand these issues."
"The Pulitzer Center is thrilled to partner with Diversify Photo on this special fund," said Nathalie Applewhite, managing director of the Pulitzer Center. "Our mission has always been to focus on underreported critical global issues. And our commitment to raising awareness of the challenges vulnerable communities are facing—specifically through the lenses of photographers from those communities—is more important than ever right now."
About Diversify Photo
Diversify Photo is a community of BIPOC and non-western photographers, editors, and visual producers working to break with the predominantly colonial and patriarchal eye through which history and the mass media has seen and recorded the images of our time. Their international online database is used by editors at major media outlets seeking to diversify their rosters of visual storytellers, and they create networking, exhibiting, speaking, community-building, and resource-sharing opportunities for their members.
About the Pulitzer Center
The Pulitzer Center, founded in 2006 and based in Washington, DC, has become a major source of support for enterprise reporting on global issues—and an innovative leader in working with schools and universities to bring those issues into classrooms everywhere.
The Center now supports over 150 reporting projects a year. Its work with the Associated Press covering the war in Yemen won a Pulitzer Prize for international reporting. The Center's projects have been among the winners each of the past three years at the RFK Awards and the Overseas Press Club; the Center itself has been recognized for best online reporting by the National Press Foundation, the National Press Club, and the Society of Professional Journalists.
For more information and to submit a proposal, click here.
Should applicants need assistance connecting with potential publishing outlets, please contact [email protected].