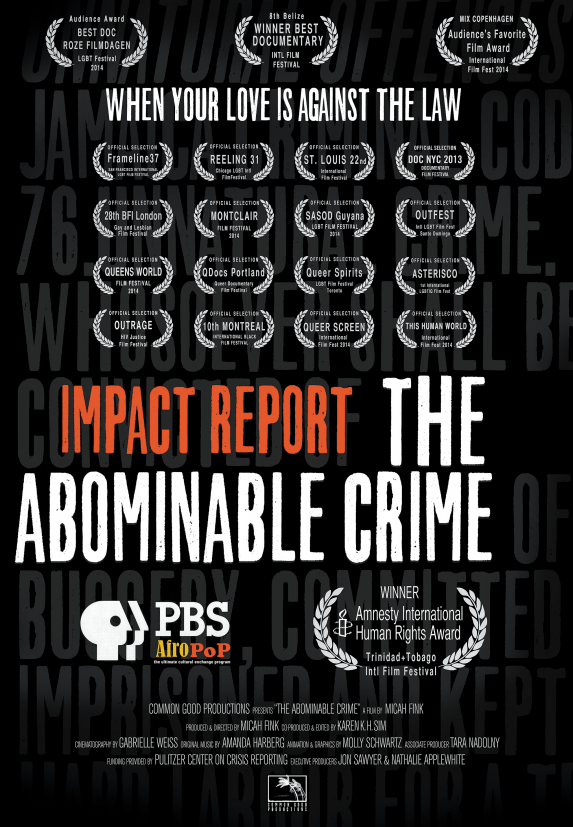 The Abominable Crime documentary is having an increasingly significant impact on discussions of homophobia in Jamaica, helped in part by the strong cultural tailwinds created by the recent legalization of gay marriage by the U.S. Supreme Court.

Three years after being released, the documentary continues to be requested for film festival and community screenings. It is also being widely used as a community engagement tool by LBGTI activists and educators in Jamaica and around the world.

Maurice Tomlinson, one of the film's two main characters and one of Jamaica's leading LBGTI activists, recently organized a series of public screenings in Jamaica. The screening in Montego Bay was particularly impactful, says Tomlinson, because it attracted both the LBGTI community and local Christian fundamentalist congregations who engaged in a productive conversation afterwards around the question of whether Jamaica is still homophobic. The screening was so successful, says Tomlinson, that Valerie O'Bryan, the manager of the Montego Bay Cultural Centre, where the screening was held, volunteered to hold an additional screening on October 25, 2015.

"Ms. O'Bryan is a former broadcaster and journalist and is completely sold on the film (both her and her daughter were in attendance and remarked how much they learned)," writes Tomlinson. "She said that this discussion was very timely, in light of recent developments in the United States and the potential for an impact on Jamaica. She is therefore planning to arrange for media interviews before the screening, so that we can drum up support. In addition, she will be placing flyers in all the churches to encourage conservative voices to be present."

Tomlinson is now organizing an entire day of events around the new screening, which is being promoted as the center of the very first "Gay Pride Mo-Bay." What is particularly remarkable, says Tomlinson, is that he has already attracted one major Jamaican resort as a corporate sponsor, the Round Hill Hotel & Villas. He says that having a Jamaican business openly sponsoring a gay pride event in Montego Bay (or anywhere in Jamaica) is unprecedented, and may well herald the beginning of a larger culture shift in Jamaica. The film is enabling a new kind of conversation in Jamaica, says Tomlinson, as the country absorbs the reality that most of its tourism industry now depends on countries that have legalized gay marriage.

TAC is also having an impact in the United States and abroad. In just the last four months the film has been screened in Manhattan, Queens and Brooklyn, NY; Mexico City; Wanstead, Barbados; London; Titusville, NJ; Washington, DC; and Kingston and Montego Bay, Jamaica.

Last weekend the film was shown at the launch of The Caribbean Equality Project, a new pan-Caribbean LGBTI support group, in Queens, New York. The screening was packed with about 80 people and brought together a remarkably diverse group of Indo-Caribbean and Afro-Caribbean LGBTI activists and their allies. After the screening, Mohammed Q. Amin, the group's main organizer, said he felt that the film's emotional intensity and its focus on making the gay Caribbean experience visible was unique. Showing the film, he said, offered his group the chance to engage his Queens-based community with a profoundly human look at the reality of homophobia in the Caribbean while also offering hope for a better future as they launch their new organization.

Over the last three years, many people have remarked that the film seems to be able to change how audiences perceive—and engage with—the issue of homophobia and LBGTI rights. Post-screening conversations almost always begin with first-name question about Simone and Khayla, and Tom and Maurice. People want to know how they are doing—not as gays and lesbians—but as a mother and child, and as life partners.

Diverse audiences around the world are responding to these characters as unique people who are struggling with both family and social relations—and making a human and caring connection to them. The film seems to have the ability to reframe the conversation from divisive issues of ideology, or narrow focus on the issue of sexual preferences, into intimate conversations about the unique quality of their relationships. This then leads into a larger discussion of the various social issues that make these relationships so challenging.

Since its initial release three years ago, TAC has been accepted into 24 film festivals around the world, won five major awards, and been (or is being) translated into Spanish, German and Japanese. We've had two national broadcasts, one in the U.S. and another in Belize, which is currently struggling to address its legacy of anti-gay laws inherited from its colonial past. And just recently, The Abominable Crime has become available for rent on i-Tunes, Hulu, Amazon Prime, Youtube, and Vudu. We can expect the film's impact will continue to spread as more and more people become aware of it and have easy digital access to watching the documentary. The short trailer has already been screened more than 50,000 times from locations in more than 121 different countries, and the festival and screening requests continue to arrive.

Perhaps the best way to summarize the film's impact is with a quote from Jason Jones, executive director of I Am One, the leading LGBTI group in Trinidad & Tobago. According to Jones, The Abominable Crime is "the most important LGBTQI documentary film ever to be produced in the English speaking Caribbean."

Read the full report on the impact of The Abominable Crime.
RELATED ISSUES