Pulitzer Center Update January 24, 2022
332 Journalists, 84 Countries: World-Changing Impact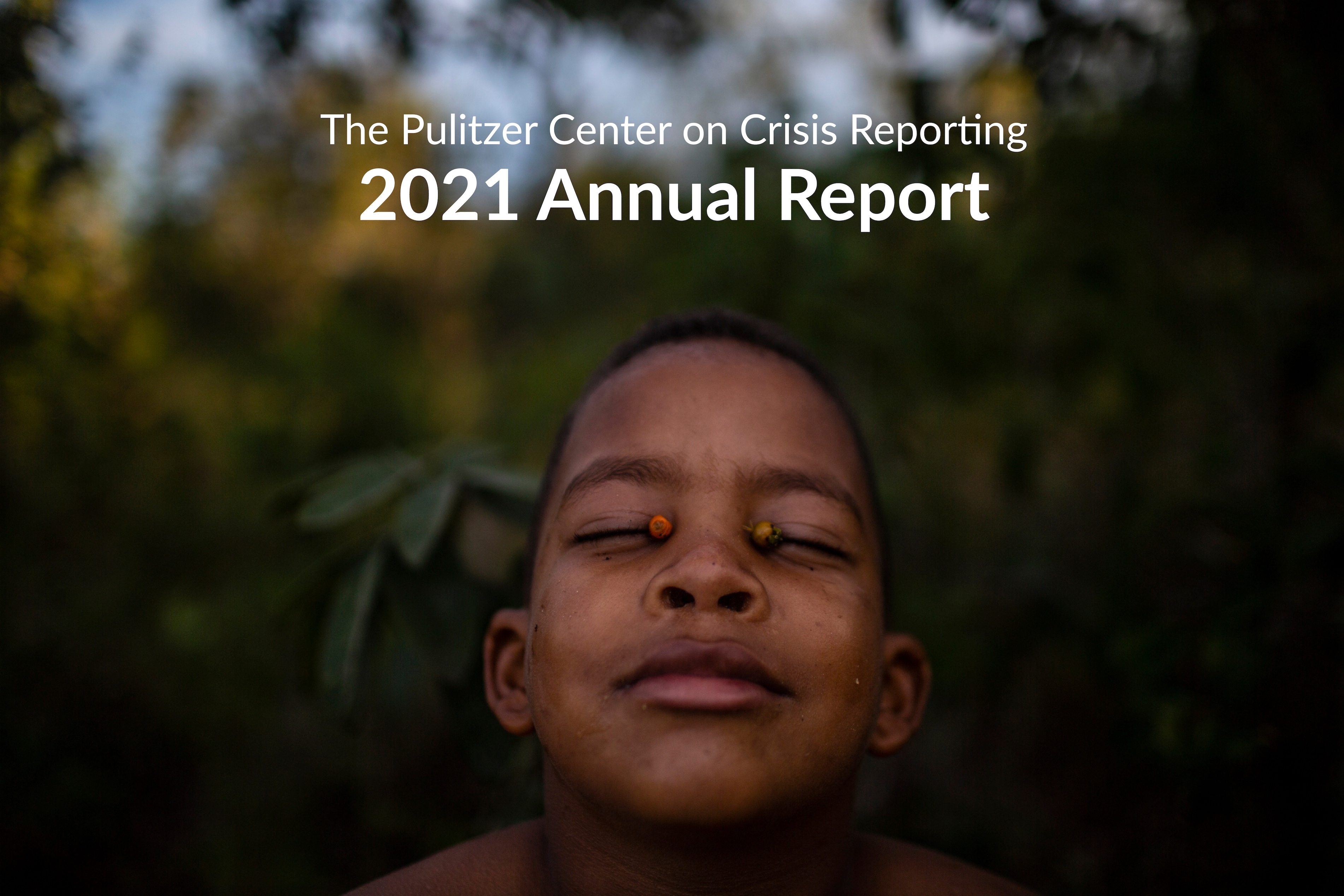 Image from the Pulitzer Center's 2021 Annual Report.
As 2021 came to a close, we had the opportunity to gather in celebration of the Pulitzer Center's first 15 years. That we managed to do so with no COVID-19 consequences was a minor miracle. A bigger miracle is the Pulitzer Center itself, an initiative that has grown so much bigger—and more essential—than the two of us imagined when we first discussed this idea in fall 2005.
In the past five years alone, we've grown at a dizzying pace.
In 2016 we had a staff of 16, all based in Washington, D.C., supporting just over 100 projects, and almost all of those projects focused on reporting overseas. Today we are supporting twice that number of reporting projects, many now focused on critically important issues here in the United States, with a staff of nearly 50 that now includes colleagues based in Houston, New York, Philadelphia, Boston, Chicago, Atlanta, San Francisco, and New Haven, Connecticut—and also in Brazil, Portugal, the Democratic Republic of the Congo, Malaysia, Thailand, and Indonesia.
We have built a far bigger presence in the United States, in partnership with regional news outlets and also with schools and universities. At the same time, we have seen an ambitious expansion of our work overseas—with the creation of cross-border collaborative reporting networks and an emphasis on elevating the voices of journalists who live in the communities on which we report.
In the annual report and highlights video, you'll see the range of reporting, education, and outreach that we have helped facilitate—and the difference it has made in the lives of so many.
It is a privilege to work with so many talented people dedicated to getting our country and the world out of the ruts we're in. Those ruts are deep, as you know. Getting us back on a more sustainable, more productive path is likely to be the work of many hands and many years.
In setting about that task, we can't imagine better or more inspirational company than the mutually reinforcing communities that make up the Pulitzer Center: our grantees, our news media and educational partners, the donors who sustain our work, and—not least!—the readers and viewers who follow our work and make it part of their own engagement as active citizens, in the United States and across the globe.
All Best,
Emily Rauh Pulitzer, Chair
Jon Sawyer, Executive Director
---
IMPACT
Grantee Chris Arsenault has been reporting on the discovery of billions of barrels of crude oil off the coast of Guyana, and the growing interest from countries such as Canada and China, for the Canadian Broadcasting Corporation (CBC). In his report, Arsenault speaks to politicians, activists, and environmentalists about how this new oil field affects Guyana's changing economy, its potential environmental impact on a rainforest, and the looming fear of resource curse. Arsenault's reporting for the CBC was recently picked up by a local Guyana newspaper, Kaieteur News Online.  This prompted a response from Guyana Ambassador to the United States and former Prime Minister Samuel A A Hinds, signaling a growing conversation on the issue among local stakeholders.
---
This message first appeared in the January 21, 2022, edition of the Pulitzer Center's weekly newsletter. Subscribe today.