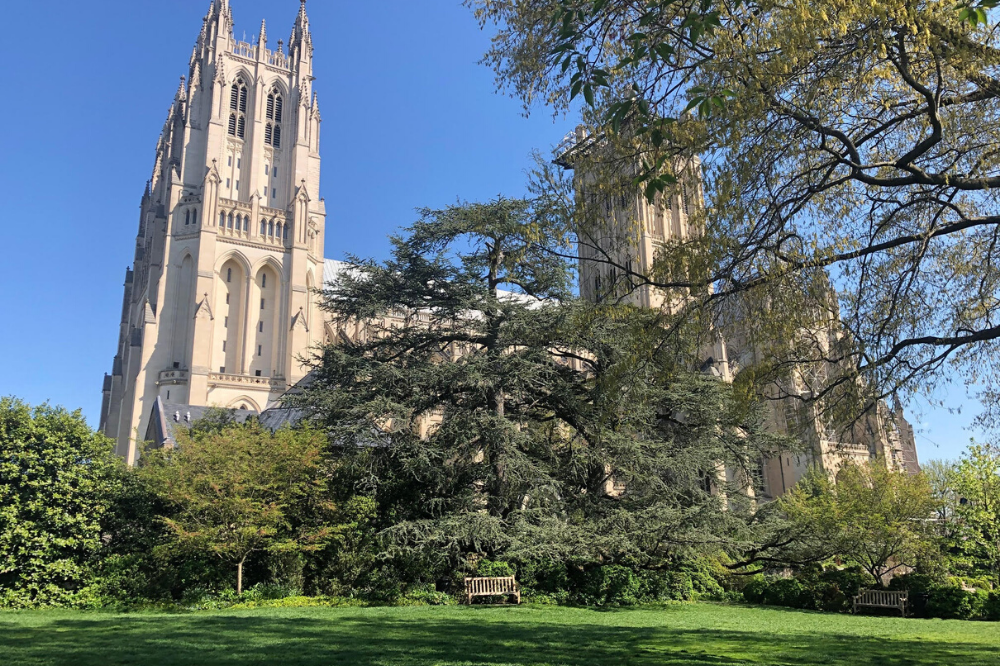 A Message from Jon Sawyer - April 13, 2020
The Washington, DC neighborhood where we live is full of woods and open spaces, a safe place for the socially-distanced endless walks that are part of our new normal in this time of coronavirus.
A favorite circuit takes us down into Rock Creek Park and then back up through walking trails that end at Washington's highest point, the grounds of the National Cathedral and also of St. Alban's, the Episcopal parish that has been our family's church home for nearly 40 years. One of the many disjointing experiences of this Easter, Passover, and Ramadan season has been circling those noble, now empty buildings.
In my walks, I've been thinking of another disjointed time, a century ago. Construction of the Cathedral had begun but completion was decades away. The nation was at war. It was living with a brutal global pandemic. It suffered the consequences of a political leadership and news media that each failed to meet the moment they were in.
As I walk I've listened to John Barry's The Great Influenza, the mesmerizing narrative of the 1918 influenza pandemic that claimed an estimated 50 million lives, 675,000 of them here in the United States. President Woodrow Wilson, consumed with World War I, never publicly addressed the virus that was ravaging communities across the nation. Newspapers big and small, virtually without exception, repeated false official assurances that the public need not fear the disease. Thousands died who might have lived.
As we face our own pandemic we must do better.
At the Pulitzer Center, that means doing what we can, in journalism and public engagement both.
We have approved more than a dozen emergency reporting grants on COVID-19, with outlets ranging from the Associated Press and the Philadelphia Inquirer to multi-country collaborations in Latin America, the Middle East, and Africa.
Our education team has produced webinars on responsible reporting, an introduction to our many digital resources, lessons on the response to past infectious-disease epidemics that draw on the work of Pulitzer Center grantees, and Speaking Out on Coronavirus, a platform for our reporting fellows, professional journalist grantees, and education partners to share their experiences confronting the pandemic.
Our virtual Talks @ Pulitzer began with Dr. Seema Yasmin, a past grantee and current director of the Stanford Health Communication Initiative. The series continues this Thursday at 2 pm ET with grantee Jon Cohen, a senior correspondent with Science who will discuss the search for a vaccine against COVID-19.
Please take advantage of these resources. Let us know how we can make them stronger still. A century hence, when our grandchildren's children walk the paths around the Cathedral, I hope they'll look back and say that we met our moment, that we rose to the challenges we faced and helped each other through.