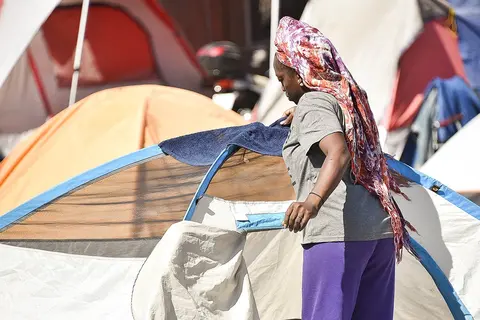 Dear Attorney General Letitia James, 
My name is Zalachi Robinson. I am an eighth-grade student from Grand Concourse Academy Charter School. There are thousands of homeless people in the world who are under even worse conditions than they were before the pandemic. They're having to deal with the COVID-19 pandemic, which decreases necessary resources for them like food, water, and shelter. They also have to worry about getting the virus itself, and having difficulties with social distancing themselves from other people who may have the virus. According to a Pulitzer Center article titled "COVID-19 Is a 'Crisis Within a Crisis' for Homeless People," written by Molly Bohannon, Katie Surma, Austin Fast, Nino Abdaldze, Megan Lupo, Jamie Fields, and Sanjana Garg, homeless people all across the country, all across the world even, are getting infected with this virus and possibly dying from and spreading it to other people, but they're going uncounted and unnoticed. 
What's more, there are homeless people in the U.S. who live on the streets and were promised to be taken care of and given things like round-the-clock security, water, methods of social distancing, and hygiene supplies. But as of now, the supplies are scarce and social distancing rules aren't enforced. Citing directly from the article, "Nearly 200 tents stand inches apart on the scorching gravel lots, many covered in blankets for an extra layer of relief from the desert sun. Outside, their occupants sit on the hot ground or in folding chairs, nearby palm trees providing no shade. Despite 12-foot-square sections painted in the gravel, there is little social distancing for Phoenix's homeless population. Created by local officials in late April as a temporary solution for some of the estimated 3,700 unsheltered homeless, the fenced-in lots on the edge of downtown promised round-the-clock security, social distancing, and access to water and toilets. But residents complain that hygiene supplies have become scarce, and measures meant to contain the spread of COVID-19 are not enforced." This isn't okay. People without homes should have access to all the resources that other people do. They should be able to have shelter, food, water, and hygiene supplies. And I care about getting those supplies to them.
I care about this mass homelessness because there are things like this happening in my community. I see people laying on the sidewalk every day. I see people asking for money at storefronts every day. What's more, people without homes  aren't being recognized as victims of the virus, even though they are one of the most vulnerable populations. What's more, most people without homes are people of color, and this makes me care even more because I myself am a person of color. The article I cited earlier also states "Five months into the pandemic, statistics show people of color are disproportionately infected with and dying from COVID-19." But at the same time, Blacks, Latinos, and Native Americans are disproportionately affected by another public health crisis: homelessness. These same groups comprise nearly 65% of the country's homeless population, according to HUD's 2019 Annual Homeless Assessment Report. This demonstrates that not only are homeless people being undercounted but that people of color are statistically more likely to get infected. This is a severe issue that I care about deeply. I want to fix this issue by being able to give people without homes a permanent place to live, or at least a place to stay temporarily so that they can get jobs to afford a place to live in. And in this pandemic, it's even more important to get these people homes so they can stay safe from the virus. This is why I think it is essential for this group of people  to be taken care of during this time of turmoil.
There are many possible solutions to this problem. The one I prefer is improving the homeless shelters that already exist, and possibly building more of them. This would help because along with having more places for people to stay, the places they already have could have better living conditions. These shelters should be stocked with more food and water, more hygienic supplies to keep people healthy, and the shelters should be cleaner, as that's the reason why many people don't stay in them. If shelters become more appealing, more people without homes will want to stay in  them and there'll be fewer people on the streets. Another addition to homeless shelters should be therapists. Many people who live on the streets don't have the best mental health, and if they're not mentally stable, they won't be able to hold a job for very long, let alone even get past an  interview. So there should be at least one professional therapist at every homeless shelter to help restore the people there to a healthy state of mind. Once the people living in the shelters are mentally capable, they can start looking for jobs, and once the people that have jobs can afford a place to live, they can leave the shelters. This is how I think the homelessness problem should be solved.
Thank you for taking the time to read this letter. I hope you at least consider the suggestions I gave you because as I said earlier, homelessness during this pandemic is a serious problem, and it needs to be taken care of.
Sincerely,
Zalachi Robinson
---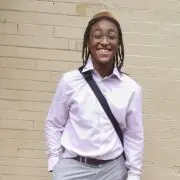 Zalachi was born and raised in NYC. His love for learning was discovered early and nurtured. Soon, Zalachi was reading everything he could get his hands on, even as a toddler! A bit of an introvert, Zalachi shows his other side, when playing the drums in church, while singing, and when mastering the latest video games with his friends.  His cool, nonchalant demeanor is only dwarfed by the size of his loving heart. Zalachi will give his last to help a person in need. Currently a Senior in Grand Concourse Academy, Zalachi has amassed many Certificates and Achievement Awards. He consistently remains in the upper echelon of his class.
Read more winning entries from the 2020 Local Letters for Global Change contest!