where water used to be
By SydneyBlu Garcia-Yao
8th grade, Bala Cynwyd Middle School, PA
3rd place contest winner
With lines from "Where Water Used to Be" by Rosa Lyster, a Pulitzer Center reporting project
i. eulogy for water
water used to be running down our rivers, reservoirs robust,
rivulets overflowing, but now,
only the memory of water is there.
water used to be so plentiful that mama let us dip our hands in
& drink right from the stream, our gulps too big,
water splashing carelessly—
we made our faces gleam & stared at our reflections—
everywhere is a place water used to be.
our aquifers used to seem endless,
until one day, nothing was left.
our lakes are too polluted,
the fluid too dirty to touch
because we took clean water & turned it
into a wasteland.
& when our mouths are parched, all
we can do is remember
when water used to seem infinite.
ii. our future
drought leads to hunger leads to violence: the path is simple.
we start with a stream until it empties into a river
until it empties into the ocean & the problems
are so much bigger than what we could imagine.
yet, all we see is the stream - the tip of the iceberg, we
wait & we wait & we wait, hoping, praying, that water will return
to where it used to be, when really, we needed action
before it was too late.
we used to stare into our reflections in the shine of the water,
but now our reflections stare back at us,
asking us why we didn't care more
when water used to be everywhere.
---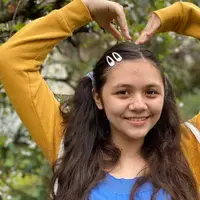 SydneyBlu is a poet with an obsession with earth science, particularly with water systems. She is particularly concerned with matters of climate change and what it is doing to the planet. Her poetry has previously been recognized by the Bow Seat's Ocean Awareness Contests, which gave her her passion in spreading awareness about climate change. SydneyBlu also competes in Science Olympiad and really loves it! She also enjoys art, journaling, and cute things.
Read more winning entries from the 2020 Fighting Words Poetry Contest