By J Valverde Pacheco
10th grade, Monteverde Friends School, Costa Rica
With lines from 'The Possibility of a Third Wave Is Frightening' by Parth MN,  a Pulitzer Center reporting project.
Viendo como suben los números, esperando que no suban mucho más.
En medio de una tercera catástrofe mundial y al fin salir de esta pesadilla.
Se pueden ver los ojos oscuros y exhaustos de las personas alrededor.
"Every day, we wake up, check the numbers, and then breathe a sigh of relief. Lately, it hasn't
been worrying"
Es como no poder respirar, es como estar debajo del mar o en un cuarto lleno de humo.
Es necesario un abrazo o cualquier interacción con otra persona pero se está atrapado.
Despertarse solo para ver que todo está empeorando.
1 ... 2 ... 3,4,5,6,7,8,9… 65 muertes cada día y no hay nada que podamos hacer para ayudar.
"The head feels heavy and it keeps spinning. We feel dizzy all the time. I don't think we can handle
another attack of Covid, and being constantly surrounded by death"
No podemos pasar por esto otra vez.
Veo los efectos que causó la pandemia, nunca había visto el ánimo humano tan bajo.
Antes de la pandemia una mala noticia no nos afectaba mucho pero ahora, se siente que cada mala noticia
es el mundo siendo destruido y empeorando cada vez.
Cada día la pesadilla empeora.
No puedo, no podemos pasar por esta pesadilla una tercera vez.
"But what if a third wave comes? I can't think of going through the devastation all over again."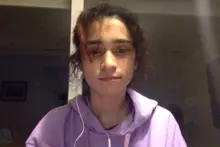 J nació en el año de 2005 en Costa Rica y vivió en la montaña de Monteverde toda su vida. J identifica su género como género fluido y es une artista que sueña en, algún día, cambiar el mundo e inspirar con su arte. Monteverde es un lugar que depende en el turismo y durante la pandemia vio cómo su hogar sufrió.
Estos años pasados la pandemia afectó a todos e impactó al planeta. Todos sufrimos pero algunas personas trabajadoras lo hicieron más, con trabajos no reconocidos por muchos que, sin embargo, son vitales. Entonces escogió la historia de un trabajador y su familia en la morgue durante la pandemia. La idea del poema es visibilizar estas vidas y estos tipos de trabajos y unir a todos ayudando a no sentirse tan soles durante estos tiempos tan oscuros.
Read more winning entries from the 2022 Fighting Words Poetry Contest.