By Kavana Anklekar
12th grade, The Orbis School, India
With lines from "'Look After My Babies': In Ethiopia, A TigrayFamily's Quest" by Cara Anna and Nariman El-Mofty, a Pulitzer Center reporting project
In Ethiopia, the cradle of humanity,
Abraha gently caresses his wife's pregnant belly.
"Tell me Letay," he whispers with love,
"Will it be a girl, as strong as you,
or a boy as sweet as me?"
The room fills with her merry laughter.
As she watches her sons jostle in the mud,
she whispers back softly,
"A girl, if God is kind."

The hour of birth inches close,
and Letaya moans with piercing pain.
But her cries are silenced by the gunshots,
that blaze and burn through the stress of the city.
It is the same old story,
man against man.
A flimsy difference separates the two.
Caught between this horror is Abraha,
and his wife withering in pain.

He had longed for a daughter.
Now, nestled beside his wife, he saw two.
God had been kind, this once.
But not again.

People's cries rose through the streets
as bullets wounded their weary bodies
and the little girls cried like only newborns can.
But in the corner of the darkness,
a man stifled his sobs,
hoping against all odds
that God would be kind
once again.
But amidst a thousand cries
one had grown silent forever.
Letaya neither cried, nor stirred.
But before she had departed, she had whispered,
in the same gentle voice he loved so much,
"Look after my babies.
"I am going to die. I don't have hope.
"I'm very sorry."

The moon hangs low,
reddened by bloodshed,
saddened by despair.
In the midst of a wailing city
a man sits alone, rocking a cradle,
in Ethiopia, the cradle of humanity.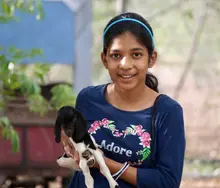 Kavana Anklekar is a class 12 student of The Orbis School in Pune, India. With a name that translates to "poem" in her mother tongue, Kannada, poetry has always been her chosen form of expression. She wishes to pursue a career in diplomacy while continuing to explore the experiences that shape human life through her stories, long-form essays, and—of course—poetry!
Read more winning entries from the 2021 Fighting Words Poetry Contest.