By Shirzad Mustafa
11th grade, Westfield High School, NJ
With lines from "Indigenous in São Paulo: Erased by a Colonial Curriculum" by Jennifer Ann Thomas, a Pulitzer Center reporting project
You would have us vanish, yet
we are here, to prove that we exist
incarnation of ancestral ways
etched beneath the São Paulo concrete
You were the storm cloud, wolfing
down the garden we lovingly sowed
You are no savior of souls
but merchants of wholesale slaughter
Tupinámbas extinction without warning
dispossessed forests and itinerant villages
turning to models of invisibility and exclusion
forever work of the Portugal caravel
You weren't done, more indignity
more insidious ways to exterminate
assimilated, brutalized culture
crumbled defiance, robbed of tongue
We swam against the current of forced migration
of being reclusive out of fear
sidelined by the glorification of the colonizers
in calico rags, saying never a word
Out of generational abuse, resplendent
in the pride of our ancestors, Indigenous names
We are the adversary against pervasive ignorance
the next injustice, next plunder, next loot.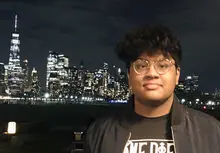 Shirzad Mustafa is a rising senior at Westfield High School in Central New Jersey. He is a Bengali, Muslim-American transplanted to the suburbs from New York City. Poetry is how he tells stories of ordinary people from the past, his roots, and the immigrant diaspora. Inspired by the artists from the Arab Spring, he wants to use his craft for social justice. He is humbled to be part of Pulitzer Center's initiative focusing on underreported stories.
Read more winning entries from the 2021 Fighting Words Poetry Contest.