By Sabrina Wang
6th grade, Worcester Academy, MA
With lines from "An Indigenous Village Works To Save a Brazilian Forest, Seed by Seed" by Daniel Grossman and Dado Galdieri, a Pulitzer Center reporting project
There is a forest where
the grass is knee-high
sparkling like emeralds
across the muggy plain.
There is a forest cleared
and replaced with soy,
                                  corn,
                                           cotton,
the trees bowing to the machines.
There is a forest
where the situation seems hopeless
hundreds,
thousands of square miles destroyed.
That is why we must go on.
There is a forest
where the Xavante gather fruit-
ripe buriti like small jewels,
murici like yellow crabapples,
seeds of hope glisten beneath the waterlogged ground.
There is a forest
where the trees are dying.
but with the seeds, we will reforest.
If you love the
Cerrado, it gives back to you.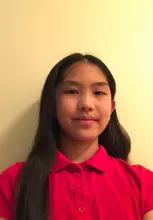 Sabrina Wang is a 6th grade student who loves mathematics, reading, and writing. Her work has previously been recognized by Young Writers USA for their Empowered poetry contest. She also enjoys playing sports and exploring different plants. She is grateful to the Pulitzer Center for honoring her work!
Read more winning entries from the 2022 Fighting Words Poetry Contest.