By Shezal Bardaie
9th grade, New Tech High @ Coppell, TX
With lines from "The Mystifying Rise of Suicide in Pakistan's Thar Desert" by Alizeh Kohari, a Pulitzer Center reporting project
Content notes: This poem contains themes and descriptions of suicide.
Chaman Lal received a call from home.
His youngest sister, 20-year-old Babita, was missing.
Tharparkar
The largest district in Sindh
A tropical desert
A sanctuary for endangered species
Coal that could fuel the country for centuries
Thar badlega Pakistan
(Thar will change Pakistan)
Uttho
You need to wake up
Suicide
It shouldn't even happen yet
It has become common
Thar badlega Pakistan
lekin acha ho ga?
(but will it be good?)
Chaman's other sister, 29-year-old Guddi, woke up to find that her husband Doongar hadn't come home all night.
Suicide rates in Thar are rising
The victims?
Women
Children
People who ended their life before they had even gotten to truly live it
lekin kyu?
(But why?)
Thar badlega Pakistan
60 percent of the suicide victims in Tharparkar were teenagers
60 percent of the victims were 10-20 year olds
45 percent of the female victims had no proper education
40 percent of the victims belonged to low-income groups
76 percent of the victims never consulted a psychiatrist
The female-to-male ratio was 4:1
And over 50 percent of the suicides were planned.
Lekin kyu?
Babita and Doongar had been located and confirmed dead,
their bodies found in an empty house at the edge of town,
hanging by a single rope from a ceiling fan.
Kyu? Kyunki
(Why? Because)
The poor are extorted
Kyunki
They have no money so they think the only option is to give up
Kyunki
Wives are abused and can do nothing about it so they think the only option is to give up
Kyunki
The stigma against getting help is too deep so they think the only option is to give up
Kyunki
Parents say these children are too jazbaati. (Emotional.)
But they don't understand having unattainable dreams,
Working all your life, thinking you can make it,
Just to be disappointed in the end
Again
And again
And again
Thar badlega Pakistan
In Pakistan, suicide is a criminal offense
Attempts are punishable by imprisonment
Police exploit these survivors,
Asking for bribes
saying all is forgiven.
People are ostracized,
harassed,
discriminated against.
No help is offered.
Their fate is bleak,
Only punishment lies ahead.
Unjust punishment.
What does it do?
What is it good for?
Thar badlega Pakistan
lekin acha ho ga?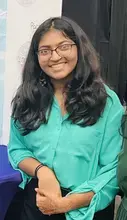 Shezal Bardaie is a rising sophomore at New Tech High in Texas. She enjoys reading, math, and spending time with family. As a first-generation Pakistani-American, reading about Thar and what it was going through immediately inspired her to write a poem to spread awareness on what was happening in her home country. She hopes that through this poem, she can connect to different people and help this issue, even just a bit.
Read more winning entries from the 2023 Fighting Words Poetry Contest.