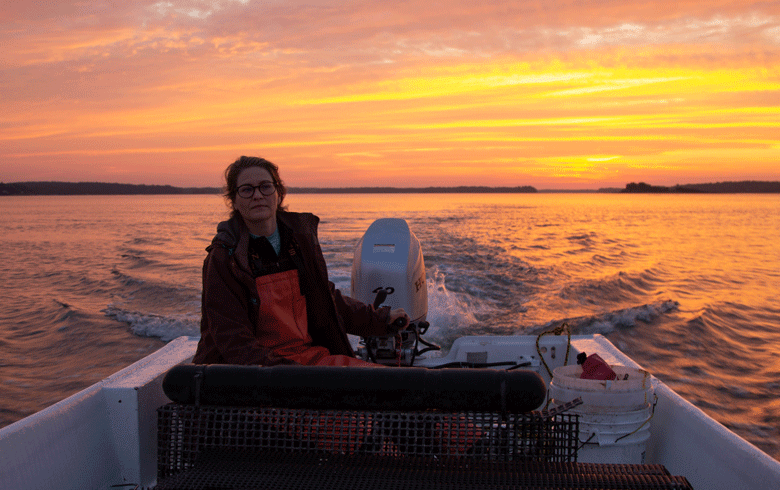 Libby Davis's mobile raw bar, Lady Shuckers, was born from her desire to shuck oysters—and change the industry paradigm.
"Being pushed enough to work harder and say, 'Well, if you want to shuck, you got to be as good as the shuckers,'" Davis said, "who in my circle were all men."
Currently, Maine's Department of Marine Resources doesn't track statistics on the gender and diversity breakdown of the state's aquaculture licenses or commercial fishing licenses. But Afton Hupper, an outreach and development specialist at the Maine Aquaculture Association, estimates that in 2019, 80 percent of all aquaculture licenses and limited purpose aquaculture licenses—permits that last a calendar year and are often used for test sites—are held by men.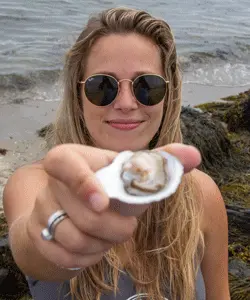 These numbers could be changing. According to a report by the Gulf of Maine Research Institute in May 2020, a third of all limited purpose aquaculture, or LPA licenses were held by women.
"Some of the pioneers of Maine aquaculture were and are women," said Chris Vonderweidt, project manager at the Gulf of Maine Research Center. "I think women are a crucial piece of the industry."
Sara Rademaker is one of those pioneers. The founder of the only glass eel farm in the U.S., American Unagi, she got her start in aquaculture 15 years ago in Uganda, where she worked under a female boss.
Rademaker believes working with women coupled with the newness of the aquaculture industry in relation to the fishing industry, is why she has never seen her gender as an obstacle in aquaculture.
"The aquaculture industry is new, so you don't have the expectation of stereotypes," Rademaker said. "Women are easily entering the field when they already exist elsewhere."
Amanda Moeser was one of Maine's women oyster farmers who held an LPA in 2019 and is now in the process of getting a standard aquaculture license. The owner of Lanes Island Oysters, Moeser began farming six years ago and says she was up against several personal barriers when entering the industry, such as having the money and being able to both work and care for her sick mother.
"Taking care of my mom was something that took me away from my farm for a greater portion of the year," Moeser said. "This tends to be true of women — they have more domestic household responsibilities, including being the emotional support of family."
Davis agrees. While she says everyone experiences challenges in the workforce, she also believes some are more frequently experienced by women—starting with condescension.
"I've been asked, 'Can you do a full day out on the water in the rain, not get cold, come out in the winter, lift cages?'" Davis said. "Or, 'Are you strong enough to be lifting this?' I think a lot of that is said with good intent—they don't want us to get hurt and stuff, but at the same time, it's like, 'Are you asking this high school guy the same thing?'"
"The aquaculture industry is new, so you don't have the expectation of stereotypes."
—Sara Rademaker
In addition to running Lanes Island Oysters, Moeser is pursuing a doctorate in interdisciplinary environmental science from Antioch University New England, where she's researching gendered roles in fisheries.
In shellfish aquaculture in Maine specifically, she believes it is typically harder for women and minorities to get loans from banks to start their businesses.
"They won't give up money based on your reputation or your work ethic or how good you are at growing oysters," Moeser said. "It's notoriously more difficult for minorities and women to get financed for everything, because they just typically don't have the money to back it."
Moeser started her company with a 1995 Buick Century and an 11-foot boat she purchased for $750. She says her only assets were her relationships.
"There are a lot of rich people that are either self-financing themselves, or they're older white men who are deciding to start their own oyster club," Moeser said. "Because they own pretty nice homes, and in some of the coastal towns, they can use that as collateral."
There are, however, more than just issues of financing, according to Moeser.
"It's also about ownership, wages, gear, research, and development," she said, "as well as social networks and existing training programs that favor a patriarchal status quo."
"At one point, 90 percent of the commercial fisheries were worked by people of color, specifically African Americans."
—Imani Black
Worldwide, just 14 percent of the nearly 60 million people who work in fisheries and aquaculture are women, according to a 2018 UN report.
According to Moeser, this lack of representation is not confined only to women. During the time of their interviews, both Davis and Moeser do not know of any minority-owned aquaculture businesses in the state.
Imani Black, however, may be changing that soon. In 2020, Black started the networking group, Minorities in Aquaculture, in Maryland, though she hopes to eventually expand worldwide.
Through MIA, Black's goal is to empower women of color and educate people on the barriers that women and minorities face in the aquaculture industry.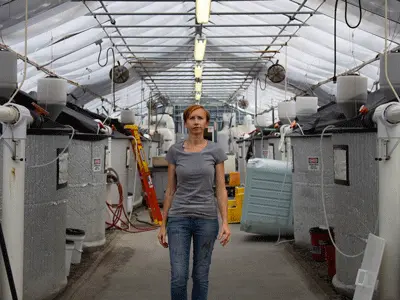 "Not having transportation is a real issue," Black said. "Inner city kids use public transportation, so we can't necessarily expect them to be able to make it to an out-of-city internship. They also need housing if they are able to make it to an internship, as well as boots or field gear."
Minorities haven't always been left out of the working waterfront.
"At one point, 90 percent of the commercial fisheries were worked by people of color, specifically African Americans," Black said. "Back then, they were boat captains, first mates, oyster saloon owners—they were a commodity in a lot of those areas on the coast, and now we can't even pinpoint who is who and where they are."
Davis is using her company to help further the future of these groups by only buying products from female-owned aquaculture farms in Maine.
"I am happy to help the cause and create some representation because we're out there. There's just not many of us out there, but there are a couple,"
Davis said. "I think the couple that are out there are very passionate about what we do."