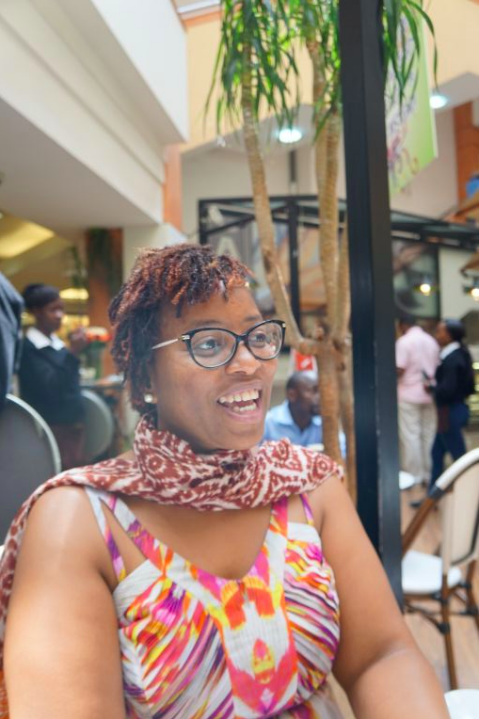 When Mark Zuckerberg went to Kenya and Nigeria in 2016, he proclaimed that the future would be built in Africa. That same year, Y-Combinator accepted startups with African roots for its much sought-after accelerator program. But is Africa indeed the next frontier for Silicon Valley?
Not so fast, says Mercy Mutua, an investment manager based in Nairobi. Despite all the fanfare and media coverage, the venture capital scene in Africa, particularly beyond South Africa, remains nascent.
"There are few, if any, funds here that are run by Africans that invest in African-led companies. It's all largely capital from the US and Europe, much of it going to foreign-led companies on the continent," she says. "So how do we build the next generation of private equity funds or impact investors that are actually led by locals?"
Mutua is sitting in a mall coffee shop in the Nairobi Kilimani neighborhood, surrounded by (mainly) young people concentrating behind laptops. Many of them are entrepreneurs, she points out, or working on social enterprises. But most are foreigners – not Kenyans.
Mutua has a challenging task ahead of her: building local funds in Africa to finance African ventures. Recently hired by Capria, a Seattle-based impact investment fund, Mutua's sole focus as the Africa Director is to unlock local pools of capital and bolster a new generation of African fund managers.
Seattle-based impact investor Will Poole, who established Capria in 2015 with three partners, is behind this new global push to democratise impact investing. The reason, he says, is pretty obvious: "Parachute investing is a problem. If you're investing in early-stage companies from an airplane, you should consider philanthropy, not investing. Early stage companies need help with everything, not just money. So flying in once a quarter is not going to cut it."
Poole is no newbie to investing in emerging markets. Much of his passion for expanding the Capria Network to include local funds comes from his work in South Asia, where he helped set up one of the first impact investing early-stage funds, Unitus Ventures. It currently has $38 million assets under management in a variety of companies spanning health, e-commerce, and education in India.
"I was pretty adamant that we needed to get at least one-third of the capital for that fund from Indian billionaires, and there's plenty of them," he says. "We had a lot of chai meetings to make it happen. But we did it. So it is possible to unlock local capital. Not easy, but possible." This spring, Unitus completed fundraising for its second fund; almost half of the capital came from Indians themselves, rather than outside sources, he says.
Would It Work in Africa?
That may be harder to replicate in Africa, given that it's not one country but a continent with varied markets, political systems, strong regional differences, and less sophisticated fund managers, says Mutua. And so far, the funds have been coming from abroad: according to a 2017 report by KPMG and the East Africa Venture Capital Association, 75 per cent of those surveyed noted that their main source of funds is investors from Europe and North America, largely compromising of DFIs, high net worth individuals and family offices, and others such as insurance, asset managers and partners equity.
The issue seems to translate with the human capital as well. "The majority of fund managers in East Africa are foreigners, and predominantly male," says Mutua. Kenyans "don't have that sophistication. We didn't go to school and specialise in private equity or entrepreneurship." But the country is "at a significant point," she adds. "In the next five to ten years, Africa will either make it big or bust."
Between 2007 and 2016, $4.8 trillion was raised for private equity funds; of that, only 0.6 per cent, or $28 billion, was allocated to Africa, and an even smaller fragment, of $2.7 billion, for East Africa, according to the KPMG report. The majority of the private equity funds in the region are also quite young: less than a decade old.
That's why Poole is pushing for a new model: in ten years or so, he hopes that the Capria Network will have $1 billion in assets under management to help indirectly improve the lives of 100 million people across Africa, Latin America, and Asia. As of now, the network has $250 million assets under management, he says. And more funds are keen to join.
Over 500 fund managers from around the world applied to be a part of the Capria Network, but only 17 applications were accepted. Some were more established than their African counterparts. In Brazil, Performa, which already has two funds of $75 million cumulatively invested in tech, plans to set up a third one focused on impact. Santiago-based Fen Ventures completed the final close of their $21 million fund and has already approved the first two investments from that fund.
Philanthropy on Steroids
But Mutua says she's dealing with far more rudimentary players. Alitheia Identity Managers, for example, is an all-women team of private equity investors from South Africa, Nigeria and Zimbabwe, looking to invest in women-centric businesses on the continent. They've struggled to close funding for their first fund collectively, spending over a year, to raise $100 million.
Polo Leteka, one of the fund managers, points out that their targeted market - women entrepreneurs - is a massive missed opportunity. "Forty per cent of businesses in sub-Saharan Africa are run by women, and yet less than ten per cent of those businesses have access to capital," he says.
Poole recognises that it's not easy to build such a network, and there is no "cut and paste" solution, despite his success in South Asia with Unitus.
One key to democratising impact investing is to rethink the terminology itself, Mutua says. "It's hard to decipher one from the other these days in East Africa - private equity, impact investing, development financing… It all has social impact inherent in it, because if the business succeeds, it will improve the quality of life for some."
Given that wealthy families in Africa are less inclined to invest for reasons of social good, Mutua says that deals have to be presented in a commercial manner. So, out goes the language of impact investing. In fact, Poole says jokingly that some impact investing could even be classified as "philanthropy on steroids". And that, he says, is what he's trying to avoid.
"Impact investing is a strategy, an approach. And in 20 years' time, it'll be mainstream and accepted. But as a whole, it still has to be profitable," he says. "It's not a charity, and we have to make that clear, particularly in markets such as Africa."
Vava Angwenyi is a Kenyan-born coffee entrepreneur. She drives up in a Jeep in the leafy neighborhood of Karen in Nairobi, an area she knows well. She's spent nearly a decade trying to build a Kenyan coffee brand. First, she started with retail and a cafe in Nairobi. In the last three years, she's shifted to focus primarily on wholesale. Fundraising, she says, has been "a headache". She's getting ready for a trip to the US, she says, where she hopes to garner some capital for her coffee company.
"I've been to so many networking events here in Nairobi, and the VC scene is definitely dominated by foreigners - even the entrepreneurs, to be honest. I'm one of the few Kenyan entrepreneurs working in coffee. Otherwise, it's very much an old boys club. And it's very hard to get money, or even people to support you, advise you, sit on your board."
Angwenyi started Vava Coffee with funds from family and friends. After running a brick-and-mortar coffee shop in central Nairobi, she shifted the focus of the business to selling beans wholesale. "I set out to do coffee to improve the agricultural sector, and a shop was not letting me do that," she says. Her goal is to improve the yields of coffee farmers in the region and help them produce a better-tasting product; to date, she's trained 30,000 farmers in Kenya with recent expansions into neighboring Tanzania.
Given that agriculture is the backbone of the Kenyan economy, and for much of the East Africa region, Angwenyi hopes that investors look more closely at this sector. "Much of the focus has been on tech, but farming is what most Africans are doing," she says.
Alissa Orlando, an American who has been working in East Africa for the last three years in venture capital and with early-stage startups, acknowledges that raising money in the region is challenging. "But it's not so simplistic that local funds will offer better deals," she says. "Yes, it would definitely be great to unlock local capital, but fund managers and investors need to offer fair terms to startups. I've seen some crazy term sheets offered to entrepreneurs, requesting half of the business in just early stage."
What's needed, she explains, is a variety of financing options. Some businesses can run on debt financing and loans, but even that, she says, is not easily accessible. Mutua says that Capria might help deal with this by bringing "best practices" to the funds it works with. "Given that entrepreneurs and fund managers here need more than just money, the goal is definitely bigger - to see if we can improve the space as a whole, not just be another player," she says.
RELATED ISSUES