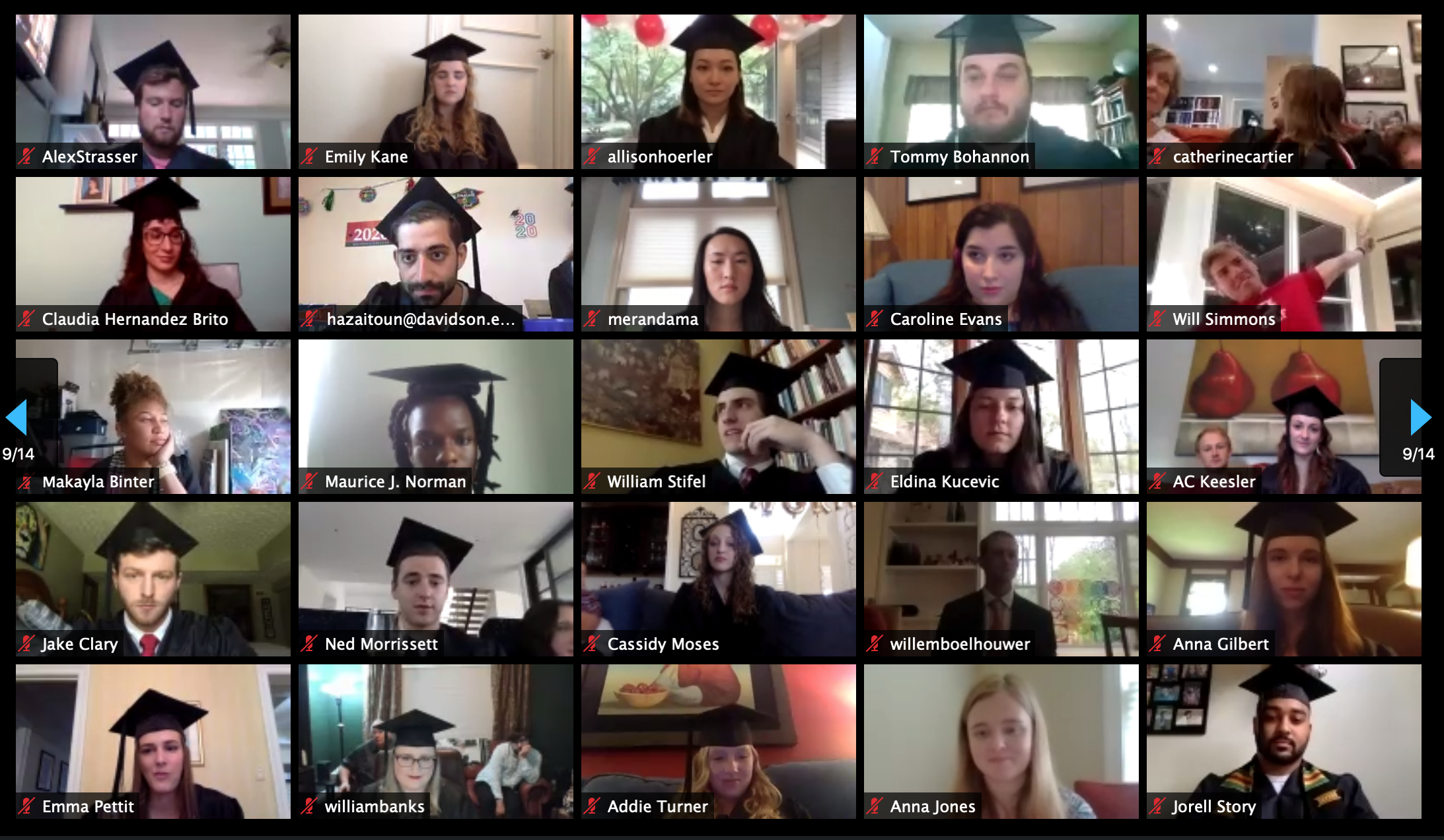 Saturday, May 9, 2020, was the day Josee Molavi thought she'd be celebrating her undergraduate career with family, friends, and classmates on American University's quad. Instead, at 1:00pm that day, Molavi, a graduation gown pulled over her t-shirt and jeans, sat on the couch in her parents' living room and watched a streamed commencement celebration on TV. 
"It is not the most fulfilling way to end it all," said Molavi, who graduated in three years and was therefore already losing out another year of campus experiences. "It was really difficult to grapple with the fact of graduating point blank, having all the last moments taken away that can make your time there feel really special."
It is an unprecedented time to be graduating college. On top of a global pandemic that has claimed over 100,000 American lives, the Class of 2020 is now entering the worst U.S. job market since the Great Depression. Yet over the past few weeks, colleges and universities across the nation have forged new ceremonies and altered old ones to honor their seniors. 
There has been no single response to what a college graduation during a pandemic looks like. While most schools held some form of virtual celebration in place of canceled commencements, few have delivered details on what future in-person ceremonies will look like for seniors. Even when in-person commencements do occur, they will be far from normal. 
The University of Texas at El Paso announced its Spring commencement will be held on September 12, 2020, in the Sun Bowl stadium. Its 2,300 graduates will maintain social distancing and be permitted to bring two guests each. American University's website simply notes "special ceremonies" will be held for the Class of 2020 on December 11-13, with details to come.
Planning for the Unpredictable 
Like American University, Davidson College decided to send seniors a package containing graduation caps and gowns before a virtual celebration that took place on Sunday, May 17, 2020. The Class of 2020 could be seen wearing the black robes en masse on the streamed Zoom session. Despite the wardrobe choice, seniors and event planners made it clear their intention was not to replicate a traditional commencement.
"We're all in this together, we're all at home [...] I didn't want to pretend that we weren't where we were. I just said 'I'm going to run with that,'" Davidson Director of Special Events Jessica Olson commented.
Olson and a planning committee decided to keep the celebration as short and casual as possible, while still honoring the seniors' achievements. To handle the Zoom inputs from so many individual devices, they hired an outside event company. Olson likened the experience of switching between speeches, slideshows, and a pre-recorded jazz performance to directing a theater production or television special: "I had never done anything like this before."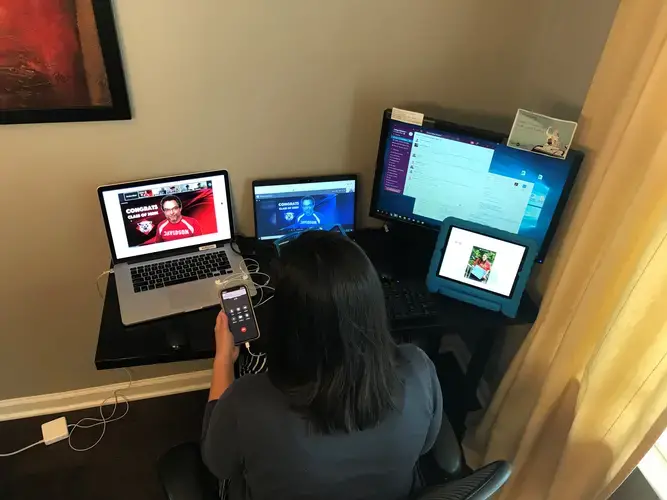 Despite the quirks and lightheartedness during much of the event, serious messages still lay at its heart, as shown by Davidson President Carol Quillen's address to students.
"It felt like a serious moment. It felt like the thing that I could do given the relationships that I have with people in this class and given our community is honor the sense of loss while also pointing forward," Quillen reflected in an interview for this piece. 
During her commencement speech, Quillen also broke the news that the Davidson Board of Trustees had personally donated $200,000 to ensure seniors could make it back to campus for a future in-person commencement. Each of the board's 35 members contributed money to the effort.
"I am really grateful to them for their commitment to our students. Many of them understand the power of being together and the power of the Davidson community and the sense of loss that our seniors felt, and so they really wanted to do what they could to make that commencement celebration possible," Quillen said. 
The board's decision to subsidize future travel expenses highlights how all seniors experience commencement differently, particularly during a pandemic. Initially, Davidson announced that official diplomas would only be handed out at the yet-to-be-determined future commencement date, which drew concern from some students.
"I'm first-gen on both sides of my family, and so the very important thing, especially for my grandmother, is that she wants to see a physical diploma with one of her grandchildren's names on it. That would really be inspirational," said Bry Reed, a senior from Baltimore, Maryland. Reed led the charge to convince the school of the importance of having official diplomas as soon as possible. Students will now be given the option to receive their diplomas by mail, ahead of any future commencement.
Should Traditions Continue?
While some schools such as Davidson have adopted wholly new ceremonies in light of COVID-19, other institutions are more rigidly clinging to past traditions. 
On June 13, 2020, the United States Military Academy at West Point will have its graduation ceremony on campus, featuring President Donald Trump as commencement speaker. West Point seniors had been taking classes remotely after being sent home for spring break, but will return from across the country for the event.
Graduating cadet Alex Edge, who arrived back in New York State on May 27 after driving up from Washington, D.C, said that graduation probably means more to his family than it does to him. 
"The point of it isn't graduation. The point of it isn't this grandiose ceremony. That's great to have, but that's not why we're there and that's not why we signed up and that's not what I'm looking forward to, personally. I'm looking forward to getting out into the Army and leading soldiers and doing what I always wanted to do," Edge elaborated. This summer, he'll begin training as a field artillery officer and will eventually be stationed with the 10th Mountain Division.
The United States Air Force Academy (USAFA) also held graduation on campus in Colorado Springs on April 18, with Vice President Mike Pence as a speaker. Cadets sat eight feet apart from one another on a lawn without family or friends in attendance. Even though underclassmen cadets had been sent home in early March, the academy decided to keep seniors on campus, spread out through empty dormitories. Two senior cadets died of suspected suicide several weeks before graduation amid calls for increased mental health resources. 
A day before the USAFA graduation, Trump abruptly announced that he would be giving an in-person address at a West Point graduation "in the near future," taking school officials by surprise. The next day, after conversations with the Defense Department, Trump announced the graduation would take place on June 13.
The move has been criticized by major media outlets, which point to the fact that cadets will have to travel through New Jersey and New York, two of the most heavily infected states. Upon returning for graduation, cadets will first be tested for COVID-19 off-campus. If results are negative, they can enter campus, remaining under close observation for 14 days. 
Edge says he was "surprised" when he first heard Trump's announcement, but noted that the administration has sent frequent updates since and that he trusts their judgement. 
"We can't telecommute to combat," Army Chief of Staff General James McConville said at a press conference in defense of the decision to hold the graduation.
Finding Closure
Over the past two months, schools have struggled to answer the coronavirus-induced quandary of how best to feel together while being physically apart. Some have met with more success than others, but there has been no shortage of creativity and collaboration.
"I was surveying a lot of my colleagues [from the beginning] at different colleges trying to figure out 'what are you doing?' Every answer we had was split [...] some people were going forward no problem, some people were canceling, some people were going online. There wasn't a clear winner," Olson said of her efforts to plan Davidson's event. 
But for some students, no matter how celebrations go there will never be the true sense of closure enjoyed by pre-pandemic graduations.
Molavi reflected on a recent visit to American University: "I went back to campus and it was so weird. How could I have had this whole life here and this whole world that just doesn't exist anymore? It just doesn't exist, and won't exist anymore. That's the hardest part for me."
Ethan Ehrenhaft is a member of the Davidson College Class of 2020.