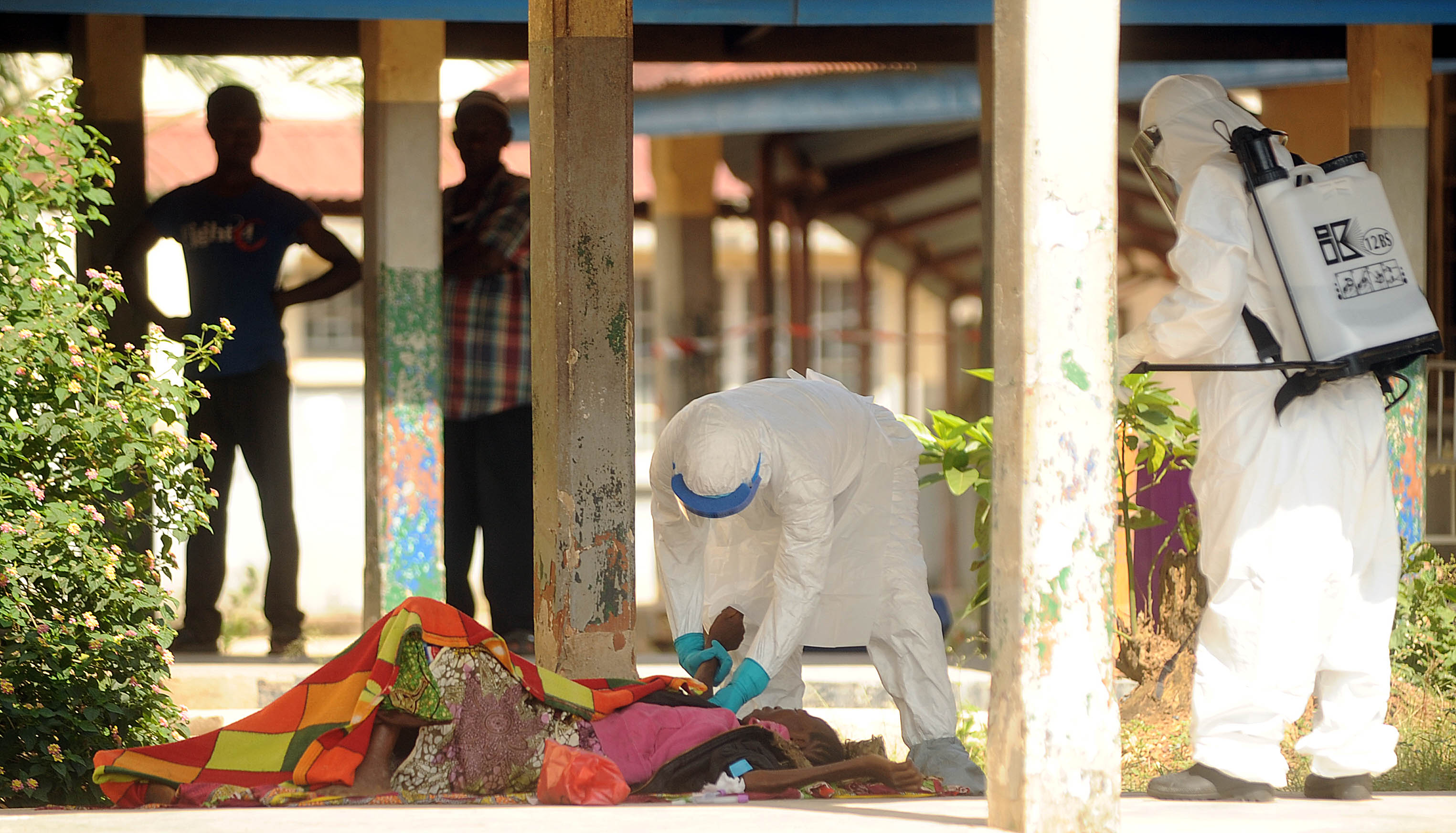 DORMA, Sierra Leone — Inside his mud-walled house, the witch doctor cast his curse.

Here, in the remote Dorma Village of Sierra Leone, where some of the poorest people in the world spend most of their day struggling to feed their families, the witch doctor's power over life and death was well known.

Like his neighbors, the witch doctor lived without running water, sanitation or electricity; one might say his home was powered with magic, a trade that has brought him both respect and income in a land where both are painfully scarce for the vast majority of people.

During a recent two-week trip to Dorma, I wanted to document instances of black magic at work; after I heard of Mr. Sembu, I hired him to curse an American who had volunteered to be my test subject.

At the end of a short ceremony performed by flashlight, he told me the cursed man would soon grow gravely ill. Only Sembu would be able to remove the curse.

"If he goes to a hospital," he said through an interpreter, "he will die."

More than 90 percent of Sierra Leoneans identify as either Christian or Muslim. But most also believe that traditional demons and spirits are often responsible for everyday events, whether it's a lucky find by a diamond miner, a chronic pain in the back, or a miscarriage.

When the Ebola epidemic swept through the region, killing about 3,900 Sierra Leoneans, one of the dominant storylines that emerged in international coverage spotlighted people who resisted treatment.

Many Americans shook their head disapprovingly at media reports of patients fleeing hospitals, villagers stoning ambulances, and families persisting in burial rituals that involved washing the bodies of the dead, a practice that carries with it a high risk of transmission of the deadly virus.

But few outsiders understood that the underlying cause of those events was not ignorance. Instead, experts say, people fled treatment because of a wide culture gap.

More than one division contributes to the chasm. There's the gap between rich and poor, the one between community insiders and outsiders, between the scientific perspective and the more traditional, and the devout from the faithless. And in all of its manifestations, it's a gap that can be seen all around the world — including in the Upper Valley, according to officials from Dartmouth-Hitchcock Medical Center.

A Plague of Magic

The witch doctor's instructions are just one example of the widespread friction between magic-based local rituals and science-based medical practitioners.

Well-intentioned faith healers, some of whom act as traditional birth attendants, can inadvertently cause harm to both mother and child, according to Gladys Kacingor, one of Kono's few medically trained midwives.

Kacingor said that traditional birth attendants sometimes tell a pregnant women to avoid certain foods, such as eggs and plantains, because of concerns that they will damage the baby's character. When a labor is difficult, a birth attendant might conclude that the cause is a hidden sin, and exhort the mother to confess to ease her labor pain. Traditional birth attendants are also less concerned about hygiene during a birth, and will sometimes oversee a birth on a dirty surface, increasing the risk of deadly blood infections for both mother and child, Kacingor said.

Poor nutrition and a high risk of preventable problems such as infections and diarrheal diseases add up to a horrific death toll for mothers and young children, constituting a silent epidemic that has wrought far more fatalities than Ebola at its worst. About 39,000 Sierra Leonean children under the age of 5 die in the country every year; the maternal mortality rate, 1,165 deaths for every 100,000 births, is the worst in the world.

Belief in magical or spiritual forces, coupled with a distrust of the medical establishment, aren't confined to impoverished African nations. In America, too, there is widespread noncompliance with life-saving advice dispensed by health officials; in some cases, the noncompliance is due to religious or cultural beliefs. For example, the Centers for Disease Control recommend that everyone six months and older get a flu vaccine each year, but only about 40 percent of Americans do so. Granted, lack of access to health care or personal oversight explains why some of the 40 percent don't get shots, but it's also clear that some have not bought into the public health consensus. As in Sierra Leone, the consequences are serious. CDC numbers show that 406 American children died of influenza-associated causes over the past three years. For the week ending April 11, 6 percent of all deaths in 22 major U.S. cities were attributed to influenza and pneumonia.

Vermont has a particularly poor track record of vaccination for its children against serious, life-threatening diseases such as measles, polio and pertussis. State law allows parents to opt out of vaccination requirements by citing a religious or philosophical opposition to a vaccine. In Vermont, more than 700 schoolchildren were not inoculated against diphtheria, tetanus or pertussis last year, because their families cited an exemption. Similar numbers of exemptions were granted for other vaccines (there is likely significant overlap between the groups), including those for polio, hepatitis B, varicella, and measles, mumps and rubella. In all, 6.1 percent of kindergartners were exempted from at least one recommended vaccine.

A bill that would eliminate the philosophical exemption, but preserve the religious one, passed the Vermont Senate last week.

A 2008 study published in the Southern Medical Journal found that medical neglect for religious reasons, often associated with Christian Scientists, Jehovah's Witnesses and smaller offshoots of mainstream Christian religions, has led to child fatalities in the United States. While the number of child deaths attributable to religious-based objections to health care is not known, the nonprofit organization Children's Healthcare Is a Legal Duty has documented more than 200 such cases over a 20-year period, most of which involved instances of a parent actively avoiding medical treatment for an obviously sick child who then died of a preventable disease.

Corruption, Conspiracy Concerns

Dr. Roshani Patel, a breast surgeon for the Dartmouth-Hitchcock Medical Center system who works in Manchester, said she has seen spiritual beliefs butt up against medical practice in the U.S.

When speaking to groups about warning signs and proactive strategies to deal with breast cancer, Patel said, she uses models of breasts to help illustrate her point. The models are particularly helpful when speaking to groups with limited English skills, she said.

But she ran up against a cultural problem, rooted in faith-based morality, when trying to give a talk at Manchester's Somali Development Center.

"The gentleman that was in charge would not let me take these breast models," she said. After the talk, she learned that some of the man's translations to the crowd were also inaccurate, creating a barrier between her and the women she was trying to help.

There are many reasons that an individual — whether in the remotest regions of Sierra Leone or in a posh American suburb — might avoid medical treatment, but much can be explained by a culture gap between the person dispensing medicine, and the person in need of treatment.

In Sierra Leone, the culture gap is widened by endemic corruption. Under a Sierra Leonean law passed in 2010, pregnant women, nursing mothers and young children are guaranteed free health care. But in practice, many health care workers charge families for these services; a total of 46 percent of Sierra Leoneans reported paying a bribe to a health care worker or official within the past 12 months, according to the global nonprofit Transparency International.

Medical professionals in centrally located clinics are often strangers to their patients. In addition to charging bribes, many explain their diagnoses in scientific terms that are difficult to understand. Because they lack the resources enjoyed by hospitals in wealthier nations, their surgeries and interventions carry a higher level of risk, with negative outcomes seen as more evidence that science doesn't work.

One Kono woman said in April that, when she was pregnant with her first child, she had a dream in which a demon stole her baby away from her. Soon after, she suffered a miscarriage. When she became pregnant again, she sought help at the local hospital, and followed a course of prenatal care that included vitamins, which she was required to pay for. Despite this treatment, she had the same dream again, and suffered a second miscarriage.

In March, the woman went to see Mr. Fengai, a local faith healer who had recently successfully treated her husband for chronic back pain with an herbal remedy. The faith healer invited her and her husband into his home, and sat with them in his bedroom while she explained her illnesses. After listening to her story, he told her that her miscarriages were the result of an evil spirit entering her body while she slept and causing harm to her unborn child. Fengai expelled the demon through the use of herbs and a specially prepared meal of fish for the wife and husband. He also affixed a charm to her hips to block the spirit's re-entry. This time, he told her, her baby would live.

The healer's actions were a good example of how a well-reputed spiritual leader can tend to the needs of troubled patients. The consultation and treatment were given by a well-known local resident in the comfort of a village home, rather than a clinical setting, and the active involvement of the woman's husband made it more palatable to both spouses. The narrative that the healer offered also matched her cultural and spiritual beliefs; whether or not the treatment proved effective, she left the healer's home smiling, satisfied that she had been heard and attended to properly.

Elizabeth Talbot, an associate professor at Dartmouth's Geisel School of Medicine and New Hampshire's deputy state epidemiologist, spent 25 days training health care providers in Sierra Leone in the early winter, when the Ebola crisis was at its peak.

"Medicine struggles from the reality that many doctors come from or are currently living within an affluent functional society, whereas many patients who are suffering from many forms of abuse are not and therefore don't relate to the person who is giving them such important advice," she said. "The injecting drug-using population, for example, suffers preferentially from certain problems, but it's hard for a clinician to understand those problems."

Talbot said Americans, too, ignore medical advice, often citing a belief that the country's top medical officials are part of a shadowy conspiracy to maximize the medical industry's profits at the expense of public health.

"The examples there are myriad, that the MMR (measles, mumps and rubella) vaccine causes autism, that chronic fatigue is related to Lyme disease and therefore should be treated with IV fluids for a month, that people get the flu from the flu shot," she said. "I could go on and on."

While those who oppose these treatments often point to a handful of academic studies that seem to support their viewpoint, they are generally ignoring a mountain of evidence that has been the basis of a scientific consensus, Talbot said. "The fixed beliefs people have in the absence of evidence is just a part of the human condition," she said.

Talbot said she ran into problems in Botswana, when she was treating tuberculosis patients as a worker for the CDC. "While we were trying to get patients to adhere to their tuberculosis therapy, traditional healers would offer an alternative and they would stop taking their meds," she said.

The solution, Talbot said, isn't to wait for the people of the world to become more enlightened about best medical practice. It's to embrace a dramatic change in the way that health care is administered around the world.

"All health care," she said, "needs to be delivered within a patient's cultural context to be successful."

Bridging the Culture Gap

For more than 20 years, the World Health Organization has recommended that health practitioners embrace, rather than ignore, the role spiritual beliefs play in a person's individual health care decisions, but that's easier said that done.

"It's such an art and a science to convince someone," Talbot said.

In Botswana, the solution turned out to be including influential traditional healers in local medical conferences. Once the healers understood the importance of the medicine, they reminded their patients to keep taking it, even as they prescribed their own treatments.

It was a two-way street, Talbot said. Instead of patients being torn between two treatment providers who were each telling the patient to ignore the other, patients had a broader set of recommendations being reinforced by both providers.

But talking to patient and faith healers is not enough, according to Raphael Frankfurter, executive director of a small NGO called the Wellbody Alliance, which has been operating a health clinic in Kono for the last eight years.

Frankfurter said many programs that pay lip service to the idea of cultural sensitivity are simply repackaging the same messages in a local language. He said the culture gap between doctors and patients will only be eliminated when doctors go into a discussion with a willingness to learn from faith healers and make changes to accommodate those lessons.

"Health care workers in Sierra Leone have been given this narrative that they are superior to local healers and that women are weaker if they go to local healers," he said. "It takes a lot of mentoring to get to a place where our health care workers are not simply condemning patients."

In early April, Wellbody opened a new delivery center that makes a bold effort to blend faith healers and medical workers together under one roof. The organization hired 10 well-respected traditional birth attendants. The original plan, Frankfurter said, was to allow them to draw on their spiritual background to deliver children in the clinic, with medically trained health care workers on hand to take over if complications arose.

That ideal was derailed by the Ebola crisis, which has made it necessary for delivery attendants to wear full-body protective gear to reduce the risk of contact with bodily fluids that could transmit the virus. "It is important, for now, that the health care worker is in charge," Frankfurter said.

Still, he said, the clinic has taken an important step by integrating traditional healers into a clinical setting, and he hopes he can build on that success after the threat of Ebola recedes. Over time, he said, he would like to completely transform the delivery center into a place that pays equal attention to a pregnant mother's cultural and medical needs.

The idea of blending spiritual and medical services into a cohesive whole may sound strange, but in fact, the Dartmouth-Hitchcock Medical Center is one of many American hospitals that pours a significant amount of resources into the same concept.

Talbot said there is "absolutely" a role for religion within the context of health care.

"Delivery of spiritual care within health care embraces the notion that people are more than the aggregate of their cells and organs and blood and bones, that people have an intricate dynamic among their body, mind and spirit," she said.

The Rev. Frank Macht is the director of DHMC's Chaplaincy Service, which employs six chaplains representing the Protestant United Church of Christ, the Catholic church, and Macht's own Evangelical Lutheran Church.

In an effort to minister to the spiritual needs of its patients, DHMC spends hundreds of thousands of dollars each year on a central office, support staff and a training program that oversees a cadre of volunteers and instruction of medical students in clinical pastoral education, all of whom work to bring comfort to the ill and injured.

Macht said that he became aware of the deep-seated nature of cultural issues when he was pastor of a multicultural church that included a significant Inupiat community in Nome, Alaska. "They have this distrust of, typically, white, or at least non-native, professionals — people coming in there with the high-paying jobs and telling people what to do and how to live their lives," Macht said. "That was very much resisted and resented."

When he came to the Upper Valley in 2011, he saw the same dynamic at work at DHMC, "a medical center affiliated with an Ivy League school in a rural area, dealing with a population that sometimes says, 'The big medical center there, it looks so nice, they're rich, and we look different and we're poor and maybe simple and not good enough.' So there's a big gap there."

Macht said he has witnessed the benefits of having a spiritual leader voice support for a patient's medical decision.

"To hear that from a chaplain, to hear that from a priest, to hear that in Sierra Leone from a traditional healer, I think there's a benefit," he said. "There's an element of belief: 'I'm doing the right thing.' "

A Healing Future

One of the frustrations of administering spiritual care in a health care setting is that it is difficult to measure the results. Macht described the benefits of spiritual care in terms that sound familiar to social workers. By providing support, advice and leadership, Macht said, spiritual caregivers can help people to make better choices, reduce their dependency on drugs and alcohol and make it less likely that they will commit violent crimes.

"I would want to know, if somebody has done the research, how much money we save if we prevent just one incident of sexual abuse," Macht said. "The lifelong impact, the mental issues, they cost hundreds of thousands of dollars to resolve."

Macht said health care and faith have a long American history that has only recently diverged.

"Probably most hospitals in this country were started by faith-based groups. Sometimes that's not remembered," he said. "We may have lost something when there was this split several generations ago, when we went the scientific route."

He acknowledged that the split had to happen.

"Obviously, there are some limits to faith-healing practices," he said. "But I wonder what got lost, what the faith community provides, no matter what faith it is, that added purpose and meaning to people's lives."

Macht said that, in recent years, he's seen more investment in spiritual services within the health care industry. "There are people out there who really want to integrate spirituality back into medicine," he said. More often than ever, medical professionals at the hospital are asking him to help ease the mind of patients, Macht said. For the first time, he is leading third-year medical students on "reflection rounds" throughout the hospital.

"That's maybe the opportunity that got lost in modern medicine. It got high-tech, and now it's getting back to high-touch, with more empathy and compassion, seeing the whole person."

Under the Obama administration, national health care policy has shifted to encourage hospitals such as DHMC to perform more preventive care, which reduces the number of costly interventions such as emergency room visits and surgery. The shift has hospitals seeking new ways to reach out into the community and maintain the health of people who have not yet sought their services.

Macht said the change is a big opportunity for medical-based spiritual services. In the future, he said, hospital clergy might be based out in the community, ministering to the needs of the general population, rather than trying to ease the suffering of people who are struggling with a medical crisis.

"To make some changes right there, where people live," he said, "I think that's the challenge of the future."