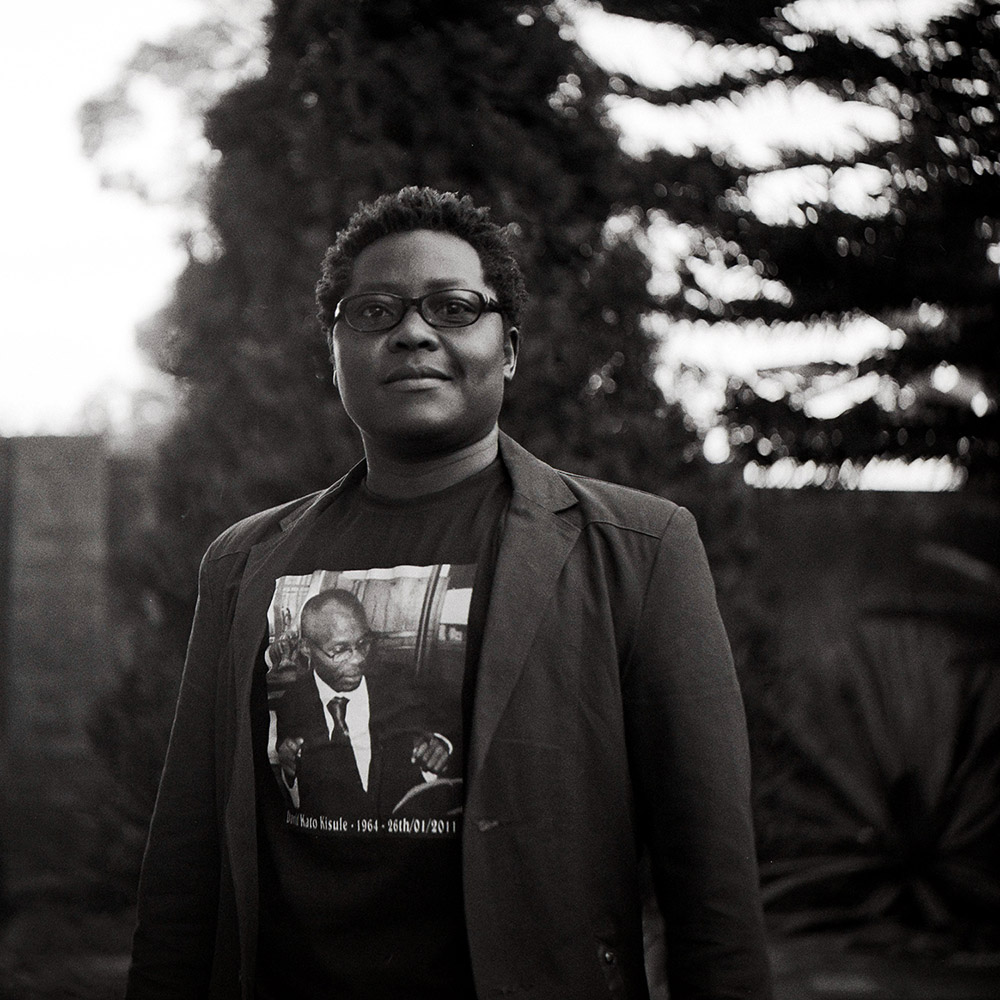 Pepe Julian Onziema is one of the leading LGBT rights activists in Kampala, Uganda, working to fight the recently passed Anti-Homosexuality Act. He is the programs director at the gay rights organization Sexual Minorities Uganda (SMUG) and was the 2012 recipient of a Clinton Global Citizen Award for his advocacy work.
The following is edited from a conversation with him on April 10, 2014.
What was the first step the activist community took to fight the Anti-Homosexuality Act once it was signed into law?
Legally, the first step we had to take was to file a petition with the Constitutional Court challenging most of the provisions in the act. It has about 10 petitioners, and I'm one of them. We're waiting to see when they will set a date to hear the petition.
What exactly does the petition say?
We're challenging a number of issues — one is the lack of a quorum in Parliament when the bill was passed, and then the legality of the act itself in accordance with our constitution. The constitution not only provides the right to equality, which the act obviously violates, but also prevents the implementation of duplicated laws. The penal code already calls for 14 years to life imprisonment for homosexuality, so that law already exists and cannot be rewritten.
Is the law reversible?
At this point, legally it should be reversible. But given how the issues have been handled so far, it's factoring in a lot of public emotion and public opinion, so that's definitely going to affect our challenge.
What do you think the future is for the AHA?
I'm generally optimistic, but it's really going to be tough. It worries me that we might not succeed — because for instance when you look at our members of parliament, most of them, if not all of them, acted out of emotion and ignorance because they didn't particularly know what they were legislating against. They legalized homophobia and discrimination against a harmless minority which has been believed to be the number one threat to the state. The way the issue has been packaged makes it very difficult to fight it.
How has life changed for Uganda's LGBT community since the bill became law?
It's drastically changed our lives. Some of us [activists] have been doing this for quite some time so we know how to get around, but for the population that we serve, we are meeting new challenges every day.
SMUG is an advocacy organization where we don't do direct service provision, but we have now to address the issues of directly offering psycho-social support for people who are attempting suicide — people think the only way out is to take their lives because they know that prison is just as much a death sentence for them.
That's a new twist to the work that we do. [LGBT] organizations have been threatened with closure, plain-clothed police come to survey offices regularly and pretend to be members of the LGBT community needing assistance. The police don't want to take responsibility for these intimidations, but they are happening. That changes the environment in which we work.
Most of SMUG's member organizations have had to shut down because of threats from their neighborhoods. Because people suspected of being LGBT are being physically harassed, many have been sent from their homes, and there are repeated attempts of mob justice.
People are fleeing the country — to go anywhere but here. We did anticipate that these things would happen, but not at the magnitude they're happening right now. We don't have the resources to evacuate people, to help them set up new lives.
How do you help LGBT individuals who can't see the situation improving?
We have been able to intervene in 11 cases with people who have attempted suicide; we've learned of it when they were in the hospital and we've been able to go visit and give them some hope. To tell them, "It's okay to feel the way you're feeling. But taking your life is not an option."
Then there's one particular person who died last Thursday. His mom reached out to me because she was worried, his stepdad drove him to the edge, and he just felt that it was better to leave this earth. I went in to visit him in the hospital after he'd been admitted [for an earlier attempt], and his stepdad swore he'd kill me. It was very difficult for me to go back and see him, I couldn't call him, I couldn't be in touch with him, I could only be in touch with his doctor and even the doctor was very religious and not very receptive.
It has affected me pretty badly, because this was a kid I was talking to and I'd connected with him. And then to not be able to bury him, to say goodbye to him, just when I thought I was bringing him hope, it's really been difficult. And you know, he's just one of the ones that I directly know. What about all those I don't know about?
There are reports of widespread support for the bill in Uganda, like the anti-gay rally on March 31. What about public outcry against the bill?
Yeah, there are people who are saying that it's wrong, but they're a minority as well, and they're not enough to make our numbers big enough to challenge the majority. [Laughs.] But there are a few people. The main problem is that most Ugandans rely on the TV for news, and the positive opinions are not being voiced in church — they're not being voiced on the TV. But they are there. And as an activist, that gives me hope that we'll get to a point where the people who are now raising stones will one day be neutralized.
What do you think of the international reaction to the bill and various aid withdrawals? Is it a symbolic show of support, or is it hurting more than it's helping?
I think those threats before the signing of the law actually were not very strategic. I think it was one of the things that ticked the president off to make him sign. I know that Western partners and Western leaders they mean well, but I think they made some bad decisions.
And now, the way they've cut aid is not something I can support. I'd want aid cut to the military, because then the government is directly affected. But if you cut aid that's supposed to go to health, to development, to education, the gay people who happen to benefit from those things also are affected as well. Redirecting aid to civil society sounds great, but implementation will be difficult in practice. Because government is already suffocating civil society with this law and other laws like it. And in my opinion civil society cannot succeed in isolation. We need to work as partners and not enemies.
It's a double-edged sword. It's like walking on eggshells. The kind of arrogance that our leaders display in this whole issue about sovereignty, it complicates things. To see the U.S. president or U.S. representatives knocking heads with President Museveni, well, it's the old tale of when elephants fight, the grass suffers.
But you still have hope?
Life must go on. It's all we have. If we can still breathe, then there's a lot we can still achieve. Yes, the laws are strict, but the constitution itself provides for me to be in this country — to live in this country as a Ugandan. The part of me that this law is trying to criminalize, well, the law is abusing the constitution. I have a right to life. I have a right to health. I am not my sexuality, I am a human being. My sexuality, my identity, are part of me being human.
RELATED ISSUES