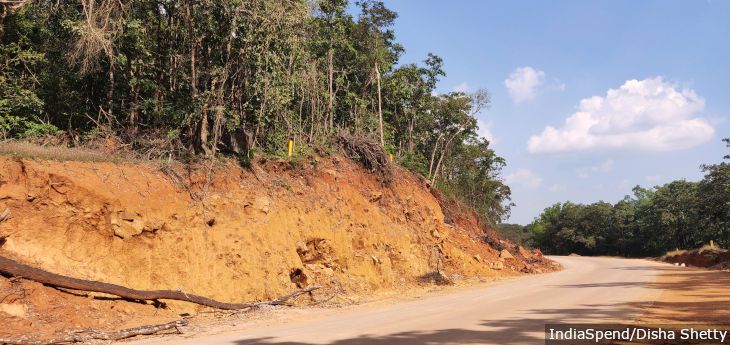 Mumbai: Along the border of the Indian states of Goa and Maharashtra are multiple protected areas—wildlife sanctuaries and national parks—whose boundaries have been in flux over the past decade. We travelled to the area to report on a road expansion project, cutting through one such protected area. We spoke to people, took pictures and cross-checked project documents as well as the Google map. They didn't match. 
Time and again, this was our experience of reporting on our series Environment Undone — our five-part investigation into how India is opening up its protected areas to infrastructure projects. The projects were not where the documents said they were, they didn't look as the documents promised they would, key information would be missing, and the Google map appeared to be literally trolling us. 
We would often go through multiple rounds of edits, assuring our editors the Google map was wrong. But in one instance, when several maps of the same area from different arms of the government did not match, we ended up asking ourselves one question repeatedly: Did we actually visit the place we thought we did? And the answer after more panic-stricken research was, yes! Over, and over again: Yes!
We found the constantly changing boundaries on paper, lack of proper markers separating one forest from another, and the lack of accuracy of Google maps in the wilderness, were all used to ram through projects that were in pristine areas, but on paper appeared to not be too problematic. In the central Indian region of Bundelkhand for example, a new dam and reservoir proposal threatens to submerge part of a tiger reserve, a protected area under Indian law. But the coordinates given in the project's documents conveniently located it outside the reserve. 
As we collaborated with individual contributor Pankhuri Kumar to map these areas we found out more glaring errors. Some documents, submitted to the environment ministry by project developers, said the projects were in let's say state A. But when we plotted the coordinates, they showed up in state B. In multiple instances, we found that some projects' coordinates were even outside of India. 
While we were able to remedy these issues using satellite imagery and through our own ground reporting, we found that these discrepancies presented more serious problems for people living in project-affected areas. In one case, the presence of a tribal community living in a forest that is due to be cleared for a new coal mine was missing from project documents. This was despite the fact that government officials said they had conducted a site inspection of the area during the approval process. How can someone adequately protect their land, if on paper they don't even exist?
We had set out to marry data with ground reporting. In the end our experience reiterated that in isolation, both these aspects would have fallen short to paint the larger picture.
RELATED ISSUES