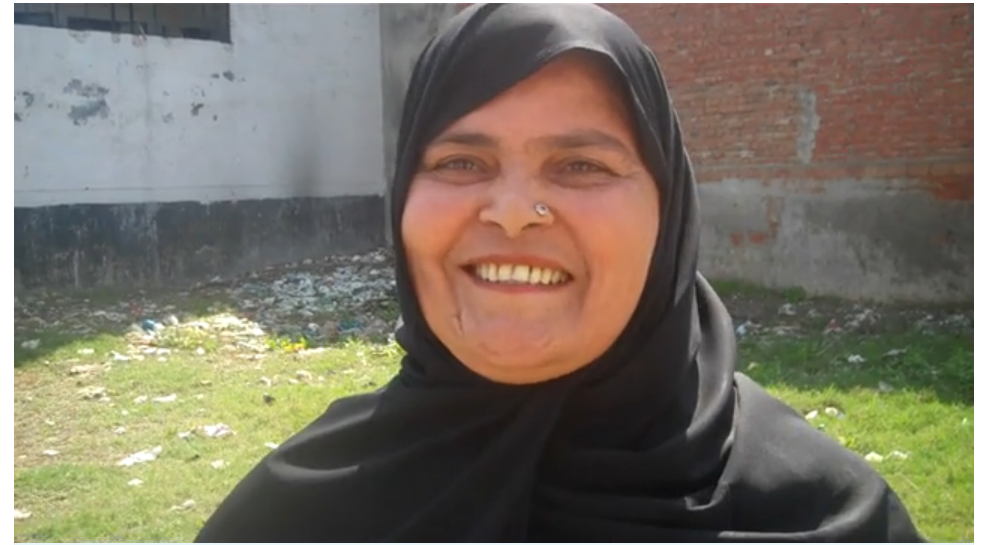 Stationed in Aligarh District, Khalida Sherwani is one of an army of 2.5 million polio vaccinators in India.

She goes door-to-door, making sure that each child has been vaccinated. Even in neighborhoods that don't have permanent residences or homes without doors and walls, she is able to keep track of families. She knows how many people occupy a residence. She even knows their relations—sister-in-law, aunt, uncle, etc. The "zone" that she monitors in each polio round is like a patchwork of mazes. But she knows it well.

She speaks to me about why she became a UNICEF vaccinator, how her community overcame some religious tensions, and why pay matters little to her.

Given that she's speaking in Urdu, here is a translation of our conversation:

"Before I did this work, no one knew me, no one knew my name. So then I thought that after I'm done at home, sitting around free, why not do some social work? And I wanted to do something that would support children, help them. So, why not work with UNICEF and do work that supports children, like polio.

Think about it, that if because of my efforts, if even one child doesn't contract polio. . . Before there used to be polio, there used to be a lot of polio. Now, it's diminished. And in Aligarh, since 2010, there hasn't been a single case. In 2011, there was a case that appeared, but that was in West Bengal. This is because of our efforts, our hard work.

Before people used to play games with us, not give their kids the vaccine. Then we thought that if these people will not listen to us, perhaps they will listen to a private doctor. So, we had the resistant parties meet with them. But, that didn't work completely either. Then, they made religious excuses, that it was not in line with their religion, Islam. So, we showed them appeals, written by the clerics [that validated the vaccine]. If we are lying, then these people cannot also be lying. It would be against their faith to lie. That helped motivate the families. And we stayed with them through good and bad, through any illnesses that may have affected the families. So, over time, our work has now been good.

We don't have any more "XR" cases [resistant families to the vaccines]. The children take the vaccine well. We also asked the local imam about making an announcement from the mosque [to encourage the parents to have their children vaccinated]. They initially said, "No, we don't do that." I argued, "You may not do it, but it is allowed. Just because you don't doesn't mean that it's not permitted." So, then with the help of the microphone, we were able to reach more people. By making announcements from the mosque, we could get the message out further. And if it came from the mosque, it would have greater impact."

Do you get any money for this work?

"Yes, we do receive some money. But if I look at the work that goes into that money, it's not really [for] money. If you try to equate the effort, the hard work into a dollar amount, it's not really [for] money. I do it primarily for social work."

How long have you been in Aligarh?

I've been in Aligarh for 20 years.

When did you start this work?

2006.
RELATED ISSUES