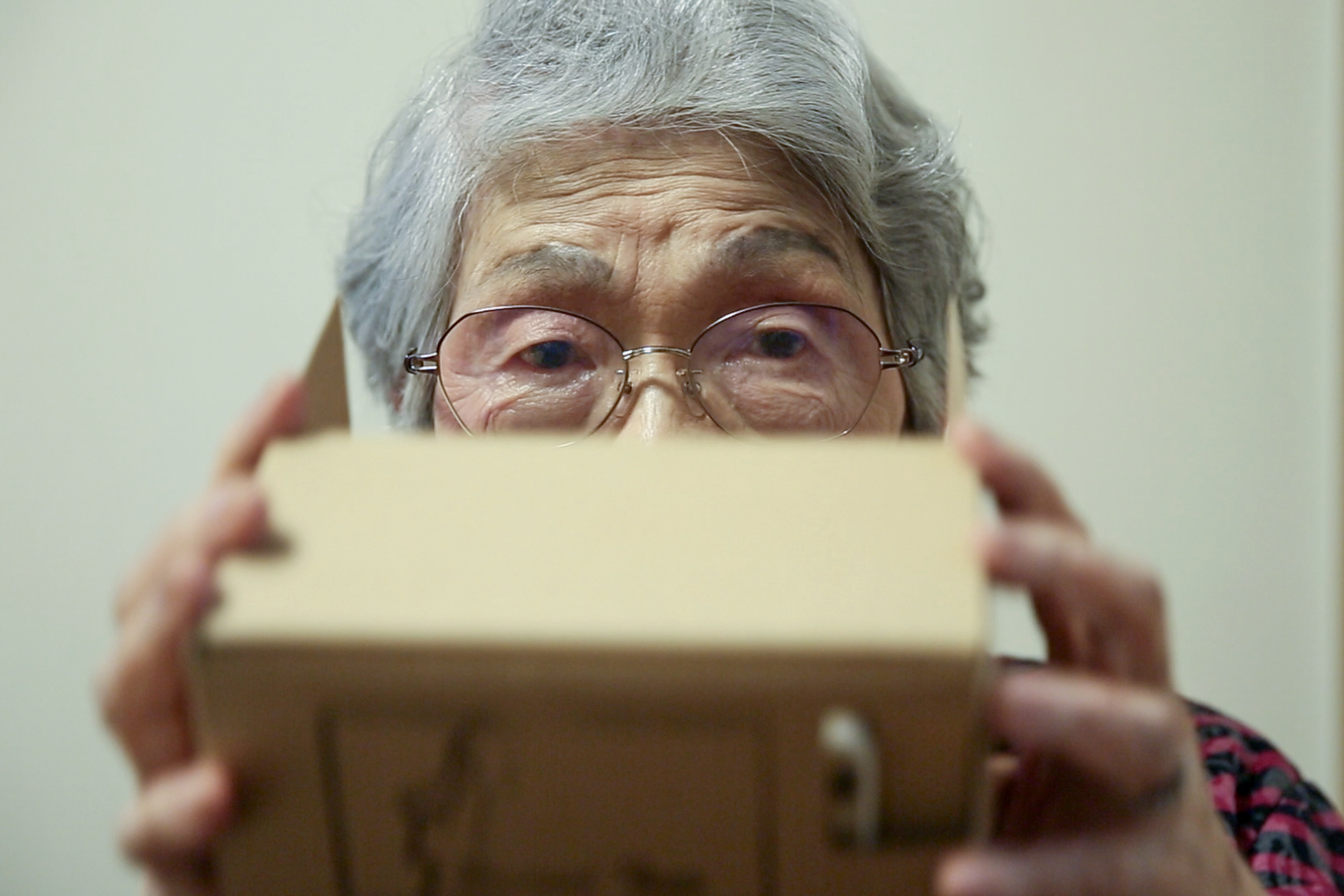 One would never guess the real age of Tama Mitsui. Her powder-white short hair is elegantly styled, and her pink lipstick, matching her blouse, gives her delicately wrinkled face a youthful glow. She is 95 and charming. But it is when she talks about her memory of traveling that her face lights up, and her eyes sparkle behind her purple-tinted glasses.
Travel brought her a lot of joy in her retirement life. Adventurous and spirited, she even backpacked across Mexico for three months when she was 75 years old with her elder sister and niece. "We took a bus and stopped by every town we passed through. The whole experience was amazing." But that came to an abrupt end about 12 years ago when severe pain in her left knee kept her bedridden for four months. She could barely stand while clinging on to the edge of a table. The pain was so unbearable that she felt she could no longer go out to get some food. During a regular visit to her doctor, she felt so depressed that she asked him, "When I run out the food in my refrigerator, will I starve to death?" The doctor promptly sent her to a rehabilitation and fitness facility, Waseda E-life. There, she met Kenta Toshima, and that changed her octogenarian life.
Toshima, a therapist, is determined to help seniors like Mitsui. His mission; to help seniors become healthier and happier. It is a critical undertaking in today's Japan with 27.3 percent of the population are 65 years and older. Extending a healthy lifespan for seniors, and thereby keeping them away from hospitals and heavy-medications, has become one of the most immediate challenges of the Japanese government. According to the Ministry of Health, Labour and Welfare, its annual medical costs mushroomed to 41.3 trillion yen (380 billion USD ) in 2016, of which the spendings for those 75 years and older accounts for 37.2 percent.
Toshima saw patient after patient dropping out of his rehabilitation program. He found it challenging to keep seniors motivated and wondered if his therapy was helping. "Most of the seniors feel uncertain and pessimistic about their future. Where are they heading? What's the meaning of all this rehabilitation? " Toshima says. One day, while chatting with them, he noticed that seniors often talked about the places that held special memories but they could no longer visit due to their physical limitations. He started taking pictures of these places for them. The image not only made seniors happy and brought their brains right back to their past - it also made them motivated. "They seemed to want to get better so that they could revisit these places," Toshima says.
A lightbulb went on in his head - if one picture gets seniors so excited, what happens if he uses VR? He was convinced that seniors could use VR as a stepping stone to their goals. He invested his savings of about five million yen ($46,000) and raised money through crowdfunding to travel the word to collet VR footage. So far, he went to 29 countries and 55 cities.
One rainy morning, a dozen seniors worked on their strength training routine at Waseda E-life - chair stretches, weights and bike machines. But they also worked on their minds. During their break from exercise, they gathered around a table where Toshima was waiting with his computer and a VR cardboard. Cheerfully he announced, "I went to a flower garden in Odawara last weekend!" While one experiences VR, he shows the same content to others on his computer screen. Toshima believes sharing what they view gives them something to talk about later on, thus encourages communication among them. One exclaims, "What a beautiful day! What kind of flowers are they? They are in full bloom! " and the other wonders out-loud, "It must be hard to water all these flowers." Afterwards, Toshima passed around leaflets of the flower garden, and seniors, with canes and walkers, hobbled out the door to a pick-up van in dreary rain.
VR has been used in the medical field to treat  PTSD, pain relief for burn victims, and surgery training. But there is not sufficient evidence yet to prove VR improves seniors health.
Does VR boost seniors' cognitive and physical functions? Astushi Hiyama, an assistant professor at the University of Tokyo, wants to find out. VR essentially provides illusions of human senses and emotions. "That illusion may revitalize their mental and physical functions, and potentially transform their consciousness and behavior." According to Hiyama, VR may work in a similar way to a theory called "rubber hand illusion" - a trick to make people believe a fake hand is theirs. Based on his theory, VR travel gives seniors an illusion that they are physically well enough to travel in reality, and it leads to improved cognitive and physical functions. "VR has the potential to maintain seniors' physical and mental health at optimal condition without being dependent on drugs. " Hiyama concludes.
Will VR become a new option in the field of medicine? They have not started the research yet, but Tama Mitsui is an early success story. Now an avid VR traveler, she bought her first smartphone so that she could watch more VR films. And after a few years of VR traveling, she finally got up and moving. She visited one of her special memory places, the official residence of the Navy Secretary where she lived as a teenager. She has not been there in 80 years. Toshima was there to bear witness to the extraordinary moment. "Seniors often express that they want to visit the place they see in VR," Toshima says, "I realized that they want more than VR. That's why I want their desires to come true. I think they are happier that way."
RELATED ISSUES