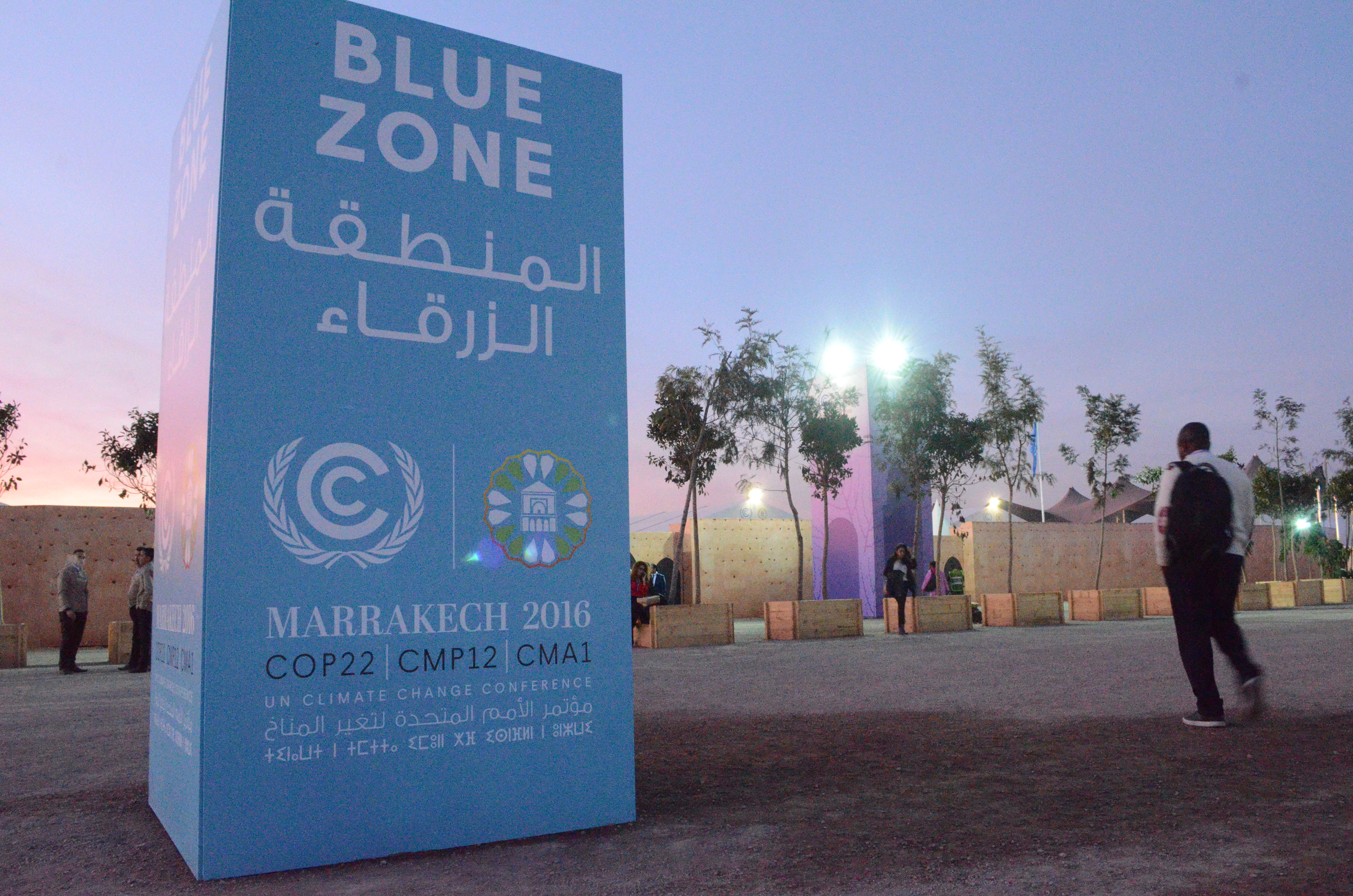 It rained, hard, on the first day of the global high-level climate meeting in this normally bone-dry city.

That evening, Morocco's Minister of Foreign Affairs, Salaheddine Mezouar, welcomed scores of journalists at the gathering, known in climate circles as the 22nd Conference of the Parties or COP22.

"Here in Morocco when it rains during an event, we call it a good sign," he said through an interpreter. Newly elected as president of the meeting, Mezouar promised to preside over a "COP of action" that would swiftly chart a course for bringing to life the landmark December 2015 Paris Agreement.

That accord had come about when 193 nations agreed, to widespread acclaim, to limit global planet warming to 2 degrees centigrade (3.6 degrees Fahrenheit) above Earth's preindustrial temperature. They had pledged also to strive for a stretch goal of 1.5 degrees, a level some climate researchers consider necessary to avert daunting changes to weather patterns, wide-spread extinctions, irreversible damage to oceans, and rapid inundation of coastal cities.

Most of the countries, including the U.S., had shared plans for cutting back the amount of carbon dioxide they release into the atmosphere, though there were no enforceable commitments. For compliance, the treaty relies on moral suasion and stringent reporting requirements that permit objective assessment of how well nations are sticking to their pledges.

More than 100 countries – including the United States and China, together responsible for half of all the fossil fuel burned today – subsequently ratified the Paris Agreement. And on October 2, the 147th anniversary of the birth of Mahatma Gandhi, India delivered ratifying documents to the United Nations. With that action, countries cumulatively responsible for more than 55 percent of humanity's global output of greenhouse gases had approved the agreement, triggering the treaty to become international law one month later. The 2015 Paris Agreement went into force just days before the November Marrakech conference began.

Self-congratulations amid an 'almost giddy' mood

On that opening day, the Muslim call to prayer echoed throughout Marrakech's ancient walled quarters, announcing the dawn. Diplomats, media, and representatives from non-governmental organization talked cheerily, streaming into the enclave of white warehouse-size tents erected for the event. They congratulated each other and themselves. They sounded almost giddy.

Two days later, on Wednesday, November 9, the rising sun revealed a brilliant white blanket of snow – a gift of the earlier storm – on the Atlas Mountains to the south of Marrakech. But already, only a few hours after Donald Trump's victory speech, the mood inside the conference complex had turned dark.

The umbrella environmental group U.S. Climate Action Network hastily organized a press conference. With strained voices, representatives from the Union of Concerned Scientists, the World Wildlife Fund, the Sierra Club, and the NAACP emphasized their hopes that international action to slow global warming will continue, despite the election results few had anticipated.

Uncertainty abounds

Here's what we know about Donald Trump's plans for U.S. climate policy based on his campaign pronouncements and rhetoric. How closely his often-incendiary statements as a candidate may foretell his actual performance in office is uncertain, as some say a President Trump may be more temperate than he was as a candidate.

Trump has called human-caused global warming a "hoax," repeating a refrain popular among Republicans in Washington closely aligned with fossil fuel interests and with those opposing what they see as "over-regulation." During the campaign, Trump repeatedly pledged to "cancel" the Paris Agreement. He promised to "stop the war on coal," specifically saying he would reverse President Obama's signature domestic climate change policy, EPA's Clean Power Plan.

Obama's initiative, which the Supreme Court is expected to review, would reduce carbon dioxide output from the electricity sector, largely by forcing early retirements of the dirtiest, coal-fired plants. Candidate Trump also proposed eliminating the Environmental Protection Agency. His transition team has installed a well-known climate "skeptic," Myron Ebell of the Competitive Enterprise Institute, to head the EPA transition effort, raising "fox in the henhouse" concerns.

At the Marrakech election day press conference, Alden Meyer, a seasoned climate policy activist with the Union of Concerned Scientists, began his remarks by stating what no President can do: "Even he cannot amend and change the laws of physics, to stop the impacts of climate change, to stop the rising sea levels."

Meyer and the other activists who joined him on the stage said that while not impossible, it might be hard for Trump to achieve his stated goals of quickly reversing the Paris Agreement and all of Obama's climate-change efforts.

The treaty was written specifically to avoid U.S. Senate ratification, considered highly unlikely in the GOP-led Senate. Technically it is a part of the Rio Agreement, which President George H.W. Bush signed and the Senate ratified in 1992. Under it, the U.S. cannot pull out until November 4, 2020, four years after the Paris Agreement came into force and just before Trump is to complete four years in office.

Robert Stavins, a professor at Harvard's Kennedy School and an expert on international climate negotiations, wrote in an e-mail that, fearing a Trump victory, countries had rushed through ratification to "lock in" the U.S.

Stavins acknowledges that the Trump administration and Republican-controlled House and Senate could abandon federal efforts to achieve the nation's pledged cutbacks in carbon emissions. The Obama administration has committed to accomplish a 26-28 percent cut in annual CO2 releases by 2025, a vow that the treaty does not enforce.

According to the UCS's Meyer, however, the Trump administration might nonetheless stick to some of the agreement's commitments in exchange for the international cooperation it will need on other issues, such as terrorism and trade. "No country can be perceived as not doing its fair share on climate without serious consequences for its standing in the world," Meyer argues.

Long-time obstacle China now a potential climate hero?

An irony in the emerging situation: China, long considered a primary obstacle to a global climate agreement, now could become the agreement's savior. The Communist Party's official newspaper, "The People's Daily Online," reported that Chen Zhihua, a member of the Chinese delegation to the Marrakech meeting and an official of China's National Development and Reform Commission, responded defiantly to the Trump election victory. "Global efforts to curb climate change will not stop," he said in a press conference. "No matter what happens in the new U.S. government, China will continue to constructively participate in the international climate change process."

Environmentalists at the Marrakech conference said they think many state and local energy conservation and efficiency initiatives in the U.S. will continue even in the face of federal resistance. They said utilities would continue to retire coal plants even without strong regulations, as coal-fired generators simply are less economical than cleaner natural gas plants. U.S. environmentalists also vowed to bring court challenges under existing environmental laws.

"I expect to see an explosion of political creativity," said Steve Herz of the Sierra Club. "We are going to mobilize; we're going to organize."

When your four-year-old turns 36 in year 2050 …

After the post-election press conference ended and journalists had scrambled off to file reports, Mariana Panuncio-Feldman, with the World Wildlife Fund, repeated her assertion that the transition toward a low-carbon economy could not be held back by a new administration in Washington. "Countries will continue to act. Business will continue to invest. Local governments will continue to take action where they have the mandate to do so. Things will continue moving."

Usually calm and controlled, she sounded somewhat robotic. Suddenly, she lost her composure. "I have a daughter who just turned four last week," she said, tearing up. "She'll be 36 in 2050," the year in which the global average temperature is expected to go beyond the two-degree increase many climate scientists see causing severe impacts.

Those few COP22 attendees thought likely to be comforted by Trump's election and his expressed views on climate change were keeping a low profile. At one end of an exhibition hall half the size of an American football field, one likely prospect sat aside wall displays boasting ties to large oil and gas interests. He agreed to comment only if not identified by name or affiliation.

Did he cheer the new policies expected from the Trump administration? "I'm scared," he said. "I'm very scared." Why would Trump's oil-friendly plans trouble an industry advocate? His personal opinions don't always conform to those of his work-place associates, he replied. He pointed to a brochure and rapped the cover with his finger: His industry trade association accepts the science of human-caused global warming, he said.
RELATED ISSUES