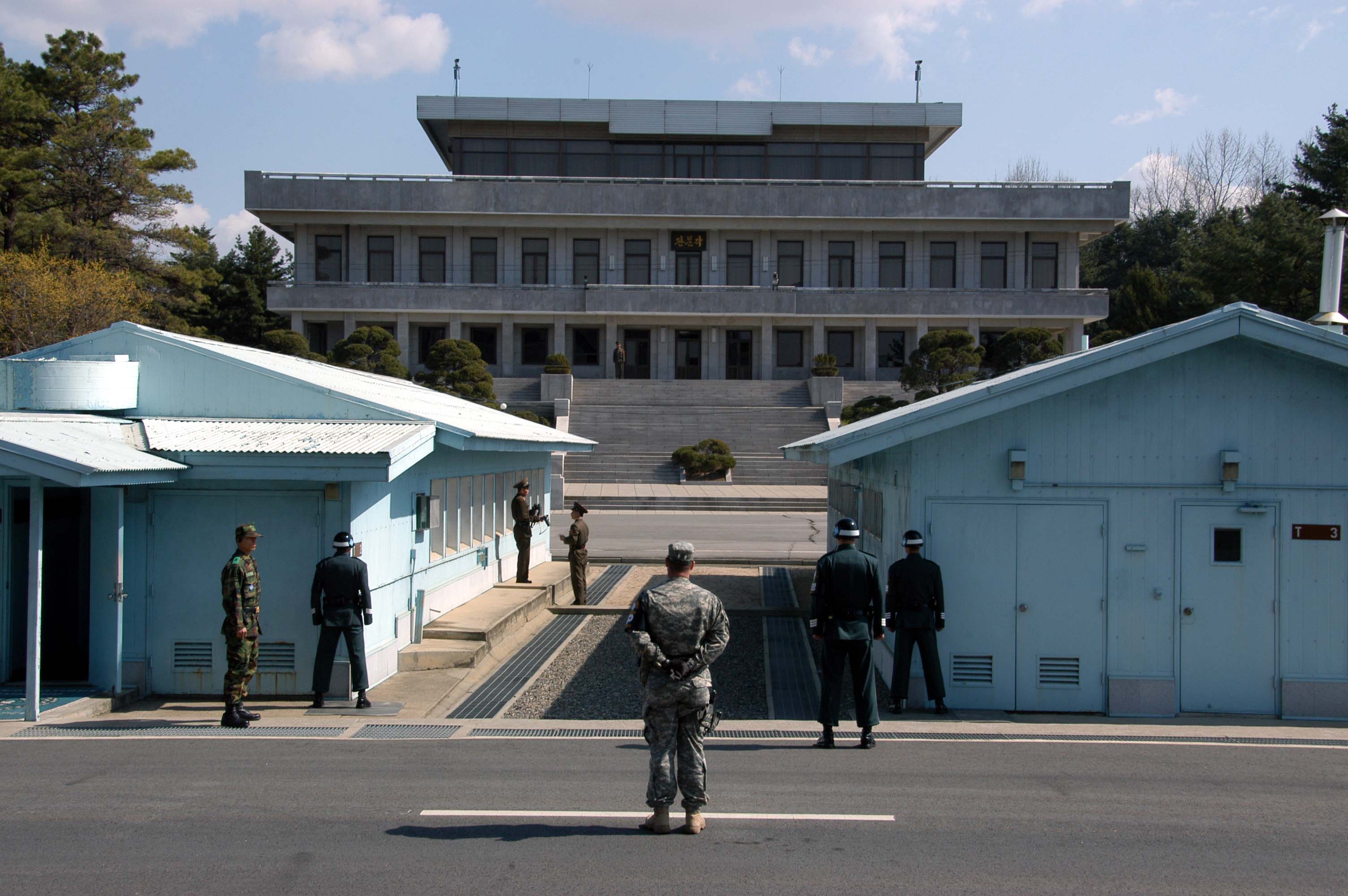 1. The Impossible Journey
Any North Korean knows that escaping their nation is nearly impossible.
First, the woman called "Faith" would have to evade the soldiers and surveillance cameras on the border. But even once she'd sneaked into China, the danger would only have just begun. To reach a South Korean embassy, where she could receive asylum, she would still have to clandestinely journey thousands of miles across China and then several Southeast Asian countries. If she was discovered anywhere along that trek, she would likely be repatriated to one of her nation's infamous gulags, where prisoners slave with so little food they capture rats to eat. But after more than 30 years of never daring to criticize the dictatorship out loud, even after enduring a famine, she was willing to risk anything to free herself.
By late 2017, thanks to the help of a secret network of activists who serve as an underground railroad of sorts for North Koreans seeking asylum, Faith had managed to make it over 2,500 miles from her home. As she approached China's border with Vietnam, where many refugees have been arrested—she recognized that she was facing one of the most hazardous passages of her odyssey. Faith, her two preschool-age kids, and five other North Koreans hiked on a mud path through farmland and jungle, following a Vietnamese man in silence, for speaking Korean would blow their cover to anyone they passed. At the end of the trail, a soldier appeared, guarding a bridge over a river, and their guide hailed him. Safety lay just beyond the soldier. She waited for him to respond. In this moment, she would discover if her bravery had won a better life for her and her children—or if she had doomed them all.
2. Faith
Faith was born in the People's Paradise of North Korea in the late 1970s. There her easy life was envied by the rest of the world—or at least that was what she was taught. At home, she and her mother were supposed to polish their household portrait of the smiling Great Leader each day, though they only cleaned it in advance of inspections, since they could be punished if it wasn't shiny enough. A giant version of that portrait, with its you-will-be-happy smile, greeted her at every school, factory, and railroad station. And after turning 16, like all adults, she pinned a button with the portrait over her heart each morning. Of course, Faith's actual life was nothing like what the dictatorship's propaganda depicted. In the mid-1990s, as a teenager, she survived a famine that reduced the population to scavenging pine bark, insects, and frogs, and killed hundreds of thousands of people. But if the ever-present secret police caught anyone complaining, the whiners could end up in the gulags, so Faith sang patriotic songs and echoed the slogan that North Koreans had "nothing to envy" about the lives of foreigners. But because Faith lived just a few miles from the heavily guarded Chinese border, sometimes people from her hometown sneaked across the river snaking through the mountains to search for food, and by the mid-2000s she had become exposed to goods smuggled in from outside—especially DVDs of South Korean soap operas. North Koreans are taught that South Koreans are an impoverished people ground beneath the heels of American "imperialist wolves," so images of South Korea's futuristic megalopolises amazed her, especially when she compared them with the dreary Soviet-style farming town where she grew up. But what really kept her binge-watching all night, while keeping an ear out for police, were the love stories. In North Korean cinema, heroines fall for the Great Leader and the Party, so she was amazed by glimpses of a world where personal romance came first.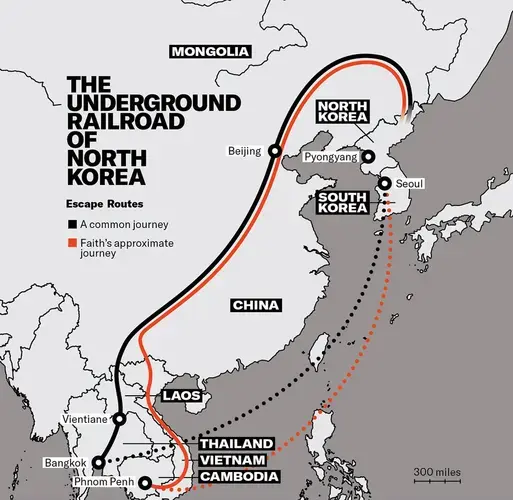 Such a life, however, was beyond her grasp. She married and had a child. By 2012, she was actually relatively well-off, as she illegally traded mountain herbs. And though North Koreans were no longer starving in the streets, life remained bleak. (A 2018 United Nations report found that 43.4 percent of North Koreans are undernourished.) Still she was sick of "voluntary" communal-labor assignments, such as shoveling gravel to build roads, and the lies that undergirded North Korea's "rotten" society. She was also having domestic problems with her husband. So when cross-border smugglers told her that they could get her a job in China, from which she could earn money to ultimately buy passage to South Korea, she decided to leave her husband and child behind and risk the gulags trying to sneak out of the country. Once she had saved up enough in China, she told herself, she would pay the smugglers to bring her kid (but not her husband) over the border and then she would usher them to a better life. When Faith arrived in China, however, the smugglers stunned her by revealing that she was to be sold to a Chinese husband. The smugglers, it turned out, were far from the good men she took them to be. Rather they were merchants in North Korean women, exploiting the gender imbalance created by China's one-child policy—which unintentionally encouraged patriarchal parents to abort female fetuses, creating a surplus of 30 million Chinese men, thousands of whom are so desperate for partners that they buy North Korean wives. "I didn't know anyone and I couldn't speak the language," Faith would later say, "so what could I do?" Several bids were made before she was ultimately auctioned off for about $800 to a poor Chinese farmer.
Soon, under Kim's care, faith would begin her journey along the underground railroad while Kim Jong-Un, the dictator of North Korea, continued his campaign to destroy it.
Faith's days became an endless blur of farm and house labor. During the first two years of her captivity, before she learned Mandarin, she communicated through hand gestures. She considered herself lucky, as "my husband had a kind heart," meaning he didn't beat her or yell at her like many of the other husbands she'd heard about, who abused their purchased wives. "Still, it was like prison," as her in-laws watched her as closely as wardens to keep her from running away. After she had two more children with her second husband, she constantly worried that the three of them would be sent back to North Korea. Four years into her captivity in China, she had become even more depressed than when she'd been living in the dictatorship. Despite her new in-laws' efforts to isolate Faith from the six other North Korean brides in the village, the women eventually found ways to scheme together about how to flee to South Korea. There were shadowy brokers, they had learned, who, for several thousand dollars, could smuggle you to a South Korean embassy in Southeast Asia. The risk was obviously huge: They'd already been betrayed by smugglers once. But in 2016, two of the North Korean women from her village took the leap and paid for the high-risk passage. When they ultimately arrived safely in Seoul, South Korea's capital, the women connected their broker to Faith. On a cell-phone call, Faith had to admit to the businessman that she lacked the money—but rather than cutting her off, as she had feared, the businessman explained that there might be someone who could help fund a charity case. Eventually she was told that she had been selected to be helped by the North Korean Underground Railroad.
Normally it would be the responsibility of the United Nations to assist the thousands of North Koreans hiding in China. Instead, because China labels North Koreans "economic migrants" rather than refugees at the behest of its ally North Korea, "it is up to the heroic civilians of the Underground Railroad to risk their lives to do what the international community is prevented from doing by China," said Suzanne Scholte, president of the Defense Forum Foundation. Over two decades, Underground Railroad activists have built up a network of secret routes and safe houses to transport refugees across Asia and, in doing so, have managed to fill in where some of the world's most powerful institutions have failed.
Faith wanted to flee via the Underground Railroad as soon as possible, but she refused to abandon her children born in China, as she had been forced to do with her kid in North Korea, meaning the escape had to wait until late 2017, when her Chinese husband departed for an extended trip. She left no note before ushering her two children into a pre-arranged car. She didn't want to hurt her husband, but what other choice did she have? The car drove her to a safe house in a major northern Chinese city. There she received a call. "Are you okay?" a soft masculine voice asked. "I've been praying for your safety." The mysterious man explained that he was a leader on the Underground Railroad and that from there on out, all she had to do was follow the directions of his agents, whom he would be carefully managing from afar. The man on the phone was "Stephen Kim." "Kim is one of the key activists who still has the contacts, knowledge, and tenaciousness to get North Korean defectors out," said Phil Robertson, the deputy director for the Asia Division of Human Rights Watch. "Getting people out has become infinitely harder [recently]—and while others have dropped out, he has doubled down." Soon, under Kim's care, Faith would begin her journey along the Underground Railroad while Kim Jong-un, the dictator of North Korea, continued his campaign to destroy it. And her escape would be made even more difficult by recent changes within the Underground Railroad that were creating conflict between once allied activists.
Though neither Faith nor Kim knew it, they were embarked on a course that would upend both their lives.
3. The Mission
Stephen Kim is a man whose life has been shrouded in legend. For leading the rescue of over 700 North Koreans, he has been called "the Oskar Schindler of North Korea," a nickname that he shares with several other humanitarians who do similar work. Associates refer to him by the code name Superman, and he has been called "mythical" by human-rights activists. When I first met him, in the fall of 2018, at a private location in Seoul, I was struck by his constant wry smile—the kind that suggests someone who knows something they aren't telling you. After months of unsuccessfully attempting to arrange our interview through an intermediary, Kim had suddenly agreed to meet. "People need to know that the Underground Railroad is under attack by Kim Jong-un and China," he explained. "And they need to do something about this and help the North Koreans."
Over the coming months, Kim would give me an unprecedented look into his life and the Underground Railroad. I wanted to better understand what it takes for a man like Kim to sacrifice himself for others. How had he and other activists created a secretive international humanitarian organization, responsible for saving thousands of lives? And how could it be saved as it faced increasing danger? In searching for these answers, I would learn that things weren't always as they seemed. And I would find, surprisingly, that sometimes threats to the Underground Railroad come from within.
For safety, Kim doesn't want too much known about his past, but there are two facts that he feels are important in order to understand him. First, his father grew up in what became North Korea before he moved to modern-day South Korea to run a wholesale vegetable business. Sometime after that, the Korean Peninsula was split into two nations and the Korean War broke out. Thus, while Kim grew up in the South, he thought of North Koreans as long-lost family. Second, Kim's father was Christian, and though he and his family eventually stopped attending church, Kim never forgot Jesus.
But in the mid-1990s, it was profit and not religion that was on Kim's mind as he sourced cheap textiles from the Chinese provinces lining the North Korean border. Striding the streets, the besuited high roller would pass skeletal North Korean children pleading for food, and if he had time, he would buy them bowls of dog soup, renowned for its dense calories. Listening to their horror stories of the famine just across the river, Kim was deeply moved—but he had an international business to run. That is, until around 1997, when he went bankrupt.
His family was forced to move into a tiny apartment with a shared bathroom in the Chinese port city of Dalian. He contemplated committing suicide. But then, in what felt like divine inspiration, he remembered that the impoverished North Korean street kids still had the will to live. He swore to re-dedicate his life to them and to Jesus. Using the last of his savings, and eventually money he earned exporting beans and North Korean antiques, Kim rented several cheap apartments and began inviting dozens of North Korean refugees—"wandering swallows," as the homeless youth were called—to live in them.
Kim remembered that one refugee in his mid-teens, Kang Won-cheol, was so malnourished when Kim met him that his hair had yellowed. Kim's offer could have seemed strange at first, for after a lifetime in a society where citizens are encouraged to inform on one another, many North Koreans are suspicious of unconditional help. But Kim and his wife kept the rice cooker going constantly and spent their days teaching the wandering swallows basic scholastic lessons and the Bible, which Kang distinguished himself in learning. Kang soon realized that Kim's generosity was genuine: "He opened my heart," Kang said, "and changed my life." Soon, Kang became so dear that Kim called him "son."
Kim was not alone in his work. South Korea is the bastion of Christianity in East Asia, and by the late 1990s many South Korean missionaries were sneaking into China to assist North Koreans. Most missionaries, however, had more zeal than discretion—one recalled with horror his colleagues openly discussing their work in hotel lobbies—and soon their work began to attract the attention of the Chinese Communist government, which strictly controls religious expression. Before long, Chinese police were arresting missionaries and parishioners alike. Kim was more cautious than most—ordering that the doors to his safe houses be opened only to a special knock and keeping ropes by the back windows, just in case inhabitants needed to rappel out. After a few years, however, his luck ran out.
4. The Escape
It was late in 2000, and the frigid northern Asian winter was congealing, when another missionary asked Kim to help a family of North Koreans. It was immediately clear when the family arrived at one of Kim's safe houses that they were not like the wandering swallows. The father, mother, son, and two daughters were healthy, wore tailored clothes, and had accents from North Korea's capital, where only elites dwelled. The father confided to Kim that he had been a scientist involved in weapons programs. Could Kim help him escape to South Korea? At least one pastor, Chun Ki-won, and the activist Kim Sang-hun were escorting North Koreans out of China by then. Kim, however, had never helped anyone escape before, and took the time to think over his options.
One day, shortly after plans were set to help the family move, though, Kim found the apartment where they stayed in disarray, with discarded cigarette butts still smoldering on the floor. Neighbors told him that a dozen armed policemen had arrested everyone within, including the family and Kang. Kim wondered if he should flee, before deciding he couldn't abandon his charges. But when he tried bribing the usually pliable Chinese police, he was told there was no hope in saving the scientist and his wife: They had been beaten so badly their teeth had shattered and they'd soon be returned to North Korea. Eventually, Kim heard, they were executed there by firing squad.
On arriving in his new home, Kang had completed the government's months-long crash course on adjusting to South Korea, studying everything from how to use a subway to what capitalism is.
Meanwhile, Kang and the scientist's three children had been locked in a conference room on the seventh floor of the police headquarters. It was better than an actual jail, but Kang was terrified that he was about to be repatriated to the gulags. Searching for a way to escape, Kang discovered that one of the conference-room windows was unlocked and just within reach was a gutter spout. In the early hours of the morning, Kang grasped hold of the pipe and began shimmying down. His hands slipped. He began to skid—but at the last moment, he clamped back on. When he reached the ground, he says, he felt it was a "miracle," and ran to tell Kim about the children left behind.
Eventually, with donations from various missionaries and NGOs, Kim bribed the police to release the scientist's children. It was clear, however, that the city was no longer safe. So Kim dispatched the scientist's children to the Mongolian border, under the care of a trusted friend, where they sneaked across and claimed asylum at the South Korean embassy. Then, a few weeks later, Kim and Kang followed, along with two Chinese-Korean guides and four other wandering swallows, divided into two teams. For much of the two-day trip, Kang slept, nestled up against Kim in taxis, trains, and buses. On arrival, the group checked into two different cheap inns, one for the adults and the other for the teenagers. Then, in the last daylight, they scouted the route the children would take across the desolate expanse of the Gobi Desert, divided only by a high metal fence, while winter wind clawed them like the "Devil's hand." The next morning, one of the guides was sent out to check the escape route again, accompanied by a refugee. But before long, the guide telephoned Kim. He and the refugee had been picked up by the Chinese police, and he was calling at the police's orders to tell Kim to surrender himself. Kim frantically telephoned the wandering swallows at their inn, and told them to hide until night and then sneak over the border on their own. The police burst into Kim's room just as he flushed the shreds of the group's maps and documents down the toilet. They handcuffed him. During questioning, the beatings began.
After dark, Kang and the others dug with their hands through the frigid sand under the border fence. It took them six hours, he says. When they finally reached the other side, they hoped that Mongolian soldiers would arrest them—and then eventually turn them over to the South Korean embassy. But they instead found themselves in a wasteland. Kang led the others toward a glow on the horizon until they reached a town. There, Kang says, "I was happy to be caught by the police for once!" After a couple of weeks of processing in the South Korean embassy of Mongolia, he was finally flown to Seoul. Eighteen years later, I met Kang there in a trendy coffee shop. His short stature marked him as a survivor of the North Korean famine, but his stylish streetwear camouflaged him with the South Korean hipsters around us. On arriving in his new home, he had completed the government's months-long crash course on adjusting to South Korea, studying everything from how to use a subway to what capitalism is. Over the years he has worked on a factory line, eventually graduated from university, and most recently had gotten a job at the South Korean agency that resettles North Korean refugees. Several months after his escape, when Kang finally saw Kim, the newly freed man had trouble recognizing his savior because Kim had lost so much weight and had his hair buzzed in prison. Kim's wife, funded by family and a humanitarian NGO, had paid a huge bribe for his freedom. Lingering pain from fistfights with other prisoners and the police beatings stiffened Kim's movements. When Kim explained that he had been tortured in prison, Kang wept.
"Stephen sacrifices a lot for people like me," Kang said. "I will never forget that."
5. Faith Flees
In late 2017, Faith, her children, and five other North Koreans were given stylish clothes so they would not stand out among the better-dressed Chinese, and were matched with Chinese ID cards from a stash used by each group of defectors, a recent necessity for slipping through China's "smart city" surveillance systems. It was then that Faith resumed her journey toward freedom that had been cut short by the treacherous smugglers years before.
For the first week, Faith mostly just saw the insides of sleeper buses, with occasional glimpses of slumbering cities and moonlit countryside. As much as possible, she and the other North Koreans pretended to be asleep, with hoodies pulled over their faces, to avoid talking to ticket conductors or other officials. An agent handled all interactions with authorities. Each morning, when the defectors arrived in a new city, a fresh agent hurried them to a pre-arranged safe house. Then, come evening, they were rushed onward to the next destination.
On long bus rides, Faith struggled to keep her two children, who had to squeeze with her onto a single level of a bunk bed, from tantrums that might expose the whole group. Could she really be so close to freedom only to lose it all? Her single comfort came when Kim called to ask how she was doing. He explained that he was directing the agents who were leading her. Just talking to him reassured her; the kindness he was displaying would have been unimaginable in North Korea, and she hoped everyone in the South was like this. Faith's journey was out of her control, but she trusted Kim, who had been helping refugees for nearly two decades.
6. The Underground Railroad
After two months in the Chinese jail, "I didn't want to do the work anymore," Kim said. "I was broken." But he felt God intervened. "Until then, I wasn't the kind of Christian who directly experienced many miracles," but afterward he had visions inspiring him to continue the mission. By mid-2002, Kim was again living in northern China, and with funds from the NGO the Citizens' Alliance for North Korean Human Rights (NKHR), he was personally guiding a small number of refugees to South Korean embassies in Southeast Asia.
"No one has a perfect bird's-eye view of the history of the Underground Railroad," said Tim Peters, the founder and director of Helping Hands Korea, a prominent rescue NGO that has saved more than 1,000 people, "as all rescue organizations silo their information," given the sensitive nature of the work. That said, after talking to 13 people involved in the Underground Railroad, I think that the following seems clear: The individual efforts of several dozen South Korean, American, Japanese, and Chinese activists in the late 1990s coalesced into several formal organizations by the early 2000s. Some sneaked refugees into South Korean and other sympathetic embassies in China until security became too tight. Others favored the Mongolian route, before China sealed it in the mid-2000s. This meant the primary way out was to cross all of China and then much of Southeast Asia. Although North and South Korea are divided only by the impenetrably fortified 2.5-mile-wide demilitarized zone, the journey between the nations had become one of about 6,000 miles.
One of Kim Jong-un's first orders was for guards to shoot anyone caught defecting over the border. Then he boosted the number of border guards and installed tens of thousands of surveillance cameras.
As the Underground Railroad expanded, the number of North Koreans arriving in Seoul skyrocketed. In 2001, Kang was one of just more than 1,000 arrivals. By 2007, that number rose to over 2,500. So much success, however, prompted China to crack down. The missionaries had little experience running clandestine networks, and many began to be jailed or disappeared. Kim kept his cover as a businessman but increasingly found himself harassed by Chinese police. By 2005, for fear of attracting attention to his family, he was staying away from their apartment for months at a time. Kim's two sons were still in elementary school, so he could only explain his absences by telling them he was doing a "good thing for God."
"It was hard having a father who could never stay with us more than a week or two," said Kim's son David, "and struggling financially.… Now, though, I understand that my father is just wonderful." At the end of each too-short visit, Kim remembered, "my children would always say: 'Don't leave us!' " But, Kim explained, "I chose to help the North Koreans because my family could at least survive without the help. I feel like I've given my lovely family too much suffering."
Eventually, in 2006, Kim was told by contacts within the Chinese police to get out of the country. By then he also feared a North Korean assassination attempt. So he arranged for his family to move to the United States. Kim had hoped to accompany them "because I just wanted to hide for a few years and live with them." But immigration issues likely related to his arrests prevented him from entering the U.S. Kim hadn't explained the length of the impending separation, but at the airport, even though "he was saying 'Have fun over there' and throwing around jokes," David remembered, "I could tell my dad was sad." David started crying. Kim lifted David off the ground in a hug and told him, "I love you." That was goodbye. A decade later, they still had not seen each other in person again.
At about that time, around 2008, life for activists like Kim became much harder. China tightened security ahead of the Beijing Olympics, and Pyongyang pressured governments in Vietnam, Cambodia, and Laos to increase their arrests of refugees, whom they would repatriate. "It still really hurts," Kim said. "Many of my friends were lost." An American diplomatic cable exposed by WikiLeaks shows that activists were not expected to last more than a year in northern China. In place of charitable workers, brokers came to dominate the Underground Railroad. Brokers had been assisting refugees from the beginning. North Koreans freed by activists used their new South Korean passports to guide other escapees along Underground Railroad routes they had already traveled. But the number of brokers exploded as North Koreans already in the South proved willing to pay thousands of dollars to be reunited with family left behind, and North Koreans in China who were without funding signed IOUs promising to pay back the brokers in Seoul, often using the significant resettlement stipends the South Korean government gave them. The brokers had more prospective clients than they could lead out personally, and so they cultivated Korean-Chinese living in China who could work for them. Before long, the brokers had forged networks that surpassed those of the charitable organizations, and activists began hiring these brokers as their own networks increasingly failed. A representative from an NGO that has rescued hundreds of defectors estimated that charitable rescues have accounted for about 30 percent of the approximately 32,000 North Koreans who have arrived in the South, with the rest coming via brokers.
By 2017, the situation had gotten so critical, with widespread arrests and only 1,127 refugees making it to freedom, that some activists worried about the future of the Underground Railroad.
But even the brokers were not prepared for when the longtime tyrant of North Korea died in 2011 and power passed to his 20-something son, Kim Jong-un, who made it his priority to destroy the Underground Railroad. One of his first orders was for guards to shoot anyone caught defecting over the border. Then he boosted the number of border guards and installed tens of thousands of surveillance cameras. He also persuaded China to further crack down on the Underground Railroad within its borders. The year before Jong-un took power, 2,706 refugees made it to freedom. The next year, 2012, only 1,502 did.
Kim and NKHR had gone their separate ways after working together in the early 2000s, but he returned to the NGO in 2010. Soon he had nearly doubled the number of refugees NKHR rescued annually. An NKHR spokesperson confirmed that from 2010 through 2018, Kim rescued about 700 refugees for the organization. (Kim receives funds from a small number of other organizations and spends some of his own money to rescue refugees as well.) Rising pressure finally forced Kim to relocate to Seoul, because, he said, "the police would follow me even to the bathroom" in China. From there, he has become a remote overseer of sorts, using his contacts from his days in China to handle things on the ground. In the fall of 2018, Kim told me that he relied on seven brokers working for him full-time, each with their own team of part-timers, such as taxi drivers and safe-house workers. This was the network that Kim activated to rescue Faith in 2017.
7. Arrival
As Faith journeyed across Asia, Kim kept close tabs on her group and steered them via encrypted communications with his agents, doling out payments via wire transfers. (An escape costs about $2,000 to $2,500 per person.) During Faith's escape attempt, security was tight in the Laos-China region, where today's standard route has refugees hike through jungles into Laos, cross the Mekong River on fishing boats into Thailand, and then claim asylum at the South Korean embassy. So instead, Kim piloted Faith's group on a relatively new and risky route, toward Vietnam, planning to extract them through the South Korean embassy in Cambodia.
By then, in 2017, the situation had gotten so critical, with widespread arrests and only 1,127 refugees making it to freedom, that some activists worried about the future of the Underground Railroad. "My fear is that we will continue to see a decline in escapees," explained Sokeel Park, a director for the NGO Liberty in North Korea (LiNK), which has rescued over 1,000 refugees, "with escapees possibly diminishing to a few hundred annually in the future." Other activists worried that if the Thailand route closed, there would be no viable backups to handle large numbers of refugees.
The loss of the Underground Railroad would deprive the world of an essential humanitarian institution. By the end of 2018, the seven public rescue organizations had saved at least 5,000 North Koreans, according to numbers provided by them. (Experts cautioned that it is impossible to check such figures.) And as brokers have increasingly quit the business during Jong-un's crackdown, the importance of charitable groups has only increased.
"The charitable groups are there through thick and thin," said Tim Peters of Helping Hands Korea. "People who do it for money, once conditions get tough, they disappear." Melanie Kirkpatrick, a senior fellow at the Hudson Institute and the author of a book on the subject, said that without the Underground Railroad, the world would lose its best source of information about what goes on inside the secretive regime—escapees. And, she explained, the smuggled cell phones, flash drives, radios, and DVDs that flow back up the Underground Railroad into North Korea are a subversive force, "helping to sow discord and nurture dissent"—which makes it, perhaps, the greatest threat to the regime.
And so it was, in 2017, that Faith fearfully watched her guide hail the Vietnamese soldier barring the group's path, at the same border where many refugees have been detained. But her fear eased when the guard reacted with the easy body language of a man accepting a bribe. A few steps later, she had officially escaped China. From there, they rode buses south through Vietnam, and slipped into Cambodia at night on motorbikes without incident. In Cambodia's capital, a priest led her past intimidating guards, and the moment she set foot in the South Korean embassy, she was recognized as a citizen. After two months of paperwork, she got on a plane to Seoul—the first flight of her life.
Like many defectors, Faith struggled to adapt to South Korea. When I met her at her subsidized apartment in the fall of 2018, she still had the haggard air of someone learning how to use the subway, navigate welfare programs, and raise two children by herself in an alien country. Watching South Koreans throw away lightly used sweatshirts and shoes, she dreamed of giving them to the family she'd left behind in North Korea. Eventually she joined the modest church that Kim pastors. One Sunday, I joined Faith and Kim at the church. To open the service, Kim instructed his parishioners to pass the peace. Worshippers stretched out their hands and sang a greeting to one another, and Faith and her children reached back, glowing with joy. Kim closed his sermon by announcing that with the church's help, eight North Koreans had been rescued that week. After the service, Kim led me to his office, where he showed me a map of North Korea on which were pinned eight crosses—memorials for missionaries who had been caught sneaking back into North Korea.
During the week that I spent with him, his Cheshire smile had rarely faltered, and he had seldom revealed intimate feelings. But now Kim began mournfully cataloging the friends he had lost, in a litany of abductions, stabbings, and other assassinations. When I asked if he feared death, he recalled a recent car crash that put him in the hospital in a neck brace. During it, he had thought, "Wow, this is it, I'm going to die. I'm finally going home"—to heaven, to Jesus. "I'm so happy."
The constant exposure to North Koreans' traumas affects Kim more than he publicly lets on. An NGO worker said, "Sometimes he'll call me crying when he hears a really terrible testimony from a North Korean." But on that day, as if remembering that he was "Superman," Kim steered the conversation back to his willingness to die for the cause and resumed that mysterious masking smile.
8. The End of the Line
As I said goodbye to Faith and Kim in late 2018, I felt happy that at last Faith had found a home. But despite the evidence I had seen of Stephen Kim's good works, I left Seoul questioning the accuracy of some of his tales.
Doubts have been raised about many escape stories from North Korea, not only because they can be impossible to fully fact-check but also because sources often have an agenda. As journalist Suki Kim wrote about the Underground Railroad in Harper's Magazine, "the story was everything in [this] business," since rescue organizations need to raise money and activists seek to highlight North Korea's human-rights abuses.
Over the next few months, as I cross-checked Stephen Kim's stories, I found that sometimes his version of events tended to be more sensational than what others remembered. For example, he described Kang as being so malnourished when he found him that his hair had turned yellow, although Kang denied this. His numbers often seemed inflated—as with his claim that he has rescued 3,500 refugees. NKHR confirmed that he had rescued about 700 for them, and he has certainly saved more by himself, but experts suggested to me it is improbable that he has succored more than 10 percent of all North Koreans in South Korea.
"Sometimes I felt that Stephen Kim exaggerated to gain credit in the past," in the early 2000s, said Youngja Kim, his longtime associate at NKHR, "but he has gotten better about that since we started working together with him again after 2010." She acknowledged that NKHR had severed its relationship with Kim in the early 2000s. "He disappointed me because he once created a situation that could compromise a defector's anonymity without my approval." She and Kim later agreed on a system that allowed him to resume rescue work. (Kim maintained that he never endangers refugees.) She added, "Sometimes the details in his stories are messy because he has to hide things from the authorities, but that is common in his line of work." Kim suggested that others felt he exaggerated because of translation issues.
Ultimately, however, what impressed me was that the foundations of his stories seemed true. Everything I have written above was attested to by at least two sources, and Kim's exaggerations seemed essentially benign: a man embellishing an already incredible tale, perhaps out of pride or to push a cause he fervently believed in. As I prepared to wrap up my reporting in early 2019, I told myself that maybe the myths Kim cultivated were justified because they furthered his important work.
But then I learned that Faith was questioning the trust she placed in him. She was working with Nehemiah Global Initiative (NGI), another NGO that financially supported Kim's rescues, when she realized that the refugees NGI assisted weren't supposed to be paying for their escapes. Faith, however, says that she had been asked to pay $1,000 of the cost of her escape, with Kim and NKHR subsidizing the remainder. At the time, Faith considered herself lucky, as she had never expected such generosity in the first place. But now she wondered if something inappropriate hadn't taken place.
In early 2019, Faith bused to the demilitarized zone, the heavily guarded noman's-land that divides the two Koreas. As she stared at the low mountains of North Korea, she could not help thinking about the family she had left behind.
When she informed NGI, the organization checked with over 50 refugees whom it had paid for Kim to rescue, who told NGI they had been charged similar fees, even though NGI had believed they were paying all the expenses. Kenneth Bae, NGI's director, said, "We realized that the amount of money Stephen paid brokers for rescues was less than the amount of money we had given him."
When I met Kim in Seoul in early 2019, he vehemently denied misappropriating the money. "I am really heartbroken," said Kim, "and I feel this situation is unfair." At one point he explained that the conflict resulted from a misunderstanding: NKHR only pays for rescues starting from a specific northern Chinese city, and refugees are responsible for the costs incurred while getting there—which often means being charged for a private car to bring them to the city from outlying villages. At another point he said he had paid Faith's $1,000 fee; Faith denied this. Kim, however, did acknowledge that not all of NGI's money was spent directly on rescuing North Koreans, as the NGO had wanted. Instead, he said, some was used for operational expenses like international telephone calls and bribing Chinese police. Kim insisted that NGI blaming him for this meant the organization "doesn't know anything realistic about rescue operations." He swore to continue rescuing refugees. "People don't appreciate the sacrifices I make," he said, "but I have God behind me."
This messy conflict partly results from the fact that most rescue organizations have essentially outsourced rescue activities to about half a dozen brokers living in Seoul, who in turn outsource the on-the-ground work to Korean-Chinese in China. Kim, it seems, may be one of these middlemen. Faith came to believe that the broker who had asked her for money did so because Kim had not given him the full funds to cover his costs. In 2018, Kim had told me that he relied on his own network of full-time brokers, but when I asked him again in early 2019, he seemed to rely heavily on other networks, too. One broker said that they had pretty much taken over running Kim's network. A second broker described Kim as a "middleman."
The difficulty of charitable organizations overseeing brokers has created problems. Four sources on the Underground Railroad say that since 2017, disputes between refugees and brokers have risen. Male brokers have been known to rape female refugees. Scams to bilk North Koreans out of their resettlement funds are common. Several sources on the Underground Railroad, however, pointed out that without brokers, no rescue can be successful.
Ultimately, the bootstrapped nature of the Underground Railroad—which has been justly celebrated in its creation—has also limited its effectiveness in the long run. Few rescue organizations seem to know what their peers are doing, and each has a separate handshake agreement with brokers. Few NGOs follow up with refugees once they reach South Korea. Though most organizations insist that they exercise oversight of brokers, that control seems limited in practice, and the brokers themselves said they were able to act with impunity. Rules or even just clearer expectations between brokers and charitable organizations might help to avoid conflicts. "If we had government support to do this legally, many of these problems would vanish," said one broker. And the goals of the two groups are not so dissimilar that they can't find a mutually advantageous solution. Two brokers described being attracted to the work for similar reasons as activists, though they acknowledged they also needed to make a basic living. "I feel like I'm saving individuals from hell," said one. Activists and brokers agreed that the brokers weren't getting rich off the work, earning only a few hundred dollars for each rescue.
As I left Seoul early this year, I was uncertain whether Kim had misused any of NGI's funds. But in the lawless Underground Railroad, what was justified to save lives often depended on who was making the call. "I have seen the sacrifices Kim has made for 20 years," said Youngja Kim, who explained that NKHR had found no financial improprieties with Kim and would continue working with him.
On the other hand, NGI is now employing new brokers. "We could no longer trust Stephen after he was not clear with us in the beginning about where the money went," said Bae, who was never satisfied with Kim's accounting of NGI's funds. Bae added, "We feel that it is not fair to ask North Korean refugees to pay for their own escapes." Bae was working to make sure that the refugees who had paid brokers were being reimbursed.
When Faith was contacted for a final round of fact-checking, about a month after making her original accusations, her anger against Kim had softened, and she now believed that he had probably used the disputed money for his ministry, not for himself. "I think it was all done with good intentions," she said, "but his way could be misleading to others." Ultimately, the mystery that shrouds the Underground Railroad makes it difficult for even the people in it to tell what happened, let alone an outsider like me. The best I could do was to report everyone's story and let the world judge what had occurred.
The last time I met Stephen Kim, in a café in Seoul, his exhausted face betrayed the toll that the scandal had taken on him. The mythic aura, the mysterious smile, had vanished. There was much that I would never know about him, but he seemed freshly human to me now: a man both heroic and flawed.
In the end, the times that I most doubted Kim was when he had tried to build up the myth of "Superman." The tragedy, of course, was that his story didn't need embellishment. In fact, everything that he had achieved was all the more incredible for the fact that he is an ordinary man. It was the human imperfection of all the activists I met that helped make what they achieved so extraordinary. For what mattered most, at the end of the line, was that Faith and thousands of other North Koreans were now on the right side of freedom.
In early 2019, Faith bused to the demilitarized zone, the heavily guarded no-man's-land that divides the two Koreas, just 35 miles north of Seoul. As foreigners and South Koreans gawked and snapped photos from a tourist overlook, she stared at the low mountains of North Korea. She could not help thinking about the family she had left behind there, though she had little chance of ever seeing them again. Unless they, too, escaped through the Underground Railroad.
RELATED ISSUES