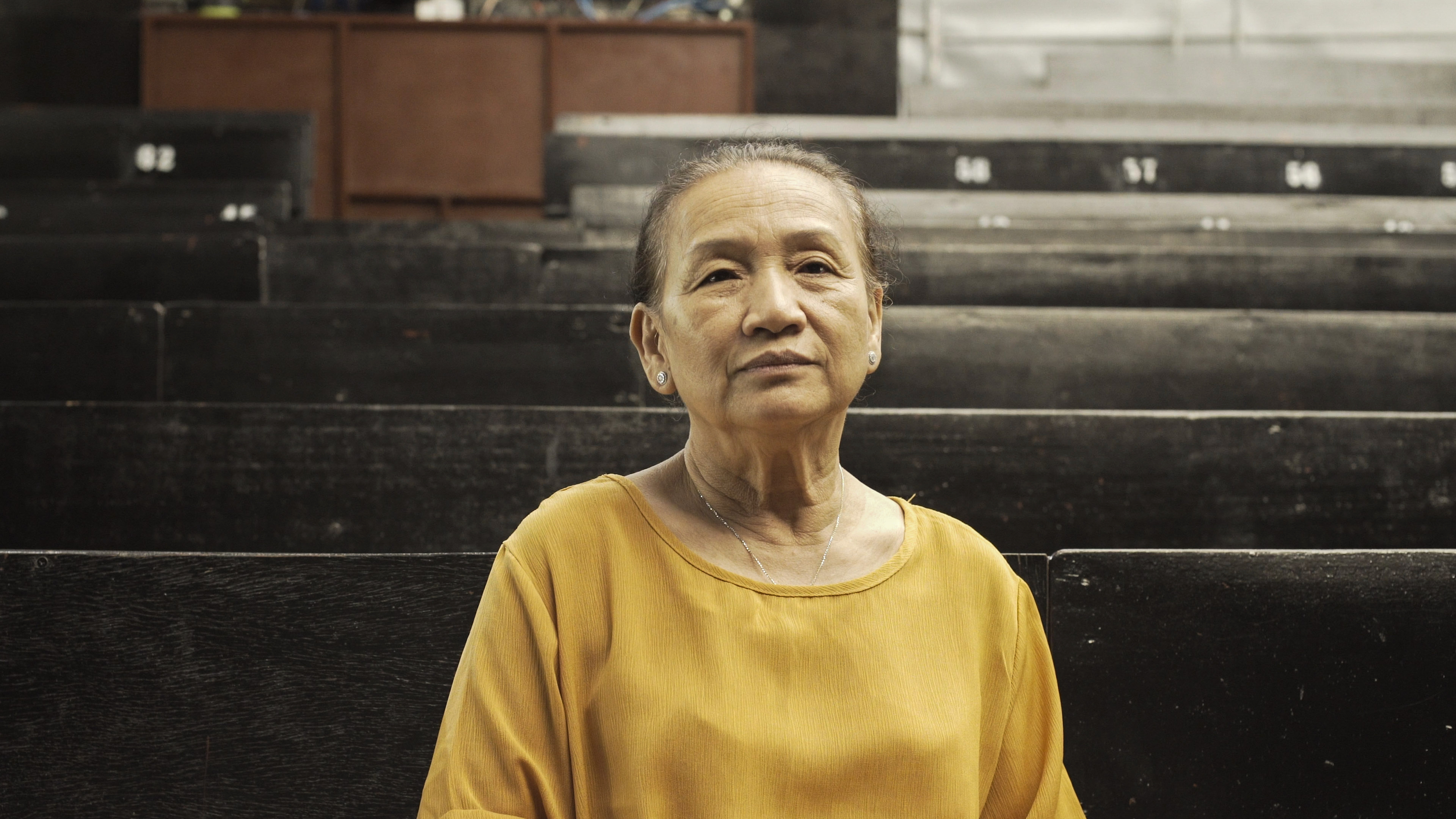 Feet scuttle across the floor. Bare skin rubs against the black mat. The occasional squeak pierces the music.
Voan Savay is in the front row. Though she sits, her body is pulsing with potential energy, at the ready to bolt from her seat to the edge of the proscenium, arms brandished in the articulation of physically conveyed critique: Bring your shoulders back, your hand should look like this, exaggerate that motion … She is a sharp critic: she has utmost respect for the form and does not seem to tolerate anything less from others. But, she can be playful too. Some of her comments elicit grins and chuckles from the bodies onstage.
It's 5 o'clock and rehearsal is under way. All sounds now seem amplified after the rain subsided. The aggressive but short-lived downpour on the tin roof had an overwhelming purchase on the soundscape of the open-air theatre at the National Museum of Cambodia in Phnom Penh.
Voan Savay was the prima ballerina for the Royal Ballet of Cambodia before Phnom Penh was taken by the Khmer Rouge regime in 1975. In 1965, at fifteen years old, she was made the principal dancer, a position she kept right up until the overthrow of the royal family in 1970. She continued to dance, however, until 1975, when she and her family were driven out of Phnom Penh: a city of over 2 million people left a ghost town.
The death toll in Cambodia between 1975 and 1979 is estimated between 1.5 million and 3 million. In addition to the forced evacuations of urban populations and widespread executions of artists, intellectuals, bureaucrats, Buddhist monks, hundreds of thousands of people fell victim to starvation and disease. The Cambodian genocide, perpetrated by Pol Pot's regime, is one of the greatest horrors of the twentieth century.
Voan Savay survived this regime.
"During the reign of Pol Pot, traditional ballet, melted away, ah leay," she says. "There was no more ballet in those three years, many artists were killed. We maybe only have 10 percent of artists that survived that period."
In Khmer, ah leay reflects a violent, devastating or complete sense of loss.
As the rehearsal progresses onstage, a few individuals tasked with transforming the space adorn the rows of black wooden benches with sherry-coloured silk cushions. Voan paces back and forth at the base of the stage, while matching sherry-coloured sheaths of fabric billow behind her, tossed into the air to cascade over the backs of benches in preparation for the spectators who will flood the space at half-past six.
Voan Savay believes art can be a form of therapy. "Even us who were dedicated artists did not dare to say we were ballet dancers. Because we were afraid to die. That's why we hid our identity. Some would say that after the Pol Pot period, people have baksbat, or are scared, worried, forever. But not for me; after the Pol Pot period I returned to who I was originally. I don't have baksbat. Maybe because of ballet."
After two decades in France, Voan Savay has recently re-established herself in Phnom Penh. She is the artistic director of Earth and Sky, a show from Experience Cambodian Living Arts (ECLA), performed by the new Mek Theang dance troupe. ECLA is a programme of Cambodian Living Arts, an NGO whose mission is to be "a catalyst in a vibrant arts sector."
"I am trying to give all I have to the next generation, so there is no loss, because we have already lost so much. I'm already seventy, I'm old now. I am in a rush to give the things I possess to those that have received this calling. It is very urgent for me now."
"[Dance] is like the food for my heart," she says.
According to the Transcultural Psychosocial Organisation, Cambodia's largest mental health NGO, roughly 40 per cent of Cambodians suffer from mental health and psychological problems. The "appalling mental health crisis" is largely attributed to the country's traumatic history. Read about mental health in Cambodia in the popular press, and you'll encounter phrases such as: "exceptionally high rates," "psychological scars," "psychological fallout," "post-traumatic stress," "major depression," "decades of conflict coupled with chronic poverty," "miserable conditions." Even those who did not live through genocide or civil war are often assumed to have inherited this suffering.
Khmer psychiatrist Chhim Sotheara has spent his career examining mental health in Cambodia. Over the years, Dr. Chhim has heard numerous patients use the word, bak or baksbat: "I am bak after this" or "I am bakbat." The term comes from bak, "broken" and sbat, "form": broken form. The term has also been translated as "broken courage."
"I started to think that maybe baksbat is the Cambodian way of explaining traumatic events; it could be a Cambodian version of PTSD. It refers to something that has broken and has never returned [to its original form]," Chhim says.
Dr. Chhim believes many Cambodians are baksbat.
But how does one treat it? Is baksbat a paralysing phenomenon?
Dr. Chhim believes baksbat can be overcome. "There's still a way out of this. Cambodians may be in a hibernation state at the moment, like the frog in the dry season."
He suggests that Cambodians have not yet found a way through baksbat. They are hibernating.
Yet, if to hibernate is to lie dormant, inert, latent, then the antithesis of this state is activation and movement, nowhere better exemplified than on Voan Savay's stage of swift motions and dexterous articulations.
Voan Savay is firm in her declaration. "I don't have baksbat. I have to walk forward."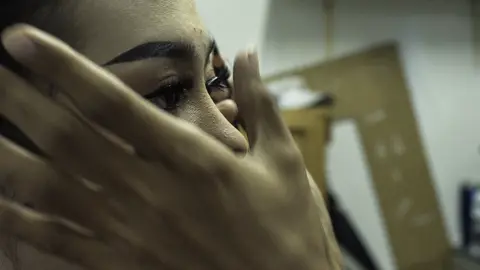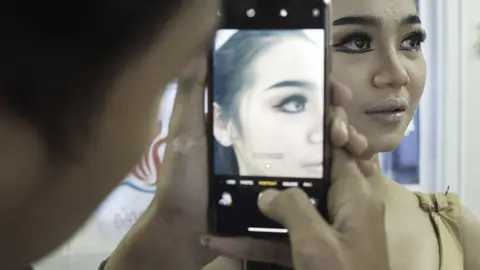 In the small staff office adjacent to the open-air theatre, the table is covered in make-up palettes, a sweaty plastic cup of a once-iced drink, a stand with a golden headdress and sundry other articles. Two young men are buzzing around the Apsara dancer. All are immersed in various preparations: the application of fake lashes, dramatic eyeliner, the tightening of a corset, the pleating of a silk skirt, ebullient fanning to ward off beads of sweat that compromise the make-up. Between stretches of concentration, the three erupt into bouts of giggles. An iPhone plays the song that will accompany the dance. It is at max volume and a bit tinny.
Apsara stares with focused attention into a small hand mirror as she applies a deep red lipstick. To look over her shoulder into the glass is to see a goddess.
Noticing the attention her reflection garners, Apsara smiles slightly self-consciously, revealing a mouthful of braces. As the boys continue to flurry about her, she takes one hand and pulls her fingers backwards, stretching them into one of the shapes of the dance.
These shapes, passed down through generations, are evidence of the physical memory fundamental to this art form. Voan Savay returned to Cambodia to keep this embodied knowledge alive. She says there are 4,500 formations in Khmer ballet, yet only 1,000 of them are still known: "What about the formations only I know?"
In watching ballet, Voan Savay says, the past is brought to life, and spectators are offered a window through which they can come to understand that their country rung reang (prospered, flourished) through the lens of this art. Khmer ballet is an ancient form with records dated as early as the seventh century. For most of its history the form was sacred. Temple dancers or apsaras were messengers of divinities.
Khmer ballet is a conduit to the past. Present-day dancers perform the same formations as dancers centuries earlier. Their bodies become linked to bodies who held and nourished this identity throughout history. There is a sense of eternity.
Voan Savay connects this notion of temporality and identity with art's capacity to enact cultural healing: "[The audience] can forget about the sorrow of the moment, and bring themselves into our ancient times, converge themselves with this state, and find a measure of peace for their feelings. They can come to understand that now, this is what this modern time is, but their true spirit as it was before is actually like that."
The form continues to evolve. Modern performances diverge from their ancient roots. Voan Savay explains that in the performances for King Sisowath 100 years ago, ballerinas danced in a manner that reflected no emotion. Their expressions were blank, each powdered white face a mask.
"[Today] we dance with feeling. This means that our main performers, in times of pain they express pain, if they are joyful they will smile and let you know. That's the difference between 100 years ago and now."
Artistic expression forces the artist and the viewer to confront their own vulnerability. When the form opens itself as an outlet of expression, it becomes human, fragile, while maintaining a direct bond to the sacred: a bipolarity of fragility and divinity. The form's dance between that which is expressive and human, on the one hand, and that which is stoic and godlike on the other, makes a powerful coupling of embodied memory and presence.
"I believe that before, we danced as an offering to the gods, or a holy object of some sort. But in this generation, we dance because there is a story inside [of each dance]."
Baksbat means "broken form." But the fluid motions of this Apsara are a kind of anti-baksbat. She has acute control, articulating isolated parts of her body. She is a master manipulator of her own form. If baksbat is broken body, this dance is an expression of corporeal wholeness and power.
And if baksbat is treated as a psychiatric pathology, does the range of possible solutions become boxed into the medical sphere? Does art have healing power? Dr. Chhim Sotheara suggests the answer may exist outside of medicine. "We need to prescribe the courage."
Voan Savay is determined and hopeful. "When you believe you have baksbat, you cannot do anything anymore. I don't have baksbat. I want to walk forward."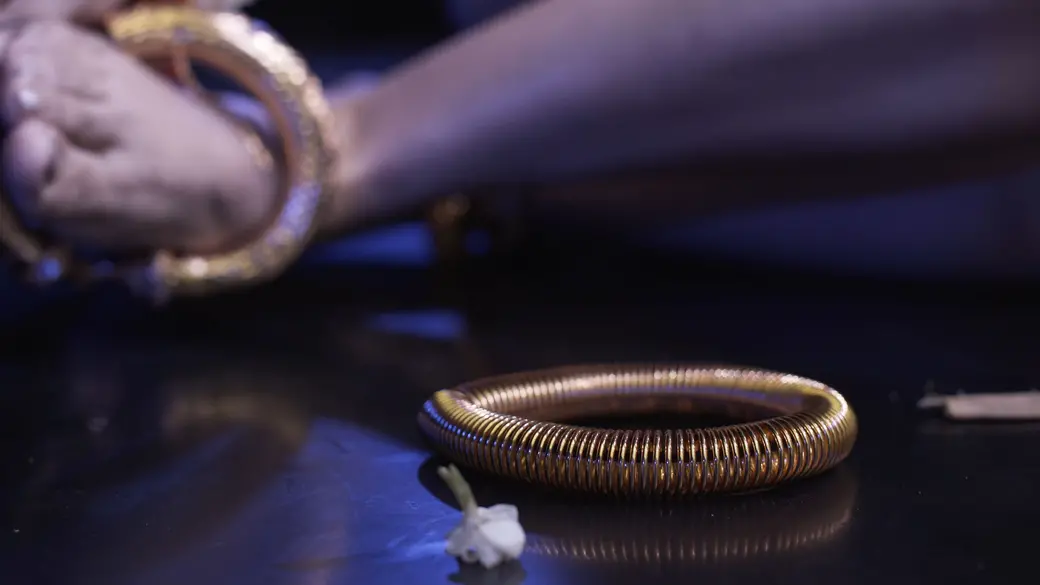 RELATED ISSUES