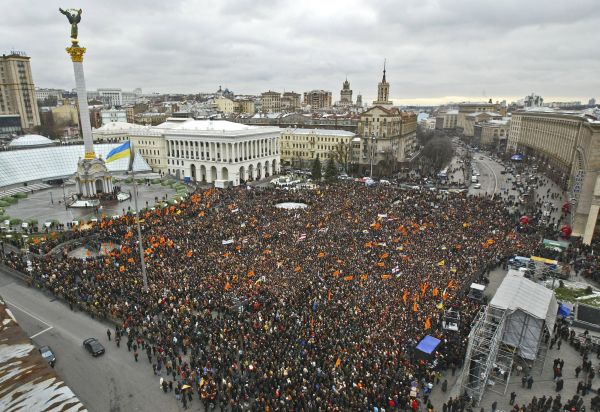 In 2004 thousands of protesters swarmed the capital of Ukraine demanding that the country's fraudulent presidential election be overturned. Dubbed the Orange Revolution, the movement swept pro-Western politician Viktor Yushchenko to power, whose victory brought hope to millions of democratic activists including journalist Myroslava Gongadze.
Her husband Georgiy Gongadze, an investigative reporter on government corruption, had been kidnapped in September 2000; two months later his decapitated body was found lying in a forest outside Kiev. Leaked secret recordings linked then-President Leonid Kuchma and other top officials to the homicide, who are heard discussing ways to silence the muckraking journalist. But the tapes' authenticity was questioned, and none of the individuals on the recordings were ever brought to court.
As part of his campaign platform, Yushchenko promised to launch a legitimate investigation and finally solve the case for Gongadze and her family. Moreover, he swore to fully democratize the former Soviet nation and restore civil liberties for Ukrainian journalists who routinely suffered government harassment and censorship.
Six years later the Orange Revolution is regarded a failure. Political infighting within Yushchenko's coalition prevented the beleaguered president from achieving many of the goals he championed, like stamping out government corruption and integrating Ukraine into the European Union. Gongadze says her family has only received partial justice: by 2009, three policemen and a general in the Interior Ministry's foreign surveillance unit were arrested for carrying out the murder, but the identities of the officials who ordered it remain unclear.
"It was important for Yushchenko to demonstrate some progress in the investigation since he came to power with Georgiy's name on his [campaign] flags," said Gongadze, who is now a television anchor for Voice of America's Ukrainian Service. "He was able to pursue it up to some point, so I can be thankful and I do think that Yushchenko did something. But I don't think he did everything he had the power to do."
Despite all the broken promises, Gongadze acknowledges that Yushchenko did improve democratic freedoms in the country: For the first time journalists reported feeling free to cover whatever they wanted without fear of government intimidation. Independent media organizations flourished, and in 2009 Freedom House ranked Ukraine 108 in its index of press freedom in 196 countries - the best score for any former Soviet state outside the Baltics.
"The Yushchenko government was not trying to oppress the media and there were almost no cases of harassment, intimidation or killing [of journalists]," Gongadze explained. "And he allowed democratic elections - that's a real plus as well…so there was professional development in the Ukrainian media field."
But now Ukrainian journalists are at risk of losing their hard-won rights.
Journalists Targeted Ahead of Local Elections
In February 2010 Viktor Yanukovych, the alleged fraudster in the Orange Revolution, regained power ironically in a fair and free election that his predecessor had worked to ensure. Less than a year into his presidency, several media watchdogs have blasted Yanukovych for what they say is a steady government curtailment of press freedom in the country. In August Reporters Without Borders (RSF) released a report detailing the rise in attempts to censor journalists, prevent certain coverage and doctor reports:
"Many TV news reporters say they have been censored. Either their reports have been suppressed outright, or they have been changed substantially, always in such a way as to favor people of influence. They cite new formats or editorial directives that interfere in their reporting."
According to RSF, in April a special piece on the Kharkiv Accords, which extend the presence of the Russian Black Sea Fleet in Crimea, was banned from broadcast on the basis that "the job of the staff is not to analyze the accords but to highlight their positive aspect." In June STB journalist Serhi Andrushko reported that his package on Yanukovych's first 100 days in office was edited by the station's director-general to make it more flattering of the president.
Independent journalists who report critically on ruling officials have been targeted by police and security agents and even physically assaulted. When local blogger Oleh Shynkarenko criticized Yanukovych in July, the Ukrainian Security Service (SBU) interrogated him for allegedly threatening the president's life and insulting him. In September Artyom Furmanyuk, a journalist in the Eastern city of Donetsk, said he was severely beaten by police in an incident outside his home just hours after Radio Free Europe/Radio Liberty ran his article on local government corruption.
Some experts see signs of a return to the brutal targeting of journalists that marked the pre-Yushchenko era: Vasyl Klymentyev, the editor of an investigative newspaper in the northeastern city of Kharkiv, mysteriously disappeared in August. The case is being treated as a homicide, but colleagues of the missing editor fear it will be a repeat of the Gongadze investigation. In October Kharkiv police searched the apartment of Klymentyev's deputy editor, who claims his computers were confiscated in an attempt to punish him for publicizing the case.
The world has taken notice of the deteriorating situation in Ukraine. Last week European Union Commissioner Stefan Fuele criticized the new president for the apparent clampdown on independent media and opposition leaders in the lead up to local council elections on October 31, raising concerns of potential fraud. The RSF downgraded the country by 42 points in its annual global press freedom report; Ukraine now ranks 131 out of 178 nations, worse than Egypt and Iraq.
Yanukovych has dismissed censorship incidents as byproducts of the conflicting and competing interests of media owners. Ukrainian foreign and domestic policy expert Taras Kuzio, Ph.D., sees some truth in that claim.
"The oligarchs (business magnates) who control the big TV stations, they want to ingratiate themselves with the authorities," explained Kuzio, a senior fellow of Ukrainian studies at the University of Toronto. "Therefore they apply pressure on middle management [who then] turn on journalists to not cover certain events…to belittle the opposition - to sort of portray them divided and small in numbers - and to beef up the public perception of the authorities."
Kuzio says Ukrainians, who will go to the polls this Sunday, have felt the mainstream media's self-censorship most in the lack of equal coverage to opposition parties: "It's really more a question of general climate. The opposition always complain that they are no longer invited to TV chat shows to give comments like they were under the Yushchenko era. So when people are watching political chat shows and news programs they tend to get a one-sided view of what is going on."
But the SBU is directly contributing to biased political coverage through its interrogation and intimidation of journalists critical of the government, he added. Moreover, the president's promotion of Valeriy Khoroshkovsky, the owner of the pro-government Inter TV, threatens the fate of independent television stations across Ukraine.
Yanukovych appointed Khoroshkovsky head of the SBU in March. Despite this apparent conflict of interest, Khoroshkovsky used his position to influence the National Council on Television and Radio Broadcasting's decision to strip rivals TVi and 5 Kanal of their broadcasting frequencies last month, according to media watchdogs. The stations supported the Orange Revolution and are considered to be one of the few remaining independent news sources in the country.
Under Russia's Thumb
"Today, as observers note, the Yanukovych government is heading down the path of creating in Ukraine a system of so-called 'controlled democracy,' similar to that of [Prime Minister] Putin and [President] Medvedev in Russia," explained Gongadze in a presentation for the National Endowment for Democracy on October 22. "The attempt to increase control over media outlets in order to gain more personal power is not new in the post-Soviet countries. We witnessed the unfolding of this scenario in Russia when [then] President Putin came to power."
If Yanukovych is indeed following the Putin model, then the result could be a dramatic reversal of the western-style reforms and liberties implemented during the Yushchenko era. Russia, where censorship often takes a violent form, is regularly ranked as one of the worst countries in the world to be a journalist.
But Kuzio asserts that Russia's influence extends beyond the authoritarian attempts to censor criticism of the government and reports favorable to the opposition: The Yanukovych regime is targeting journalists and academics that promote a Ukrainian nationalist identity and write negatively about Russia on contentious historical issues. He cites the SBU's recent interrogation of a historian writing on the Holodomor, the 1932-1933 Ukrainian famine that the Yushchenko administration declared a Stalin-masterminded genocide.
"The national identity question is very much tied to reforms and support for integration into Europe, and that is one of the main reasons why there is an attack at the moment against, what I would call, a 'Ukrainianphile' national identity," Kuzio explained. "Today we have a far more assertive Russia and a Russia that is demanding influence over Kiev and its neighboring states, particularly in the case of education, national identity policy and over the security forces."
This policy is reflected in Yanukovych's selection of Khoroshkovsky as SBU chairman and Dmytro Tabachnyk as education minister - appointments that Kuzio says were heavily influenced by Russia. Tabachnyk has since ordered that school textbooks follow Russia in referencing World War II as the "Great Patriotic War." Likewise RSF reports that broadcasts about the education minister, Holodomor and the Ukrainian Insurgent Army (World War II nationalist group) have been censored.
Fighting Back
The slow decline of civil liberties in Ukraine is a depressing development for Gongadze, who says she now has little hope that her husband's homicide will ever be solved. Before the tenth anniversary of Georgiy's disappearance on September 16, the Prosecutor General's Office announced that Kuchma's Interior Minister Yuriy Kravchenko had ordered the killing. It's a ruling Gongadze says she cannot accept.
"I do believe that Kravchenko was involved…what I don't believe is that he was the only one who ordered the killing," she said. "Georgiy was not his personal enemy and he didn't have any reason to order Georgiy's murder. If he did that means that someone else ordered him to do that." Kravchenko died in 2005 from two supposedly self-inflicted gunshot wounds to the head, but media reports doubted this official conclusion; they speculated that he might have been assassinated to prevent him from testifying in court. Kravchenko left an alleged suicide note denying any guilt.
"This investigation was a complete cover up of the power holders and it still is a cover-up," Gongadze stated. "We already had partial justice [under the Yushchenko administration] now we just need political will from the Yanukovych government to really push forward. I don't see this political will right now; I see the will by the Yanukovych government to manipulate the situation." She believes the regime is protecting those truly responsible for ordering the murder, including the current chairman of the parliament Volodymyr Lytvyn whose voice is also on the leaked recordings.
But Gongadze remains committed to pursuing her fight for justice, and she believes that all is not lost for Ukrainian journalists: "The most important thing is to keep the balance that we have right now between the government and the media and civil society. So far civil society and the media have been able to fight back, they were able to stand up for their rights." She praises the creation in May of Stop Censorship, a movement made up of more than 500 national and regional journalists to counteract government suppression. In addition recent surveys and focus groups conducted by InterMedia show that Ukrainians today are aware of the rise of biased news coverage and are becoming increasingly willing to turn to the internet and international media to access objective information.
"[But] they need more support from Western democracies to really hold that position because definitely the government has more power to go against the media," Gongadze added. She laments that Western leaders are still too quick to praise Yanukovych for the supposed "stability" his presidency has brought to Ukraine, which has been marked by a swift consolidation of power and a lack of political infighting unlike in the Yushchenko era.
Kuzio is confident that Ukraine's civil society will not allow the country to regress: "There is a lot of discontent and anger on the streets and I don't think the authorities really understand what's taken place in the last five years," he remarked. "A generation of young Ukrainians received their political maturity in the Orange Revolution…You had five years of freedom for journalists, historians and academics, and I don't think it's that easy to put that genie back in the bottle."
Whether the president's party will feel the brunt of that sentiment in a fair and free election on Sunday remains to be seen.
To read more about press censorship in Eastern Europe, visit Fatima Tlisova's reporting project on journalists in the Caucasus.