On Sunday, March 16, as the world watched in anxious anticipation, the Autonomous Republic of Crimea held a referendum on its future. There were two simple options to choose from: to join the Russian Federation or to adopt the constitution of 1992, which would provide for even greater autonomy. There was no option allowing for a vote in favor of keeping Crimea's current standing within Ukraine.
Most governments around the world, with the notable exceptions of Russia, Syria, and North Korea, called the referendum illegal. It was organized hastily, held under enormous political pressure and de-facto Russian military occupation, and when the results came in -- a reported 96.7 percent of participating voters opted for Crimea to become part of the Russian Federation -- the vote was deemed both "dubious" and a "sham."
Yet on the evening following the vote, enormous celebrations broke out in Lenin Square in downtown Simferopol. On a spacious, brightly lit stage, famous Russian and Crimean dancers, singers, and musicians came out to entertain a jubilant audience of more than 10,000 people, many of whom were waving Russian flags and shouting "Russia! Russia! Russia!" Some people were laughing, while others were crying with joy. "We have finally returned home," many said.
What follows are a series of images from referendum day in Crimea.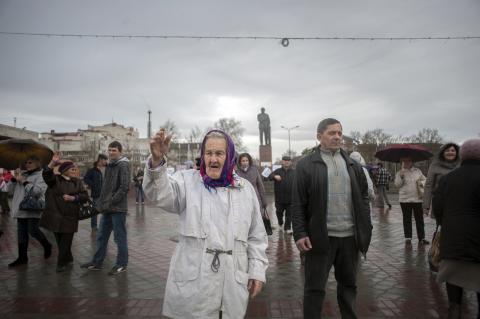 Pulitzer Center grantees Dimiter Kenarov and Boryana Katsrova discuss their reporting project on the...
RELATED ISSUES
RELATED INITIATIVES