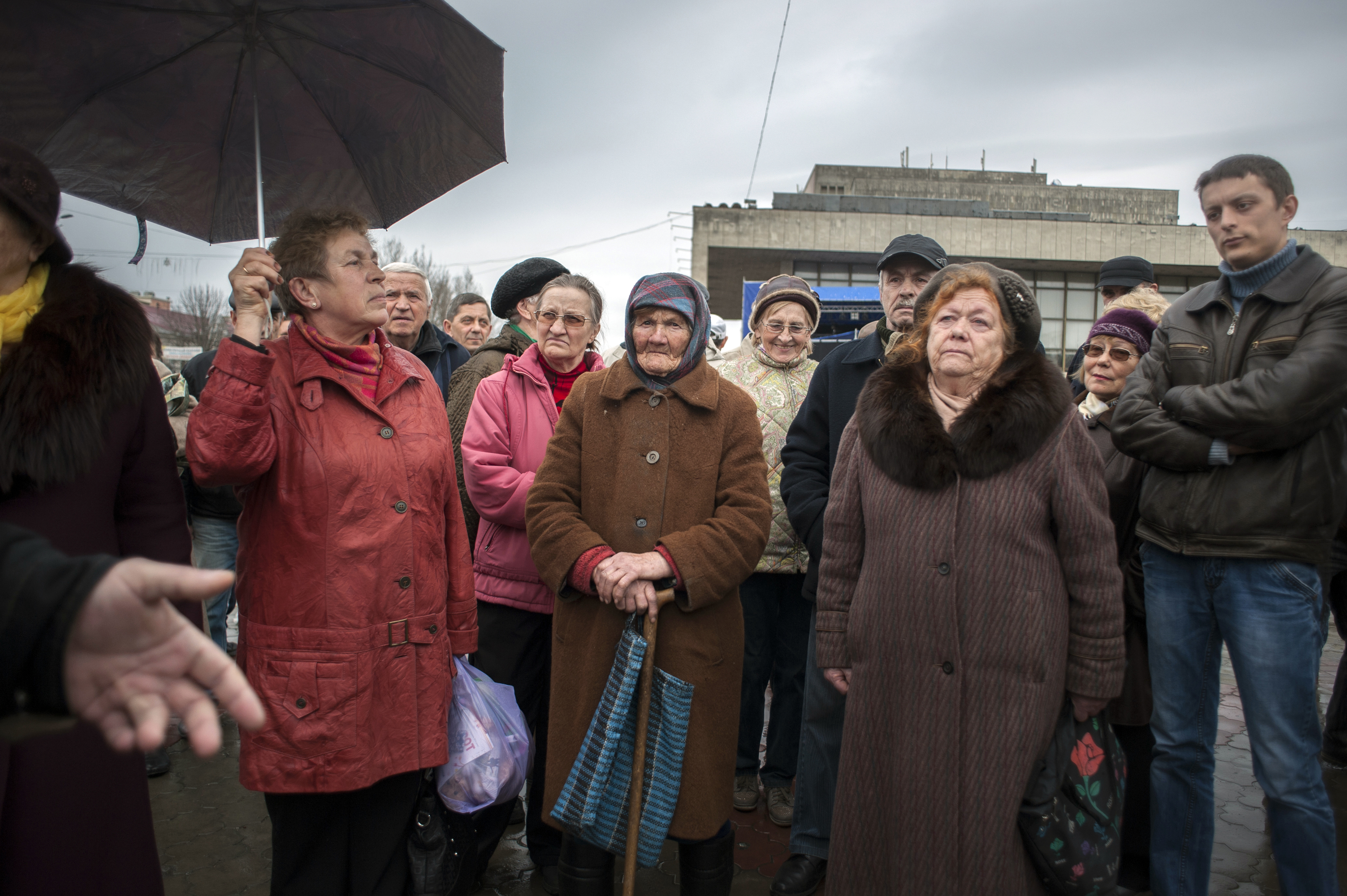 SIMFEROPOL, Ukraine — The statue of Lenin, facing Maxim Gorky Street in downtown Simferopol, stands proudly on a red marble plinth. A large basket of fresh red carnations lie at the base—taped above, a handmade poster reminds passers-by: "Don't touch our leader."
The weather is rainy and cold, but it hasn't stopped a small crowd of pro-Russian protesters, who have gathered for a rally in defense of the statue, which, rumor has it, "the fascist scum" from Kiev plans to topple soon. Some people are waving red Soviet flags; others hold up cardboard signs that say, "Thank you, Putin" and "NATO, keep your hands off Crimea." In the middle of the crowd, an old man with wild blue eyes is holding forth.
"I feel nothing but warmth for the Russian army," he says, punctuating his words with a raised fist. "If the Russian tanks come here, we'll welcome them. Putin is a dictator, yes, but let me tell you: I'd like to live under the wing of this dictator. He is smart and strong. Pensioners live well under him."
The crowd—consisting of mostly elderly men and women of Crimea—bursts into cheers. They shout the usual Russian-media talking points about the rising wave of fascism, the danger of homosexuality, and the Western press, but it does not take long for their true fears to come out about how they will be treated by a Kiev that will lean toward the West.
"They threaten us that they won't give us gas, electricity, water. Why is that? What are we to do?" asks Antonida Ivanova, a 75-year-old pensioner.
The current crisis in Crimea—and in all of Ukraine—is usually framed as a conflict between the Ukrainian majority living in the west of the country and the Russian ethnic minority in the east and south. But the streets of Simferopol offer a case study of another, more visible division between those who have managed to secure steady employment and a future, and the many others left behind in the ruthless transition to free-markets and democracy—barely able to pay the monthly bills, barely surviving.
For the unemployed and pensioners in Crimea's capital, the democratic political system that replaced the totalitarian one has brought nothing but misery and poverty—the disintegration of their values and communities. The Soviet Union may not have allowed much freedom, the thinking goes, but at least there was food on the table, jobs, security, social benefits. In that sense, the fight in Crimea is not so much about a Russian future, but about a longing for the securities provided during a Soviet past.
"All Ukrainian governments since 1991 destroyed the agriculture of our country, our whole industry," says Nikolay Dmitrievich, a 65-year-old Russian-speaking pensioner. "Now America says they'll help us with $1 billion, but we need to raise prices for communal services, while cutting salaries and pensions. What happens with us then? Even now we can barely survive with what we get. Do you call this help?"
For many Russian-speakers in Crimea, Russia may not be necessarily a fatherland they dearly love, as much as a sugar daddy they desperately need—one that provides cheap gas, endless streams of money to prop up the dilapidated, energy-inefficient economy, and one that keeps the prices of community services like phone, water, and electricity at least somewhat affordable. For all the talk of minority rights and Crimean autonomy, in interviews, many of the residents here are just as quick to change the subject to poverty and their own dire situations, to which they feel "the West"—often conflating both western Ukraine and Western Europe—can provide no answers.
Even those on the other side of this divide see the split as less about questions of identity than about economics.
"In the final run, it's about social problems, but politicians try to distract us with less important questions like what language to speak, what to believe in, who to talk to, instead of letting us focus on practical problems," says Alina Teslenko, a 27-year-old psychologist from Simferopol. Ethnically Russian, Teslenko supported the protests against Victor Yanukovych and, staunchly opposes the secession of Crimea. "What is Simferopol?" she asks. "A city with broken, dirty streets. But people seem not to care and argue about unimportant matters. Propaganda is a scary thing."
Amid these dirty streets stands a tiny gazebo tent draped in the Russian tricolor flag, with a map of Crimea in the middle and big red letters along the bottom that read: "Russian Crimea." Inside the tent, huddled behind a tiny table, are two people who look to be in their 30s. A signup sheet lies in front of them: "Sign up for the People's Resistance Regiment!"
"We are forming self-defense units to help the Russian Army carry out its duties," says recruiter Boris Kozar, a journalist and a jeweler from Simferopol. With his wide smile, bright eyes, and well-trimmed stubble, he could just as well be working, selling wedding rings and diamond-encrusted tiaras. "We help patrol the streets, guard important facilities and provide security from provocations. We'll stop any groups that try to oppose our independence." When asked if he and the other recruiters supply weapons to the recruits, he says: "We don't give out weapons ... yet."
It's an otherwise quiet day for Kozar: Though the streets are full of busy shoppers, few pedestrians approach the tent. In the course of 15 minutes, the only ones who stop by to look briefly at the signup sheet are older Russian ladies, babushkas in their 60s and 70s. One of them, Anna Masolitina, finally musters the courage to sign up.
"We want to build our own country, find our own way. We should turn our eyes to the East, not to the West," says the new recruit. Dressed humbly in a pink down jacket and wool skirt, she looks no different than the millions of other pensioners in any of the countries of the former Soviet Union. Decades after the fall of communism, they still look to the east, nostalgic for a past long gone.
RELATED ISSUES
RELATED INITIATIVES