At 11:00 AM, Tony Bull parks his black cab in front of a long row of stately Victorian terraced houses in the chic Kensington area of London. Bull has been working since 4:00 AM and is about to give a two-hour tour of London to his client.
Bull knows this city like the back of his hand. All Black Cab drivers are required to pass The Knowledge of London, the 153-year-old taxi driver test that includes the memorization of over 28,000 street names. The Transport for London, or TfL, a city organization that regulates transportation in London, does not allow Black Cab drivers to use a GPS, so The Knowledge helps determine who has the skill to navigate London Town.
With 25 years experience, Bull also has deep knowledge of London's history, and of those off-the-beaten-path sites tourists are not likely to know but willing to pay to discover. One of his favorite places to show clients is The Prospect of Whitby, the oldest public house (or pub) in London, established in 1520 with a long history of pirates, ale, and general debauchery. He brings the experience of a long-time Londoner to his customers with his anecdotes.
"The Royal Albert Hall is one of the best places to hear a concert. The acoustics lends itself to that. It's really intimate - I've seen Adele in there."
Across the city, in the young and colorful Shepherd's Bush neighborhood, another driver pulls over his taxi to pick up a client. Magoz Zeria works for Uber, and now has a half hour drive to Hampton Court Palace ahead of him. He punches the address into his GPS, and makes a note that he is willing to pick up fares on his way back to central London to pick up his children.
His customers rarely want tourist insights. He mainly encounters the young professionals getting from point a to point b.
With Hampton Court's location loaded in his GPS, Zeria begins his trip to the outskirts of London.
"Uber is cheap and nice and easy," Zeria says of the car service company.
Going about their business for the day, Bull and Zeria reflect two sides of a growing battle - one that pits tradition against technology and skilled labor against convenience. London will decide what side of the battle they align with when Uber goes to court to fight to reinstate its license, which could be as early as April 30th.
London is a city that prides itself on its history and traditions - afternoon tea, the changing of the guards, even the palaces where the Royal Family still lives.
Among these time-old traditions are the black cabs. Tourists stop to take pictures with the vehicles and some pay hefty fees to drive in them. It is part of the "London experience." But London is not composed solely of wealthy tourists.
This is where Uber enters the scene. Uber's fair is hard to beat; oftentimes it is half the cost of a black cab's fare. The company also speaks to those who enjoy advances in technology, as it is one of the first companies to have an app and allows users to track the location of their driver before and during the trip.
Soon after the  company launched in the U.S. in 2009, changing the way passengers travel to and from the office or social gatherings, it quickly spread to international markets. Since Uber's arrival to London in 2012, the company now employs over 40,000 drivers and caters to 3.5 million customers in London alone.
Although Uber operates similarly to a taxicab company, it is not regulated as one because it is technically considered a "minicab" operation. This gives Uber more freedom to license drivers because the government does not regulate minicabs. The lack of regulation over Uber is one of the major grievances against the company that will be discussed during their appeal date come April.
The chief complaint against Uber comes from the TfL, which says that Uber doesn't meet their standards for "reporting criminal offenses, how they obtain medical records, and how they explain using Greyball" (a software that prevents governing bodies from fully accessing the Uber app).
Currently, Uber can operate in London until the court makes its decision; the government's original decision in September moved to ban the minicab company from London, revoking its private hire license. Uber quickly appealed and now thousands of employees and customers await the higher court's final decision.
The U.K. is not the only country that has butt heads with Uber. The company has conditional suspensions in several countries, such as Bulgaria, Hungary, and Taiwan. But no other country's government has fought as hard against or press has had as much to say about Uber as in London.
For example, U.S. News & World Report wrote about Uber's statement on its two month suspension in Taiwan in 2017.
"After constructive talks with transportation authorities we are now partnering with licensed rental car companies to resume serving riders in Taipei," Uber is quoted with stating.
The two month suspension ended much faster than the six-plus months of suspension Uber is facing in the U.K. currently.
But not everyone is critical here. For many of London's younger workers, access to affordable transportation is a big need. At night, the Tube, London's subway system, runs much more sporadically, some lines shutting down completely after 11:00 PM, leaving people socializing at salsa clubs and pubs or workers commuting from their late night shifts at a loss for how to get home.
Realistically, a person in an entry-level job cannot afford Black Cab fares on a regular basis. For example, getting from Central London to Heathrow Airport with Uber can cost £25-£34 but with a Black Cab the fare can be anywhere from £48-90.
Izilda De Brito Robalo, a young woman who has lived in London for over a year after moving from Paris for work, uses Uber for traveling throughout the city regularly.
"I use Uber because it is cheaper and more convenient. I used a black cab once when I traveled from the airport to where I was staying when I first arrived in London, but my company paid for the ride."
Much of the controversy surrounding Uber's court case questions the company's morality, as one of London's chief complaints against Uber is that the company is not compensating its drivers with enough pay. Drivers do not get paid sick days or holidays. Although, there are many Uber drivers who have positive views of the company - including Zeria.
Zeria is originally from Eritrea and has been driving with Uber in London for the past two years; Uber is his primary source of income.
"Driving in London is good; the price is a little but cheap, but there are lots of customers," Zeria says.
When asked about the downsides to working for Uber he said, "There needs to be a limit for how many hours people can work. Everybody needs money, but you need your rest."
Uber, unlike most cab companies, do not set a limit for the number of hours a driver is allowed to work per day. This is Zeria's only major complaint about working for Uber.
Another common grievance with Uber is its safety. Prime Minister Theresa May commented on Uber in her speech at the World Economic Forum in Davos Switzerland this past January. She commented on Uber's groundbreaking technology but also said that the company had "gotten things wrong along the way."
May stated that "the answer is not to shut Uber down, but rather to address those concerns and to establish and enforce the standards in protection that can make this technology work for employees and customers alike."
Zeria describes the process he underwent to obtain his Uber license. Zeria had to pass the license test and then he had to wait three months for his certification. This required a permit and a passport.
"It's hard to get a license," Zeria explains. "It's long and one misstep and you don't get it. And, you might lose your money." But others would beg to differ.
"I think your safer sticking your thumb out and hitchhiking," says Bull, our Black Cab driver of 25 years.
For his work, Bull has to undergo a rigorous application process to maintain his license every three years.
"Here, we have what we call 'disbarring services;' I apply every three years and it allows me to deal with children and the public, obviously. Any conviction at all and I lose my license. And that takes the best part of six weeks. What I'm trying to say is we are the most regulated taxi service in the world," Bull explains.
The British government shares his sentiments, as one of their chief complaints against Uber is its poor screening of drivers. For example, more than 32 Uber drivers were investigated between May 2015 to May 2016 for assault charges according to The Independent.
London's mayor, Sadiq Khan, echoes these sentiments in an OpEd he wrote for The Guardian saying, "It would be simply wrong for TfL (Transport for London) to continue to license Uber if there was any way this could pose a threat to Londoners' safety or security. TfL has said it believes Uber's conduct demonstrates a lack of corporate responsibility around a number of issues that have potential public safety and security implications. These include Uber's approach to reporting serious criminal offences, and the way it obtains medical certificates and security checks for their drivers."
Bull also addresses the price discrepancy explaining, "Uber is subsidized by 67 percent. So we can't compete on a financial basis. If somebody jumps in a car and says, 'I want to go to x,' where we would charge £30, 67 percent is getting paid by the investors at the moment. How can we compete with that?"
Bull is not far off. According to the Financial Times and Motherboard, Uber customers pay only 42 percent of what the actual cost of their ride is; private investors in the company pay for the other 58 percent of the ride's cost as of 2016. According to the economist Hubert Horan, Uber's business model will not be sustainable, but for now Uber's prices remain at this incredibly low rate. This leaves taxi drivers struggling for an answer to Bull's question.
Bull continues, "I have no problem with Uber. It's just the regulations. It needs to be properly managed. You know? They're not paying their taxes, they're not paying their drivers fairly. You can't burn a candle at both ends. You can't override all the legislation."
Uber's initial ban in September was met by much surprise and discontent from its customer, with even Prime Minister Theresa May being quoted by Reuters as describing the ban as "disproportionate." But, Zeria is hopeful that Uber will agree to whatever concessions the court requests of them.
He says, "I know the court hasn't decided, but I think they'll do it because they can't afford to lose their license."
And, with over 3.5 million customers in London alone Zeria has a good point.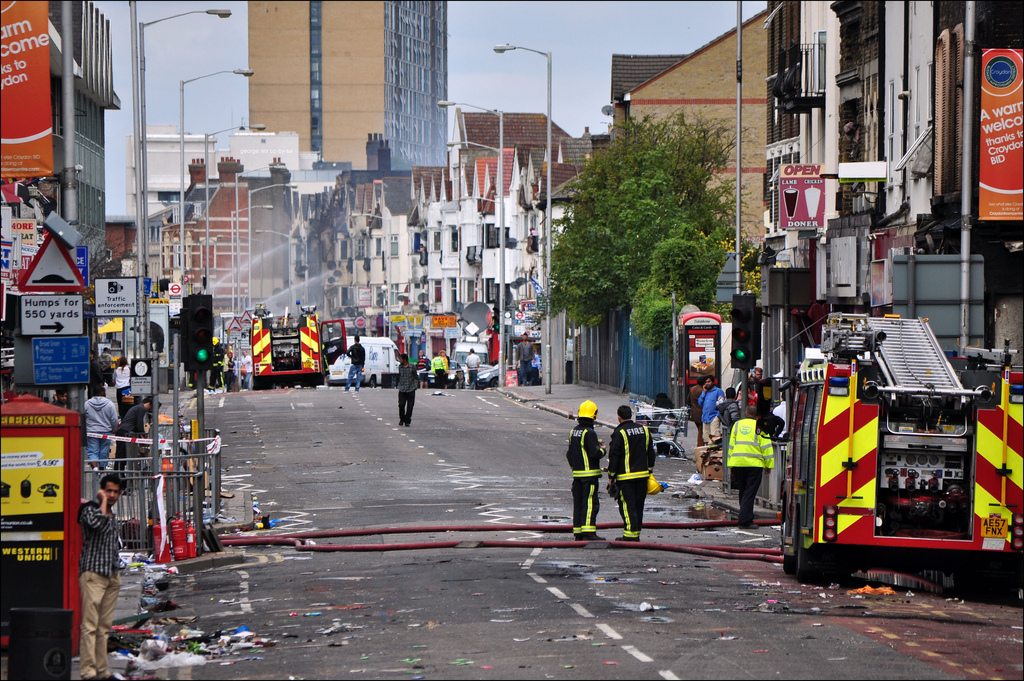 Although the violence in London has ended, Britain is still dealing with the effects of the riots...