LIPJAN, Kosovo—On a Thursday morning in March, Yasemin Karabina and her husband, Yusuf Karabina, both Turkish nationals, awoke at the usual time and headed to work in this town 10 miles south of Pristina, Kosovo's capital. Yasemin taught Turkish to high school students at Mehmet Akif College, while Yusuf served as deputy director of the Gulistan Educational Institution, which is in the same building. The couple, who have been married for more than 20 years, were in the habit of driving to and from work together. Their teenage son, a student at Mehmet Akif College, rode along in the back seat. On this particular day, however, their commute was cut short when they were pulled over. Two men posing as police officers approached the Karabinas' car and demanded to see their identification. Hearing the men's Turkish accents, Yasemin surmised that they were not local officers but rather Turkish intelligence agents. She immediately feared the worst. 
Both Mehmet Akif College and the Gulistan Educational Institution are part of the Gulenist movement, an opaque collection of various entities, notably schools and charities, led by Fethullah Gulen, a Turkish Muslim cleric who lives in self-imposed exile in Pennsylvania. Turkish President Recep Tayyip Erdogan sees the movement as a terrorist organization, and blames Gulen for masterminding the failed coup attempt in Turkey in July 2016, something Gulen denies. The United States has repeatedly rebuffed Erdogan's demands to have him extradited. 
Ever since the coup, Yasemin had heard stories of Gulenist members in other countries being detained by Turkish authorities and sent back to Turkey as part of a sweeping crackdown. But she never imagined it would touch her own family. Despite pressure from the Turkish Embassy to shut down the schools and other institutions linked to Gulen in the region, Kosovo's president, Hashem Thaci, had offered assurances, both publicly and privately, that the Turkish teachers would be safe. His son graduated from Mehmet Akif College last year, and many other politicians, including Kadri Veseli, the Parliament speaker, have also enrolled their children there.
Listen to A.J. Naddaff discuss this article on WPR's Trend Lines Podcast. His audio starts at 23:51.
These assurances ultimately amounted to little on the morning in March when they were pulled over. Yasemin could only look on as one of the intelligence agents put her son in a choke-hold and forced him to the ground, while the other put her husband in handcuffs. Surveillance footage of the incident was later broadcast on television. 
Less than 24 hours later, Yusuf Karabina and five other Turks detained in Kosovo were flown to Turkey, where they eventually ended up in Silivri prison outside Istanbul. Turkey's state-run news agency, Anadolu, has reported that the group of six, all men, are believed to be "senior members" of the Gulenist network, and that they've been charged with recruiting new members and assisting Turks looking to flee the country. Todor Gardos, a researcher for Human Rights Watch, says their fate is impossible to predict. "The bottom line is that we have no idea what happened to the six individuals and what will happen to their families," he says. 
Six months after Yusuf's arrest, Yasemin, who has remained in Kosovo along with her son, is struggling to adjust to life without him. "I've been married to my husband for 21 years and we've never been separated for such a long time. It's too much for me," she says. She adds that any suggestion that her husband was somehow involved in "terrorism" is ludicrous. "We always hold pencils and pens," she says. "My husband doesn't even know how to hold a gun." 
The March expulsions attracted intense media scrutiny, both domestically and internationally. On the one hand, they fit into a broader story about how Erdogan has pursued suspected Gulenist members far beyond Turkey's borders. In April, The Associated Press reported that Turkey's intelligence agency had conducted "covert operations in 18 countries" that had led to the detention of "around 80 Turkish citizens."
But the incident also exposed something else: Turkey's complicated relationship with Kosovo and the wider Balkan region. Analysts say the Balkans play an important role in Erdogan's goal of maximizing Turkey's global influence and reviving the glory days of the Ottoman Empire. Kosovo, which declared its independence just 10 years ago, has appeared to go along with this to an extent, in part because it views Turkey as an important strategic partner. 
Yet debate over the bilateral relationship has sharpened among Kosovo's political class, with some politicians voicing concern about what Kosovo's leaders might be willing to sacrifice in exchange for political and economic support from Ankara. The March expulsions, and the subsequent fallout, only heightened these concerns. 
"Turkey is largely considered as one of Kosovo's greatest allies and has supported independence and recognition in the international arena," says Agon Maliqi, a Pristina-based political analyst. "There is variation, however, in the political scene in terms of how close Kosovo should be to Turkey. The majority sentiment is that this should not be a patron-client type of relationship, which Erdogan would like to have."
'Turkey is Kosovo, Kosovo is Turkey!'
When Erdogan won re-election in June, his supporters in Kosovo waved Turkish flags in celebration. Others took to social media to voice their approval. In a post on Facebook, the Turkish Democratic Party of Kosovo, which holds two seats in Kosovo's Parliament, wrote, "Congratulations Turkey; Congratulations Recep Tayyip Erdogan; Congratulations Rumeli." 
The use of the term "Rumeli" was telling. It refers to a region in southeastern Europe, including the Balkan Peninsula, that was under the control of the Ottoman Empire for hundreds of years until the late 19th and early 20th centuries. Erdogan himself has been known to use the term to frame Kosovo, and the Balkans more broadly, as well within Ankara's sphere of influence. He has made this framing explicit. In a speech in the city of Prizren, in southern Kosovo, in 2013, he said: "We all belong to a common history, common culture, common civilization. We are the people who are brethren of that structure. Do not forget, Turkey is Kosovo, Kosovo is Turkey!"
Throughout Erdogan's 15-year rule—he served as prime minister from 2003 to 2014, and has been president since 2014—Turkey has poured large sums of money into the Western Balkans for development projects, universities and mosques. In Kosovo, Turkey accrued considerable goodwill by becoming the second country, after the U.S., to officially recognize Kosovo's independence from Serbia in 2008. Since then, Turkish contractors have built highways and the airport in Pristina. 
Turkey has also projected influence in other ways. Sabri Bajgora, Kosovo's chief mufti, praises what he describes as brotherly relations between the two countries, noting that Turks have built or restored several mosques at the behest of the Islamic Community of Kosovo, known by its Albanian acronym, BIK. Among them is Pristina's Carshi Mosque, which was built in the 15th century. 
Yet despite these warm ties, Bajgora admits to being conflicted over how the March expulsions were carried out. Though he stressed that BIK does not have anything to do with the conflict between Gulen and Erdogan, he says individual members of Kosovo's Muslim community are torn. "We have friends on both sides, including me personally," he says. "For the deportation of those teachers, I can say that it was painful to separate families." 
Elsewhere, the expulsions drew a more heated reaction. As footage of Yusuf Karabina's arrest went viral, the families of the six Turks gathered at the Pristina airport to try to block their departure. Solidarity protests also erupted in cities in the U.S., Canada and the United Kingdom.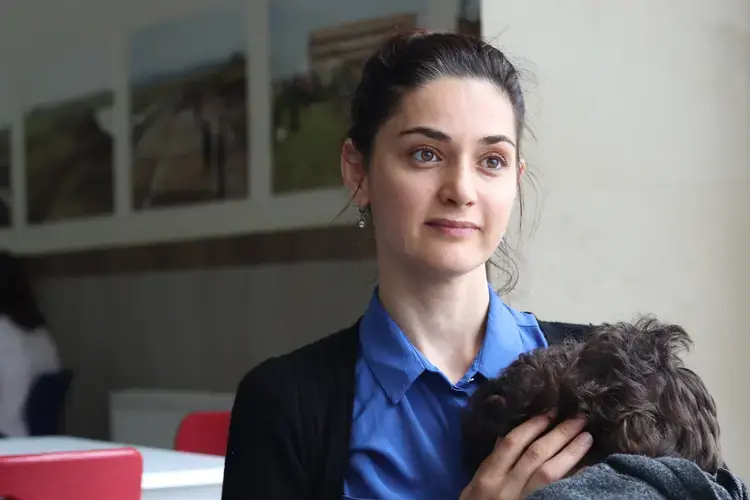 Olcay Demirez, the wife of Kahraman Demirez, one of the six expelled men, credits the public outcry with forcing Turkish authorities to be at least somewhat transparent about where they're being held. At first, she says, the men's loved ones had reason to fear they might never be heard from again. 
"The Turkish intelligence agency took our husbands. There is always a torture component associated with these guys, so we were really terrified," Demirez says. "But as this video spread around the world, there was pressure. Our uprising here, our interviews, protected them from torture and perhaps even disappearance and death."
This does not mean that the six were spared rough treatment, at least according to their supporters. Urim Vokshi, a lawyer for Mehmet Akif College, says they were subjected to electric shocks and psychological abuse as they boarded the plane out of Kosovo. And Demirez, who has had some contact with her husband by phone, says the men faced grim conditions once they arrived in Turkey. "For two weeks, they were held in detention at the Istanbul Department of Counterterrorism with only one small bowl of soup and half a piece of bread for dinner each day," Demirez says. "They turned emaciated and were forced to apologize for being terrorists." 
Kosovo's political leaders initially denied any knowledge of the expulsions, but this line quickly became muddled.
Now held in Turkey's high-security Silivri prison on the outskirts of Istanbul, the men are allowed to meet with family members in Turkey every two months, and they can place a 10-minute phone call every 15 days. But Demirez says this level of communication is insufficient. "In three months, I've sent many letters but only one arrived, and I only received one letter from him," she says. "So we have little communication right now."
A Messy Operation
As details of the expulsions spread through Kosovo, the country's political leadership tried to address mounting public concerns. President Thaci, Prime Minister Ramush Haradinaj and Veseli, the Parliament speaker, all initially denied any knowledge of the operation. 
This line became muddled, however, when Erdogan said in a speech the day after the arrests that Turkish intelligence had located the men "in coordination with Kosovo intelligence." That same day, Haradinaj, who maintains he had no idea what was going on, dismissed Interior Minister Flamur Sefaj and Driton Gashi, the head of the Kosovo Intelligence Agency, or KIA, because of their suspected involvement. Erdogan responded with bluster, addressing Haradinaj in a public broadcast. "My question to Kosovo's prime minister is: Under whose instructions did you undertake such actions?" Erdogan said, referring to the firings. "Since when have you started to defend those who attempted a coup against Turkey?" 
Weeks passed before Thaci appeared on television to corroborate the Turkish strongman's version of events, admitting for the first time that the six Turks were "deported" with the government's knowledge because of their "illegal actions." He said the KIA had determined that the men "posed threat to the national security" of Kosovo. 
At the same time, Thaci seemed keen to quell public anger over the incident, declaring that he was sorry for how the operation was conducted and stating that Erdogan's remarks to Haradinaj were unnecessary. "I don't agree with the opinions addressed toward Kosovo leadership," he said. "Kosovo is not a place neither for Gulenism, nor Erdoganism." 
Doga Eralp, a professorial lecturer at American University who studies both Turkey and the Balkans, says Thaci's willingness to break publicly with Erdogan, at least partially, underscored the extent to which the expulsions did not sit well with many in Kosovo. "Turkey did not necessary acknowledge the humiliation they caused in Kosovo," he says. "They snubbed it and said, 'If you're really friends with Turkey, you would not even talk about this.'"
The expulsions also potentially breached a number of laws. 
One of the six men, Mustafa Erdem, reportedly possesses dual Turkish-Albanian nationality. Vokshi, the lawyer, says Erdem should have been deported to Albania, not Turkey, because he used his Albanian passport to obtain his residency permit in Kosovo. Kosovo authorities revoked his residency permit, which was less than a month old and good for five years, days before he was deported on the grounds that he posed a national security risk. 
Even more egregious, Kosovo authorities seem to have expelled one of the six by mistake. According to Vokshi, they confused Hasan Huseyin Gunakan, a chemistry teacher, with the man they were targeting: Hasan Huseyin Demir, who works at the Gulistan Educational Institution. When Gunakan told the police at the airport that the authorities had the wrong man, Vokshi says, intelligence agents reacted by telling him it was too late and that he had to be sent to Turkey anyway. 
One possible explanation for why Turkey took the approach it did is that the courts in Kosovo would likely have blocked an extradition attempted executed via the proper channels. Last October, Turkey tried to extradite Ugur Toksoy, another Turkish teacher living in Kosovo, claiming he had links to the Gulenist movement. But a local court ruled that there was insufficient evidence to justify Turkey's request. 
Leutrim Syla, the lawyer for Cihan Ozkan, another of the six detained men, says Turkey must have known that future extradition attempts would face similar hurdles. "There are certain rules that prevent extradition," he says, referring to international laws. "You cannot extradite anyone for political reasons. You cannot extradite someone if they risk to be tortured." 
According to Amnesty International, Turkish prisons are not safe, especially for accused Gulenists. Last October, Human Rights Watch issued a report stating that "torture and ill-treatment in police custody in Turkey has become a widespread problem." 
Sylva says he suspects Ankara demanded that Kosovo make the expulsions happen regardless of the legal obstacles, and that Thaci's government rolled over and complied, perhaps not anticipating that the move would cause such a scandal. Whether this is true remains to be seen. On April 3, Kosovo's Parliament voted to set up a committee to look into the case, but the probe has stalled, prompting critics to claim the committee was formed only for appearances.
Berat Buxhala, a former lawmaker who is now editor-in-chief of the Gazetta Express, a daily newspaper in Pristina, says there is little hope for accountability while the current government remains in power. "The only case in which I'm hopeful for justice is when President Thaci and Prime Minister Haradinaj no longer hold their positions," he says. "Then maybe we will know the truth. If the director of the intelligence and the interior minister resigned and it was unlawful, then we have to prosecute them."
Turkey's Puppet? 
Less than a week after the expulsions, the European Union issued a statement of concern. "The arrest and subsequent deportation of six Turkish nationals legally residing in Kosovo raise questions about the respect of the due process of law," EU spokeswoman Maja Kocijancic said. It was a sign that the incident could affect Kosovo's diplomatic positioning with the EU going forward, further complicating its hopes of EU membership . 
Kosovo first indicated its interest in joining the EU in 2003, and Brussels responded by setting out the conditions for accession, among them that Kosovo modernize its public administration and demonstrate a strengthened commitment to the rule of law. Fifteen years later, however, Kosovo is seen as being last in line for accession among the Balkan states, in no small part because many countries, including five EU members—Greece, Spain, Slovakia, Cyprus and Romania—refuse to recognize it. Isuf Zejna, co-founder and senior researcher at Democracy Plus, a Pristina-based civil society organization, says EU accession for Kosovo is probably still another 15 years away under "the most optimistic scenario." 
"As long as we are viewed as the Turkish puppet, the EU will not open the doors for us."
Many analysts contend that getting closer with Turkey, and participating in activities like the March expulsions, can do nothing but hurt Kosovo's chances of joining the EU. Though Turkey started accession talks in 2005, those look as frozen as ever, given Erdogan's commitment to consolidating power and the related tensions with Europe. Even before the 2016 coup attempt and subsequent crackdown, Brussels was signaling that Erdogan was on the wrong path. In 2014, Jean-Claude Juncker, president of the European Commission, stated: "As regards to Turkey, the country is clearly far away from EU membership. A government that blocks Twitter is certainly not ready for accession."
Last month, French President Emmanuel Macron was even more critical. Speaking at the Elysee Palace during the Conference of Ambassadors, he said, "Do we think today… that we can continue negotiating Turkey's accession to the European Union when the plan reaffirmed daily by the Turkish president… is a pan-Islamic plan regularly presented as anti-European, whose routine measures rather contradict our principles? Definitely not." 
The day after Macron's speech, Turkey's Ministry of Foreign Affairs responded with a statement reaffirming its interest in accession, saying the country wanted "a more powerful EU with Turkey as a member" and that "having Turkey as a member of the EU has become more important than ever." 
Eralp sees such statements as a sign that Kosovo may not need to choose between Brussels and Ankara. "Turkey is fine with the Western Balkans integrating into the EU and NATO and was always supportive of this integration," he says. "It would actually be favorable to Turkish businessmen if Kosovo and other Balkan states join the EU, because they would have access to the European market." 
There are some doubts about how serious Thaci really is about EU accession. "Thaci is extremely interested in the stagnation of Kosovo's European agenda because the European standards of governance—such as transparency, democratic freedoms, et cetera—are an inconvenience," says Mehmet Kraja, a writer and professor at the University of Pristina. "I am convinced that Kosovo's current leadership invents fake causes to prevent Kosovo's advancement toward the EU."
Yet there's little question of where Kosovo's population lies. In a Gallup poll last year, 84 percent of respondents said they saw a benefit to joining the EU, while only 4 percent saw accession as potentially harmful to Kosovo. If Kosovo's ties to Turkey are seen as getting in the way of EU membership, public opinion of Turkey could suffer—and Thaci could see his political fortunes decline. 
'The Future Is Uncertain'
As the fallout from the March expulsions continues, the families of the six men are trying to figure out their next steps. The wife of Mustafa Erdem, one of the six, ultimately concluded that staying in Kosovo was too risky and financially difficult without her husband's income, so she sought asylum and moved to Germany with her two children. The families of the other five have stayed, though it is unclear whether they will be granted new visas when their current ones run out. 
For her part, Demirez no longer feels safe in Kosovo. "Right now, the future is uncertain," she says. "We will probably be deported before our visas expire." 
But despite everything that happened, her husband, writing from his prison cell outside Istanbul, has encouraged her to stay committed to their work in Kosovo. "In the last letter my husband sent me, he said: 'I'd like to tell you and the other Turkish teachers here not to blame the people of Kosovo for what happened, because this is a mere political act and we should not be angry. We have a purpose here—to educate the youth—and we must not deviate from this path.'"
She is trying to keep those words in mind, but admits it is a struggle. 
"It is very hard," she says. "None of us have any idea when this nightmare will end and we will see our loved ones again."
RELATED ISSUES