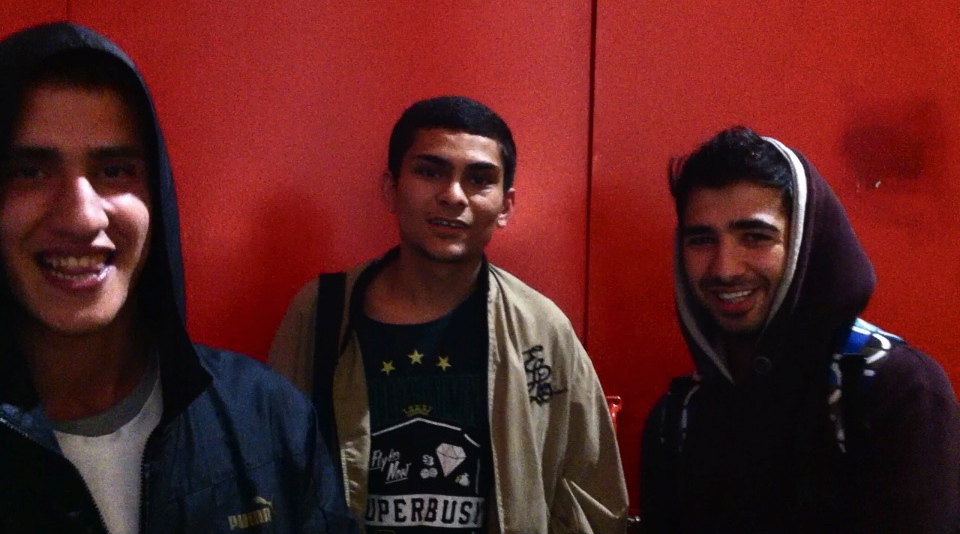 One chilly November evening the three young members of the hip hop group Tahribad-i Isyan – V.Z., Zen-G, and Asil Slang – sat on the second floor of the Beyoğlu Burger King eating hamburgers and French fries dipped in ranch dressing. They were not yet tired from a very long day. Tahribad-i Isyan had recently starred in Wonderland, a video piece by artist Halil Altindere which was a favorite at the 2013 Istanbul Biennial, and they were in high demand. Funda Oral, an activist and founder of the Sulukule Cocuk Sanat Atolyesi where Tahribad-i Isyan took shape, was eating with them. Oral is their mentor and friend, and – given the current interest – their guardian. She was there to escort them through their evening interviews. Zen-G stood up to show the table his t-shirt, which read "Superbusy" in big block letters. His back arched in laughter. "How long have you been wearing that and waiting to make that joke?" Oral asked.
Come midnight the group would perform on TRT radio — "Can you imagine, hip hop from Sulukule on state radio?" Oral mused — but before the radio show, they had promised me an interview and a song. I wanted to hear their rap about the Gezi Park protests which, because their many mentors worried it could get them into trouble, would not be included on the album they were in the process of recording. They picked at each other's fries. Below on İstiklal Caddesi a caravan of police vans parked in front of Galatasaray High School, guarded by a single, hulking TOMA truck. "Do you know Dr. Dre?" Zen-G asked me, still laughing. "F--- the police?"
VZ, Zen-G and Asil Slang (their real names are Vaysi Özdemir, Burak Kaçar, and Asil Koç) met in 2006 during their first year of high school in Sulukule, a neighbourhood which is perhaps Istanbul's most infamous example of aggressive gentrification gone wrong. As young teens, they bonded over a mutual appreciation of the less-than-acclaimed film You Got Served, a 2004 American movie about competitive street dancing. In it, some narratives of mainstream hip hop – rags to riches, art made on the streets, competition and competitive bravado — play out in dance-offs.
In Turkey, where in recent decades a strengthening economy has increased wealth and built a stronger middle class, success can nevertheless seem out of reach for ethnic minorities. (Asil Slang is Roma, VZ is Kurdish and Zen-G would rather not disclose his background, but his name, which means "black" in Turkish, seems to reference the derogation of Roma culture.) Growing up in the isolated worlds of Istanbul's poorer neighborhoods, the boys were instilled with that combination of longing and resentment which can either propel or petrify. Music, like that offered by Oral, was a therapy and a distraction from perilous behavior. But hip-hop, as presented by narratives like You Got Served, was more than a diversion. It was, no matter how remote, a future outside of Sulukule. In this narrative, an artist's hardscrabble upbringing is an advantage, providing inspiration and, most importantly, authenticity. In the glossy grit of the movie, a tough life wasn't pitiful, it was real, and realness was the key to success. VZ, Zen-G and Asil Slang couldn't have predicted that their big break would come about far from the streets of Sulukule, on the pristine walls of an Istanbul art gallery.
Sulukule is a historically Roma neighborhood on the Golden Horn, just north of Fatih Mosque. In 2005, the Turkish government began buying homes from residents for a scant 500 Turkish lira per square meter and relocating them to government housing about 35 kilometers away to make way for new developments. For the Sulukule residents, the move was jarring; work was hard to find so far from the center of the city, and residents felt swindled when they learned how much profit the municipality and their private contractors were making on the sales. To make matters worse, Sulukule seemed to rot rather than flourish under the hammer of gentrification. Private developers had promised to make the neighborhood upscale, and they built blocks of "Ottoman-inspired" townhouses but failed to attract buyers, and most of those townhouses stayed empty. Eventually – in search of work and a familiar life – the Roma population moved back, but they kept to the periphery like window shoppers, their former home a new-fashioned ghost town.
Activists took notice of Sulukule, and the neighborhood became iconic for those opposed to Prime Minister Recep Tayyip Erdoğan and his plans for the urban transformation of Istanbul. During the Gezi park protests, mere mention of the neighborhood implied a political declaration, and when the 2013 Istanbul Biennial became reframed to comment on urban development, Sulukule – along with Tarlabaşı and other targets of gentrification – was translated into works of art, like Wonderland.
Along the way, a tension arose between what was considered true activism and what was considered trendy activism, between who had a concern for the well-being of Sulukule's evicted population and who was merely carried away by the aesthetics of poverty. Some thought events like the biennial could help, and others thought it offered false promises. Activists who had worked in Sulukule for years, like Oral, worried that Sulukule would not be popular for long enough to make a change. Those close to the rappers worried that the persona created for Tahribad-i Isyan, whose voice in the protests and depiction in the biennial made them irresistible as representations of both, but whose actual lives were far from perfect mascot material, would overtake them and leave them deflated.
***
The Sulukule Cocuk Sanat Atolyesi is located in a narrow two-story townhouse across from a crumbling wall, which serves to obscure some of the neighborhood's worst homes, and is sandwiched between clusters of empty new developments. Oral likes to keep the place tidy, but VZ, Zen-G and Asil Slang have keys, and although they can't stay overnight, they take advantage. Oral has visited to find dirty dishes piled on the kitchen floor and neighbors whispering about female visitors. She shakes her head like a bemused parent: "I thought, oh my god, what are they doing in there!"
I visited at night, when the only lights on near the center were those in occupied homes, and these were very few. Syrian refugees walked by, speaking Arabic. The dusty rubble of razed homes looked like cotton in the moonlight. In front of the center a couple of boys sat on a curb, rapping quietly and laughing, their figures lit by the glowing ends of cigarettes. I had to remind myself that the neighborhood is in a giant and growing metropolis. It's hard even to imagine that a few blocks away, the lights are on.
Oral established the Sulukule Cocuk Sanat Atolyesi as a way to ground Sulukule's drifting youth in art and music. At first, they told me, Tahribad-i Isyan rapped about mundane things, not quite escapist but certainly a casual, teenage fiction. Lyrics focused on "going out at night, hanging out with friends," they told me. "Bull----," VZ said with a sneer, dismissive of their earlier work. Oral didn't need to teach them how to rap, but she could help them weave into their lyrics their more profound experiences – the bitterness of eviction, the sporadic access to schooling, the difficulties finding a job. "I told them, 'You have something to express,'" she said.
The group started working on songs that address social issues, like "Ghetto Machines," which takes the development of Sulukule as its subject and the neighborhood's ruins as its set. In the video, the young men rap below the archways of Istanbul's ancient walls, threatened by the development project, and in front of the crushed frames of former homes. Zen-G wears a keffiyeh around his neck and towers over a pitbull. The neighborhood looks post-apocalyptic, and Tahribad-i Isyan look like they belong there.
The night I met them, VZ, Zen-G and Asil Slang were upstairs, where Gökçe Su Yoğurtcuolğu, a video artist and activist, was outlining a new workshop, one in which the Tahribad-i Isyan would help to create a video collage of the Gezi protests using existing footage. By now, this kind of artistic outreach was familiar to them, and in the wake of the biennial, they thought they understood art's power and their role in it. A car fired its engine outside the center's windows. "Welcome to our ghetto," Asil Slang said, leaning toward me and smiling.
***
Halil Altindere, the artist behind "Wonderland," is known for incorporating humor into his art. He chuckles a lot in conversation. When we met, he was eager to show me a piece in the current exhibit by Ali Miharbi in Cihangir's PİLOT gallery – a skeletal machine built to tickle the gallery's stark wall with a yellow feather.
That humor intensifies the underlying seriousness of his artwork, which deals with issues of disenfranchisement and marginalization. Altindere is Kurdish, and the struggle of minorities in Turkey, particularly in their interactions with authority figures like the police, is one he can relate to. His second entry into the biennial – overshadowed by the success of "Wonderland" – was a cartoonishly short statue of a Turkish policeman. In order to make "Wonderland," Altindere spent eight months working with Tahribad-i Isyan in Sulukule, a period which also included spending time winning over the trust of their families and their mentors, like Oral.
"I didn't want to make a normal documentary or film some crying kids," Altindere told me one afternoon sitting in PİLOT's pleasantly austere gallery. "I wanted to make something 'cool'" –something aesthetically and thematically more complex than simple documentation of the neighborhood's struggles. Like humor, that "coolness" was employed to what he hoped would be a greater effect, bonding the members of Tahribad-i Isyan to people outside of Sulukule and, perhaps, all over the world. "Gentrification is a problem everywhere," Altindere said. "People understand it well. It's part of hip hop culture."
"Wonderland" is a music video with the kind of gloss and hyperbole common to the genre, which builds upon the aesthetic already on display in "Ghetto Machines." But unlike in that video, which features neighborhood friends smiling and waving and where the worst crime committed by the rappers is what looks like public urination, "Wonderland" goes to extremes. Altindere follows Tahribad-i Isyan through the streets of Sulukule as they run from, and eventually kill and set fire to, a police officer. The video's kingpin is played by Fuat Ergin, a Turkish rapper living in Germany who is a hero to the young Turkish rappers. "'He changed our lives,' they told me," Altindere said. "I said, 'No problem, he is my friend,' and I brought him to Sulukule."
Fuat worked on shaping the group, steering them away from a style he considered to be too imitative of the American hip-hop they loved. He and Altindere built upon Oral's work, encouraging the socially conscious Tahribad-i Isyan to embrace their complicated identities and reflect the specific struggles of Sulukule. "Fuat sees them and says, 'You are like Americans. You are not black. You live in Sulukule, you should make the music about you.'" A strand of traditional Turkish music was woven into the background of "Wonderland."
The piece is a violent fantasy, shot like an action movie, with all the swooping bird's-eye shots and bluster. Its over-the-top violence is disturbing, but meant to reflect the generations of systematic racism faced by minority residents of Istanbul, a violence capped by a brutal forced eviction. "Wonderland" was a kind of catharsis; in hip-hop, anger can be a prop, released through performance. And while Altindere may not have yet opened the rest of the world to the three young rappers, he certainly brought them into the art world.
"Activism and art can have the same aim of social change in times of urgency," Fulya Erdemci, the biennial curator, wrote to me in an email. "They can learn from each other, such as during the recent times." After the protests at Gezi Park, Erdemci scrapped the idea of exhibiting the biennial work in public areas and neighborhoods and moved it into the more traditional gallery spaces. She was criticized for doing so – for removing the art from the very populations it was engaging with and returning it to the elite – but the decision was pragmatic. After Gezi, an outdoor biennial seemed confrontational, dangerous and perhaps reductive; Erdemci envisioned the exhibitions as commenting on urban development but not a direct response to Gezi. Art, not activism, was the primary focus.
"Wonderland" was made before Gezi – "The video tells the future," Altindere told me – but only chosen to be part of the biennial after the protests. It was installed in a dark box in Antrepo no. 3, a converted brick warehouse on the Bosphorus waterfront, next to the Istanbul Modern, and for much of the run, a couple of massive cruise ships. When I visited, the crowd spilled out of the viewing room into the gallery, where eager visitors crammed together near the door frame. Compared to other works, "Wonderland" is accessible and as an illustration of urban development and poverty, fun to watch. "We did expect this response from the audience," Erdemci said. "It touches on a case of severe displacement due to the gentrification of one of the oldest neighborhoods in Istanbul occupied by Roma communities."
For the duration of the biennial, a large, green wrecking ball hung from a crane beside the building, a not-so-subtle reminder of the exhibition theme. For some, it was rich with irony. In recent years the Istanbul art scene has flourished, and downtrodden neighborhoods, like Karakoy and Tophane, have become studded with the serene white rooms and floor to ceiling windows of art galleries. A biennial about gentrification was also, to many, a biennial about biennials. "Fulya said they used Antrepo because they were upset it would be turned into a boutique hotel," Cihan Baysal, a prominent housing rights activist, told me. "But by using it, they paved the way."
To some activists, the success of "Wonderland" was also irksome. By taking place in Sulukule, casting residents as the stars and addressing the very real issues which had been at the core of very recent protests, it seemed to strive to represent reality. To critics, this depiction — in which three young men with no violent histories kill a cop and light his body on fire — was both troubling and inaccurate. Altindere had intended to create a highly stylized fiction, a piece of art, not journalism, but Baysal worried that it would be taken literally. "People already think [the kids] have the capacity for violence," she said. "Yes, it is an artistic performance, but it might trigger these thoughts in people's minds. They could come out saying, 'Oh yes, it is better for Sulukule to be demolished.'"
VZ, Zen-G and Asil Slang visited the exhibition three times, first out of obligation and then because it was "fun" to watch people's reactions. "Once, I was talking during the video," Zen-G said. "Someone leaned over and told me to be quiet. Then later she recognized me and said congratulations." They felt instantly transformed from Sulukule interlopers on the elite art scene into equals. "We went with friends, b-boys and b-girls from the hood," they told me. "We like that we are ghetto, [but]… People would walk by us a second or a third time, coming close. Then they would smile at us."
At Antrepo, Tahribad-i Isyan were trying on the character that had been shaped for them. In "Wonderland" they are more than poor kids from a bulldozed neighborhoods tourists are cautioned not to visit. They are street-smart cop-killers, gifted rappers, aesthetes and artists, worthy of celebrity. "We are the second rap group ever to be in a biennial," they told me. "After Jay-Z."
Since the biennial, Tahribad-i Isyan has played to bigger audiences at more prestigious venues and are recording an album. They're learning to speak English. They have been interviewed on CNN, profiled in newspapers and have become the darlings of activists and journalists. The role Gezi and the biennial created for them still isn't a perfect fit, but it's been some help. Their families, once concerned about the influence of hip-hop, now embrace the music. "Now that the boys are making some money, their families are happier," Altindere said.
Altindere is clear that he's not their manager – "I don't understand the music world," he said – but, like Oral, he is their advocate. For a large concert organized in Istanbul, he made sure that all the profits from ticket sales went to VZ, Zen-G and Asil Slang. For an upcoming show in Berlin, they will also get a fee. Still, a lot stands between Sulukule and the riches of a new Istanbul. When I asked them how they like Taksim Square – which they visited during the protests and now for interviews and shows – they said simply, "We will like it when we have money."
***
TAHRIBAD-I ISYAN - KORKMA from KEYCUT on Vimeo.
After VZ, Zen-G and Asil Slang finished their hamburgers, we talked for a bit in a movie theater café. They were restless, and the conversation seemed to remind them of how tired and bored they were of giving interviews. After I asked my last question, they jumped up and paced quickly around the tables, looking for a well-lit spot in which to perform. A few lines into the Gezi rap, the café owner invited them to continue behind the counter, and VZ rapped, beating his hand against the metal booth, rattling spoons and teacups while Zen-G and Asil Slang accompanied him. The café owner took photos, the flash of her camera bouncing off the shiny metal of the food counter.
When they perform, Tahribad-i Isyan are both intense and endearing. It's easy to see why activists like Oral and artists like Altindere have wanted to help them and work with them. They are young and full of energy, unselfconscious and friendly, and although the realities of life as a poor minority in a city where increasing wealth is just out of their grasp have set in, they have not yet been made despondent by those realities. They are optimists, still capable of transforming poverty and displacement into something good, and in this way, they do represent the spirit of protest as well as the efforts of art, even if they cannot perfectly encapsulate neither Gezi nor the biennial.
Mostly, Tahribad-i Isyan are pretty normal, nice young men. They come from struggling families, but their homes are, by all accounts, stable and loving. They clearly adore Oral and take seriously their role in the art center. Zen-G has lots of tattoos, including a portrait of himself, but he giggles when he shows them off, like he knows he is unlikely to grow into the image the tattoos project. I asked them about run-ins with the police, and they had a hard time coming up with any. "Last year in Sulukule, we had a party," VZ said. "At midnight the police showed up." When they talk about the police, even at Gezi, they are measured. "Sure, some of them are sons of bitches," they said. "But it's stupid to look at a crowd of 200 police and say that they are all bad." When I asked them where they saw themselves in five years, they answered quickly: "We want to be successful as rappers and also as people. We want to earn money so that we can support the young rappers at the center." Zen-G would also like to be a cook.
Outside the café, the police trucks remained on İstiklal but showed no signs of moving, just as the passersby showed no signs of protesting. We walked toward the TRT building, passing the same shops and restaurants that for a few months over the summer were shuttered against the riotous İstiklal but which were now open, bright and inviting. Months after protesters had covered Taksim walls with graffiti and police charged through barricades with water cannons, the area had fully recovered. A few kilometers away, in a neighborhood the three boys would be returning to after the radio interview and every day for likely a long time, the lights were out and the houses smashed. I asked if they thought that art would make a Sulukule better place. Asil Slang paused. "Art in Sulukule will improve, and rap can change the people's lives who live there," he said. "But not much else will change."