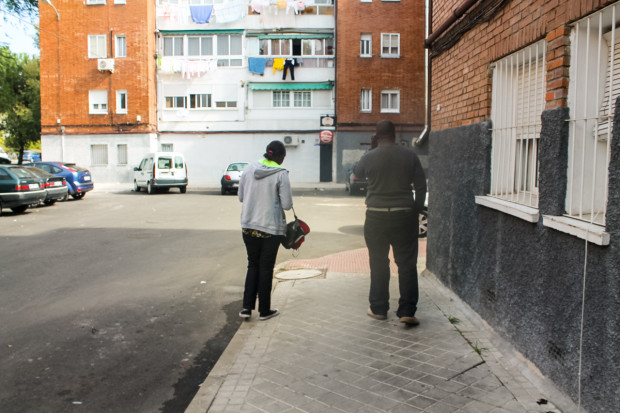 NAIROBI, Kenya — Anne left Kenya for Great Britain in 1998. She was desperate for a job after her secondhand clothes business collapsed, and working overseas as a maid – she did stints in Saudi Arabia and Bahrain – wasn't what she thought it would be.

She didn't arrive at her final destination until 17 years later, in February 2015.

She took any jobs she could find to make ends meet along the way. Among them: Smuggling people across international borders.

Like many Africans trying to set up their lives in Europe, Anne, who asked that a version of her first name be used to protect her identity, slowly hopscotched across the continent. By the time she arrived in Madrid, Spain's capital, she'd met many people who were desperate for help from smugglers to get them from one place to another. In 2010, more than a decade into her own journey, Anne realized that she could be that person.

The single mother of two met a Nigerian man who was skilled at forging Spanish temporary residence permits. That permit allows a foreigner to remain in Spain for a period of between 90 days and five years and to travel from one country to another within the European Union.

"You only needed to send him a copy of your passport's bio data page and a passport photo," Anne says. "He would create a document that looked so genuine that most immigration officers couldn't tell it was a fake."

The Nigerian charged 70 euros ($77) for the forged document. Anne contacted people she knew were living illegally in Greece — most of whom she knew from back home in Kenya — and offered to help them get into Spain. She charged each person 1,500 to 2,000 euros ($1,649 to $2,198), she says.

"I would buy the cards at 70 Euros each, then buy two return air tickets and fly to Greece to pick up my clients," she says.

Once in Greece, Anne says, she queued up behind her clients at the airport, and deserted them if they were caught. That happened only twice, she says.

"Most of the time, we passed through without any hassle," she says.

Once the client arrived unscathed in Spain, Anne says, she took the forged document back and tore it up, to avoid any link to the immigrant. Then she told the client: "Disappear and forget my face."

Anne's profit? A thousand to 1,500 euros ($1,099 to $1,649) per client, she says.

Over time, Anne grew more brazen. If a female client's forged document was snagged by eagle-eyed officials, Anne says, she sent her own residency card and passport to the woman.

"Apparently we black people look the same to white people," she says, "so the immigration officer would look at the picture on the card and passport, look at my client's face and not see any difference."

Anne says she reported her documents missing each of the three times she attempted that ruse, so officials would assume the client carried stolen documents if she was caught, but there was no need: It worked every time.

An immigration official at the French Embassy in Nairobi, speaking on condition of anonymity, says this is a loophole migrants sometimes exploit.

"These days, we have African officers checking African travelers at the airport because they are more likely to catch Africans traveling with other people's documents," the official says.

Hannah, a Kenyan who moved from Greece to Spain in September 2014, says she traveled with Anne's papers. Hannah, who asked that a version of her first name be used to protect her identity, says she touched down in Belgium, then boarded a train to France and, later, a bus to Spain. That circuitous route was designed to avoid the Madrid airport, where she says the documents would likely have been more carefully scrutinized. (Read more about Hannah's story here.)

Anne also learned to play a long game.

To become a legal resident in Spain, a foreigner, whether initially legally in Spain or not, needs to have lived there for at least three years and have, among other options, proven that they've integrated socially into the country.

Anne bought small items, including transport tickets; She sent money and registered for free courses — all in her clients' names. She collected receipts for three years. Once a client arrived in Spain, he or she could immediately apply to live legally there.

Anne charged 3,000 euros ($3,298) for the whole process.

"I waited patiently in Greece for three years as she gathered the documentation," says Sam, one of two clients for whom Anne provided that service. "When I came here, I got my residency card without any problem."

Sam, who asked that his nickname be used to protect his identity, has lived in Spain since September 2013.

Over a period of five years, Anne says, she smuggled about 17 people into Europe. The number of people who asked for her help was much higher, she says, but she declined requests so she could space out each smuggling operation.

"I couldn't take in everyone without raising suspicion," she says.

Anne is frank about her motivations. She did it for money, she says.

But she also sees herself as a humanitarian.

When she left Kenya in the late 1990s, Kenyans could easily enter Spain, a country often used by migrants as a stepping-stone to the U.K. But she says she was arrested at a Spanish airport, along with another Kenyan woman, when they were preparing to board a flight to London. The plan was to exploit the travel between two of London's airports for connecting flights in order to avoid an immigration check. That strategy was well-known among migrants trying to enter the U.K. under cover, Anne says, but by the time she tried it, officials in both Spain and the U.K. were aware of it and had heightened checks on Kenyans connecting to London from Spain.

"The police wanted to deport us immediately, but the woman I was with cried so much that they released us," she says.

Anne and her friend ventured out into Madrid but, with no local contacts, spent days wandering. At night, they sought shelter in train stations, Anne says. Finally, a Nigerian man directed them to the Karibu Association, an organization that assists African migrants. Anne says she lived in Karibu's shelter for a year and a half.

Today, Karibu's shelter houses vulnerable migrants, including children and abused women. But back then, she says, any African needing shelter could live there. There weren't so many people coming through, Anne says.

Over time, Anne built a life in Spain. She taught English in private schools and later started an employment agency that matched migrant workers with unskilled construction jobs. When Spain went into recession in 2008, construction jobs went down, and so did her company. After a decade in the country, she applied for Spanish citizenship. And finally, in 2015, she moved to Wales, on Great Britain's western edge, where a friend was waiting to help her get on her feet. That was her original destination when she left Kenya in 1998. Her young daughter lives with her and her son, now an adult, lives in Spain.

Anne no longer dabbles in human smuggling. Her day job is more politically correct: She is an assistant in a local government office.
RELATED ISSUES