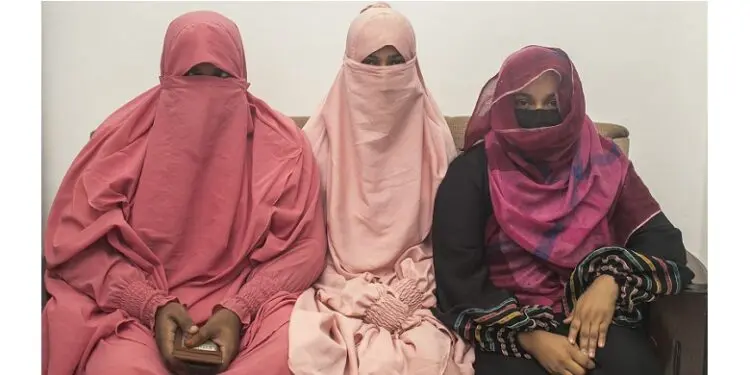 On a cloudy summer morning, passing through the densely populated streets of Hatirjheel, a lakefront area in the heart of Dhaka city, we reached Hatirjheel police station in Bangladesh, where Saeeda, a teenage girl, along with Minu and Farzana [not their real names], covered themselves with veils. They looked confused, shy and reluctant.
We located them and managed their interviews with consent and confidentiality. Names have been changed.
When Saeeda (19) lost her job at a small pharmacy store in Dhaka last year, she was looking for another opportunity to help her family in impoverished Bangladesh, a South Asian nation of 165 million people. This aroused her to reach Rifadul Islam, alias TikTok Hridoy, with whom she had an acquaintance.
---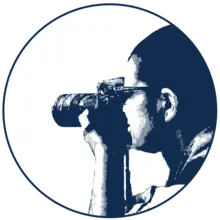 As a nonprofit journalism organization, we depend on your support to fund more than 170 reporting projects every year on critical global and local issues. Donate any amount today to become a Pulitzer Center Champion and receive exclusive benefits!
---
Mr Hridoy was a part of a transnational trafficking gang which used TikTok as a medium to trap girls from the less educated and low-income households in Bangladesh.
"One of my friends told me about the Hridoy who ran pool parties which he organised via TikTok using the name TikTok Hridoy. He would invite girls to dance and make videos, often with the promise that they would become models," Saeeda tells The Friday Times – Naya Daur.
"When I attended a few of his parties, I found their get together weird. But he promised me that posting short dance videos on Tiktok could lead me to becoming a star in neighbouring India, which has a huge modelling and showbiz industry," she says.
Hridoy was arrested on 27 May 2021 along with his five other group members in the Indian city of Bengaluru. Hridoy attacked police and tried to escape, but he was shot in the legs. He is currently in Bengaluru jail and was sentenced to life imprisonment last week.
TikTok Hridoy's account has been deleted and he had more than 71k followers, police said. Some videos are still available on Youtube.
Police and victims confirmed he trafficked women to India for prostitution.
---
Saeeda was one of the 1,500 trafficked victims lured by the dangerous gang in the past few years. Hridoy was part of a trafficking racket which used TikTok as a means to trap girls from less educated and low-income households in Bangladesh.
Saeeda was introduced to Hridoy by a friend. She later started dating him and attended three hangout parties in Dhaka last year.
"As I waited for a work opportunity one day, Hridoy told me about a TikTok hangout party in Kushtia," Saeeda says, referring to a remote city in south western Bangladesh. "That time, I had no idea at all about the gang and their technique to traffic girls through TikTok," she says.
The gang, which trafficked women to India from the porous border of the south-western Satkhira district, was exposed first by another Bangladeshi girl, who escaped from their custody in May 2021. A video of her was also released in which she was seen tortured and sexually abused in India's southern city of Bengaluru.
---
It was morning of February 2021, and Saeeda and Hridoy left from a local bus station. For her, the journey was for a TikTok hangout in Kushtia city, but instead Hridoy took the bus to Satkhira, the border town.
"I was initially reluctant but later agreed to go with him in a greed of becoming a model," Saeeda says.
By the time they reached their destination, it was already night and they had to stay in a private home where another girl Priya [Not her real name] was already there and both stayed together in a single room.
"We illegally crossed the Indian border and reached West Bengal the next day," she says.
Chinese-owned app, TikTok, is widely popular among South Asia's youth. It is a major source of entertainment for the lower and middle classes. However, less regulated platforms have been used by the trafficking gangs who lured girls from low-income households.
In neighbouring India, traffickers are also trapping teenage girls through social media apps and trafficking them by offering good jobs and a bright future.
In June a 20-year-old Egyptian TikTok star Haneen Hossam and her 23-year-old co-defendant Mawagah al-Adham were arrested after the court convicted them of human trafficking and sentenced them to ten and six years of jail, respectively.
---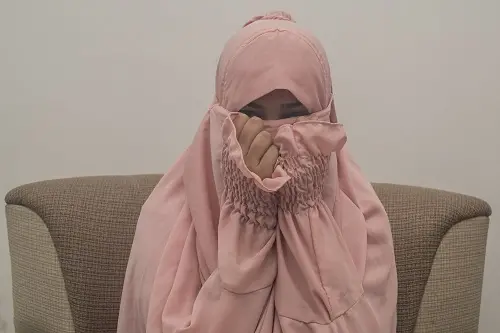 Each year, 50,000 Bangladeshi girls are trafficked to India according to reports.
Saeeda recalls, "I was not aware of being trafficked throughout the journey till we crossed the border illegally the next day [Priya and I]. I told traffickers that I have to inform the police. Then they became abusive and violent and threatened me: 'You will be jailed for illegally entering into India if you inform police.'"
"We were kept in a room for one night in the northern 24 Parganas district," she recalls.
The Indian state of West Bengal bordering Bangladesh is a major area for trafficking alongside the porous border of 2,250km, and 259km of riverine border.
"That night, in the North 24 Parganas district, I was beaten and raped by two men, and I shouted for help for there was on one to rescue me. Priya was raped by several men, I still remember her screams. Late at night, the traffickers shifted me to Bengaluru via flight and Priya remained there. In Bengaluru, I was kept with two other girls Razia and Noreen [not real names]. They told me they had been held captive for more than a year," Saeeda continues.
"The traffickers shifted us to Bengaluru and insisted that I go to a hotel in Chennai. When I tried to refuse, they brutally tortured me. One guy raped me while another filmed it. They threatened me and said if I did not obey, they would send my nude video and pictures to my family back home," she says.
The gang, which trafficked women to India from the porous border of the south-western Satkhira district, was exposed first by another Bangladeshi girl, who escaped from their custody in May 2021. A video of her was also released in which she was seen tortured and sexually abused in India's southern city of Bengaluru.
"On 12 March, I was shifted to a hotel in Chennai and on the first day I was forced to have sex with 19 men. I became seriously ill. I was bleeding. So Hridoy took me back to Bengaluru, where other girls were being kept. One morning, not long after, Hridoy entered our room and tried to rape Noreen. When I tried to intervene, he hit me on my head with a bottle of wine and I was badly injured and needed stitches," recalls Saeeda.
"There was no way to escape without passports or legal documents. There was no close one to talk to and no one to seek help from," Saeeda says. "I did not want anyone else to suffer what I had gone through. I tried to escape in early May, but was caught."
"At this point, one of the girls in Bengaluru who had been kept by the gang for years suggested I cooperate in order to make an escape more likely. So, I started to behave better. When at some point not long after they shifted me to Chennai city, I managed to escape. I went to Kolkata by train and crossed the Indian border to Petrapole by bus illegally, through an agent, by paying 500 Indian rupees."
"After reaching Dhaka, I informed police about the gang and went to the court to record my statement before the magistrate. I also got medical tests, but the police had not filed a charge sheet against them yet. Police were very kind to me and cooperated with me. Police are regularly in touch with me and my family," she says.
---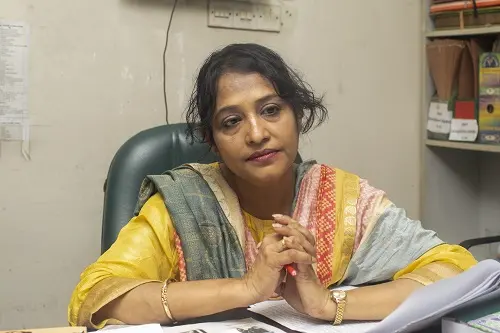 Advocate Ferdous Niger, coordinator of Bangladesh National Women Lawyers' Association (BNWLA), is now fighting the legal battle for these trafficked girls.
"The culprits have been sentenced but I am trying to bring Priya and a few other trafficked girls back. Priya is in trauma and repeatedly requested me to bring her back to Dhaka. We are communicating with the Indian government through our Foreign Ministry, but it's not so easy," she tells The Friday Times – Naya Daur.
"It's a new trend of crossing the border with women being trafficked by using social media and apps," Bangladesh Home Minister Assaduzaman Khan Kamal says.
"We have a 4,000km border with India, which creates difficulties," he adds.
Saeda says: "I started my school again and focused on my education, and my family is supporting me. But the neighbourhood is not aware about the incident and my sufferings, so as to avoid any kind of social pressures. Law enforcement should be more active against gangs luring girls through social media to save them from the traffickers."
"I feel my life is a little better now after reuniting with my family. I don't want to talk about that dark period of my life, and I will move forward with my life. But I know I have to talk about the tragic incidents again sometime in my life one day, if I have kids. I want to be able to inform them about my experiences," she says.
---
"Human trafficking is an organised crime, nowadays carried out through social media. There were only 9 convictions in 2019, while only a single conviction in 2020. A study found nearly 75% of the 159 victims whose cases were the subject of the research were unwilling to seek out a trial against those who trafficked them," Muhammad Tariq Ul Islam, country Director at Justice and Care, a UK-based charity organisation, says. According to his figures, his organisation has rescued 400 trafficked girls in Bangladesh.
When the girls threatened to call the police, they were beaten. "They gave us drugs and took nude videos and pictures," she says. "Finally, it was decided to free us, but demanded 200,000 Takas as ransom. After some days, we managed to escape on 1 May 2021."
A study found that only about 4% among several hundred cases of sex trafficking had received due cooperation from foreign legal entities in the form of documented evidence which could form the bedrock for a case against the traffickers. At such an abysmal rate of international cooperation, coupled with other local social and administrative factors, convictions are impossible.
After spending nearly three months in captivity, Saeeda reached Dhaka on 7 May 2021, and now she is living with her parents in Dhaka.
For recovery and rehabilitation, Yasmeen has not consulted any anti-trafficking groups due to the taboo attached with the issue of trafficking and sex work, and the fact that many in society consider such women to be 'prostitutes.' She desperately tried to run away and free herself from the captors by going to another country.
---
Minu, 26, and Farzana, 27, were married, but their husbands were jobless, which forced them to look for a job to support their families. Both were trafficked by TikTok Hridoy on 18 March 2021 to India, but managed to escape and reach Bangladesh on 3 May 2021.
They later filed a case against Hridoy and his associates in Dhaka. Now, due to security reasons, they usually are not going to public places and do not use mobile phones. Both are not accepted by their husbands.
"I have known Hridoy since childhood, we grew up in the same neighborhood," Minu says. "My husband had no job and Hridoy told me he has given good jobs to many women in India. As I knew him before, so I trusted him and decided to move to India," she adds.
Farzana has the same story: her husband had no job and used to torture her. "When I told her about the modelling career and job in India, she agreed," Minu says.
Minu had paid 40,000 Takas to prepare the documents as both friends waited for a WhatsApp call from him.
Their journey began on 18 March 2021, but without informing their families. They reached the border town of Benapole the next morning. "We walked towards the border with three men. After some four hours, we reached the fence wire with India," she recalls.
"There was a small hole between the fence wires, we went through it. On the Indian side, a man had received us and we walked for three more hours with him to reach a hotel in India," she says.
"Then in the evening, we were given two air tickets for Bengaluru."
Minu further recalls that on 23 March last year, "They brought us to Bengaluru airport and we were sent to TikTok Hridoy."
"Hridoy did not give us any job and we were trapped," she says.
When the girls threatened to call the police, they were beaten. "They gave us drugs and took nude videos and pictures," she says. "Finally, it was decided to free us, but demanded 200,000 Takas as ransom. After some days, we managed to escape on 1 May 2021."
For its part, Tiktok's statement was shared by an official:
"At TikTok, it is our top priority to create a safe and positive in-app experience for our users. We enforce a set of comprehensive Community Guidelines and our moderation team removes content and takes action on accounts that violate these guidelines as well as local laws. Any content that is intended to deceive, mislead or endanger our community members is immediately taken down. We prohibit the facilitation of criminal activities, including human exploitation. In the case of detecting an activity that might pose a threat to the safety of an individual or a group, we cooperate with local law enforcement agencies while respecting the rights and privacy of our users. Misuse and misinformation is an industry-wide challenge, and we are continuously enhancing our existing measures and introducing additional technical and moderation processes in our ongoing commitment to our users."
RELATED ISSUES

Children and Youth

Women