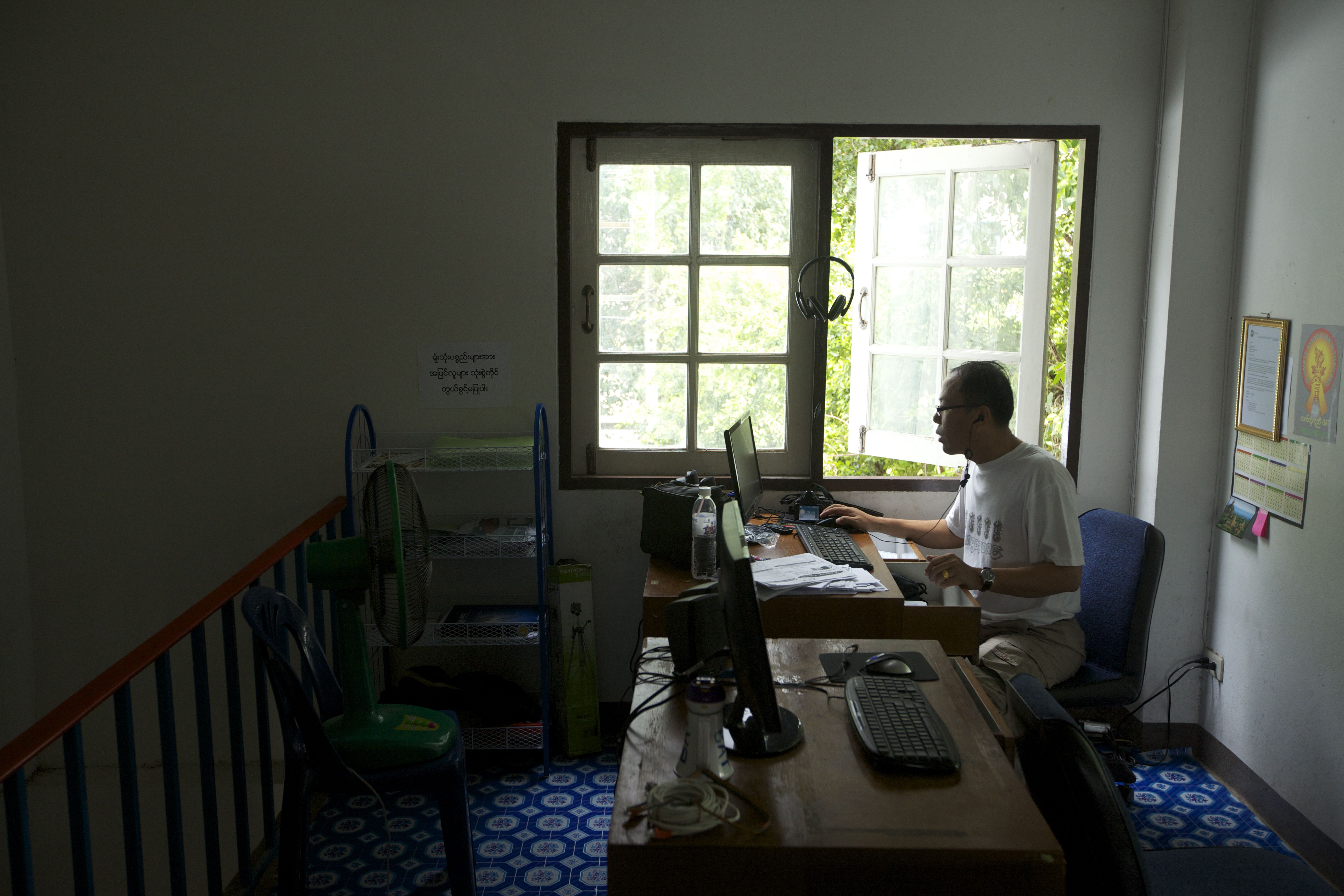 Kyaw Thaung's desk sits in the corner of a barren third-floor building in the Bangkok suburbs. A framed letter hangs behind his desk, certifying the Burmese exile as a freelance reporter for Radio Free Asia. He reports on many subjects, for many outlets, but his beat is exposing the abuse of migrant workers who are the life blood of the Thai seafood processing industry. Kyaw Thaung, 48, also moonlights as an activist; another poster promotes the non-profit he founded to assist his undocumented countrymen. Occasionally, he's in the odd position of reporting on news events that he himself has helped orchestrate.

In May, he took part in a raid on a shrimp peeling facility not far from his from office where Burmese workers – some of them children – were said to be laboring in slave-like conditions. The rare action was initiated after the family of one trapped worker reached Kyaw Thaung by phone from northern Thailand. Their relative and dozens of other Burmese migrants were being physically abused, denied wages and held against their will by their bosses for months. "He can't take it any more," a sibling told Kyaw Thaung.

With so much money at stake and official corruption widespread, Kyaw Thaung knew he couldn't go to the local police. So he contacted a Burmese friend at the United Nations who ran a migrant hotline and had contacts with the Anti-Human Trafficking Division (AHTD), a special branch of the national police. In the meantime, Kyaw Thaung put his reporter's hat on and gathered scraps of information from migrant network contacts. He pinpointed the factory's location, spoke with people who lived and worked nearby, and took pictures with his telephoto lens, relaying details to the Thai authorities.

Within three days, the factory was raided. Local police were kept in the dark until the last moment to avoid tipping off the factory owners. Kyaw Thaung, dressed in a starched shirt and tie, was on the scene with his cameras. His first pictures show row after row of workers seated cross-legged on the ground squinting as armed AHTD officers in black uniforms stand guard over them. It was the first time many had been outside in weeks, he said, his eyes welling up at the memory.

Despite what he'd heard about the facility, the scene inside "shocked" him so much that he struggled to control his emotions. Of the more than 80 Burmese workers rescued, six were between the ages of 12 and 14. Closed circuit video cameras monitored the premises. Barbed wire ringed the outer walls and workers slept crammed together in rooms with chicken wire overhead. A handgun belonging to a manager was found, along with a hidden door that opened to an underground cell where uncooperative workers were held. The floor boss, a skinny man with tattoos and dyed hair, turned out to be a Burmese national. "How," Kyaw Thaung asks aloud, "could someone do this to someone else?"

As far as he's is concerned, there's no conflict of interest in working as a reporter and taking matters into his own hands to help his fellow Burmese. Like them, Kyaw Thaung crossed the border in search of greater freedom to practice his craft. Over the years he did other jobs to make money, but his conscience would not allow him to ignore the human rights violations going on in the hundreds of factories around him. "I'm a journalist and I've seen too much suffering," he says. "It's impossible for me to sit and wait. I want to attack the problem personally."

And he's not alone. With so many local Thai journalists reluctant to cross red lines that could get them in trouble, Kyaw Thaung is training his own corps of cub reporters to do the kind of muckraking that drives him. Six trainees come to take lessons in news writing and photography, with additional classes planned in videography. Kyaw Thaung says that his organization, the Burmese Association in Thailand, does not yet receive any outside funding. For now, it's sustained by small profits from the newspaper he and his team produce each month.

One of his new trainees, Aung Khung, 22, emigrated from Burma two years ago. He steered clear of the peeling sheds, and eventually sought out Kyaw Thaung after hearing about the bad conditions inside from several of his friends. "I want to help them with my skills," he says. "People must have rights no matter what country they live in."

RELATED ISSUES