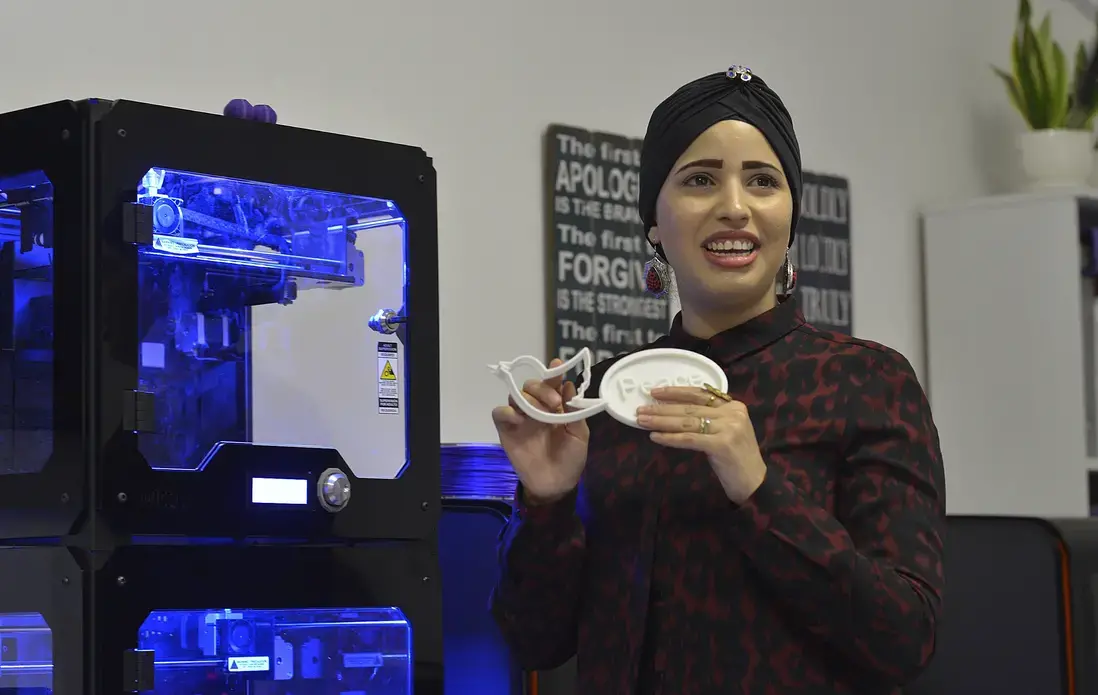 Sogood Zeini, 27, of Akko, will teach 3-D printing at the Akko Center for Arts & Technology, which will train equal numbers of Jews and Arabs. Image by Larry Roberts. Israel, 2015.
Lori Lagziel, 54, of Even Menachem, adds a vegetarian stew to the cous cous held by her husband, Nissim Lagziel. Though their house was damaged by a Hezbollah rocket in 1996, she would like to break bread with the Lebanese militia groups leadership and talk peace. Image by Larry Roberts. Israel, 2015.

Mark S. Frank knew the contents of the Declaration of the Establishment of the State of Israel long before he knew that he would be dedicating a decade to realizing its ideals.

"The State of Israel will be open for Jewish immigration and for the Ingathering of the Exiles; it will foster the development of the country for the benefit of all its inhabitants," the 1948 declaration reads in part.

Mr. Frank, 66, of Squirrel Hill, grew up in a home decorated with artistic reminders of Jerusalem, but really only started paying attention in 1967 when his parents obsessively followed news of Israel's victory in the Six-Day War. He didn't visit until 1996, when the family of his daughter's close friend planned a bat mitzvah in Jerusalem. Why not join them?

They celebrated the two girls' rise into teen accountability on the southern steps of the Temple Mount, the most revered slope on earth for thousands of years. "This was the place that all of the pilgrims and all of the Jews entered the Temple Mount for the high holidays," Mr. Frank said. He went back to his law practice, doing commercial litigation for the Downtown firm Campbell & Levine, but didn't forget that feeling.

One night Mr. Frank was at an awards ceremony honoring his longtime friend, William E. Strickland Jr., CEO of Manchester Bidwell Corp. Mr. Strickland spoke of how his program, which uses art and training to bridge divides between North Side communities, could be replicated anywhere.

"I thought, boy, Israel's the real test for this," said Mr. Frank. "So I called Bill that night. We met in the William Penn lobby that morning, and he said, 'Go for it.' "

With the support of the Jewish Federation of Pittsburgh, Mr. Frank began searching for a partner city in Israel. "Akko was the most interesting to me," he said of the ancient Mediterranean port of 50,000 people. There, Palestinians and Jews "live and work most closely together of all of the [Israeli] cities, so I'm told." There is "a certain social cohesion, that the Arabs and the Jews are comfortable talking with each other, breaking bread together."

Chicago entrepreneur Steve Sarowitz provided the seed money. Akko Mayor Shimon Lankri embraced the partnership, and in August he led a delegation from that city to Manchester.

The resulting Akko Center for Arts & Technology will train Jewish and Palestinian youths in photography, 3-D printing and laser cutting, while adults from both cultures will learn computer-aided manufacturing and hospitality management. The adult program has already started in temporary space in Erez College, near Israel's rocket-pocked border with Lebanon.

The youth program is meant to address Arab-Jewish segregation. Three-quarters of students in Israel go to schools that either include no Arabs, or no Jews. "When people don't know anything about each other, besides the stereotypes, then it's really easy to vilify," said Mr. Frank.

When coursework started at Erez College, said Mr. Frank, "The 10 years of my life that I've been spending on this, all of a sudden became very real and very gratifying and worthwhile. ... What we're trying to do is to try to bring that Declaration into physical form."
RELATED ISSUES

Issue
Migration and Refugees
Migration and Refugees

Issue
Conflict and Peace Building
Conflict and Peace Building