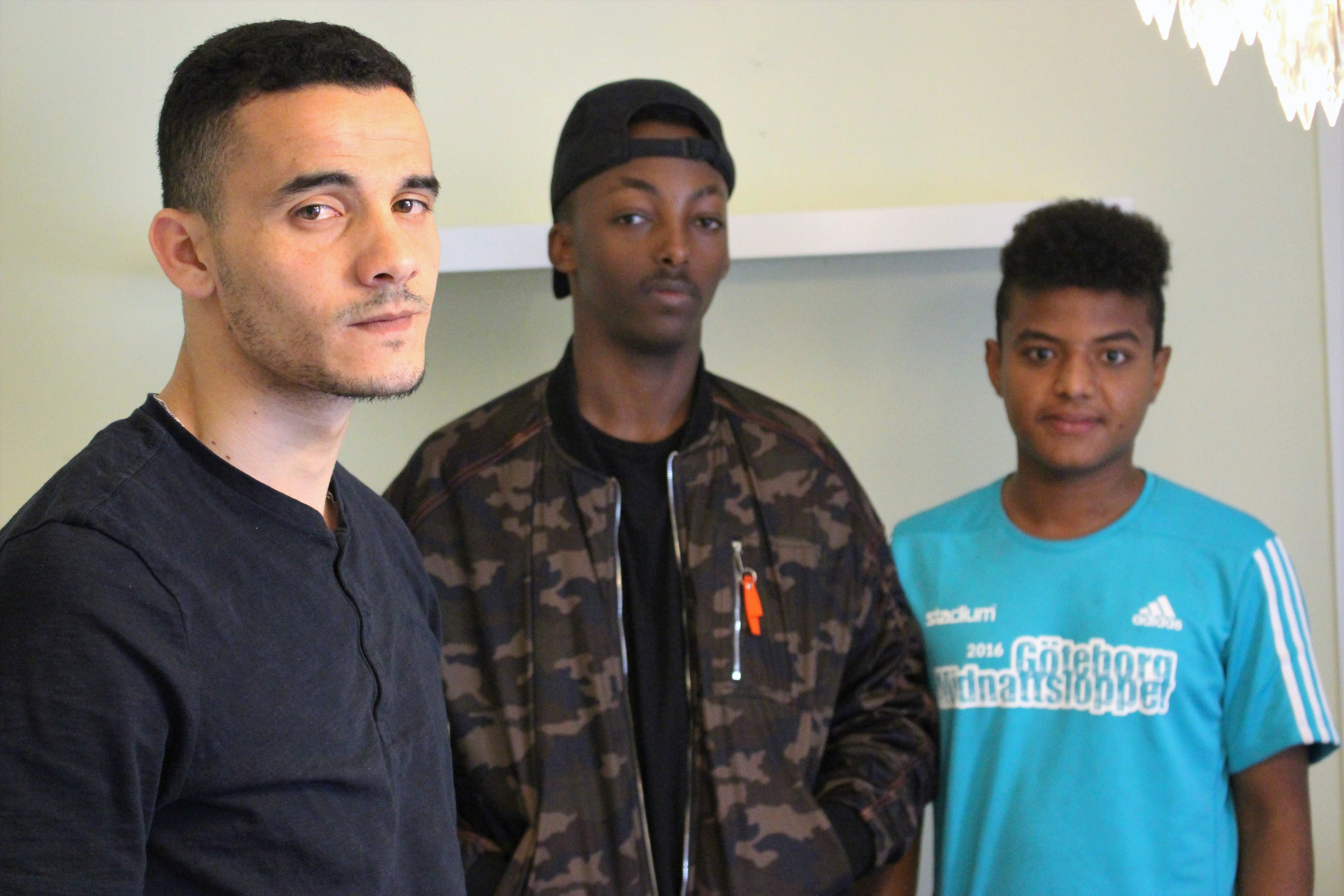 Nearly two years ago, on November 24, 2015, Asa Romson, then Sweden's deputy prime minister, struggled to hold back tears as she announced the reversal of her country's open-door migration policy. Just weeks ago, Abbas, an 18-year-old Afghan refugee, struggled to hold back tears as he told me about his upcoming deportation to Kabul—a place that the Swedish Migration Agency, which oversees asylum cases, has deemed safe.
In a confounding turn of events, Abbas' older brother, Ali (the only immediate family he has left), was granted asylum in Sweden six years ago. Yet Abbas, who arrived in 2015, will have to leave. He will be flown to Kabul on September 7. Abbas grew up in Ghazni, a city almost 100 miles south of Kabul, and has only spent a little time in the capital, when he lived with an uncle after the death of his mother six years ago. Now he says he has lost contact with his uncle and knows no one in Kabul. "I have no relatives there, so I [will] have to stay on the streets," he said. 
Having no explanation for his deportation, he says only that he's done nothing wrong. "When you're under 18, you can't tell the Migration Agency what happens," he said. "You're too young to understand the system. You don't know your rights." 
Abbas has exhausted the legal process in an attempt to avoid being sent back. He has appealed his rejection three times, receiving his final rejection last May. On June 13, his eighteenth birthday, he packed his things and moved from a youth housing center in Molndal, near the city of Gothenburg, to live with his brother in Hisingen, where he will stay until his flight to Kabul. For asylum seekers, finding refuge in Sweden is now more difficult than ever.  
Reversing course
At the height of the European migrant crisis, in 2015, almost 163,000 refugees arrived in Sweden, more than 35,000 of whom were unaccompanied minors. The inflow made this Scandinavian country of ten million the largest per capita recipient of refugees in Europe.
At first, there seemed to be an outpouring of support for Sweden's open-door policy, especially within municipalities tasked with caring for new arrivals. By late 2014, for instance, Molndal had established its own integration unit for immigrants and refugees—a branch of the municipal government that organizes social workers and seeks to provide the newcomers with housing and other resources.
Birgitta Korpe, the head of the Molndal integration unit, said, "In 2015, [the response] was run by emotions. The media flashed out that little boy on the beach in Turkey"—the photograph of a dead Syrian boy, Aylan Kurdi, that shocked the world in September of that year—"and feelings arose, so it was madness. And we were working in that, and it was rather hysterical."
The hysteria didn't last. In November 2015, Sweden implemented border controls and announced that it would accept only the EU's minimum required number of refugees. For asylum seekers, finding refuge in Sweden is now more difficult than ever.
Waiting game
Most of the unaccompanied minors who made it to Sweden before the floodgates closed have yet to receive their asylum decisions. The average waiting time is approaching 500 days. Last year, as regulations tightened again, Sweden enacted a new temporary asylum law, making it nearly impossible for applicants to receive permanent asylum or to bring their families. Today, the best most applicants can hope for is one of two outcomes: a three-year residence permit, for those who qualify as refugees, and a 13-month permit for those who do not, but who still meet EU standards for subsidiary protection, meaning that they risk death, corporal punishment, torture, inhumane treatment, or injury as a result of armed conflict in their country of origin. 
In fact, many of the unaccompanied minors in Sweden are not actually refugees, legally speaking; rather, they are seeking subsidiary protection status. Under both Swedish and EU law, a "refugee" is defined as an individual fleeing targeted persecution for reasons of race, religion, nationality, political beliefs, sexual orientation, gender, or affiliation to a particular group. Someone like Abbas—a young man fleeing Afghanistan simply because he has no family left and fears for his own survival—is not necessarily a refugee in the eyes of the law.
To further complicate matters, Swedish asylum cases are decided based not on the age of the applicants when they arrive but on their age when their case is adjudicated. So if an asylum seeker arrives at age 15 but the court does not make a decision until he turns 18, he will be treated as an adult by the legal system, with dramatically different implications. (When asked why asylum decisions are not based on age at arrival, a spokesperson for the Migration Agency only reiterated this policy.)
"When it comes to the adults, there is no obstacle for the Migration Agency to execute the deportation," explained Arido Degavro, a Stockholm asylum lawyer and expert with the Swedish Bar Association. In order to deport a minor, the Migration Agency must locate a family member or a suitable organization in the destination country that will care for the child. In places such as Afghanistan and Somalia, appropriate reception facilities do not exist, so locating a family member is the only option.
Of the unaccompanied minors who arrived in 2015, 23,000 came from Afghanistan—more than from any other country. (By comparison, fewer than 4,000 unaccompanied children arrived from Syria, since most Syrian children traveled with their families.) As long as these Afghan children remain minors, they will not be deported unless their families can be located and contacted, which in practice is often impossible. As soon as they turn 18, however, the Migration Agency is no longer obligated to find their relatives, and if they are denied asylum, they can be subject to immediate deportation. A delayed decision can make all the difference.
Degavro believes the government's stalling is intentional. "I have worked on immigration cases for several years and this is a tactic," he said. "I had one who was 16 when he applied for asylum and Migration called him for the interview one month before he was 18."
According to the Migration Agency, however, the long waiting times are simply the result of a massive caseload following the influx of asylum seekers in 2015. Lisa Bergman, a press officer for the agency, told me, "Asylum seekers approaching the age of 18 have priority to have their cases processed as soon as possible." She also said that since 2015, the agency had increased the number of staffers working on the applications—without, however, bringing down processing times.
Test anxiety
The legal weight given to an applicant's age has, perhaps predictably, led to further controversy. In March 2017, the Migration Agency began using a forensic exam, in which dental X-rays and an MRI of the knee joint are used to approximate a person's age, to combat what it said was a high incidence of age fraud by adult applicants claiming to be minors. The exam has provoked outrage from some who believe it is an unreliable method.
One of these critics is Sara Granath, an official at the Stockholm office of Save the Children, a nongovernmental organization. Granath spoke of one case in which an individual was judged to be two weeks past age 18; in another, involving two brothers, one was determined to be 18 and the other was said to be within five months of his age. Both cases involved a level of specificity impossible to achieve by means of the exam.
The UN Refugee Agency in Sweden understands that the test has problems and has advocated for its use only as a last resort. Caroline Bach, a communications officer for the UN High Commissioner on Refugees, told me that in UNHCR's view, "age assessments cannot with certainty establish if a person is a child or an adult."
Despite the controversy, the extent to which age exams influence asylum decisions is unclear. Degavro said that although the Migration Agency is supposed to consider a variety of factors in addition to the exam, results indicating that an asylum seeker is an adult tend to be given more weight than results to the contrary, regardless of their source. Jaana Nilsson, a staffer at the Molndal asylum center, said that an age exam had shown one of the center's residents to be 16, but the results were disregarded and the resident classified as an adult. Some fear that the exams will be used as the basis for deportations. Emma Nilsson, an administrator who handles the reception of refugees in Kungalv, a city some ten miles from Gothenburg, said that her municipality had a "big group [of applicants] that will have their decisions during the summer and fall" because "many of the kids are going to the age [exam]." She anticipated that some would be judged to be older than 18. 
Stuck in limbo
Once heralded as having one of the most progressive approaches to immigration, Sweden has made an about face in both policy and politics. The Sweden Democrats, a populist and once-fringe anti-immigration party, is now surging in support thanks to the shock felt by Swedes after the height of refugee arrivals in 2015. As the 2018 election approaches, the party expects to continue growing in the polls by calling for a crackdown on migration—an issue it has successfully politicized. 
For now, asylum seekers in Sweden are caught in the crossfire, fleeing war only to be stuck in legal limbo. For those looking for residence permits, it is a situation of statelessness. There is nothing to which they can return and no guarantee that they can stay. After treading thousands of miles through dozens of countries to arrive in Sweden, the last leg of their journey involves no walking—but a seemingly endless wait. 
RELATED ISSUES