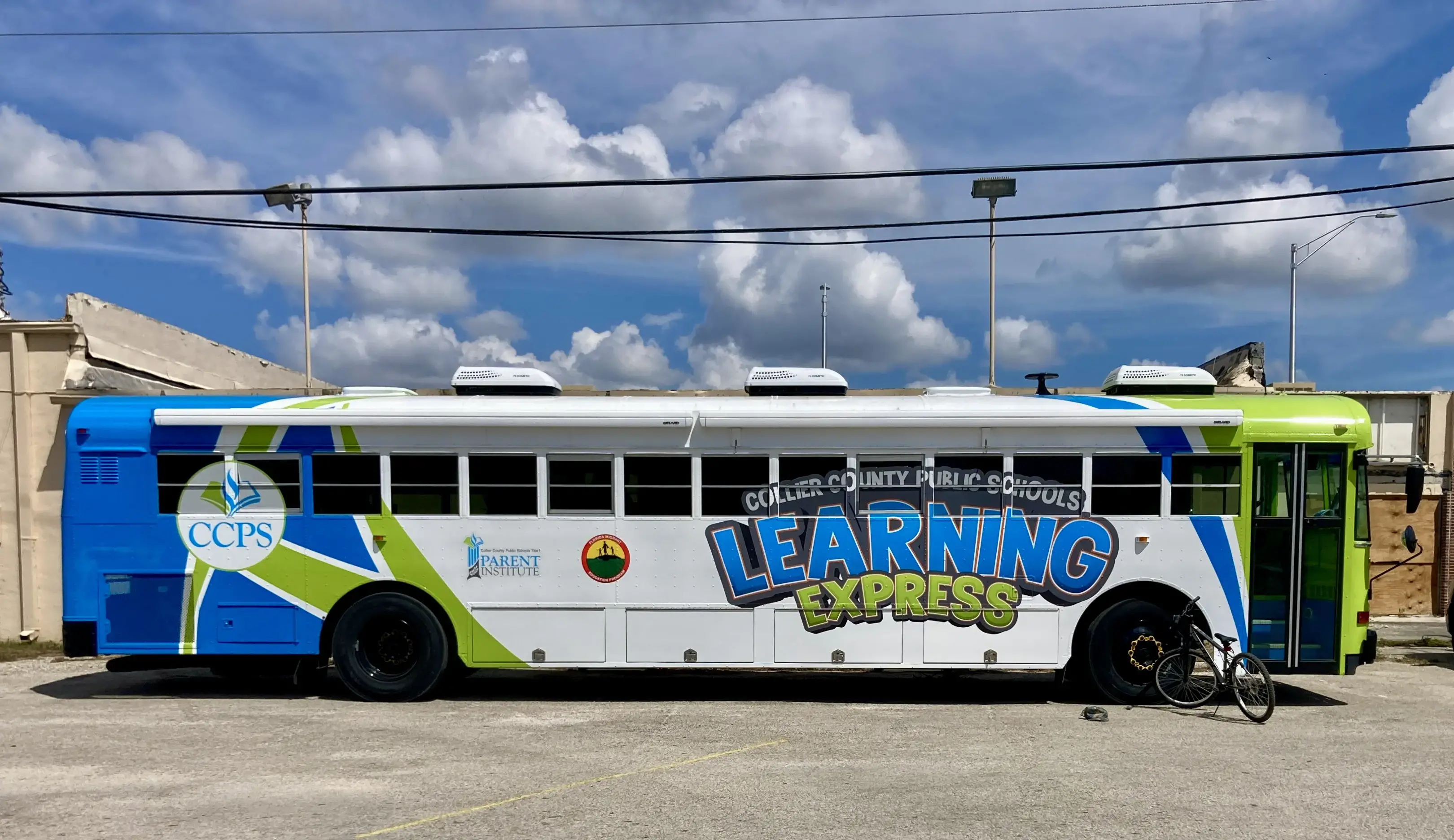 It's Sunday in Immokalee, Florida. Lines file out of churches and into the midday heat. Maneuvering the bicyclists and wild chickens that roam the streets, I pull up across from La Fiesta market. At this center point in town, where farmworkers gather daily to board old, converted school buses to work, I encounter the Learning Express bus.
An initiative of the Collier County Public Schools, Florida Migrant Education Program, and Collier County Public Schools (Title I) Parent Institute, the mobile classroom began in September 2022 and rotates locations throughout the week to provide tutoring, homework help, a lending library, an Internet hotspot, and other educational services for migrant students and families. I follow up with Diana Holden, director of federal, state, and competitive grants for the Migrant Education Program, to learn more.
---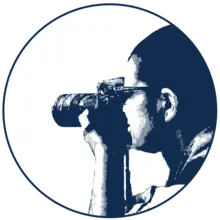 As a nonprofit journalism organization, we depend on your support to fund more than 170 reporting projects every year on critical global and local issues. Donate any amount today to become a Pulitzer Center Champion and receive exclusive benefits!
---
"Many parents have little to no education in their home language," Holden explains, noting the barrier to helping their children with academic work in English.
In response, the bus brings educational support to students and families in their own neighborhoods. A parent institute also helps build parent capacities to assist students at home. With guidance in English, Spanish, and Creole, teachers use educational games and book buddies to equip parents to teach their children regardless of education level or language barrier.
Today, the bus is offering literacy and math tutoring, story time, and a parent institute.
Adjacent to the Learning Express bus, flags from Mexico, the Unites States, and Guatemala line the fence, tangling in the breeze. A banner advertising "Las Frutas Frescas," or fresh fruit, beckons passersby. Just through the fence, El Mercado del Pueblo flea market is buzzing in a parking lot. Music booms from the frutería, as a maze of tents display clothes, luggage, and trinkets. Food trucks churn out tacos, tortas, and tamales to crowded tables under the shade. It's March, but temperatures are consistently in the 90s, with little greenery or relief in sight.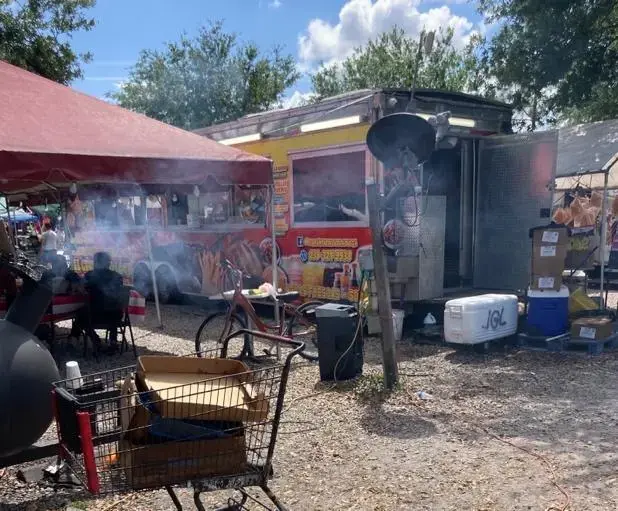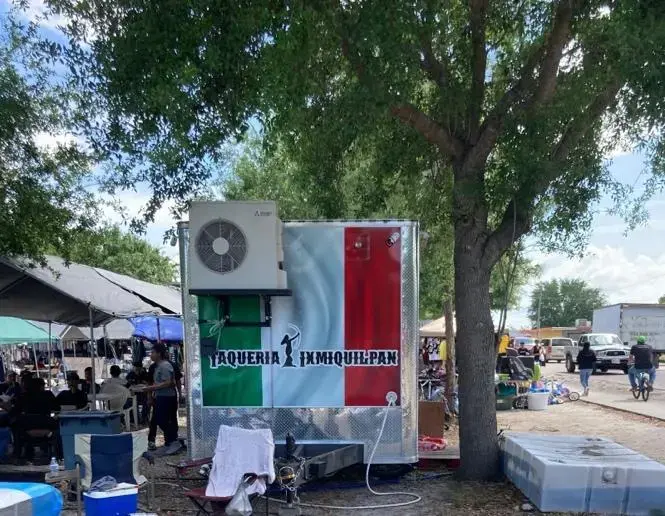 Food trucks offer lunch at the Mercado del Pueblo. Images by Julia Knoerr. United States, 2023.
I continue down Main Street, a couple blocks of small markets, restaurants, and money transfer services that migrants rely on to send money home. Walking up to St. Matthew's House, an organization that provides "housing for those experiencing homelessness, food for those experiencing hunger, and comfort for those experiencing addiction and suffering," I happen across the annual "Project SEED: Serving Everyone, Embracing Diversity" health fair run by Nova Southeastern University's Physician Assistant (PA) program.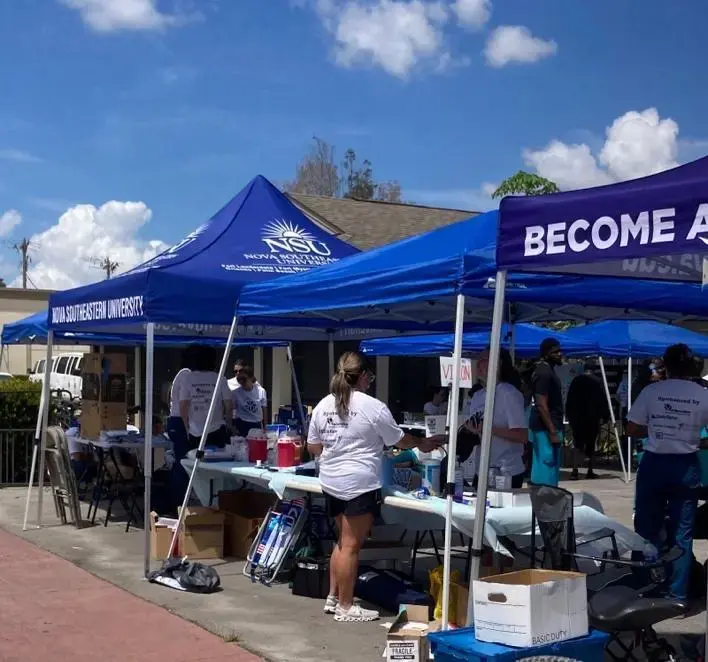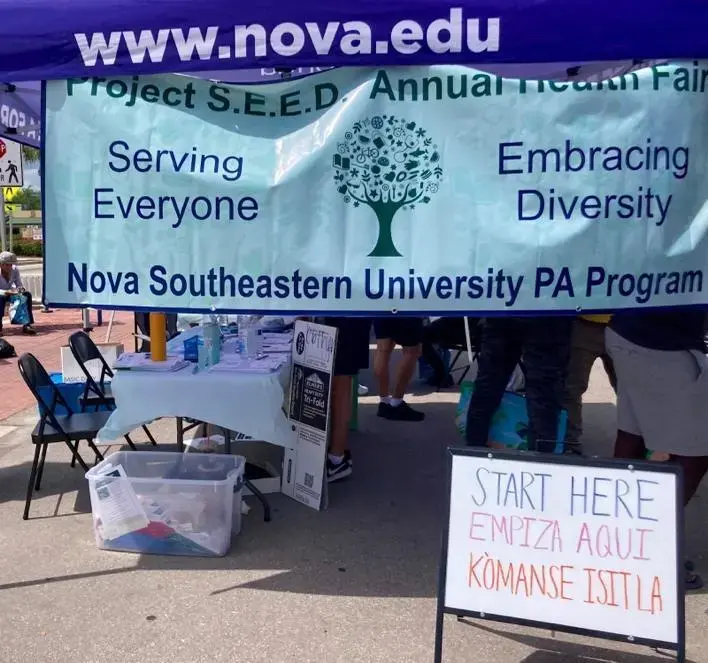 Nova Southeastern University Project SEED provides accessible health screenings in front of St. Matthew's House in the center of town. Images by Julia Knoerr. United States, 2023.
Charlene Couillard, Program Director and Assistant Professor in the PA program, leads me through the fair's set-up. Attendees first sign a waiver before PAs check their blood pressure for hypertension and screen their blood sugar for diabetes. If either reading comes back abnormal, the PAs provide a referral to Dr. Antonio Gonzalez, a local physician.
Following the glucose screening, a circle of tents offer foot care, information about cholesterol, and vision screenings, giving away reading glasses, eye protection for workers and sunglasses.
Other tables offer HIV and STD screenings, information about breast health, diapers for babies, pads and tampons, and information about dental care, including free toothbrushes. The fair concludes with a station teaching CPR. If attendees visit all tables, they become eligible to enter a raffle for bicycles, food, and clothing.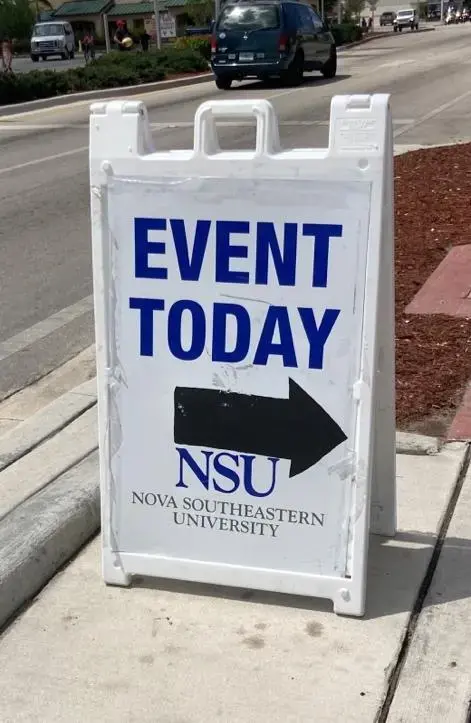 Screenings check for health conditions like high blood pressure, a common issue in this community. Images by Julia Knoerr. United States, 2023.
At this moment, a huge crowd has gathered under one tent—they're about to announce the bicycle winner.
"A bicycle for someone in this community is transportation, so it's like winning a new car. It's a big deal," Couillard says, adding, "To be honest, their ability to take care of their health is probably the last thing on their mind; they're just probably looking for basic survival." One woman who arrived said she hadn't eaten in two days.
Since 2014, Nova Southeastern University PA students have fundraised and organized the fair in an effort to train more advanced providers to work in rural and underserved communities. The annual health fair only offers screenings, not treatment, but next year, they hope to bring the Premier Health bus, a mobile clinic that provides free care to anyone regardless of legal status.
This year, the fair moved from Our Lady of Guadalupe Catholic Church, and the shift in location drew a population more focused on basic needs than health maintenance.
"For a lot of people that come here, this is the first time that someone's taken their blood pressure or checked their glucose, so I think there's a lot of patient education going on. A lot of people don't know what an abnormal result means," says Madison McKay, a Class of 2024 student in the PA program at Nova Southeastern University and member of the external affairs team that organized this fair.
Many people don't have health insurance or understand how Medicaid functions, so they need extra guidance in finding options for care. To minimize these types of health disparities, Madison McKay says, "I think the biggest thing is actually going out into the community and seeing what gaps there are that need to be filled instead of expecting people to come to you."
RELATED ISSUES

Children and Youth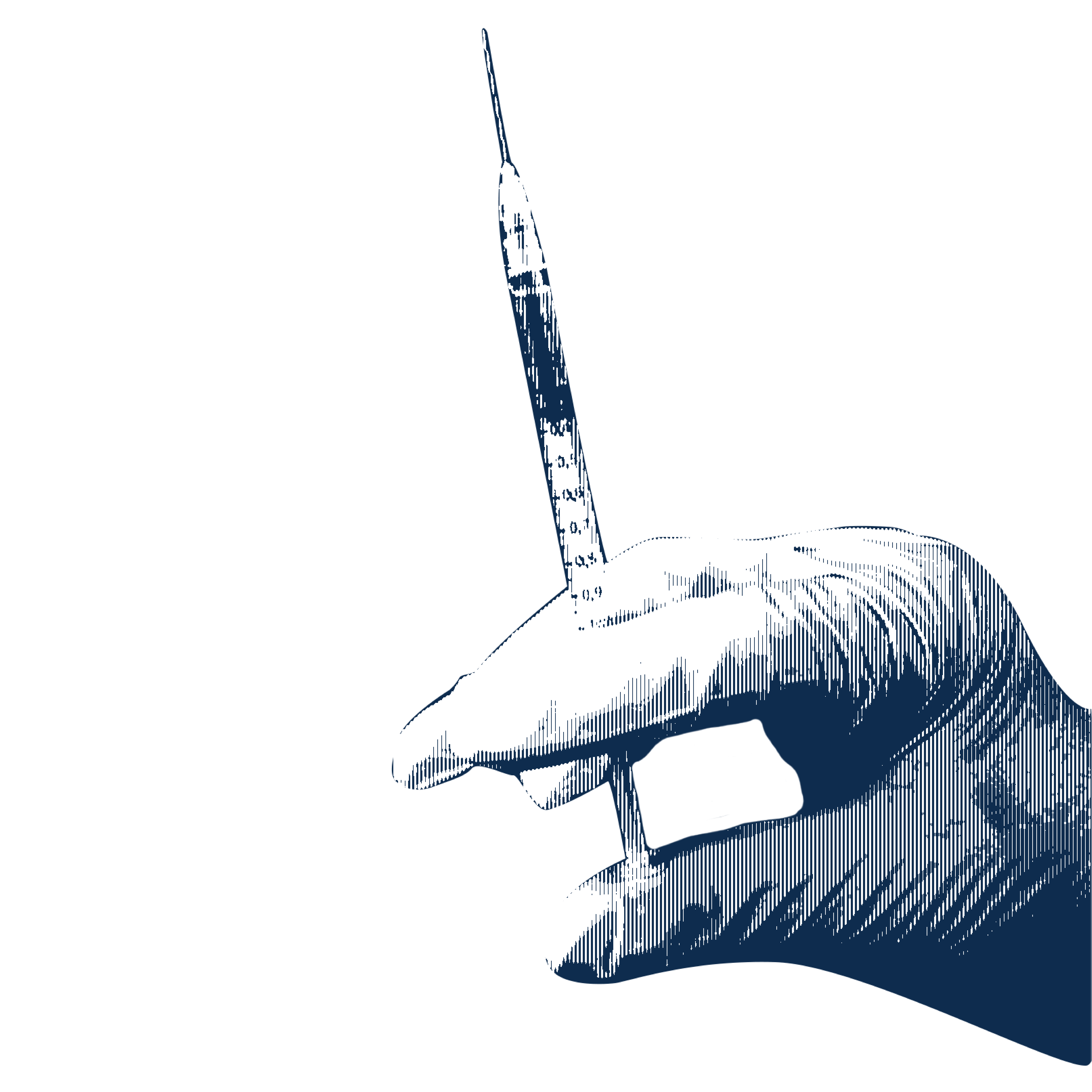 Health

Issue
Migration and Refugees
Migration and Refugees