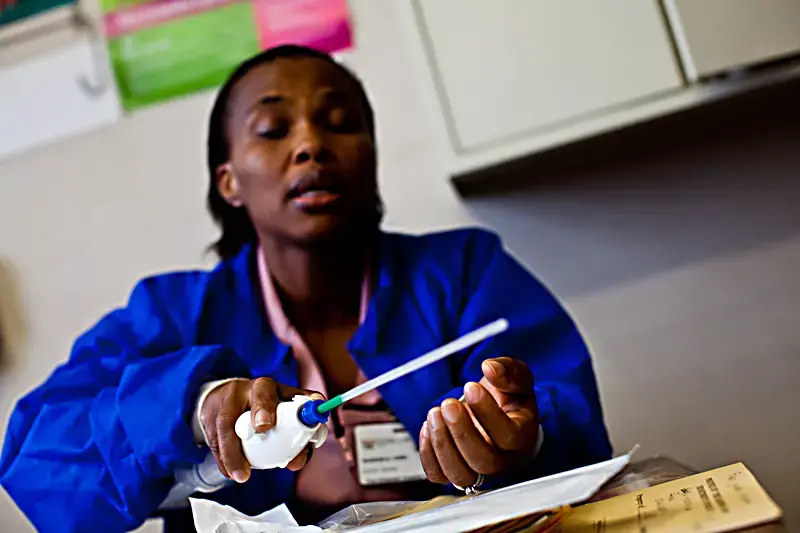 The abortion clinic was quiet when we got there. Friday afternoons are slow, and nurses use them to catch up on their paperwork. Fat yellow files cover a table in the middle of the all-purpose reception room. There's a hospital bed on the left, where nurses do their preliminary examination on women who come here to terminate their pregnancies. After the exam, a sonogram. After the sonogram, counseling. After counseling, the procedure. It's described by specialists as quick and relatively painless, but Sharon Hobo, one of the nurses here, tells us some women scream, sometimes.

South Africa legalized abortion 15 years ago, and today the country can't keep up with the demand. Dora Nginza, a state hospital, is Port Elizabeth's biggest health facility. They perform dozens of procedures a month, all in a single room. The women's clinic, as the abortion facility is called, is tucked away at the edge of the vast hospital complex. Dr. Mafundo Mabenge says it's set apart from the rest of the hospital to protect its users against stigma, but there's a busy pharmacy right next door.

Sharon tells us that this is not the easiest place to work. She's been here four years, and she says the clinic doesn't have enough staff to deal efficiently with all the women who seek abortions. They're overworked and often exhausted, she says. And then there's the stigma. So many people tell us that South Africa can be a socially conservative place, and even though abortion is legal, Sharon says the midwives who provide it are often scorned by their colleagues or friends. They volunteer, after all—because the issue can be fraught with religious and moral complications, no public health employee is compelled to serve in the roughly 70 state abortion clinics functioning across the country—and that choice can earn them the disdain of family and friends.

But Sharon's family supports her, and she thinks this work, too, is important. "We're not here to encourage abortion," she says. "We're here to do it safely."
RELATED ISSUES