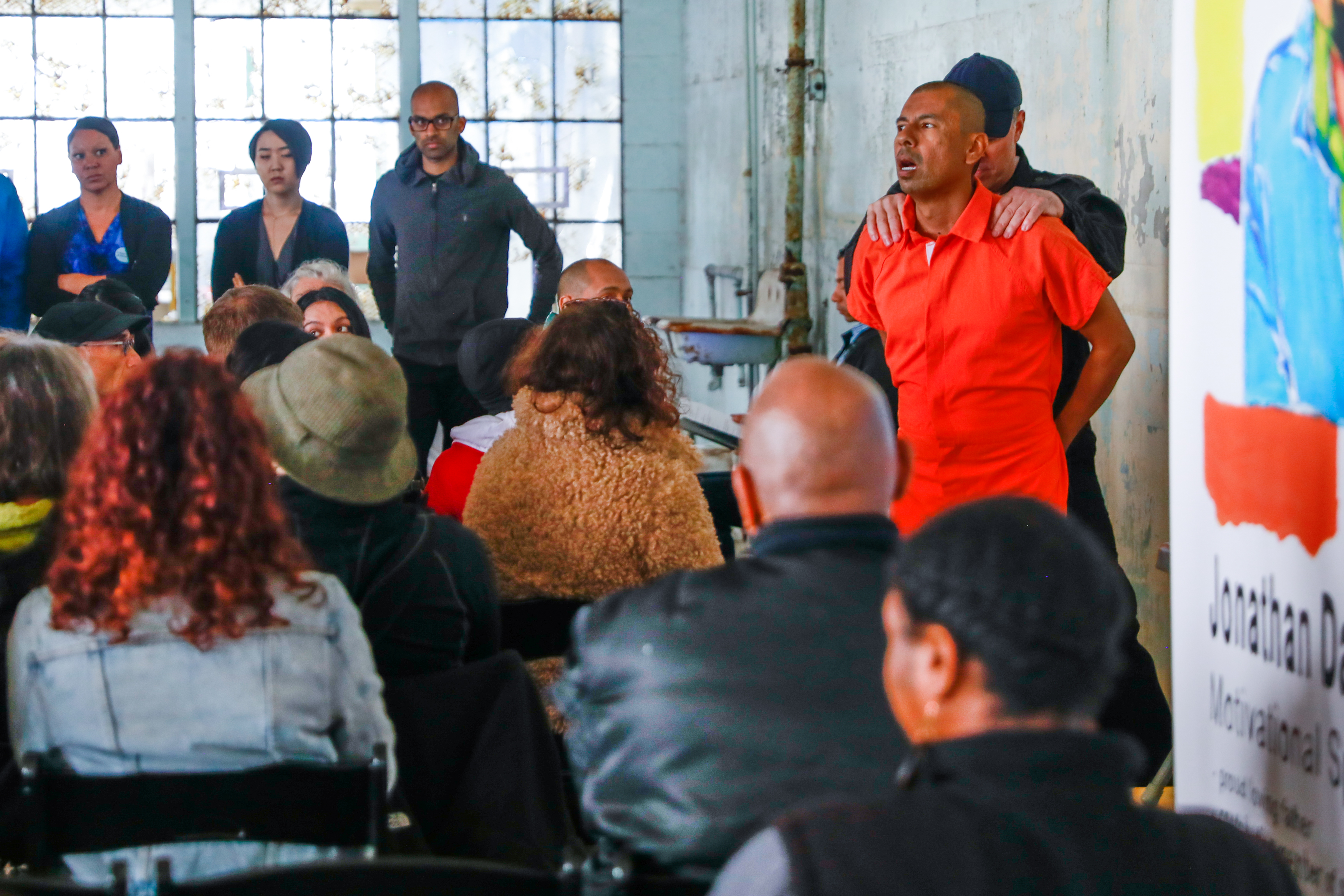 You'd have a hard time finding a better stage for a play about incarceration than Alcatraz.
The former federal prison turned tourist attraction and occasional art gallery will serve as the perfect backdrop for this weekend's exclusive performances - already sold out - of The Box, a dramatic look at the effects of solitary confinement.
It was written and directed by Sarah Shourd, who knows firsthand about such effects. She and two companions languished more than a year in solitary confinement in an Iranian prison, captured after crossing the border during a hiking trip in 2009.
"The Box" first debuted in 2016 at Z Space in San Francisco, yet this is not just a replay of that play.
Shourd has rewritten and streamlined it specifically for this venue, with a different message for a different audience. It's also part of an ongoing project of exhibitions and programs on Alcatraz called "Future IDs," led by artist Gregory Sale, addressing criminal justice reform.
"This is overall a very different artistic endeavor," said the Oakland-based journalist, playwright and activist who spent the last year at Stanford on a JSK Fellowship. "The original play was geared more toward people who didn't understand the impact of incarceration, and specifically solitary confinement, has on individuals and society. It was to show people, in a very visceral way, that solitary is torture," she said.
And indeed, there has been progress. Since 2013, when about 30,000 prisoners statewide went on a well-publicized hunger strike to protest the excessive use of solitary confinement, more than 1,600 prisoners have been transferred from solitary back to the general population. And California now has a limit of a two-year stay in solitary.
Still, the United Nations recommends no more than 14 days of solitary confinement. In 2011, a U.N. report warned that solitary can amount to "torture or cruel, inhuman, or degrading treatment or punishment" when used indefinitely.
Sarah Shroud's retooled version of "The Box" will be performed June 14 and 15 in Alcatraz's New Industries Building.
Shourd experienced all of the above when she, Shane Bauer and Josh Fattal were captured, arrested and imprisoned in Iran. She spent 410 days in solitary confinement until the United States negotiated her release in 2010. She was free, but suffered severe post-traumatic stress disorder.
She didn't leave it there, however. In a partly therapeutic effort, Shourd began corresponding with inmates at various penitentiaries in the U.S., men who'd spent hard time in "the hole" and could relate to her trauma. The interviews became a journalistic project, examining the overuse of solitary confinement in American detention centers.
She then merged this collection of stories with her own, placing nine characters - two guards, an inmate's daughter and six prisoners, each with complex lives and crimes - in a fictional U.S. penitentiary in the original Z Space version of "The Box."
For this retooled version, set to be performed June 14 and 15, it's only four characters, played by Carlos Aguirre, Lawrence Radecker, Jordan Don and Dameion Brown. Brown is a former inmate himself.
"It's been amazing working with him," Shourd said of Brown. He brings his real life experience to it, which empowers the other actors and brought us all together really quickly.
And rather than the elaborate, multilevel stage set of "cells" at the previous showing, the play will be performed in Alcatraz's New Industries Building, which is now largely used as a gallery space. The cells will be designated by taped-off areas on the concrete floor. The actors must remain in those confines.
"The Box" is produced by the Pulitzer Center, Toni Rembe and Arthur Rock; and presented by the Stanford Graphic Novel Project, the Success Center, and the Golden Gate National Parks Conservancy.
It also marks the debut of a new graphic novel, "Flying Kites: A Story of the 2013 California Prisoners Hunger Strike," co-created by Shourd and classmates in the Stanford project.
For more information on "The Box," visit www.sarahshourd.com. And to learn more about "Future IDs at Alcatraz," go to www.parksconservancy.org/our-work/future-ids-alcatraz.
RELATED ISSUES