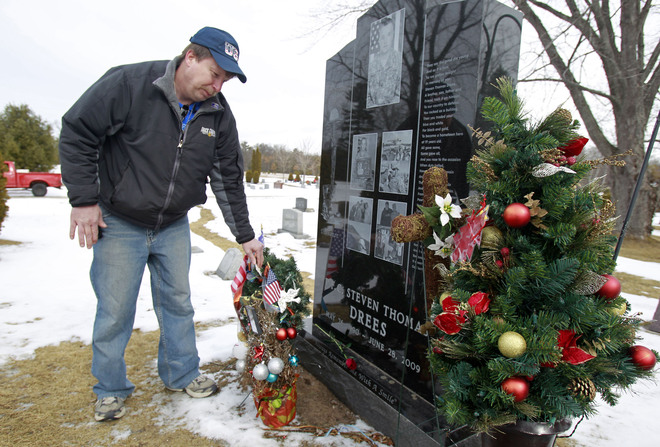 Hot shell casings cartwheeled around Pvt. Steven Drees as he stood in the gunner's turret firing hundreds of rounds from his M240 machine gun.  

It was a sunny June afternoon in Afghanistan's Korengal Valley, and Drees had just grabbed his fifth box of ammunition from the platoon medic when he was hit.

With bullets raining down like hail on the armored vehicle filled with American soldiers, a single bullet clipped the edge of the turret before smashing into Drees' right cheek, taking out his right eye and pushing through his brain.

Medic Luke Spangler caught the Wisconsin teenager as he fell into the vehicle, quickly checked his injuries and worked feverishly to stop the bleeding. He cradled Drees as the vehicle raced to an aid station.

It was the first stop of a final journey that would end four days later in Germany.

As his mother, father and twin brother traveled from Peshtigo to say goodbye, somewhere in Europe - most likely elsewhere in Germany - a 62-year-old man was about to receive a life-changing organ donation.

The man would never know Drees' name, and Drees' family would never know his identity. But the two men will forever be linked by a sniper's bullet and the selfless act of a soldier killed less than a month after leaving for Afghanistan on his 19th birthday.

***

Like every U.S. military member deploying to Afghanistan and Iraq, Drees was asked if he wished to be an organ donor.

He said yes.

Drees had debated the merits of organ donation in an ethics class at Peshtigo High School, and his family knew his wishes.

After being wounded, Drees was evacuated to Landstuhl Regional Medical Center in Germany. Donated organs must be transplanted within hours, so his liver was given to someone on a waiting list in the Eurotransplant system, which serves seven countries, including Germany. Although transport to another country is possible, it most likely stayed in Germany.
It's a rarely told fact of the wars in Iraq and Afghanistan that a significant number of U.S. service members who die at the large American military hospital in Germany are donating their organs to whoever needs them. And the people who need them are Germans.

Germany has one of the lowest organ donation participation rates in the Eurotransplant system. There are hundreds more organ transplants in Germany every year than are actually donated by Germans.

Attitudes toward organ donation in Germany are shaped by Nazi medical experiments in World War II as well as the legacy of the East German health care system under socialism, in which people had no control over the fate of their bodies.

As a result:

• In Germany, 17% of adults are registered to become organ donors. In contrast, the figure in America is 37% and in Wisconsin, it's 54%. Among the U.S. military, the percentages are even higher since everyone deploying to a combat zone is asked about organ donation wishes.

• Landstuhl, the largest U.S. military hospital outside America, is one of the top hospitals for organ donations in its region in Germany, even though it has relatively few beds.

• Roughly half of the troops who died at Landstuhl from combat injuries since 2005 were organ donors. That's the first year the U.S. military allowed organs to be donated by American troops who died in Germany from wounds suffered in Iraq or Afghanistan.

• From 2005 through 2010, 34 American military members who died at Landstuhl donated a total of 142 organs, according to Deutsche Stiftung Organtransplantation, the German organ organization known as DSO. Last year 10 of the 12 service members who died at Landstuhl were donors, giving 45 organs. In 2009, the year Drees died, five of the 12 Americans who died at Landstuhl donated a total of 17 organs.

More than 30 patients on waiting lists were saved last year by organs donated by U.S. military members at Landstuhl, said Undine Samuel, a physician and medical director of the DSO region that includes Landstuhl.

"That's a great amount," said Samuel. "I'd like to explain better to Germans so they know the part Americans are doing here. I'd like to say thanks."

Influenced by history

In Germany, decisions over whether to use the bodies of some for the benefit of others are laden with historical and emotional baggage stemming from racial laws during World War II and vast differences in organ donation policies in East and West Germany in the decades before the Berlin Wall fell in 1989.

Outrage over Nazi atrocities led to the Helsinki human rights accords and international bioethics rules. Germany went a step further; the first two articles in its postwar constitution deal with individuals' rights of bodily integrity. Decades later, after the reunification of East and West Germany in the 1990s, Germans would pack town hall meetings to vigorously debate the issue of who has the right to determine when someone is dead and how their body will be used.

"In the United States, organ transplantation organizations have popularized the motto 'Donate your organs so that others might live.' That motto, however, has a completely different meaning in postwar Germany," wrote University of Wisconsin assistant professor Linda Hogle, a medical anthropologist who studied German organ procurement policies in the 1990s and published a book on the subject.

In West Germany where memories of the Holocaust made the notion of protecting bodily integrity paramount, "physicians wouldn't even approach a family about possibly donating organs because they were so afraid the family might be disturbed or it might upset them," Hogle said in an interview in her Madison office.

Opinions were just as emotional in socialist East Germany - but for different reasons. People injured in an accident might be taken to a major medical center, and if they died, any body part or tissue could be used for experiments, research or organ donations.

"If you want to call it presumed consent, it was like an extreme form of presumed consent. There was no possibility of even saying 'I do not want my organs to be used.' It was just going to happen," Hogle said

East German medical centers performed far fewer transplants than the more technologically advanced hospitals in the West - mostly kidneys. The perception was that Communist Party members got preference, and the country drew donors from a small pool of neighboring socialist countries. Consequently, many East Germans spent years on waiting lists.
When the two nations reunified in the early 1990s, there was some resentment over how to serve the needs of the former East Germany while still keeping some sense of fairness and balance with donors and recipients from West Germany and other European nations.

To this day, Germans are caught in what Hogle calls a "damned if you do, damned if you don't" struggle: Push for more donations, and they raise the specter of Nazi medical policies; back off, and they risk the appearance that they're poaching organs from other countries. Clouding the issue further is that Germany has a vibrant, cutting edge medical system that makes it a leading country within Europe for organ transplant technology.

Even though Germany lags in actual donations, being perceived as practicing good medicine - through organ transplants - is a means of contrition.

Anonymity is strict

For Steven Drees' family and friends, German attitudes toward organ donation made no difference. Like many grieving families who give consent for organ donation by their loved ones, all they cared about was that his liver was given to someone who needed it, that something good come from something tragic.

Though some organ recipients in the U.S. meet their donors or donors' families, German law is strict about anonymity. The age and gender of organ recipients and donors are released, and recipients can send anonymous thank you notes to donor families through German organ officials.

Drees' family received a letter telling them a 62-year-old man was given his liver. The soldier's parents and girlfriend wish they could learn more about the man.

"I'd like to know their circumstances and to know what is going on with them, to know they had loved ones, to know they aren't alone," said his girlfriend, Stacia Baker.

Drees was close to his maternal grandfather, a Navy veteran who died of leukemia when Steven was a youngster.
"The thing that settles me the most," said his mother, Dawn Bayer, "is that at 62 years old, I know he's probably someone's grandpa. So Steven saved someone's grandpa."

Filled with energy

If the man who received Drees' liver in late June 2009 could find out more about his donor, this is what he would he learn:

Before he became a soldier, before he became an organ donor, Steven Drees was a bundle of energy who seemed to speed from one activity to the next, collecting friends along the way. When he was 7 or 8 he told his dad he wanted to be a baseball pitcher, so Paul Drees bought him a glove and ball and the two spent hours in the backyard practicing.

Steven played video games and basketball and had a winning smile. He liked fast cars, and he wasn't embarrassed to hug and kiss his mother in front of his basketball teammates, his coaches remembered. He wanted to be a gym teacher.
Though he was a twin, he and his brother Chuck looked nothing alike. The boys were close growing up but had different hobbies. Their high school graduation photos illustrate the difference - Chuck is pictured with his truck; Steven with his basketball jerseys. Steven was born seconds before Chuck - it was a C-section - a fact he never let Chuck forget. Their parents later divorced, each staying in Peshtigo and remaining close to their boys. Steven joined the Army before he graduated in May 2008 from Peshtigo High School, and left for boot camp a few weeks after commencement.

Four months before he shipped out to Afghanistan, on his last visit home to Peshtigo, Drees had a long conversation with his mother. He went over all the details of his funeral and burial if something happened. It was unusual for him because he wasn't a details type of guy.

"I was crying and he kept saying 'Mom, I need to tell you this stuff,' " Bayer said.

He wanted to be buried next to his grandfather in the pretty cemetery overlooking the Peshtigo River. He also didn't want anyone to cry at his funeral.

When his parents and brother visited him in Fort Carson, Colo., before he deployed, he played them a song by the band Everlast called "Letters Home from the Garden of Stone" which include the lyrics " 'Cause I don't know the man who kills me, and I don't know these men I kill." He gave his father a CD of the music.

"Steven said, 'You need to listen to this,' " said Paul Drees. "I guess it was easier for him to play the song than to have him explain it to us, because he knew what he was getting into."

In the weeks and months after his son's death, Paul Drees listened to the song often, finding solace in the words.

Expecting trouble

Drees shipped out from Fort Carson, home base of the Army's 4th Infantry Division, on May 26, 2009. It was his 19th birthday. His unit - Delta Co., 2nd Battalion, 12th Infantry Regiment - arrived in Afghanistan two days later.

Spc. Luke Spangler, an Ohio native, remembered Drees as someone in tune with himself, a good soldier who most likely would have been the next in his platoon to get promoted. Though a gun turret can be a scary, intense place, Drees managed to boost the morale of his platoon and keep things light. One of his Army buddies snapped a photo of Drees on base, wearing bunny ears and a large grin.

Reflecting a level of trust that's difficult to understand for anyone who has never been in combat, Spangler said Drees was the one man he wanted watching his back.

Spangler, 30, knew Drees had signed up to be an organ donor since he and the rest of their close-knit unit had talked about organ donations.

"Being an organ donor was way more personal for us as a platoon. Steven was very conscious about his decision to be an organ donor - that if he couldn't save his life he wanted to save someone else's life," Spangler said.

On June 24, Drees and his platoon were sent out on a route clearance mission after receiving word about an improvised explosive device nearby. Several armored vehicles pulled out of Forward Operating Base Asadabad traveling east and took some enemy fire on the way out. The soldiers were expecting trouble on the return trip that afternoon.

As the platoon's medic, Spangler always rode in the last truck in the convoy along with the platoon sergeant. Drees was their gunner. Before the mission, Drees' main weapon, an Mk 19 grenade launcher, was not working so he brought an M240 machine gun.

On the way back, the unit was ambushed, taking heavy fire from at least four positions.

With the other MRAP armored vehicles about 300 to 600 feet ahead on the roadway, Drees' vehicle drove off the road about 300 feet toward the heavy fire. Drees was firing his weapon full blast, shooting more than 500 rounds, Spangler said. Bullets struck the MRAP's radiator, gas tank and engine. Spangler had just handed up a fresh box of ammunition to Drees when the gunner was hit in the face.

"He tried to stay up; he was fighting when he went down. When I caught him he was localizing pain, trying to grab for his face. He was somewhat coherent but he had lost his right eye. I got the head wound bleeding to stop. I got him back to the aid station - that took about 15 minutes. We were able to hook him up to saline, get his airway open. . . . I was breathing for him on the bag for a while."

It took about 45 minutes for a medical helicopter to arrive at the aid station. The chopper took Drees to Bagram Airfield, where he received more treatment. Then he was flown to Landstuhl.

"Steven was probably one of my worst casualties up to that point, and I still had hope even when I left him on the bird. I worked like hell to get him out of there," Spangler said. "Even if there was a 5% chance he would make it, I was praying for that."

Though the military sends casualty notification officers to the homes of fallen service members, families of the wounded are notified by phone. Within hours of the ambush, Bayer received a phone call from someone at Fort Carson.

Information was sketchy at first, but she and her ex-husband, Paul Drees, were told death could be imminent. Long hours passed before they were told he was stabilized and on his way to Germany.

His twin sent out a Twitter message to their friends in Peshtigo. It said simply that Steven had been shot in the head in Afghanistan, and asked everyone to pray.

Lea Beier, who had known the Drees twins since third grade, was at home when she got the tweet.

"It was really short. We were like - what?" Beier said. She went on Facebook to learn more, and then organized a vigil that night at the baseball diamond on the outskirts of Peshtigo, the same field where Drees had played baseball. About 100 people showed up, including most of the 2008 graduation class.

"I thought there's no way he's going to die. He'll come back to us," Beier said.

A few nights later, she organized another vigil at the same spot. This time most of the community turned out. Beier bought all of the small candles at the local Dollar Tree store, and arranged them in Drees' initials on the baseball diamond. They read poems and shared words of support and comfort. By then, Beier recalled, they were praying for a miracle.

Family grants permission

Each family of the mortally wounded is offered a U.S. government-paid trip to Germany to say goodbye to their loved one at Landstuhl; not all accept, but many, like the Drees family, do. If the patient is a potential organ donor, the family is asked for permission.

Under the military's European Regional Medical Command guidelines, next of kin must OK the donor's wishes before organs can be taken in Germany even if, like Drees, a signed organ donor card already exists. If the family objects, organs are not removed. That differs from America, where most states - including Wisconsin - do not require consent from next of kin if the organ donor has made their wishes known.

Insel Angus, a registered nurse who is Landstuhl's liaison to the German organ procurement organization, could think of only one family that refused to donate a loved one's organs because they wouldn't be going to American recipients. All families are told that because of time limits, organs cannot be transported back to the United States.

As Drees' family flew to Germany, their minds were in different places. Paul Drees had come to grips with the fact that he was flying to Landstuhl to say goodbye. Dawn Bayer still held out hope.

At Landstuhl, doctors told them the grim prognosis. Drees was hooked up to machines, and a bandage covered the right side of his head. But otherwise, he looked like he should have been able to sit up and get out of his hospital bed. They were told he would never recover, that his brain was dead. They signed organ donation papers. His heart, liver and kidneys were viable.

Chuck Drees told doctors that his brother's heart was too big for anyone else to use and he wanted it to stay with his twin. The other organs could be donated.

The family's signatures set in motion a complex process starting with notification of Germany's organ procurement organization. Waiting lists were scrutinized through a computer database and hospitals notified. Before organs are removed, transplant recipients must be identified and transplant teams ready.

By the time this was done, Drees' body was starting to shut down and his kidneys were no longer viable. To Drees' family it seemed to take forever; at one point, they considered withdrawing their approval. But eventually a potential liver recipient was located.

Each family member went in alone to say goodbye. They were allowed as much time as they wished.

"I just held him and gave him a kiss and told him I love him," said Paul Drees.

Chaplain Joseph Sheldon, a Navy commander and Episcopalian minister, gives spiritual comfort to the families that come to Landstuhl to say farewell. Often a final prayer and short bedside ceremony is held in Landstuhl's intensive care unit with chaplains such as Sheldon holding the hands of family members to help them let go of someone so full of life and promise.

"We're thanking God for the life of the soldier or Marine, letting them know that everyone who loves them is with them, we don't want them to go but we're giving them permission to go and we're asking God to give new life to the person who will get the organs," said Sheldon.

Americans' outsized impact

The decisions by the American military families have a profound effect in Germany. In 2010, only six out of 205 hospitals in the DSO's central region, which includes the large cities of Frankfurt and Mainz, had more organ donors than Landstuhl, and four of those six were university hospitals with thousands of beds. Landstuhl has 150.

Further, few patients die at Landstuhl because the critically wounded are first sent to medical facilities in Afghanistan and Iraq. For those who make it to Landstuhl, the main funnel point for wounded traveling back to the U.S., the average stay is only 72 hours.

Of the 15,000-plus combat casualty patients admitted to Landstuhl over the last decade, 93 have died at the hospital through Dec. 31, 2010, a 0.62% mortality rate.

American troops who die at Landstuhl - where the average age of combat casualties is 27 - are ideal organ donors because they're young, fit and healthy. In contrast, almost one-third of Germans who donate organs are 65 or older. The best candidates are those, like Drees, who suffer a catastrophic head wound, which allows the body to continue to circulate blood and oxygen through organs, and those who lose limbs and suffer blood loss that ultimately result in death, but not enough blood loss to affect organs, said Lt. Col. Stewart McCarver, an Army surgeon at Landstuhl.

Teams of German doctors and technicians come to Landstuhl to remove the organs; American military doctors do not assist in the retrieval. A different team handles each organ; if several organs are being donated, dozens of medical personnel are involved.

Since livers typically last 10 to 12 hours after removal, it's likely Drees' organ went to a hospital within a five-hour travel radius, such as Hannover or Berlin, leaving enough time for the transplant operation, said Jens Von Schlichting, a deceased-donor coordinator for DSO.

In Germany, 12,000 people are on waiting lists and three to four die daily. The average wait in Germany for a heart or liver is six to 12 months; the wait for a kidney is six years. One in five people waiting for a liver in Germany dies before one becomes available.

Some like Susanne Lang, 46, have to leave Germany to live. Lang was born with cystic fibrosis and waited so long for a double lung transplant she was advised to leave her home near Frankfurt and go to Austria, where she got the organs that saved her life.

Others like Allan Sandlin are lucky. The Episcopalian priest was a church rector in Frankfurt when he became very sick from bile duct disease two years after moving to Germany from America. In 2002, a year after going on the list, the American received a liver from a 21-year-old who suffered a brain aneurysm in Austria.

Sandlin, now 58 and working at a church in Decatur, Ga., said his nationality played no factor in German doctors placing him on the list in Germany. And because he was living and working in Germany at the time he needed a liver, the entire expense - medications, hospitalization, rehabilitation, even mileage to drive to the rehab center - was paid by the German government.

If Drees' family could meet the man who received his liver, it might be someone like Hans-Peter Wohn - a 63-year-old retired house painter from Wiesbaden who received a liver in 1992 from a 46-year-old woman who died of a cerebral hemorrhage.

To honor her memory, Wohn has worked with an organ transplant group in Germany, consulting with organ recipients and speaking to schools and civic groups to break through the taboos of organ donation. His work is part of a broader national campaign. The DSO has tried billboards, TV and radio advertising, organ donation endorsements by famous German athletes, presentations to groups, promotional pamphlets, and heart-shaped pins with the slogan "For Life, For Organ Transplants" in German.

Wohn was unaware of the significant number of organs donated at Landstuhl by American military members.

"Most recipients don't know if it's German, American, Russian, black, white, young, old - the only thing they know is, does the organ work?" said Wohn as he sipped coffee in a restaurant in Wiesbaden. "It's not a matter of how Americans or Germans deal with organ donation, it's how humanity does."

'My heart hurts'

Days before Drees deployed, his girlfriend suspected she was pregnant but wasn't certain. By the time she knew for sure, Drees was in Afghanistan. She emailed him the news.

Drees told his Army buddies he was going to be a dad. He was excited about settling down with his family when he returned home.

Because Baker and Drees were not married - they had decided to wait and consider marriage when he returned from Afghanistan - she didn't get a call from the military when he was wounded. It was Steven's mother who called her with the initial news, and then called from Germany after he died.

About a month and a half after Steven's death, an ultrasound showed the baby was a boy.

Spangler contacted Drees' family when he returned to Fort Carson, and they asked him to look in on Baker, who also lived in Colorado. When it came time for her baby's birth in February 2010, Baker knew she wanted a man close to Drees to be with her. Drees' brother Chuck couldn't make it out to Colorado, so she asked Spangler to be there.

He stayed by her side throughout labor, holding Baker's hand, coaching her through the pain. When her son was born, it was Spangler who cut the umbilical cord.

"He was the one person who saved Steven long enough to get him to Germany so his family could say goodbye," said Baker. "It was amazing not only for me and for Steven's family but for Luke to cut little Steven into the world."

For Spangler, who would lose his squad leader in an IED blast a few weeks after Drees was killed, as well as several more soldiers from his battalion, watching the birth of his buddy's baby was almost too much to bear.

"It was a real emotional time. I was still dealing with the trauma of Steven's death and seeing his child that looked so much like him and standing there with the smells of blood and childbirth, it was almost surreal," said Spangler.

"I was honored, of course. The little guy squirted me right in the face - they said that was Steven all the way."
Baker has since become very close to Drees' family and recently moved from Colorado to Peshtigo to be near them.
She's also near the cemetery where Drees rests next to his grandfather.

"He would have been the most amazing father in the world," Baker said. "My heart hurts every day when I think about little Steven not getting a chance to ever know his dad."