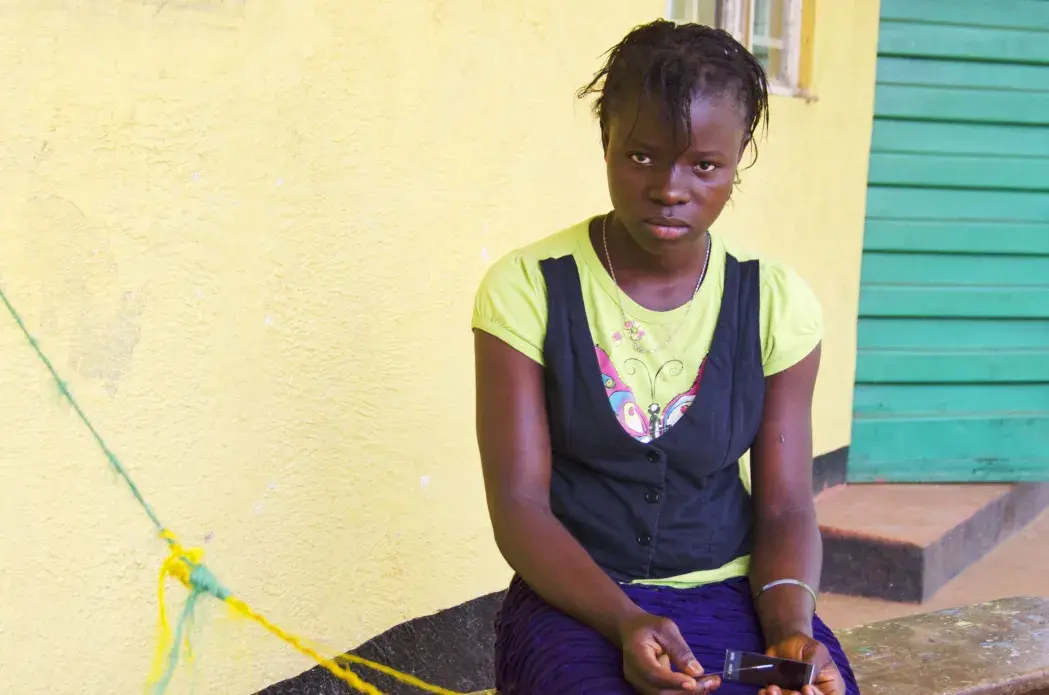 Ebola survivor Haja Umu Jalloh outside the room where she lives with orphans who have recently arrived at St. George. Image by Amy Maxmen. Sierra Leone, 2014.


Haja Umu Jalloh has not left the room and cordoned-off porch for three weeks. She eats bowls of rice and sauce, slid underneath a nylon rope she cannot cross. She has lost her family — her parents, her aunt and uncle, her 1-year-old son. But the 17-year-old says defiantly, "I feel happy because I am protecting others."

Jalloh defends some 40 orphans at the St. George Foundation Interim Care Center from a terrifyingly invisible enemy, Ebola, which continues to ravage her country. Because of uncertainty about who, among a flood of children orphaned by Ebola, might carry the disease, she has been hired to stand guard just in case. She cares for every new arrival in the roped-off room. As an Ebola survivor, she is considered immune to the disease.

This week she shares the room with four other girls. Three of them arrived at St. George after losing their primary caretakers to Ebola. The fourth was discovered alone in the woods outside Freetown, Sierra Leone's capital. In the past few months, several children entered the orphanage feeling fine, but they became feverish within a week. Ideally, their status would be assured before their arrival — but the management at St. George is no longer taking chances.

Jalloh grew up in a rural village in the eastern district of Kono, where her mother and extended family lived until September. (Her father died a few years earlier.) But that month her aunt became sick and died two days later. Jalloh's uncle died soon after. When her cousins began vomiting, the family started to suspect Ebola — a deadly disease they had heard of but had yet to witness. Afraid of disappearing into a hospital, her cousins fled the village. But a search team from the government's ministry of health discovered the boys: One was dead inside an abandoned farmhouse; the other, suffering in the woods, died in an ambulance.

Then Jalloh awoke with a fever, and an ambulance rushed her and her baby to a hospital three hours away in Freetown. A day later, she was diagnosed with Ebola and taken to one of the best Ebola treatment wards in the country, Hastings Treatment Center. At the entrance, wardens instructed her to drop her cellphone — the only record of contact information for her family and friends — into a pail of bleach. She was then told that her mother had succumbed to Ebola. Jalloh's baby, still by her side, shook uncontrollably, then died.

By this point, however, she could not concentrate on mourning. One of the world's deadliest diseases had reached her organs, and the pain was immense. Ailing Ebola patients were carted into and out of the ward where she lay on a cot for days. "We didn't talk," she says. "We just cried and cried."

Then one morning, Jalloh was able to stand. She walked to the bathroom. Soon after, nurses moved her to a new ward for Ebola patients on the road to recovery. "They played music and made us dance," she recalls. "Sometimes, while the music was playing, I'd not be happy. I'd worry that everyone in my village was dead."

On Oct. 20, a social worker from St. George picked her up from Hastings. It's St. George's goal to place orphans with family members within a few months, but the facility's workers are still trying to locate Jalloh's surviving relatives from Kono.

Around the time she checked in, an incident at St. George shook the orphanage's director, Justina Conteh, to the bone. A 9-year-old had been released to her care from a nearby clinic, the Jui Holding Center, after the child's mother died of Ebola. Doctors issued the girl a certificate declaring her Ebola-free. Yet within days of the child's arrival, Conteh noticed that she ran a fever. The girl was rushed to Hastings hospital, where she was diagnosed with the disease.

Conteh, a social worker, co-founded this interim care center a decade ago. She has cared for children who lost their parents in Sierra Leone's decade-long civil war, who were abandoned on the street and who were severely abused. Now she's handling an influx of kids orphaned by Ebola. But this — the possibility that a single child might wipe out her entire center — worries her more than any previous challenge. Since Ebola spreads through bodily fluids, the central message from the government is to avoid touching. Yet no matter what, Conteh says, young children cannot be prevented from playing with one another and from hugging the aides who care for them. "They're children," she says. "We all touch each other. We have to."

It's impossible to know exactly why the 9-year-old's initial Ebola test was wrong. Robert Garry, a virologist at Tulane University, speculates that tests could erroneously come back negative if they're conducted at the earliest stage of infection. Initially, the levels of the virus are so low that molecular tests might miss it. To prevent these mistakes, he says, no one should get a certificate, regardless of what tests might say, before 21 days have passed since the individual's last contact with an Ebola patient.

Yet as Ebola continues to spread in Sierra Leone, with 7,419 cases as of Dec. 30, Conteh does not want to tempt fate. She has decided to quarantine every new child entering the orphanage — regardless of medical histories, assurances or certificates.

But she needed someone to tend to the newly orphaned quarantined kids. She asked Jalloh if she might be interested in the job of collecting and caring for new arrivals. Experience in this and prior outbreaks suggests that Ebola survivors are immune to the disease, at least temporarily. During her weeks of suffering, Jalloh's body accumulated antibodies to block the virus' activity. Those antibodies continue to circulate in her blood, where they immediately shut down new Ebola virus infections.

Inspired by the nurses who treated her at Hastings, Jalloh leaped at the opportunity. On one of her first missions, she accompanied St. George staffers to pick up a baby girl found in the bush by the police. The child was too young to speak, so they decided to call her Naomi. Within a few days, however, the baby became feverish. She was taken to the hospital, was declared Ebola-positive and died.

Then it happened again. This time, a baby sent to St. George had lost both parents to Ebola but showed no symptoms. Jalloh cared for the orphan in St. George's quarantine room, monitoring his temperature daily. In a photograph tacked to the orphanage wall, Jalloh holds the infant on her lap as if it were her own. When a fever struck, the baby was also sent to the hospital, was declared Ebola-positive and died.

"It's happened three times now," says Alimamy Turay, a social worker at the orphanage. "Haja has been such a great help because she can handle these cases."

Although Jalloh and the management at St. George have thus far prevented Ebola from spreading at the facility, the threat remains. According to Else Kirk, the country director at the Irish aid organization GOAL, potentially infected kids present a heightened danger. "Children are at high risk to spread EVD [Ebola virus disease] due to the fact that they do not display symptoms as clearly as adults and can deteriorate rapidly, quickly becoming infectious to others," she writes in an email.

In response, Sierra Leone's government, with support from GOAL, UNICEF and others, has begun to construct observation interim care centers (OICCs), where children suspected of Ebola can be quarantined for 21 days before they move on to places like St. George. At least six OICCs have been constructed in the country thus far. But there is more to do: As of Dec. 31, at least 7,938 Sierra Leonean children have lost one or both parents to Ebola, according to UNICEF, and the number grows every day.

According to the plan, children in OICCs will be divided into cohorts by age and tended to by trained nurses wearing personal protective equipment. Although Ebola survivors seem immune, Kirk says they should still don gloves and rubber boots to minimize risk, however unlikely it may seem.

While St. George, a modest compound of six yellow buildings, lacks the around-the-clock specialized care of these planned care centers, it is not short on spirit. The children play happily in the green forest surrounding their quarters. Jalloh and the social workers who run St. George take pride in their service. "We are all one," she says. "My wish is that every child that comes here remains only a suspected case and not a real case."

After the Ebola outbreak ends and schools reopen, she intends to become a nurse.

For footage of Ebola orphans performing a dance they learned from nurses at the St. George Foundation Interim Care Center, view this story at Al Jazeera America.
RELATED ISSUES