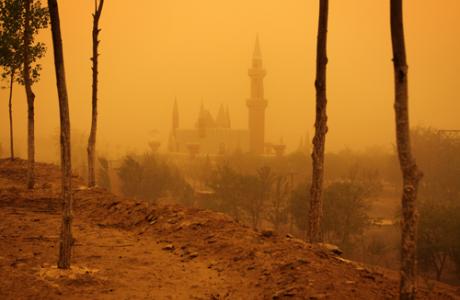 View the slideshow as it appears in The New York Times.

Sean Gallagher tasted sand as he focused his camera lens on a masked man who had emerged suddenly from the bright orange cloud that enveloped both of them. Unable to see more than a few yards in front of himself, Mr. Gallagher pressed the shutter and the man disappeared into the sandstorm, as if he had been an apparition.

Mr. Gallagher traveled to the Ningxia Hui Autonomous Region in northern China to document the rapid advance of its deserts. The sandstorm offered a visual feast for a young photographer. For the residents, however, it was an all-too-common occurrence. Sandstorms have forced the relocation of 200,000 people to Hongsibao, a new city built from scratch by the government. "China spent vast amounts of money on this environmental refugee town that I photographed, on a massive relocation project and on trying to reclaim the land," Mr. Gallagher said. "The problem is that — because of the size of China — the issue is so vast. Even for an organization like the Chinese Communist Party, it's a big project."

The rapid growth of Chinese deserts has been fueled in part by the growing population of rural areas, rapid economic growth, unsustainable use of scarce resources and climate change. The government's effort to rein in the deserts has included tree planting on a vast scale ("Billions of Trees Planted, and Nary a Dent in the Desert").

Mr. Gallagher has a degree in zoology from Newcastle University in England. While bartending to pay off debt, he decided to change careers. Though he'd only dabbled in photography in college, he started looking for work, found Magnum Photos through a Google search and called the agency's London office to ask if they needed an intern. They did; an intern they'd hired had just cancelled. Mr. Gallagher had a job the next week. After a year, he received a travel grant from Magnum that he used to go to China. He learned Mandarin and relocated to Beijing. He received a $10,000 Emerging Photographer Grant to help him pursue his desert story. Financing from the Pulitzer Center on Crisis Reporting allowed him to complete "China's Growing Sands."

In the course of photographing the project, Mr. Gallagher lived with formerly nomadic farmers on the Inner Mongolian grasslands. He visited a surreal amusement park where Chinese tourists rode camels and slid down 100-foot dunes on toboggans. He traveled down the Yangtze, bicycled for a week across deserts and journeyed about 2,500 miles through the northern provinces and regions of Inner Mongolia, Ningxia, Gansu and Xinjiang on the "desertification train," which he wrote about:

"The route I have followed, although made up of a number of trains, has been dubbed China's 'desertification train', as it snakes through some of the hardest-hit land, suffering as a result of this increasingly severe phenomenon.

A dry, cracked pavement of sun-baked soil follows the train tracks. A lone farmer rides his tractor in an impoverished village. A tree is bent in the oncoming wind of a dust storm. The remnants of the Great Wall of China disappear into the Gansu plains. These are but a few of the momentary glimpses of life witnessed rushing past my window, each another piece in the mosaic of images that I have made, in an effort to convey the current situation here in China.

The task facing China to control its growing sands is of near incomprehensible proportions. It is estimated that 20 percent of China's land area, some 1.74 million square kilometers [671,817 square miles; about four times the size of California], is now classified as desert. Affecting the lives of an estimated 400 million people, it is the most important environmental issue in China today. Desertification has no borders, however, and the fight is not only China's."
RELATED ISSUES