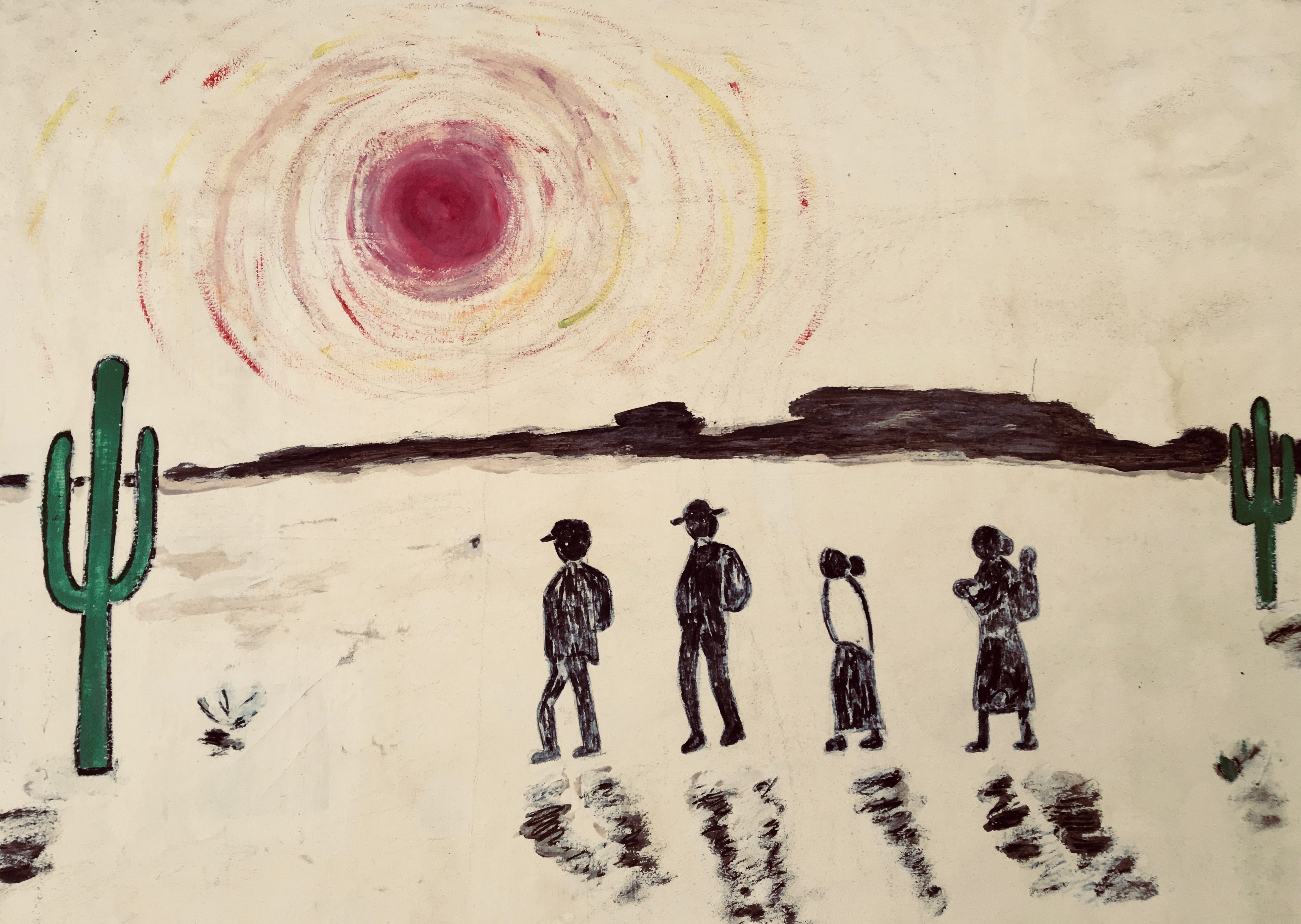 July 5
El Paso, United States
I spent the morning at Casa Vides, a partner shelter of Annunciation House run by Sister Beatrice Donnellan. She showed me around Casa Vides and introduced me to several middle-aged and elderly Mexican women who are staying at the shelter during what Donnellan calls their "castigo month," or punishment month. Widows of men who worked in the U.S. and died, they are entitled to their husbands' Social Security payments; in order to claim their checks, however, they must either travel to the U.S. to sign paperwork once a month every month, or stay in the U.S. for one month every six months. Two of the women I met said they hadn't received their travel visas in time to make their last monthly check-in date, so they arrived late and must remain in the U.S. for a full month to claim their benefits.
Around 1:30 P.M., a Border Patrol van pulled up outside Casa Vides. Agents stepped out, followed by six migrants—all pregnant women in their early twenties. (Casa Vides is smaller and less hectic than Annunciation House, so most pregnant refugees are sent there.) Inside, the shelter's doorbell rang, and Donnellan hurried to welcome the women as they filed inside. Over the next few hours, Donnellan and several volunteers offered the refugees food, clothes, and beds. Sister Caroline Sweeney, who speaks Spanish fluently, called the women's U.S. contacts to explain how to make travel arrangements. Most of the women would leave the next day, bound for, among other places, Pennsylvania, Virginia, and Kentucky, where they would join a family member or a friend.
Later in the afternoon, after leaving Casa Vides, I met up with a Mexican nun named Maria Antonia Aranda, a Sister of the Immaculate Heart of Mary. A Juárez native, she was in El Paso for the day, visiting with family members who had recently bought new houses in the U.S. I accompanied Aranda and Sister Maureen Kelly, who live together in Juárez, as they blessed the houses of two of Aranda's brothers. Kelly read a prayer in each room of each house as Aranda shook water from a bottle onto the walls and furniture. Between stops, we munched on potato chips and sipped pineapple juice. "Be good friends," Aranda told her family, at the close of one of the blessings. "And share with those in need." The day ended with a pizza party for a couple dozen relatives and friends.
---
July 6
Ciudad Juárez, Mexico
Today, I visited Aranda in Juárez. The previous day, I'd met a graduate student conducting research for her dissertation in El Paso, and we agreed to travel to Juárez together. Aranda drove us to a shelter in the city, run by a local parish. Since January, Aranda has worked with the parish priest to coordinate legal aid for migrants waiting in Mexico. She also provides spiritual and psychological aid: at least once a week, she runs talk therapy sessions in the church's large classroom. She writes words representing emotions on the board and leads a discussion about them. Afterward, she offers a different kind of therapy: a type of alternative healing, similar to Reiki, that is supposed to help ease a person's pain—psychological and physical—through transfers of energy.
I spent the morning talking with four migrants. One young woman had fled political unrest in Nicaragua, and had been separated from her five-year-old daughter in Mexico. Another young woman, a lesbian, had fled Honduras after facing discrimination and violence because of her sexual orientation. A Cuban couple had traveled by bus, taxi, and foot from Brazil to Mexico, a journey that they said included a five-day trek through the Panamanian jungle.
Later that day, Aranda drove us to a neighborhood on the outskirts of Juárez, where we met the family of one of the sisters' associates—a layperson affiliated with Aranda's religious order. We chatted with them inside their small stucco house. They'd just built an aboveground pool outside, about five yards in diameter and painted in pastels. We peered into the bone-dry basin—a powerful symbol of the dehydrated region's lack of access to water. The family described how a well-known Mexican billionaire has profited by pumping water to other parts of the city, to people who can pay, while they have struggled to recycle enough water to survive. When migrants pass through their neighborhood, begging for food or searching for a place to sleep, they offer what little they can, but here, even the permanent residents are parched.
Several of their relatives have been disappeared in Mexico, and Aranda's associate is part of a local group of activists working to raise awareness about disappearances in the country. She showed us photos of her nephew, just a teenager when he was disappeared, and her brother, who told her he thought he was being followed just days before he was taken.
Aranda drove me back to the border that evening. As we said goodbye, I remembered the family reunion I'd attended the previous day. Aranda said it took one of her brothers two decades to gain permanent resident status in the U.S. The wait—for the people staying in the parish and the thousands of other migrants staying in Mexico—promises to be a long one.
RELATED ISSUES

Women

Religion

Issue
Migration and Refugees
Migration and Refugees