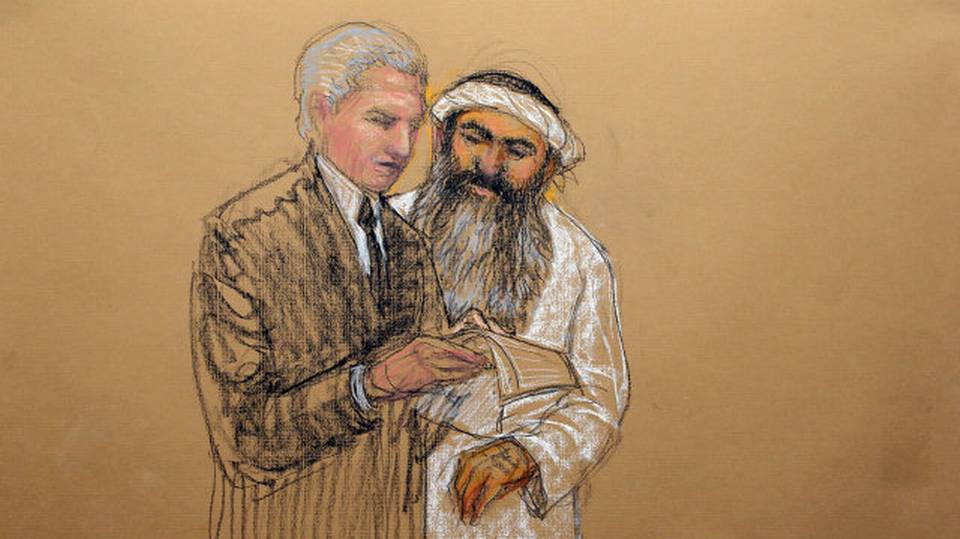 GUANTANAMO BAY NAVY BASE, Cuba—The attorney for Khalid Sheik Mohammed, the alleged architect of the 9/11 plot, on Monday threatened to refuse to participate in this week's pretrial hearing, saying he was disturbed by the FBI questioning a former 9/11 defense team paralegal at an Army base in Texas.
Defense attorney David Nevin said the questioning by federal agents raised a new challenge to attorney-client confidentiality in the terrorism trial.
Defense lawyers have repeatedly claimed that intelligence agencies were interfering in their independent relationships with their clients. They've found listening devices that looked like smoke detectors in their meeting rooms, which the original case judge had removed; a remote court audio kill switch, which the judge ordered unplugged; and the FBI recruiting defense team informants, which the judge ordered investigated.
The new judge in the case, Marine Col. Keith Parrella, sought to reassure defense lawyers that none of them were under federal investigation. But the paralegal said in court documents that intelligence agents pointedly asked about defense team dynamics in three days of questioning at Fort Hood, Texas last month.
"The agents wanted to know all sorts of information about the work of the defense team, the personalities of the team members, the communications," the paralegal, Army Staff Sgt. Brent Skeete, wrote in a sworn affidavit filed in federal court. They sought "my opinions of everyone, and lots of other privileged information."
It is not clear why the FBI is interested in Skeete.
"We have no comment in keeping with our usual practice of neither confirming nor denying specific investigations," FBI spokeswoman Carol Cratty said.
At the time, Skeete worked for lawyers defending Walid bin Attash, who with Mohammed and three other former CIA captives are accused of training, organizing, or helping with travel arrangements and funding the 19 hijackers who crashed passenger airlines into New York's World Trade Center, a Pennsylvania field and at the Pentagon on September 11, 2001, killing 2,976 people. The five could be executed if they are convicted.
The accused 9/11 conspirators were interrogated and held for three and four years in secret CIA prisons before President George W. Bush sent them to Guantánamo in 2006, giving the CIA and FBI key classification roles in their cases.
Nevin said this episode appeared to be the latest in rolling intelligence agency investigations of himself and his team since 2009 that have never yielded charges against him but appeared to be part of an unending "effort to intimidate the defense teams. I'd be a little bit off my rocker to think otherwise."
Skeete, who converted to Islam while in the Army, was in Texas visiting family, and preparing for a new Army paralegal assignment in South Korea when he was called in for questioning—first by military intelligence, and then by FBI agents.
Last week in Washington, Parrella met with special Justice Department 9/11 case lawyers to hear about the Skeete interview and ruled that current, active 9/11 defense team members are not under federal investigation, and should proceed at this week's hearing.
Defense lawyers, who have top secret clearances, bristled at the judge's decision to exclude them from that meeting and rule without hearing from them.
Mohammed's attorneys are separately asking a federal court to remove Parrella from the case because he has worked at the National Security Division of the Department of Justice, which has furnished prosecutors to this 9/11 case.
Monday, Nevin said that without more information about the FBI's national security investigation of the sergeant, which he said began in November, he and the other lawyers defending Mohammed have a duty not to participate in court litigation. Bin Attash defense attorney Cheryl Bormann has also said, in court filings, that she's laboring under a conflict and cannot litigate anything else in the case until she knows more about the Skeete investigation.
Parrella last week ordered Justice Department lawyers to provide defense attorneys with written declarations that say they are not under investigation. A Justice Department lawyer, Jocelyn Ballantine, said the documents might be ready February 1.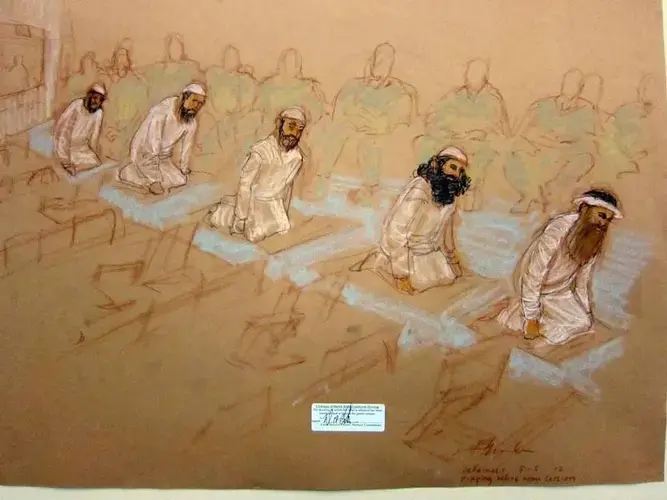 RELATED ISSUES