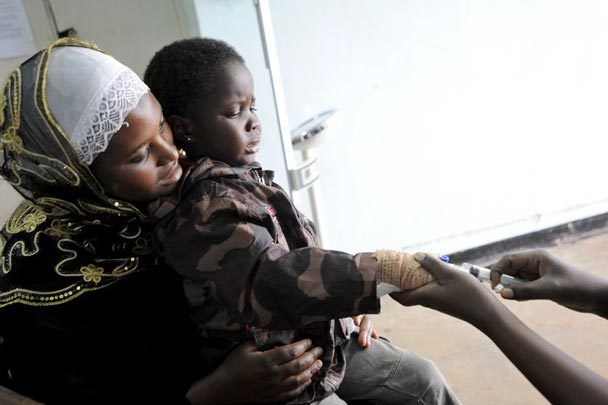 Visit the simple stucco-walled, tin-roofed outpatient department at the Uganda Cancer Institute in Kampala, and through the unscreened windows you hear the sound of women sweeping the sidewalks with homemade brooms made of branches and twigs.

Stand in the gleaming, state-of-the-art molecular virology laboratory at the Fred Hutchinson Cancer Research Center in South Lake Union, and you'll hear the quiet whir of centrifuges and the hum of DNA analyzers.

Yet in 2008, the two institutes formally agreed to collaborate on clinical care and research projects, and more recently a major building project at Uganda's only cancer-research center.

It was a bold move. Africa is littered with failed attempts to help out. Money disappears, equipment fails and there's no one to repair it, locals shun the outsiders.

"The Hutch" set out to change the equation, motivated by humanitarian desire and a second, less common spur — research.

"If you are studying something, you would usually go to the place where the disease is," says Larry Corey, president and director of The Hutch.

Uganda has two particular types of cancer that are on the wane in the U.S. — Kaposi's sarcoma, which hits people with untreated HIV infections, and Burkitt's lymphoma, the first cancer to be associated with a virus.

And cancer is a global disease. Nearly two-thirds of cancer deaths occur in developing countries. Perhaps most surprisingly, more people in low- and middle-income countries die from cancer than from the much more publicized diseases of HIV, tuberculosis and malaria combined.

If the collaboration succeeds in the long run, it will do so on the bones of the many failed medical projects in sub-Saharan Africa.

New approaches

Two donated "mammovans" parked in front of the Uganda Cancer Institute (UCI) show the problem.

"The vans are too large to actually go on the streets of Uganda and they have no film and there's no one who's trained to read mammograms," says Corey Casper, director of the UCI/Fred Hutchinson Research Center Cancer Alliance.

But what the UCI and The Hutch have done with the vans is pretty creative.

In a country that had only one oncologist as recently as 2008, The Hutch has trained about a dozen Ugandan doctors to be cancer specialists.

Some of them go out in the vans, sticking to the main streets as they educate people about cancer's warning signs and the need for early treatment. That's no small task. Many of the tribal languages in Uganda don't even have a word for cancer.

The challenge of treating cancer in a low-resource environment was evident recently in the pediatric ward of the Uganda Cancer Institute. About two dozen cots were filled with children, each accompanied by a parent. Many of the children had grotesque swellings distorting their heads and necks — a sign in these parts of Burkitt's lymphoma.

At medication time, nurses came through giving shots and adjusting intravenous lines. Some of the children were sleeping, some were smiling, others looked sad and scared.

Halfway down the aisle, a woman sat on a bed with her 11-year-old son, who had a cancer she called "the swellings." The cancer left him too weak to walk.

Before coming to UCI, his mother carried him to several local hospitals near her village, where he had been diagnosed with malaria, and then measles.

Transportation troubles

The trip to UCI was onerous. She left her village at 4 p.m. on a minibus, transferring to another minibus, then on to a bigger bus and finally, with her son in her arms, to the back of a motorcycle, arriving in Kampala at 2 a.m. Her son was treated with chemotherapy.

"When they gave him the first dosage," she said through a translator, "he got healed of the swellings and he got back his color."

But she wasn't certain she'd be able to bring him back every two weeks for the four or five cycles that are needed for the chemo to work. Her son's father has abandoned her, and the only way she can raise money for transportation is if someone needs help tilling a field.

"That is how I will get the money. If I don't get it, I won't come," she said.

But not returning, or coming back late, is a real problem. "By the time they return, you have missed the boat," says Abrahams Omoding, one of the Ugandan physicians who came to The Hutch for training, and is now back at UCI. "The tumor has regrown or it has spread to other parts of the body, so this ultimately leads to very poor survival outcomes. You come late, you die soon."

About 90 percent of patients don't come in until they're in a late stage of cancer. Casper, who's based at The Hutch but spends several months each year in Uganda, asked several patients why. "Some said, 'I couldn't afford transport,' some said, 'I didn't know what this is; I hoped it would go away.' "

And some just figured if it was cancer, it was untreatable — a reasonable assumption when most people come in so late that they die anyway.

So Casper, along with Erica Sessle, managing director of the collaboration, and Omoding, of the UCI, launched a study in July.

"It's not the typical research study," says Casper. "The question is if we can take what we already know about care for cancer and optimize it."

The idea is to deal with transportation, diagnosis and therapy, with funding from the Seattle-based Burkitt's Lymphoma Fund for Africa. Tissue samples are carefully analyzed, and the children are getting nutritional support and pain control. Their parents are getting cellphone minutes so they can receive reminders before visits. There's enough chemotherapy on hand, and a transport team will make sure parents and children can get back and forth.

In the U.S., the survival rate for Burkitt's lymphoma is higher than 90 percent. At UCI, it's been around 30 percent. The study will show whether optimizing therapy can improve things.

High-tech research

Another big part of the collaboration is high-tech medical research. Doctors at UCI collect data and tissue samples from people with different types of cancer. Some is analyzed in Uganda, and some comes up to South Lake Union.

The studies are focusing on a hot area of research — how infections cause cancer. Worldwide, about 20 percent of cancer cases arise from infection. Think liver cancer, which is caused by the hepatitis B virus. Cervical cancer is caused by HPV. The bacterium H. pylori causes stomach cancer.

The goal, says Corey, of The Hutch, is to figure out how infections cause cancer and do something practical with that information.

"If you know an infection is the cause of cancer, if you attack the infection you can actually prevent the cancer," he says.

And infections can be attacked with vaccines. Already, the vaccine against hepatitis B has dropped liver-cancer rates in China. The UCI and The Hutch are homing in on the virus that causes Kaposi's sarcoma — together they've figured out its gene structure and the proteins it produces.

The Hutch has been careful to avoid the downfall of previous efforts that excluded local medical personnel.

"All of our studies are a partnership and all have a local Ugandan investigator who leads the project with our U.S. investigator," Casper says. "They're the ones who are really the arbiters of saying, 'Yeah, the potential findings from this study are actually of local relevance and are of importance.' "

In Kampala, the Seattleites are more than welcome. The head of the Uganda Cancer Institute, Jackson Orem, says that Hutch researchers who come to Uganda get a sense of what sort of diagnostics and treatments are possible.

Because of the partnership, the results are likely to be helpful to his patients. "Anything which is discovered, we are going to be stakeholders," he says.

Orem's happy about something else as well. From 2004 to 2008, he was the only trained oncologist in Uganda.

"It was very demanding," he says. "I was doing everything," seeing 10,000 patients a year. Now he's got those Ugandan physicians trained by The Hutch to help.

The stakes for the collaboration are high. Hutch head Corey says it has the potential to demonstrate "that you can do first-rate research that can alter the impact of cancer care in the developing world, and that the craft of oncology can be practiced as well in Africa as it is in the developed world, just like it is with HIV."

Doctors, nurses and other medical personnel have been trained, and they're now training others. Researchers from both institutions have collaborated on dozens of scientific papers.

The Hutch is spending $900,000 toward construction of a three-story, 5,600-square-foot clinic and training institute for research and outpatient treatment.

Prompted by the rejuvenation of the cancer institute, the Ugandan government is building a 200-bed hospital nearby — the first cancer hospital in the country.

When the project first got going, Casper was told by the dean of the public-health school in Uganda, " 'You know, all of us, physicians, villagers, everyone used to think that the only reason you would send someone to the cancer institute is for them to die.' "

That's not so anymore, says Casper.