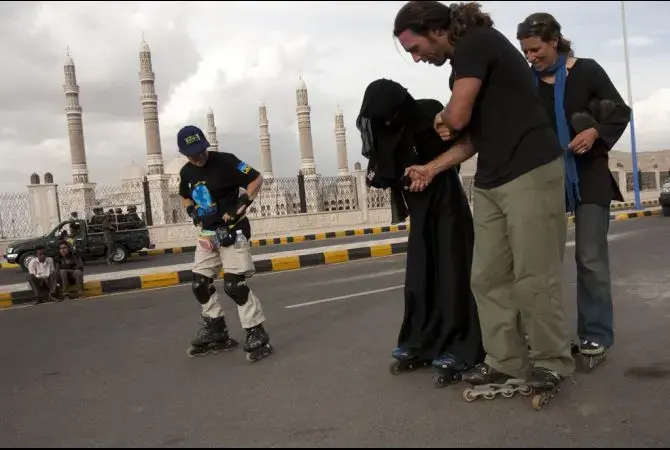 Members of the French group "Planet Roller" teach a young woman to rollerblade. In Yemen's conservative culture, even small cultural exchanges can be acts of diplomacy. Yemen, 2010.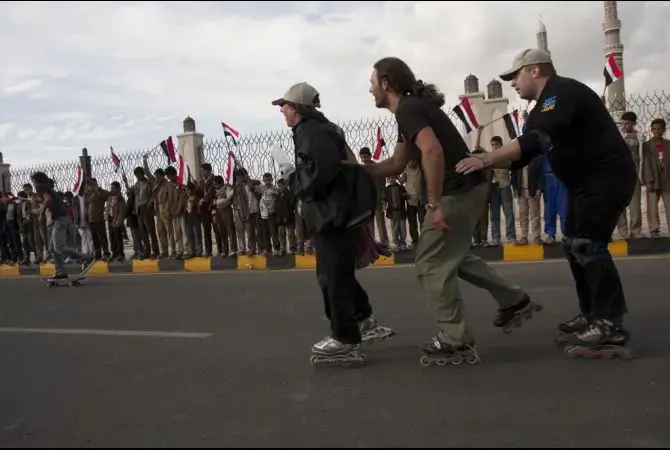 The group demonstrates their moves to a crowd of schoolchildren at an event held in partnership with the Yemen Special Olympics. Yemen, 2010.


Perhaps it was the spandex shorts.

When a group of about 200 young people gathered to watch two-dozen or so foreigners rollerblading their way down the road, joint pads and shiny black helmets glinting in the afternoon sun — and yes, an occasional glimpse of spandex — the looks on Yemeni faces ranged from delighted to quizzical to astonished.

Of course, given the group — students and the disabled — had been bussed into the capital for the occasion, there was much cheering and waving of Yemeni flags, too.

"This is exactly the goal. We want to show people things they have never seen before!" said Claire Leonard, the effusive president of Planet Roller — the eccentric Paris-based organization responsible for bringing the rollerbladers to Yemen recently.

The quirky band of enthusiasts, among them teenagers and sexagenarians, spent a little more than a week in Yemen, teaching local kids how to rollerblade, handing out extra pairs of skates and exploring a new culture. Their visit continued a trend toward youth-focused activities — encouraged by the Yemeni authorities — promoting tolerance as a "soft," yet vital, form of international aid...

Continue reading the full story and see Paul Stephen's photos at Global Post.
RELATED ISSUES

Governance

Issue
Conflict and Peace Building
Conflict and Peace Building