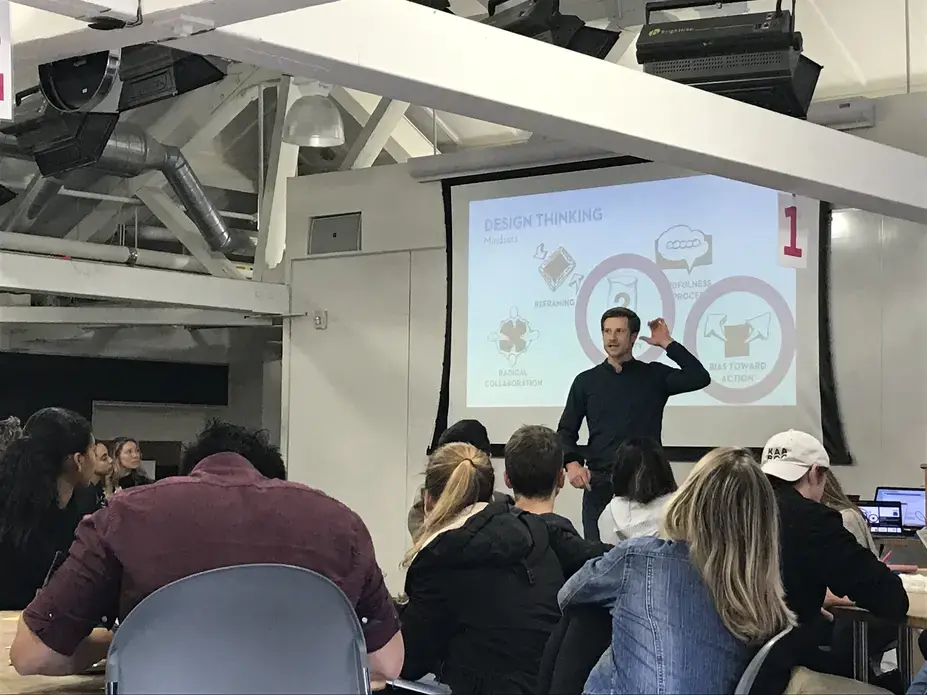 Lecturer Armstrong explaining design thinking to students. Image by Taro Shirakawa. United States, 2019.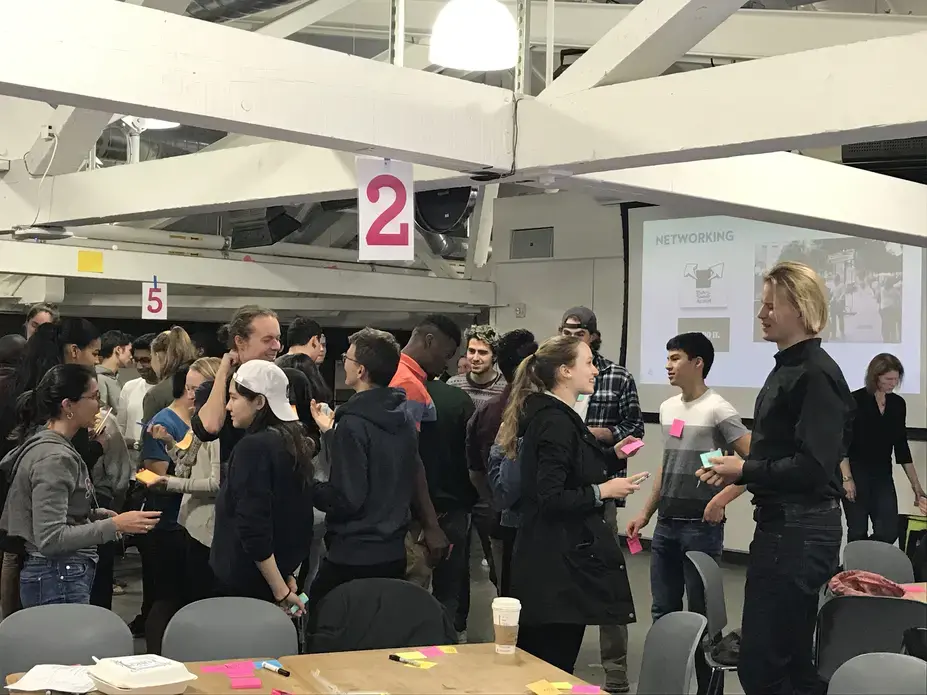 Students engaging in networking practices with other students. Image by Taro Shirakawa. United States, 2019.


It was January 18, 2019. I was supposed to be back at William & Mary, a middle-sized liberal arts college on the east coast of the United States, where the heavy winter storm was about to hit. But I was actually observing the Designing Your Life (DYL) class, Stanford pioneering personal development education curriculum, sitting on a chair located at the back of a spacious classroom with a high ceiling and many small windows that let in the warm California sunshine.
It was the second lesson of the DYL class that day. About 50 students found their seats around five tables arranged in a semicircle for their discussion group, looking a little nervous waiting for the professor's instructions. Professor Kathy Davies, lecturer and managing director of the DYL program at Stanford University, came to the center of the classroom.
"Let's read your workview from your homework with the person next to you," she said.
A workview is a personal view about what work means and what good work deserves to be. In other words, nobody wrote a complicated programming code for this homework. Instead, students wrote a short 250-word essay about what work means to them.
This is a typical exercise for the DYL class which is intended to help students think about their lives and careers by applying design thinking techniques. At Stanford, where its campus is surrounded by Silicon Valley, computer science is a well-known popular subject, but the DYL class is a highly popular elective because students need such a personal development education. Stanford is one of the pioneers to incorporate this sort of personal development education in its higher education curriculum, offering the first Designing Your Life course in 2010.
Since then, the demand for personal development education in universities has skyrocketed. Two years ago Stanford started to train other universities in the DYL program both domestically and internationally, including colleges in Switzerland, England, Australia and South Africa. Bill Burnett, a co-founder of the DYL program at Stanford University, says that Sanford trained first 14 schools in summer 2017 and 42 more schools in summer 2018. There are also another 25 or 30 schools that are using the DYL textbooks and teach the DYL classes in their own ways. Professors who teach the DYL course in Trinity College and California State University say that their DYL classes always fill up quickly.
Gabrielle Santa-Donato, lecturer of the DYL class and the Life Design Studio lead at Stanford University, has short curly hair and vivid eyes behind her glasses. She is a learning experience designer, and her energy for education overflows from her vivid eyes and warm attitudes toward students.
"All designers design better when they face real needs, and there are real needs [for personal development education in higher education]," she says.
Santa-Donato says that students can design their lives in universities without the constraints that they might have in the working environment. Also, as transitions of changing a career and a lifestyle are coming more often in the future, students need skills and tools to navigate through those transitions by learning design thinking.
Santa-Donato herself used to be an undergraduate student who did not know what she wanted to do after college.
"I failed many times in college and a career center did not help me at all," she says.  
From her own experience, Santa-Donato realized that there were personal development education needs in higher education. When she was an undergrad, she felt that she was not fitting well into the system of lecture classes. She only felt comfortable in a small learning community with mentorship, so she became more interested in how learning environments affect students' performance. After she experienced different sectors of education, she met a mentor who suggested she get a Master of Education from Harvard.
While studying at Harvard, she found out how creativity can solve problems in the real world by applying design thinking to people's lives. Since she joined the DYL program, she realized that there were students like her struggling with their life choices after college. So, she became the Life Design Studio Lead to expand the DYL program to other universities. As of now, she has received inquiries from 560 people and 40 different schools about the DYL program.
According to Burnett, personal development curriculum like the DYL program is getting more popular among students in universities because they want to know how to apply their knowledge to their careers and lives. In universities, students gain knowledge around certain specialties, but professors often do not tell them what the knowledge is for. So, students feel lost in the post-college lives. They are left in the big gap between higher education and the post-college world. Personal development curriculum like the DYL program helps students to apply learning in college to the real world.
"Designing Your Life class is designed to fill the gap," Burnett says, "It takes what you've learned and puts it in a context and a perspective to allow you define the meaning in it."
One of the fundamental methods in the DYL program filling the gap is removing "dysfunctional beliefs" that students have and replacing them with reframed questions. "Dysfunctional beliefs" are the myths that prevent so many people from designing the life they want. In the DYL class at Stanford in January, Lecturer John Armstrong raised a question during a class.
"Raise your hand if you like the question of 'What will you do with your degrees after graduation?'," he said.
None of the students raised their hands. He then explained to students that they were uncomfortable with this question because they had been told myths that majors and jobs were tightly related. On the contrary, he told students that almost all jobs were loosely related to college majors.
Kady Richardson, a former student of the DYL class and a current master student in Sociology at Stanford University, was one of the students who had been told such a myth about majors and jobs before taking the DYL course. She says,
"I am always by nature a kind of a planner. So I found the question of what I was going to do the next [part] of my life is really stressful because for the first time I didn't feel like I had a goal. I didn't know what kind of jobs I am looking for."
Then, there was an opportunity for her to take the DYL course. The DYL course gave her a constructive, positive tool for how to objectively see the next steps. She was not stressed out about her future anymore but was calm and became more intentional about why she wanted to master in sociology.
"The Designing Your Life program is telling the students that at the end of the day we all have marketable skills and we all can find meaningful work to contribute to," Richardson says.
Dr. Heather Butler from California State University has also conducted research on the influence of her DYL class on students. She compared some personal characteristics of students who have taken her DYL class with those who have not, keeping academic background of the students constant. She found out that the DYL class students showed less career anxiety and more career confidence and showed more purpose and grit than non-DYL class students.
Personal development education is getting popular in universities due to not only students' demand but also the universities' demand itself. Recently, as higher education tuitions have rapidly increased and online education has emerged as a cost-effective alternative, more people have started to question the worth of higher education. Gene Roche, an executive professor of the School of Education at William & Mary, says that higher education currently makes more effort to help students to think about their work and their lives after college as its tuition increases and the job market changes rapidly.
Burnett says that as students put pressure on colleges to help them find good jobs, it is easier for universities to just provide majors which directly relate to the workforce. However, he says of this practice,
"It is not okay in a good liberal arts society."
Then he raises another reason why personal development education is getting popular among many institutions of higher education. Personal development education can meet students' demands while keeping the benefits of a liberal arts education.
"The Designing Your Life technique does not try to solve the problem by telling students what they should do," he says. "It lets the students decide what they should do and then gives some framework to put it in a world in a way that's useful."
By incorporating personal development education, students can decide what knowledge from any major is for and connect the diverse knowledge from their liberal arts education to vocations that serve society. So, higher education can maintain its benefits of liberal arts which help students expand their perspectives on the world and provide a physical community of learners which online education cannot have.
There are also other types of personal development education in higher education besides an expansion of the DYL program. The University of Maryland incorporates personal development education by creating the Carillon Community in the Living Learning Program. This is a community of selected first year students learning personal development. In this program, the selected students address large social problems in their interests and think about how to integrate academics in more practical ways to solve these problems.
Bates College also applies personal development education. Bates started the Purposeful Work campaign from 2013 where its students try to relate knowledge gained in college to purposeful work. According to Rebecca Fraser-Thill, Director of Faculty Engagement and Outreach for Purposeful Work, over 94 percent of Bates students at least took the Purposeful Work infusion course once before graduation, and 47 percent of its professors offer the Purposeful Work infusion classes.
Personal development education in higher education can cultivate students' autonomy which they need to have in this fast-changing world. With personal development education and liberal arts in higher education, students can think through what is important to them by gaining diverse perspectives and knowledge and be empowered to contribute to the society in their own ways.
After the Stanford DYL class, in the empty classroom where the tables were placed back in their original order, the energy from the class was still left. Davies told me what she wanted to give students from taking the DYL course.
"It's a goal of mine to catalyze students to be agents of their own life. Whether or not their idea is important to the world and to me does not matter to me. What matters is that they know what they think and they are empowered to go after it, whatever that looks like."