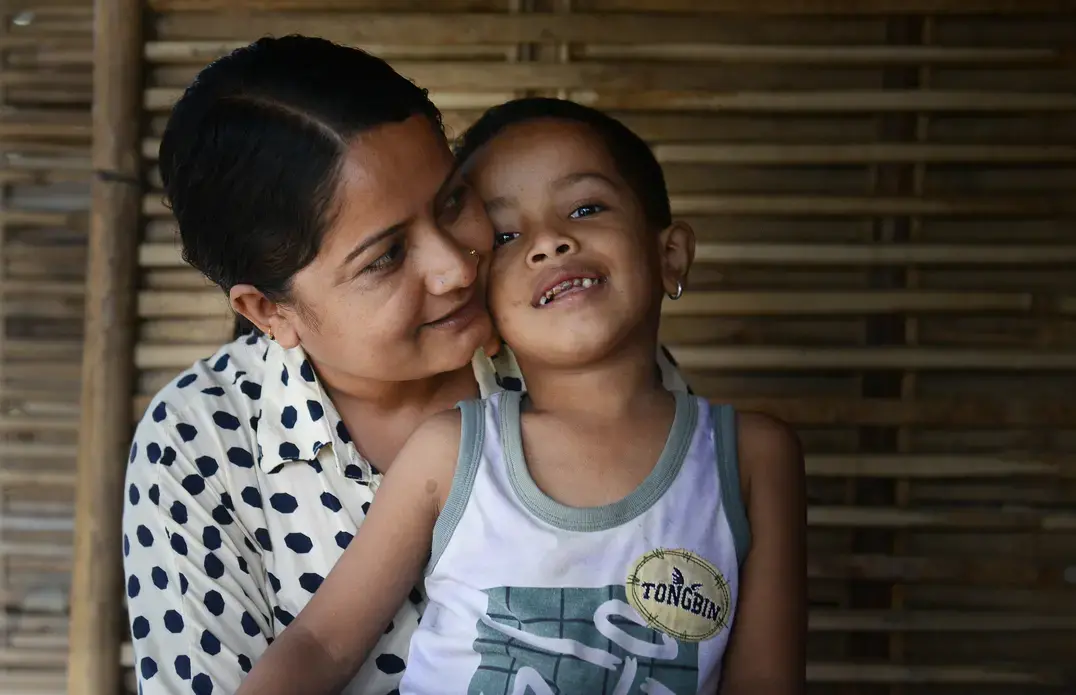 Chandra Wati Siwakoti and her son, Prabesh Ray, 5, are waiting to move to Pittsburgh. Chandra is seeking a divorce and custody of her son from her husband, a Nepali man whom she has not heard from in several years. She and Prabesh live alone in the refugee camps and she worries about her safety. 'A few days back I saw someone entering into my house. I thought he was a thief ... I screamed but there was nobody. It was just a nightmare ... So many things have happened in my life, I see images of them in my dreams,' she said. Image by Julia Rendleman. Nepal, 2014.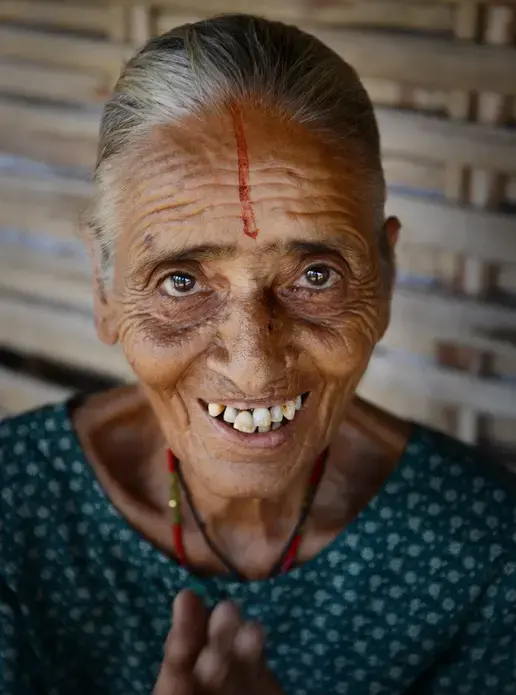 Purnawati Timsina, 81, has no desire to be resettled in a third country or leave the Sanischare refugee camp. 'All my beloved died here and I will die here too,' she said. Image by Julia Rendleman. Nepal, 2014.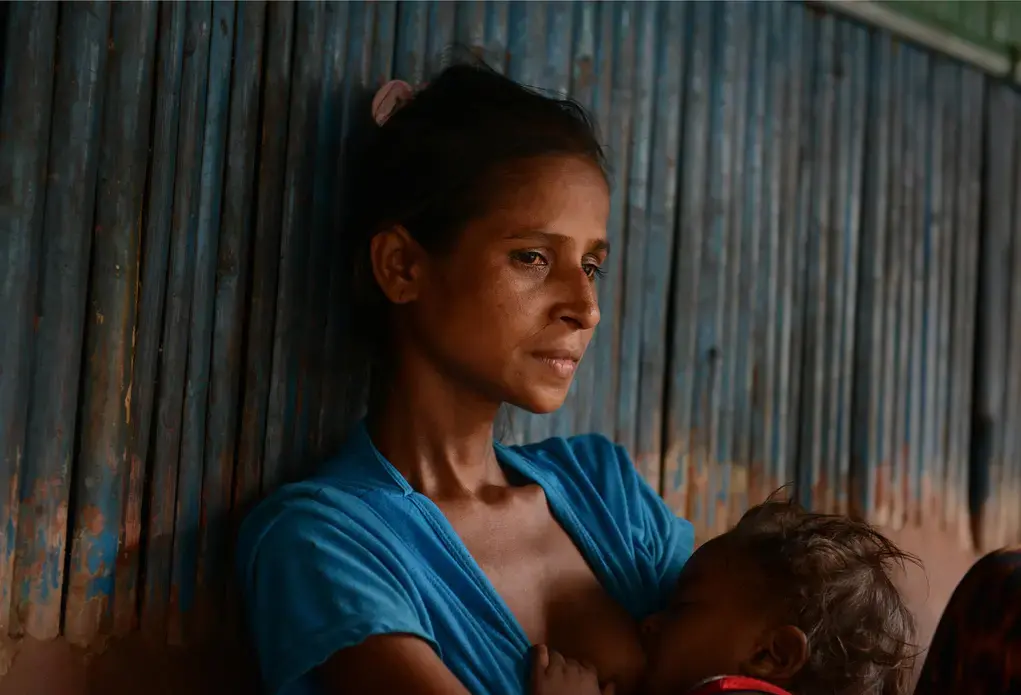 Hari Maya Baswa, 30, and her son Rojan, 1, sit outside her hut in early July. She recently applied for third-country resettlement after being counseled that the application period was closing for good on June 30, 2014. Her case is complicated by the fact that she is the second wife of an Indian man, whom she married at age 13. She admits her alcohol addiction has also affected her ability and motivation to leave. Image by Julia Rendleman. Nepal, 2014.



She was 17 and "not much smarter" when a man ten years her senior asked her to marry him, and threatened to have her arrested if she did not say yes.

Chandra Siwakoti was then a Bhutanese refugee living and working illegally in a school in western Nepal, far from the United Nations-run refugee camps where she is technically required to reside. The man, Gangaram Raya, was the principal of her school and a Nepali citizen.

Her marriage to the man would make it easier for her to live outside the camps, an uncomfortably cramped settlement of bamboo huts in rural eastern Nepal where electricity and running water is sparse. But now, it's exactly what's keeping her there.

Five years after her husband disappeared, Chandra now lives with her five-year-old son in a small hut in Beldangi, one of only two camps that remain after a massive resettlement effort moved families from this dusty corner of Nepal to the United States and seven other countries. Chandra is the only member of her family who remains because her marriage to a Nepali man makes her ineligible to be resettled.

"Being a single woman, it's difficult to stay in the camps alone," she said. The huts, crude structures of bamboo, do not lock, and sometimes she has nightmares about people breaking in.

Chandra is one of hundreds of women in "mixed marriages." Other women, who still live with their Nepali husbands, face agonizing choices about whether to leave them to join their families in the United States or to stay in the deeply impoverished nation of Nepal.

And as the camps rapidly shrink, they may be one of the groups left behind in a country where they may never obtain full citizenship. Without citizenship, they cannot open bank accounts, own land or avail themselves of government services.

Of the 25,000 or so who remain in the camps, nearly all have applied for resettlement. But some -- because of criminal records or health problems -- may be rejected. Others refuse to leave because they want to be repatriated to Bhutan -- or because they'd rather remain in Nepal.

That's the case for Purnawati Timsina, who at 81 has been in the camps for 25 years. She lives alone, caring for a neighbor's infant son, who hung half-naked in the doorway of her home while she squatted on the front porch on a sweltering afternoon in July.

"All my beloved ones, they died here, and I will also die here," she said, her crackling voice conveying adamance. "I won't go anywhere. I want to die here."

Nepal has yet to say whether it will let those who remain become Nepali citizens or what will happen to those in the camps when the camps close.

For those who want to go, but can't, the reasons behind ineligibility can be confusing. Some women reported their applications were simply delayed without explanation, but after several inquiries, they learned it was because of their mixed marriages.

The United Nations' own rules prohibit those who have access to local citizenship from being resettled. Under Nepali law, refugee women who marry Nepali men can apply for citizenship. But a spokeswoman for the United Nations Refugee Agency in Kathmandu said she doesn't know of any refugee woman who's successfully obtained citizenship.

Devi Niraula, an attorney who represents refugee women, said that local Village Development Councils have repeatedly denied refugee women citizenship, either because they don't know the law or because they don't want refugees to become citizens.

"Legally, they have the right to citizenship," she said. "In some cases, the VDC doesn't understand the legal cases."

Ms. Niraula said some women lie about their refugee status to obtain citizenship. That, too, can be problematic.

Hari Phuyel, a Kathmandu-based civil right attorney, said he represented a woman who was thrown in jail on treason charges for lying about her refugee status when she obtained citizenship. The charges were eventually dismissed when Mr. Phuyel successfully argued that her husband had advised her to lie.

If local government agencies were surreptitiously denying people citizenship, it would not be without precedent, Mr. Phuyel said. Local governments are notorious for making up their own rules about who's eligible.

Ekmani Nepal, chief officer of one of the districts where the camps are located, refuted that his office had denied citizenship to refugees and said that it happens "quite often." That ran counter to what many advocates and U.N. officials said.

In Nepal, where patriarchal laws mean citizenship can only be conveyed through men, refugee men are not facing the same dilemma. In fact, refugee men who marry Nepali women are able to take their spouses and children with them. The marriage, though, can spell lengthy delays for the resettlement process. Frustrated families and husbands lay the blame at the feet of the woman with citizenship, leading to a rise in domestic violence against Nepali women married to refugee men, Ms. Diraula said.

Chandra is now seeking a one-party divorce because she cannot find her husband. In the meantime, the U.N. has refused to refer her case to the International Organization for Migration. She desperately wants to join her brother in Pittsburgh, where her son, an exceptionally talented boy, can learn English and where she can get treatment for a nerve condition that occasionally robs her hands and legs of feeling.

And she worries what will happen when the camps close.

"We are the left ones," she said. "It's out of our hands."
RELATED ISSUES