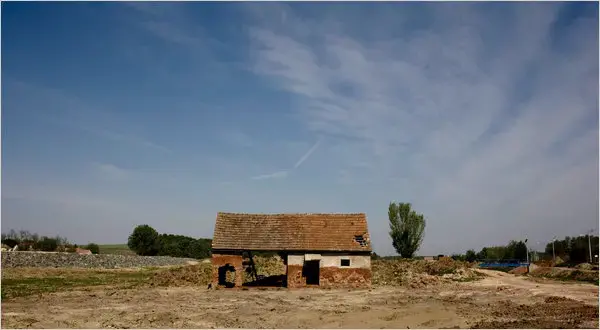 Dishes in the kitchen sink; a bedroom littered with children's toys; 3-year-old Dora watching cartoons on television: on the surface Erzebet Juhasz's life looks like anyone else's.

But nothing is normal here. Eight months ago, when a containment reservoir at the Ajka Alumina plant in western Hungary collapsed, releasing a million cubic meters of highly corrosive red mud that covered more than 1,000 hectares, or 2,500 acres, her family was one of the worst affected.

Still in pain from the death a few years earlier of their son, who had been hit by a train, the Juhaszes saw their home destroyed, watched Dora suffer severe internal burns after ingesting toxic sludge, and had to endure another death in the family when Angyalka, who was barely a toddler, drowned in it.

"Our family is cursed," Mrs. Juhasz said, tears streaking her cheeks. "Tragedy follows us everywhere."

Today she and her husband, Zoltan, rent a small residence paid for by the Hungarian Maltese Charity Service while awaiting the completion of a housing development for the victims of the flood.

Every effort is being made to recover from the environmental disaster, which killed 10 people, damaged about 350 houses west of Ajka, in the village of Kolontar and the towns of Devecser and Somlovasarhely, and left more than 150 with toxic burns. Since then, the Hungarian government alone has spent 30 billion forints, or $166 million, on clean-up and reconstruction, while local and international charities have provided much additional support.

But nothing will ever be the same around Ajka. Peter Pallanki, 26, survived by wading through the sludge and climbing onto the roof of a house, but he has been incapacitated by his injuries and lost his job as a butcher. The flesh of his legs was eaten away by the alkaline red mud. He has a gaping wound on his left knee.

"Painkillers are my breakfast now," he says, holding with trembling hands a thick folder of medical documents and bills. "Sometimes the pain is so bad I wish they would cut off my leg."

Respiratory complaints are by far the most common ones among local citizens. Though a great part of the sludge has been carted off to safer locations (75 percent of the contaminated areas have been cleared, according to government statistics), powdery red alkaline dust still fills the air, as it has for years, when the weather is dry and windy.

"My husband and I have breathing problems, and our eyes get irritated," said Monica Pujszter, in her early 30s. Their house in Kolontar was spared destruction, but the garden and the beautiful fields and forests around it were inundated and now resemble a wasteland.

"For nine years we've been putting all of our savings into this house; we wanted to raise our kids in a rural environment, where it's safe and quiet," said Ms. Pujszter, who was pregnant with twins. "Now the place is poisoned. We'd like to move out, but we can't because our house was not destroyed and we can't receive compensation."

Those of Ms. Pujszter's neighbors who could afford to leave have already done so, regardless of the damage to their property. Many of the houses in Kolontar remain dark in the evenings, and the streets are largely empty during the day.

In the neighboring town of Devecser, some residents assert that about 1,500 people have left from a population of 5,500. The Red Cross puts the departure figure at 300.

"There is no future in Devecser," said Arnold Szeki, 50, an entrepreneur. "No one wants to stay here and nobody wants to buy produce from here."

Officials have repeatedly assured people that there is no immediate danger to their health. Analyses done by the National Public Health and Medical Officer Service have shown that there is no contamination of the drinking water. Air pollution, the report contends, "is no worse than in heavily dust-polluted Budapest." The difference is that dust from red mud contains traces of sodium hydroxide, which reacts with the water content of the lungs and eyes, causing irritation or burns in many people. Alkalinity is supposed to diminish with time, when exposed to carbon dioxide in the air, but the process is slow.

"There hasn't been a disaster like this one, so we still don't know the long-term effects," Geza Fasi of the local Red Cross organization said.

Zoltan Illes, state secretary for the environment in the national government, acknowledges the problems but points out that the area has had environmental problems dating from the Communist era.

"The people in the area had been suffering from air pollution for decades before the disaster," he said. "That's why the government decided to decontaminate the affected areas as soon as possible."

Indeed, the cleanup and decontamination has been a herculean effort. The topsoil has been replaced in the areas worst affected. Hundreds of tons of gypsum have been poured into the Torna Creek and Marcal River to battle the deadly effects of high alkalinity, while many trees have been washed down with a solution of water and formic acid.

"We went centimeter by centimeter," Maj. Gen. Arpad Muhoray of the Disaster Management Training Center said. "Clearing up the fields and gardens with heavy machinery but also shovels."

For those once living in the 350 damaged houses, the Hungarian government has offered owners a choice between a new house in the same area, an old house of equivalent value or cash. Houses are under construction: 87 in Devecser, 21 in Kolontar and 1 in Somlovasarhely.

Meanwhile, an investigation into the causes of the disaster has created its own toxic environment in Budapest.

"There were gaps in the law, and nobody knew who was responsible for monitoring the safety," said Lajos Kepli, head of the parliamentary commission on the spill.

Most experts agree that MAL, the company operating the alumina plant and reservoirs, is not the only one at fault. A number of government agencies failed at their jobs.

"All Hungarian authorities with a role in licensing and monitoring the accident-stricken red mud reservoir had committed errors," concluded a recent 156-page report by the L.M.P., an opposition party; the European Greens; and a large number of experts.

One major cause for the disaster seems to be the large amount of liquid waste that was present in the reservoir together with the thicker red mud. Under political and public pressure, the company has since begun using a different technology, but that has its trade-offs as well, as it increases dust pollution and the amount of carbon dioxide released, 35,000 extra tons per year.

For all the suffering, there are a few signs of hope.

Amid fears that the land may no longer be suitable for normal farming, some are exploring the idea of growing energy crops instead. "We'd like to make investments in renewable energy," said Toldi Tamas, the mayor of Devecser. "That's one solution to our problems."

At least one group appears to have emerged from the disaster better off. Previously confined to a segregated quarter at the bottom of the hill, raised in abject poverty, most of the Roma of Devecser never stood a chance to move up. After the flood, the government was obligated to provide them with new homes in other neighborhoods.

"I miss my old home a lot; I miss my community," Tibor Orsos, a Roma musician, said as he sipped coffee in his new sun room. "But I do have a better house now."
RELATED ISSUES