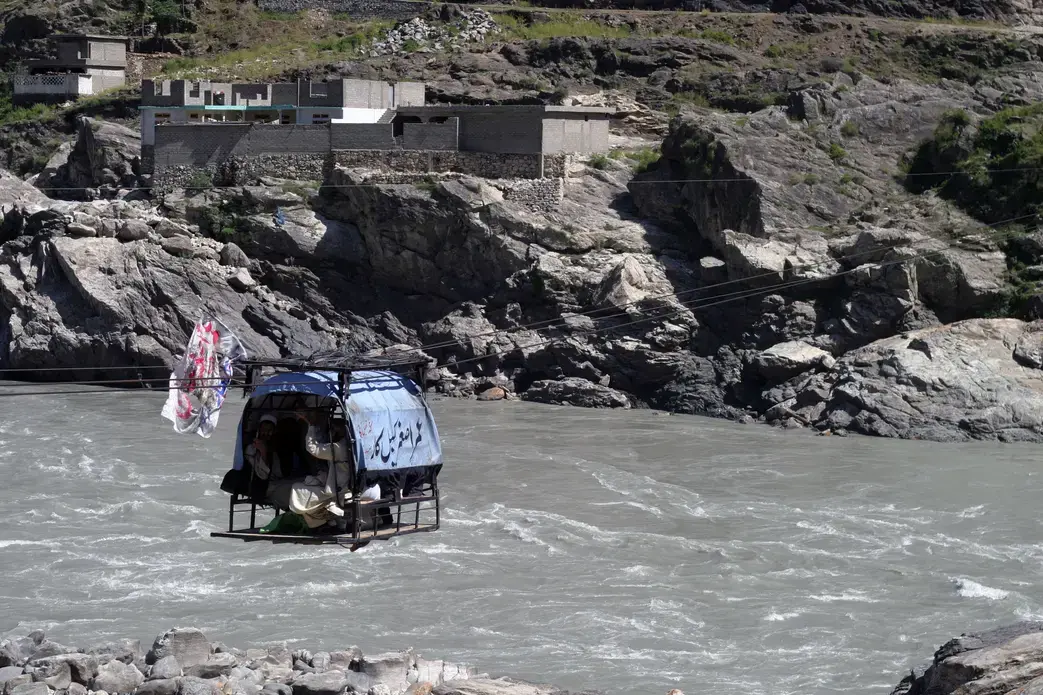 Unlike in southern regions where the floodwaters slowly and stealthily supersaturated entire villages, the waters in the north raged through mountain ravines with the ferocity of a runaway train. Today, parts of Pakistan's Khyber Pakhtunkhwa Province still resemble a warzone: battered bridges, crushed schools, and leveled villages. Instead of bullet holes, there are watermarks. The damage to infrastructure and crops is disheartening. Economists estimate its cost will exceed $4 billion.

I embark on a nine-hour trip to Kohistan with Mumtaz Tanoli and Hassan Ali Khan of the Omar Asghar Khan Development Foundation (OAKDF). Quite aptly named, Kohistan means "land of mountains" in Persian. We zigzag along treacherous roads, abruptly halting and speeding as the potholes dictate. Tanoli, a gregarious man with eyes full of laughter, distracts us from the stomach-churning twists and turns by regaling us with stories of his days in Mongolia. However, when he speaks of Pakistan's recent tragedy, Tanoli's mood turns somber. He notes that the mountain terrain is not conducive to road-building so many people rely on footpaths — footpaths that were largely washed away during the floods. "The development that has taken place in the last 60 years has been wiped away in a matter of days," he says. "That, too, in a district that is already so deprived and underdeveloped."

As we drive past piles of rubble in the Shangla District of Swat Valley, Khan says that "people built an 18 kilometer road and electric plant here, but now nobody can believe there was anything here before the floods." Six weeks after the floods, Swat's most pressing need is reconstructing 45 bridges, draining approximately 10,000 acres of inundated land, and rebuilding hundreds of houses and shops. "In this region, access is always an issue. We've done [food] distributions in so many places, but we have to travel for days just to reach these places. The farmers who have taken their livestock to graze in the highlands are now having trouble [coming] down the slippery mountains because the footpaths have [disappeared]," says Khan. "No other area of Pakistan has such difficult terrain."

Stopping outside a flattened bazaar, I speak with an 80-year-old farmer named Fazal-ur-Rehman. "We have been hit so badly that we thought it was our Day of Judgment," says the elderly man who is wearing an olive green tunic and vest. He tells me the trip to the nearest town used to take 45 minutes, but now requires five hours because the floods washed out the road. "I want the government to rebuild the road," he says. "We can't take food back to the village and I'm too old to make such a long trip." According to Rehman, many mills were washed away with the floods so there is nowhere to grind grains to sell on the market. "Everything is washed out, even the houses that use to line both sides of the river."

After the floodwaters demolished a bridge over the Indus River between Shangla and Battagram, OAKDF helped install a cable car so villagers could make the crossing. We stop in Battagram, catch a ride on the cable car, and speak with locals benefiting from the new form of transportation. "We are very happy and grateful," says an elderly man with a fluffy beard. "There would be no way for us to cross the river without these people's help." The cable car was designed to carry six people, but often departs with double that number (as well as a goat or two). Tanoli convenes a meeting with the villagers and asks how else OAKDF can help them rebuild. One of the villagers asks that OAKDF install a new suspension bridge and power station. Tanoli tells him that engineers are still debating the feasibility of building a new bridge in this rugged, earthquake-prone region.
RELATED ISSUES